Further to the South-East, in Flores are the Komodo Islands. Home of the Komodo Dragon or Komodo monitor.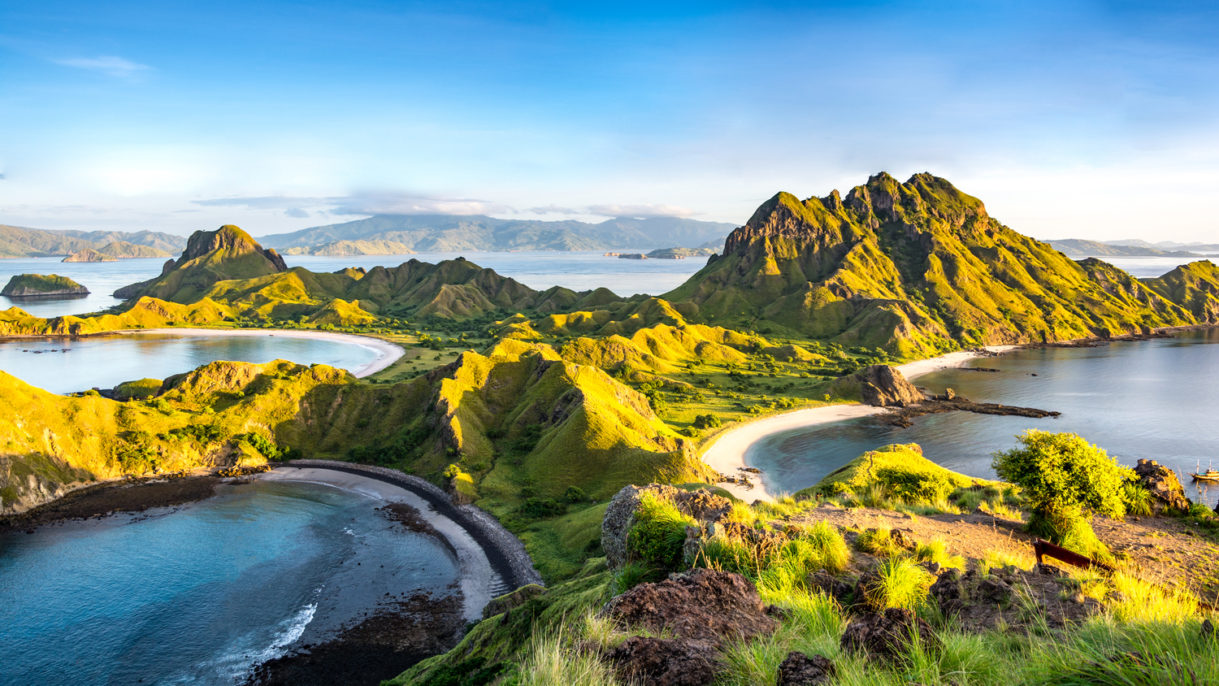 Komodo Dragon and Komodo National Park
Being a nation of islands, Indonesia offers fantastic ways of discovering its abundant wildlife and nature by boat. The rainforests & mangroves of Kalimantan (Indonesian Borneo), and its famous inhabitants Orang Utans, are blessed with winding rivers, some of which are navigable by 'Klotok' local houseboats.
Further to the South-East, in Flores are the Komodo Islands. Home of the Komodo Dragon or Komodo monitor. The largest species of lizard in the world, growing to a maximum length of 3 meters and weighing up to 160 kilograms. However, due to its sensitivity to natural changes and artificial threats, this wildlife was unfortunately recently classified as endangered by the IUCN and is listed on the IUCN Red List.
Luckily, the government is working hard to eliminate poaching in the area and ensure safe habitat space for the species. In 1980, Komodo National Park was established to preserve and protect the Komodo dragon species. Thus, this allows visitors the chance to get a closer look at this unique wildlife and observe the animals in their natural habitat. Komodo National Park is located within the Lesser Sunda Islands.
The park covers three larger islands Komodo, Padar, and Rinca, and 26 smaller ones. In 1991 the national park was declared a UNESCO World Heritage Site. In addition, Komodo National Park has been selected as one of the New7Wonders of Nature. The primary source of income for the Komodo National Park and its rangers is tourism. Accordingly, in recent years, there have been many upgrades to facilities in the park to ensure travelers can enjoy the beauty of the islands and allow enough living space for the safeguarded wildlife. As travelers, we can help the Komodo Dragon survive for generations to come!
Komodo Island
However, Komodo Island has much more to appreciate than just the dragons. With turquoise waters surrounding the island, rugged volcanic landscapes, and dense raw nature on top. Therefore, Komodo is the perfect destination for wildlife and travelers. Moreover, Komodo is full of hiking routes, diving sites, and beaches. Komodo Island is located as part of the Coral Triangle, which the water surrounding Komodo Island contains some of the richest marine biodiversity on earth.
Hence, there is a whole manner of underwater life, from reef sharks, sea turtles, stonefish, huge schools of fish, healthy and colorful coral reefs, and one of the most sought-after sea creatures for divers – Manta rays. These graceful creatures dance through Komodo's clear waters, promising an unforgettable diving experience.
Adventure experiences
As a result, Komodo has been one of the most attractive diving destinations. However, it is known for its strong currents, which could be dangerous for inexperienced divers. On the other hand, it is perfect for someone looking for some adventure and incredible diving experiences. Therefore, it should be at the top of your bucket list.
There is a wide range of diving sites perfect for drift diving. Moreover, Komodo Island is an excellent place for hiking destinations. A great morning exercise for someone who enjoys outdoor activities. There are various hiking routes to inspect the island on foot. During your hike, you will be passing through the island's stunning natural landscape of luscious green hills and forests. However, this isn't a place to go off-track since there is a high chance of encountering a Komodo dragon. Even though they do not interact much with people, it is good to be safe and keep some distance from them.
It is, however, an excellent opportunity to get close to their natural habitat. Meanwhile, the pink sand beach of Komodo Island contrasts with the luscious greenery and sparkling turquoise water. It is one seriously jaw-dropping destination. In addition, the beach gets its color from microscopic red organisms called foraminifera, which live in coral reefs and get washed up on the shore. This is one of the kinds of beaches that you don't want to miss.
Visiting other islands - Padar and Rinca
Komodo, Padar, and Rinca island are the top three most prominent islands in Komodo National Park, and they are all worth a visit.
The breathtakingly beautiful landscape on Padar Island is second to none. This island is the perfect place for a scenic hike, and it offers a spectacular photo opportunity from one of Indonesia's most beautiful viewpoints. A hike up the main peak of this mountain will take approximately 2 to 3 hours. Therefore, you should prepare and bring comfortable shoes, clothing, a lot of water, and sunscreen as it could get very hot.
It will, however, be worth it once you get there. The top viewpoint at Padar is incredible. You will be swept away by the surrounding gorgeous greenery, turquoise water, and blue sky. The island has a giant X shape, with three bays where you can see a white beach, black beach, and pink beach. Padar Lookout is easily one of the most epic landscapes in Indonesia.
Rince Island is the second-largest island in Komodo National Park and has the second largest population of Komodo dragons. Due to the undeveloped nature of the island, Rince Island is the perfect spot for sighting and spotting these incredible exotic giant lizards.
However, due to the nature of the Komodo Dragon, you must stay with the professional ranger/guides at all times and only walk along the designated trails. The ranger will point out wild Komodos and show you the nearby Komodo Dragon nest on the hike to the nearby hill.
Apart from the Komodo dragon, you may spot other wildlife such as pigs, buffalos, various species of tropical birds, Timor deer, and several saltwater crocodiles hiding in the mangrove forests in Rinca island.
Cruise aboard trips
For all destinations mentioned above, we recommend a multiple-day cruise aboard a traditional Indonesian 'Phinis.' There are a select few of such Phinisi yachts that have been completely renovated and upgraded. As a result, it's offering a luxury accommodation experience on the water. One such yacht we recommend is the MAJ Oceanic.
Meanwhile, the MAJ Oceanic is a traditional hand-crafted two-masted Phinisi yacht with six resort-standard outfitted with modern design and technology. It can accommodate 12 guests on each journey. Great for a family trip! Learn, feel, understand, taste, and experience these world-class destinations while awakening your inner sea explorer. Get up close with the world's largest lizard species. Huddle together along the railings to spot nature's great ornithological displays. Wait for dolphins & whale sharks to join you alongside the vessel. Or practice yoga to the sound of waves with no one else in sight.
For more information and booking requests, please contact sales.indonesia@khiri.com or visit our website at Khiri Indonesia.