Bangkok's ancient nickname used to be 'Venice of the East' and luckily you can still go on an adventure by making use of river transport.
Bangkok's ancient nickname used to be 'Venice of the East' and luckily you can still go on an adventure by making use of river transport. It is possible to travel by boat to Bangkok's outskirts, and with that in mind, you better prepare yourself for our Bangkok boat tour!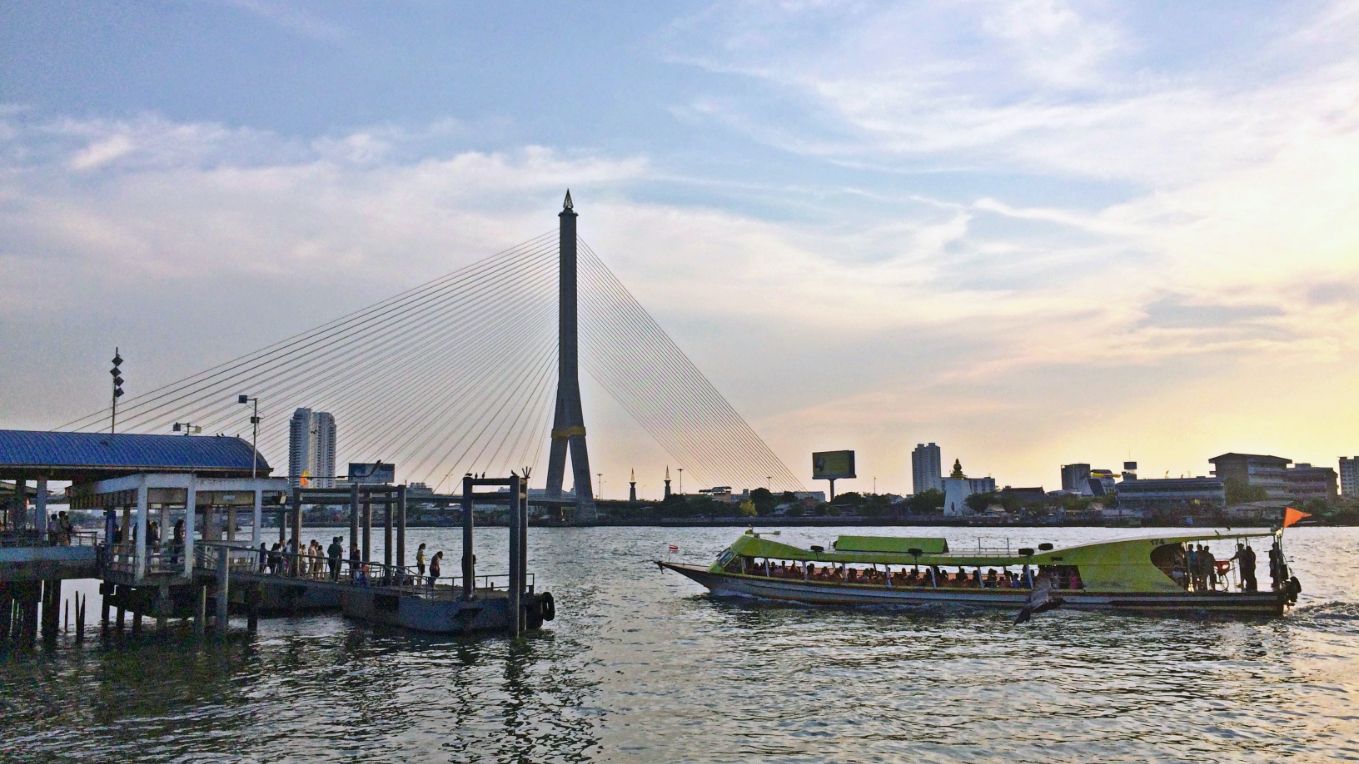 Chao Phraya Riverboat
Our guide will meet you early in the morning, and together you head for one of the Chao Phraya riverboat piers for a day trip. Although 'pier' is a bit of a misnomer as most consist of floating pontoons.
'Mae Nam Chao Phraya' or The Chao Phraya river is known as the River of Kings and has always been very important to Bangkok since the beginning due to its abundance of fish and later as a major waterway. Get ready to embark on the public Chao Phraya Express boat, similar to many Bangkokian commuters. This way, you take the local way of traveling, which Thais have been doing with this service since 1971. 
These 26-32 meter long vessels can hold 90-120 passengers at a time and often stop at the piers. Passengers getting off and on the boat is entirely something to behold, and the boat staff makes sure that this process runs smoothly.
This first part of the Bangkok boat tour to Nonthaburi also offers a great way to see what's happening along the riverbanks. You pass stately houses, wooden slums, condominiums, temples, but also a roman catholic church and even a Muslim area with a small mosque. Along the way, the express boat goes under several bridges, some historic (Phra Pinklao, Khrung Ton), others new (Rama VIII, Rama V), which are an important part of Bangkok's layout.
Nonthaburi
River traffic ranges from the typical long-tail boats and ferries to tiny tugboats pulling large transport barges. These last ones can be either empty and high above the waterline or fully loaded. In that case, they look they could go underwater any moment.

Upon arrival at Nonthaburi pier, you walk with the guide to the nearby fresh market and have a look around.
Be warned that the sights, smells, and noises can be quite an experience; expect to see all kinds of vegetables, fruits, meat, and fish. Especially the variety in fruits is a real eye-opener, depending on the season the following might be available: Mangosteen (also known as the Queen of Fruits), Durian (the King of Fruits), Rambutan, Pomelo, Lychee, Soursop, Guava, Jackfruit, Longan, and more!
Your guide will let you try out some of those more unusual fruits as well, but only if you're feeling adventurous.
Following this market trip, you return to the pier and board a different kind of vessel, the classic long-tail boat. This type of boat might look a bit awkward but is perfectly suitable for navigating the Chao Phraya and smaller canals. Do take your time getting on board, as this can be a bit tricky, but your guide is there to assist you if necessary.
Also important to know that safety procedures are firmly in place nowadays and life jackets are available for all passengers. The boat's name comes from the long propeller shaft and the massive engine block mounted on a special steering system. This allows 360-degree spins and up/down movement for additional speed control.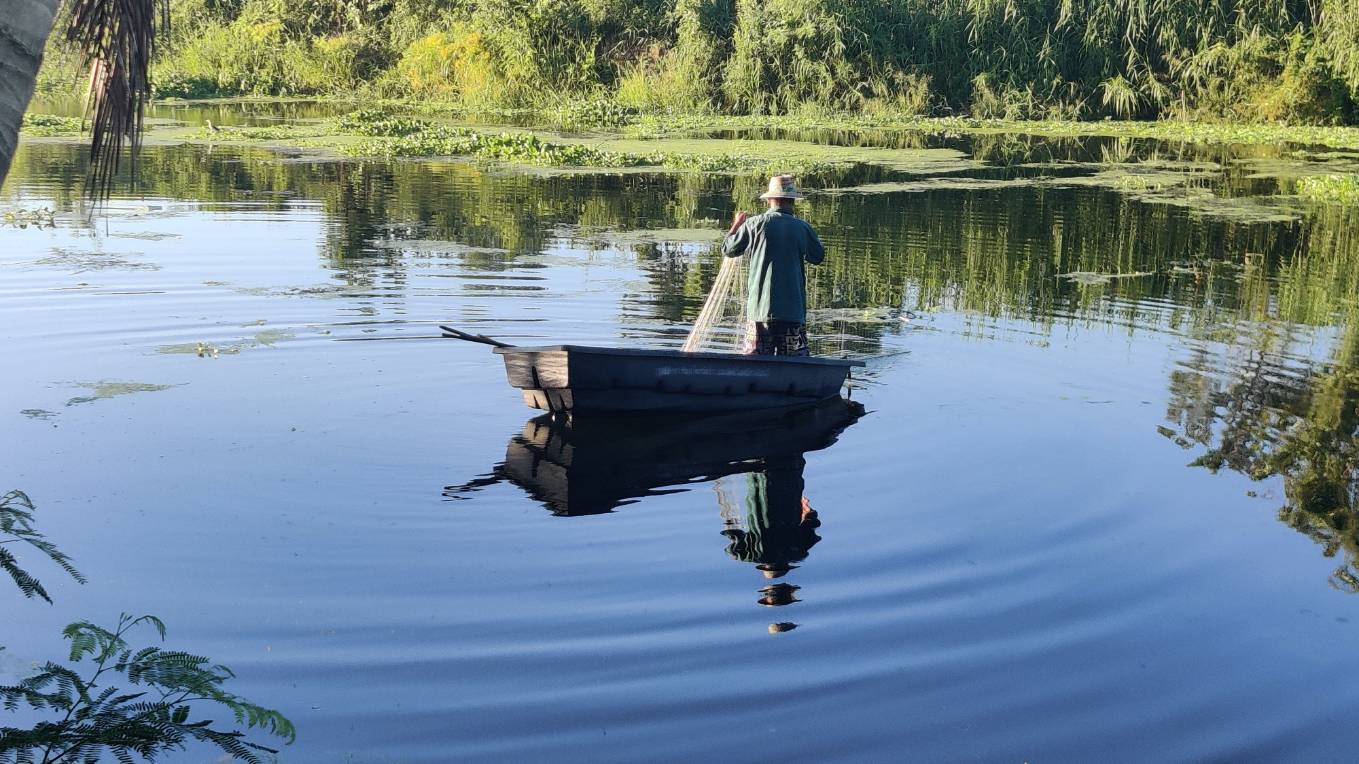 "Khlong" or Canals
We leave the broad Chao Phraya river and continue the Bangkok boat tour by entering one of the smaller 'Khlong (canals).

Here you will see a more traditional kind of life with lots of wooden houses on stilts and canal-side temples, in more than one way a trip back in time. Also, the water traffic has changed, smaller boats, either motorized or rowing, can be seen, perhaps even a one boat floating market or a monk rowing his rounds, the real, local life. Time for a cultural stop at two intriguing temples, both over 200 years old and not often visited by tourists.
One of them features a 32 meter reclining Buddha image as well as several buffaloes (both live and as statues!).
The other temple features unusual Buddha head decorations and two giant demons guarding the temple's entrance!
Both provide the perfect background for the guide to explain some of the Buddhist concepts and their own experiences as a Buddhist.
Afterward, you change the long tail boat for something completely different: much smaller, faster, and more exhilarating: rocket boats. These tiny boats have room for 2-3 tourists max, provide a great view as you sit up front, and give you the feeling of speeding just above the water surface. From this new viewpoint, you watch local life go by quickly, but with some luck, you still might see children swimming and their mothers doing the laundry/cleaning kitchen utensils in the canal!
You board a long-tail boat again for the last part and head back to the Chao Phraya river. The Bangkok boat tour ends at one of the Chao Phraya's piers, and once back at your hotel (or a restaurant), you can review today's experiences at leisure.
Note: 
Although the boats are pretty comfortable, you need to be in reasonably good condition, as getting in and out of the smaller boats to and from the piers can be a bit challenging!
For more information and booking requests, please contact sales.thailand@khiri.com or visit Khiri Thailand.