A sustainable Sri Lanka encounter with the country's abundant marine life
A Sustainable Encounter with Sri Lanka's Abundant Marine Life
Luxury Travel is often labelled as unsustainable and there is a misconception that the demands of ultra-high net worth travellers cannot be satisfied while being genuinely sustainable, especially due to carbon emissions. There is also another school of thought that wildlife and marine life viewing excursions only have a negative impact on ecosystems. our Marine Expedition is here to prove both of the above misconceptions wrong and show that luxury travel experiences can also be done in a sustainable way.
As much as we all love to discover and observe wild and marine life, there is always an inevitable negative side for all human-animal encounters where at times tourist traffic and overcrowding have led to the exhaustion of sealife. So instead of selling large scale whale-watching cruises which chase after the whales just for a photo opportunity, we have collaborated with Sail Lanka to operate their private cruises in a non-obtrusive manner towards the marine mammals and for a more sustainable experience.
Since we believe having an educational component is vital in any sustainable travel experience, joining our guests on the cruise will be Chathurika, a young and ambitious marine biologist and conservationist who will share with you her wealth of knowledge and interesting stories from her past marine expeditions.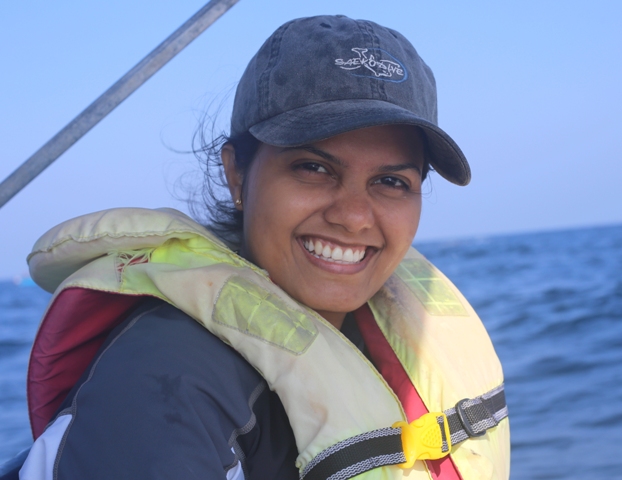 The expedition starts early in the morning from the Mirissa Fisheries Harbour in the South during the European winter months (November to April), while during the summer months (May to September), the location shifts to Trincomalee on the East Coast. The catamaran will be booked on an exclusive basis for our guests.
As guests start sailing towards the horizon, the landscapes start to disappear and a simple breakfast will be served onboard. As they sail deep into the ocean, with some luck they will be able to see pods of dolphins swimming around and a sighting of a whale will be the cherry on top! After a few hours of sailing, the catamaran will also dock at a location where guests can get into the water to swim and also for some standup paddle boarding. In the meantime guests can also indulge in a glass of wine, champagne, a chilled beer or soft drinks which we will have on board.
A delicious lunch will be served onboard with seafood being the obvious highlight of the menu and thus providing a fitting finale!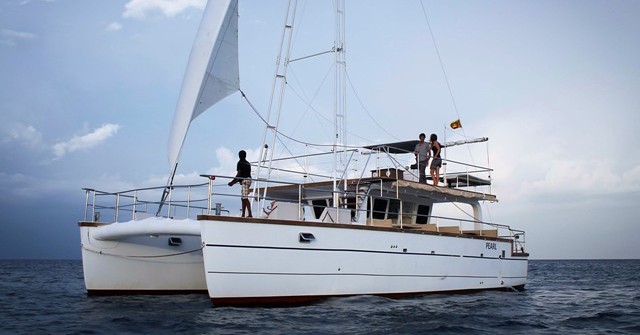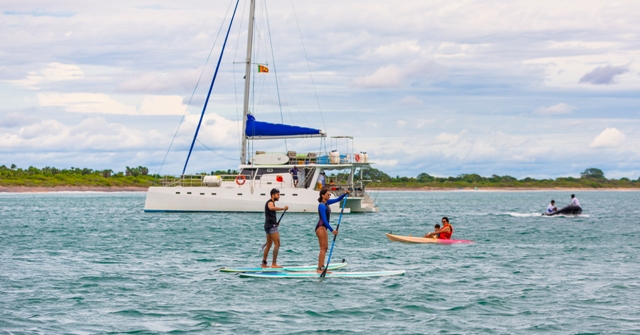 To further enhance the sustainability aspect of the experience, a financial contribution to the OCEA Seagrass Restoration project in Kalpitiya is already included in the price as a means of offsetting the impact this cruise has on the environment as well as further contributing towards conservation of the environment at the same time. For guests heading towards Kalpitiya who are willing to volunteer themselves in seagrass restoration, we have also designed a half day experience based on that.
For more information, please get in touch with us on sales.srilanka@khiri.com
More Articles