When it comes to wildlife and natural beauty, Thailand has a lot to offer. The country is said to be home to 285 mammal species so visitors might assume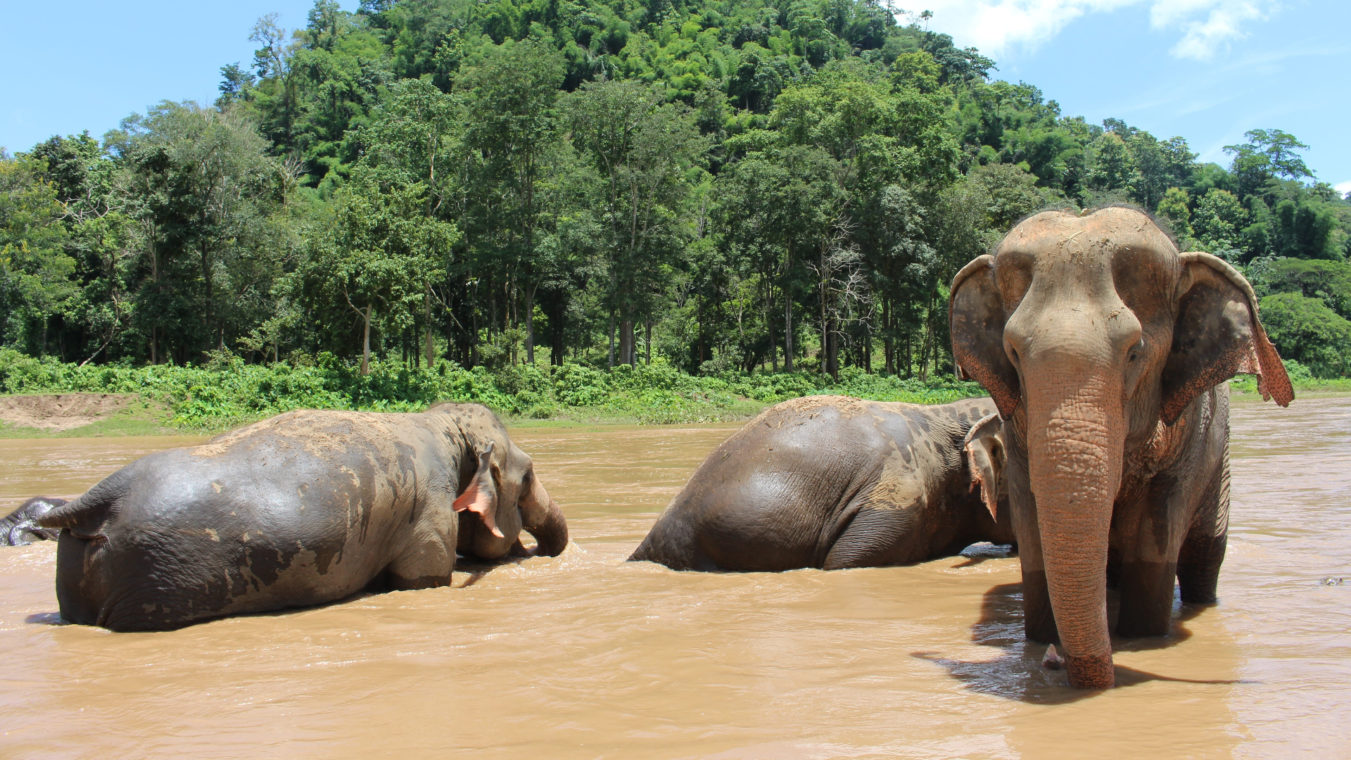 Thailand's wildlife - Mighty elephants
When it comes to wildlife and natural beauty, Thailand has a lot to offer. The country is said to be home to 285 mammal species so visitors might assume there is always wildlife to see and spot. Friendly geckos in your hotel room or the impressive monitor lizards in Bangkok's Lumpini Park are seen easily.
However, real wildlife is not that easy to notice as most animals prefer to keep their distance from people. Even so, in one of many of Thailand's National Parks, with a bit of luck and some patience, you can occasionally observe animals in the wild. Having a guide accompany you is a must, as they are familiar with the area. Guides can point out telltale signs of nearby animals, which most of us otherwise would miss completely.
The main animal associated with Thailand is the Asian elephant. In the past, it was used as a beast of burden in the logging trade. It also featured prominently on the original Thai flag! From the 1980s onward, elephants became an important tourist attraction.
Elephant riding and shows were, for a while, incredibly popular. Fortunately, the elephant shows are, in most places, a thing of the past. Elephant mahout training courses are gaining more interest as well. These days, more often than not, you can find a more significant number of elephants out in the wild in Thailand's national parks and conservation areas.
For those elephant lovers, you can have a close-up elephant experience at one of the many special camps that offer programs on elephant conservation. This is a great way to experience these gentle giants up close and personal, based on observation only.
Sounds of the jungle
When out walking in the tropical forests, do try to stay silent. Instead, focus on your ears and listen to the sounds of the jungle, as it is seldom quiet there. The sound of courting Gibbons is highly distinctive as they are loud, long, and complex. Attracting a mate vocally is quite something. The sounds are exhilarating and eerie at the same time as they ring out through the forest.
Another instantly recognizable sound is the one produced by the wings of the hornbill. When you hear its 'swoosh, swoosh,' you immediately know this giant bird will be flying over soon! These are just two examples of specific sounds you might hear there, but there are many more.
Besides animal life, another attraction is the forest's flora. Especially in the rainforests, massive trees with buttress roots tower above everything else while nearby creepers, lianas, and vines seem to grow without any control. Tropical pitcher plants are very distinctive looking and quickly spotted if you look carefully.
Walking through an area with wild bamboo growing all around is remarkable as well. The variations of green colors can be staggering, especially with sunlight streaming through the jungle canopy. While walking along a trail, it's recommended to take a break from time to time, just to let your surroundings 'soak in'.
Stand still, look around slowly, and more details will appear. You might suddenly notice millipedes, jewel beetles, or a large web with a golden orb-web spider inside.
There may also be some of the less pleasant insects, such as mosquitoes and leeches. They can be a nuisance, but no reason to panic. Before entering the jungle, some people liberally douse themselves with anti-insect chemicals. This is not very healthy – using environmentally friendly natural sprays/lotions is much better!
Thailand National Park - Khao Yai, the oldest park
The best way to experience nature is by visiting one of Thailand's national parks, and luckily there are a lot! 155 in fact! Of course, we can't describe them all, and therefore this article's focus will be on some of the parks near Bangkok and one further south. Most can be visited on day trips, although 2 – 3 day visits are recommended for a more in-depth experience. Campsites inside and hotels in the vicinity of most parks are available.
Close to Bangkok, just a 3-hour ride away, is Khao Yai, Thailand's first national park. Opened in 1962, it's over 2000 km² and includes rain/evergreen forests, grasslands, mountains, and waterfalls. There are several trails through the park, some of which are easy to follow, but others will definitely require a ranger as your guide.
Wildlife varies from elephants and various kinds of deer to gibbons and hornbills. Usually, the chances of you spotting something are higher if you keep quiet! During Khiri Travel's staff trips over the years, we certainly had various animal (and insect!) encounters that were very impressive! There are a few tigers deep down in the jungle as well, but (luckily!) you won't see them. For birdwatchers, the park is a great place to explore as there are around 440 bird species.
Kaeng Krachan National Park - The largest park
Kaeng Krachan National Park is part of the "Kaeng Krachan Forest Complex" in Phetchaburi province. This unique complex consists of three national parks and one wildlife sanctuary. They are Kaeng Krachan, Kui Buri, Chaloem Phrakiat Thai Prachan National Parks, and Pachee River Wildlife Sanctuary – all on Thailand's side of the Tenasserim mountain range bordering Myanmar.
This is fantastic as it has enormous biodiversity and will only aid its protected status. With an area of almost 3000 km², this is one of Thailand's outstanding national parks. Located between Petchburi and Hua Hin, it offers a massive variety of flora and fauna. Wildlife/bird watching (seasonal), camping, guided hiking, and observing the sea of mist are popular activities. 
For serious wildlife watching, 2 to 3-day trips are recommended as visitors might have a higher chance of spotting mammals such as leopards, deer, elephants, and many others. From all animals here, the macaques are probably the easiest to spot.
Ban Krang Campsite is a good base for wildlife watching as langurs, porcupines, civets, and more are often spotted in its vicinity. For bird watchers, there are more possibilities along the various trails and main roads. The park also happens to be Thailand's top butterfly watching destination. During the winter and dry seasons, it's possible to observe hundreds of thousands of butterflies.
Rainforest in the South - Thailand's first coastal national park
A little further South of Hua Hin is Khao Sam Roy Yod National Park, a small but fascinating area of limestone mountains, caves, beaches, islands, and marshy wetlands. This 98 km² area is home to many plants, birds, and some endangered animals. The main attractions are Phraya Nakhon Cave with its charming royal pavilion built by King Rama V and huge chamber with dripping stalagmites, Kaeo Cave, and Thung Sam Roi Yot Freshwater Marsh.
The last place features the 1 km long Bueng Bua boardwalk over the freshwater marsh with an impressive view of the mountains. 
An important note: Khao Sam Roy Yod National Park is closed from 1st June until 31st July every year.
It's also possible to combine a visit to Khao Sam Roy Yod with Kui Buri Wildlife Watching Area in the afternoon to see wild elephants.
The 700+ km² Khao Sok National Park is located between Surat Thani and Krabi. Most visitors travel by boat across Cheow Larn Lake and marvel at the vast limestone mountains rising out of the water. Here, one can stay overnight in a floating raft-house, which makes an excellent base for kayaking, swimming, or just relaxing. Peaceful overnights with great stargazing opportunities are almost guaranteed.
Of course, a day trip in the rainforest is a must. Here you walk among massive trees, vegetation running wild, and abundant (though often not visible!) wildlife. This really is an experience of a lifetime, as the park boasts enormous biodiversity of plants and animals.
Khiri Travel organizes tours to all the Thailand National Parks mentioned above, elephant conservation areas, and the WFFT animal rescue centers.
For more information and booking requests, please contact sales.thailand@khiri.com, travel@khiri.com, or visit Khiri Thailand.