The Asian cuisine is definitely one of the reasons to visit one of the Khiri destinations – Thai Currys, Vietnamese Pho, Indonesian Nasi Goreng, etc., we can't get enough of it.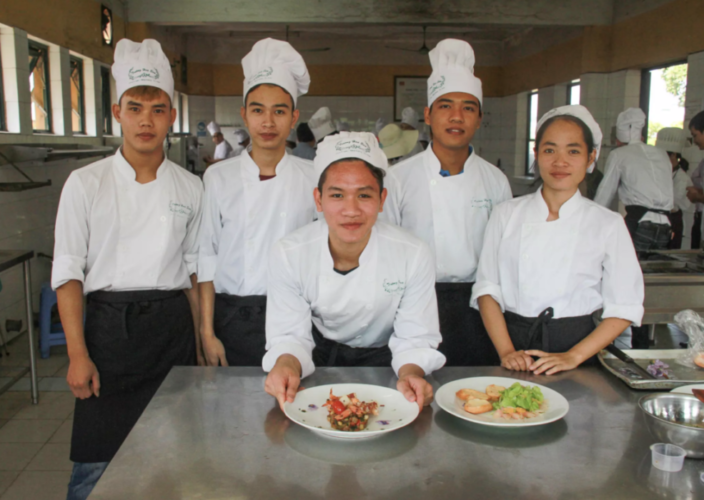 Let's eat at a cause!
The Asian cuisine is definitely one of the reasons to visit one of the Khiri destinations – Thai Currys, Vietnamese Pho, Indonesian Nasi Goreng, etc., we can't get enough of it.
At Khiri Travel, we carefully consider the right restaurants for you – great ambiance, delicious meals, traditional settings. But how about eating for a cause? What if we can also have a positive impact on our destinations while enjoying a delicious meal?
So let's visit some of our favorite vocational training restaurants! 22% of young people in the world are inactive: they are not in education, employment, or training. 3 out of 4 are young girls. In developing countries, many sectors are potential vectors for employment, but they struggle to find qualified local staff. Training is often the problem. Unadapted to the needs of companies, too theoretical, often undervalued, it is not seen as a solution for youth employment.
The answer? Vocational Tourism Training. Vocational training refers to instructional and hands-on programs. Also, courses that focus on the skills required for a particular job function or trade. Typically, vocational training programs prepare students for specific careers and disregard traditional and unrelated academic subjects.
Let's hear from Ms. Sophie Hartman, the Coordinator at ASSET-H&C, the Association of Southeast Asian Social Enterprises for Training in Hospitality & Catering. This platform brings together 15 vocational training centers willing to bring positive change in the lives of vulnerable youths and adults by teaching them tourism and hospitality skills that will allow them to successfully integrate into the job market and in society.
1. Why is vocational training so important in Southeast Asia?
While Southeast Asian economies have experienced impressive growth over the past decades. The region still struggles with inequality, and significant social challenges remain. Women and young people tend to be the most disadvantaged, with higher unemployment and informal employment rates than other groups. Studies demonstrate that well-designed formal TVET programs that offer an opportunity to acquire work-ready skills may be an effective way to integrate these marginalized groups into the labor market.
2. Who are the students joining the programs, and what careers are they pursuing after the training?
Our members target at-risk youth, who often lack the skills or knowledge to land a job, keep it, and evolve in their careers. Therefore, the training aims to equip hospitality and catering students with both technical and life skills. Thanks to this, students become not only highly skilled professionals but also responsible adults with the capability to become agents of their own development. Upon graduation, students usually find employment in high-end tourism establishments such as five-star hotels and fine-dining restaurants.
3. How do you ensure quality as well as hygiene standards in the restaurants?
Each of our members operates a training hotel, restaurant, café, or bakery shop. Which allows students to practice their skills in real-life settings. The obligation to attract customers prompts the schools to constantly align their practices with quality standards, new trends, and industry development. It, therefore, contributes to the quality of the training by keeping the teaching relevant to the reality of the market. Especially evolving safety and hygiene standards.
4. What makes the visit to a vocational training restaurant so special for travelers?
The approach taken by ASSET-H&C members creates a win-win situation. Disadvantaged people receive training and find work while consumers get access to quality services and products. This would subsequently benefit the surrounding community. Tourism is about the experience, and vocational training restaurants provide a unique one. Not only do customers have the opportunity to enjoy quality food and service, but they are also offered the opportunity to contribute to the development of the community that they visit. Taking the order from a guest at the school's restaurant, making a dessert that will be served, or preparing a room for a client is not the same as practicing in a training lab.
Students must mobilize a set of technical and soft skills to respond to a specific demand in real conditions. Where the customer's level of satisfaction will attest to their capabilities. By recognizing trainees' performances and providing constructive feedback, guests can be a part of students' journey of empowerment. This makes the experience particularly exciting and meaningful.
5. Tell us your favorite dish you've ever tasted in one of the restaurants!
Picking only one dish is totally impossible for me. But what I generally like in the training restaurants of our members is the attentive service and relaxed atmosphere. On the one hand, customers are aware that the restaurant is a learning environment for young people. So they tend to be patient and sympathetic towards the trainees. On the other hand, even if mistakes happen, the trainees are clearly making an effort to give customers a great experience. And this creates a pleasant and friendly vibe.
Are you interested in visiting one of the restaurants? Here are a few suggestions! Hidden in a maze of small side roads in Siem Reap, behind flowers and palms, it may not be the most accessible place to find. But the Bayon Pastry School Coffee Shop is well worth it. Famous for its pastries and loaves of bread à la française. The café's menu offers a selection of delicious sweet and savory options. The most exciting thing about this little café is not the excellent food. It's the human story behind it. The coffee shop is run by Bayon Education and Development. A Cambodian NGO, and is part of a baking and pastry school operated by and for women. All the shop's staff members are alumni who have grown into confident and robust hospitality professionals through their training and work experience.
Every year, some 20 women in very precarious situations are offered a chance to gain vocational skills. That eventually will help break the cycle of poverty. Another women's solidarity dimension is reflected in the sourcing of ingredients for the café. The vegetables used are local, organic products that are grown by female farmers trained in agro-ecology. Which is another program of Bayon Education and Development. Travel is about learning and sharing. Being able to support the local community while doing what we love makes every travel experience absolutely unique and rewarding.
Trained school and students
Since 1994, Hoa Sữa School has been helping disadvantaged and disabled youth to gain the skills required for a successful career. The founders named the school after the hoa sữa tree. The reason being is hoping that when students graduate, they will go far and wide, making life more beautiful with their presence.
The menu offers a variety of traditional Vietnamese dishes as well as other Asian and Western dishes. If you want to learn more about the training, Hoa Sữa School welcomes groups to its training center, where guests can enjoy a tour, cooking classes, as well as dance and art performances by students who represent different ethnic groups. This allows students to introduce their culture and helps improve their confidence.
Most people living in vibrant Saigon will tell you that 'quiet' is a luxury. A sanctuary to escape the turmoil of modern life, Mai Sen Bistro offers excellent Vietnamese and European food at a reasonable price. Food is prepared and served by trainees of An Rê Mai Sen Hospitality Training Center. A non-profit vocational school supporting young adults with education and professional integration in the hospitality sector.
One of the restaurant's greatest assets is its inviting courtyard, where customers can sit under the trees, just a few meters away from the hustle and bustle of Binh Thanh District. Reach out to us if you're want to pay a visit to a vocational training restaurant in your next itinerary!
For more details, please feel free to contact us at sales.srilanka@khiri.com or visit Khiri Sri Lanka
Link to video: https://www.youtube.com/watch?v=8BiMz-ead0M