Uncover a Spectacular Architectural Gem in Sri Lanka – Lunuganga Estate, where guests can immerse themselves in a captivating realm of architectural marvels.
This time we will be putting the spotlight on an architectural masterpiece in Sri Lanka which is now converted into a boutique hotel where guests could delve into the captivating world of architectural wonders, design trends and thought- provoking insights, all of this while enjoying all the comforts you expect from a luxury hotel!
Whether you're an architecture enthusiast, a design professional, or simply curious about the built environment around us, you are up for a delight on this read.
When 'Sri Lanka' and 'architecture' are two words in the same sentence, there's another word which will most probably feature in the same sentence – "Geoffrey Bawa". Architectural wonders of Sri Lanka cannot be spoken of while omitting him since he was one of the most influential architects of the 20th century. So, we will start off with a short ode to him.
Bawa's architectural philosophy of "Tropical Modernism" emphasized the integration of indoor and outdoor spaces, blurring the boundaries between the built environment and nature. He believed in creating architecture that responded to the site's context, respected local traditions, and provided a sense of tranquility and serenity. His designs in Sri Lanka showcased a deep understanding of the tropical climate, culture and landscape, integrating built environments with natural surroundings. He boldly incorporated elements like courtyards, verandas, and open spaces, enhancing the connection to nature. Bawa skillfully combined modernist and traditional elements, drawing inspiration from ancient traditions. His spatial mastery focused on sensory engagement and emotional responses, fostering interaction and deeper connections with the built environment. His skills and passion for the art was recognized by the Sri Lankan president J.R Jayawardene who asked him to design the Sri Lankan Parliament. Although the caliber of politicians produced by the Parliament of Sri Lanka so far is debatable, there is simply no doubt about the caliber of its architectural design which stands out and screams "Bawa" in all its elements.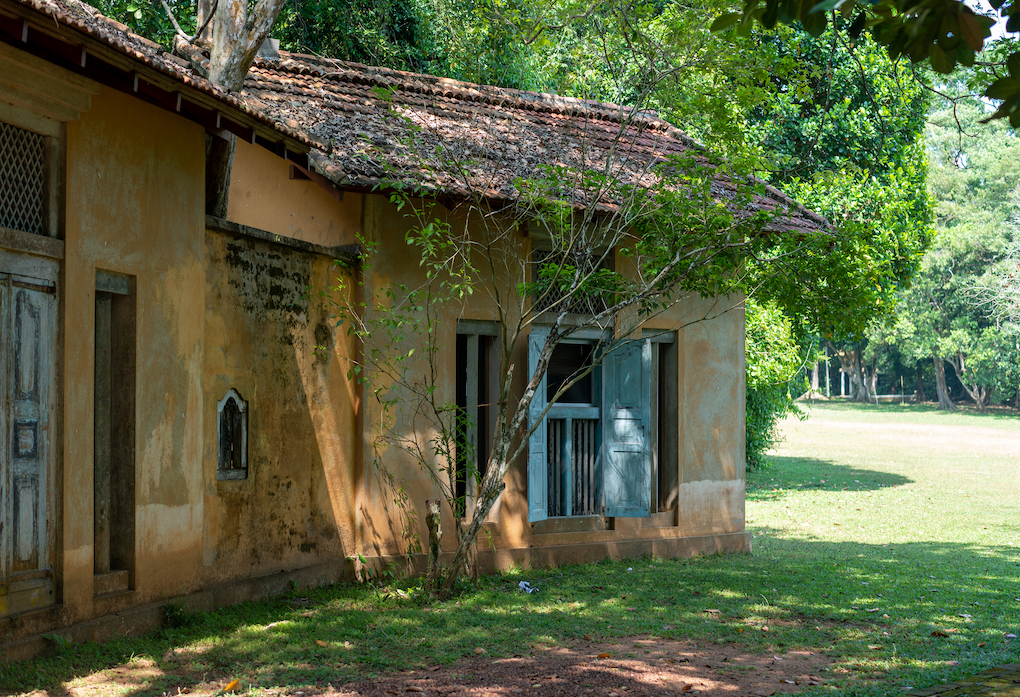 Lunuganga Estate
The Lunuganga Estate is a renowned architectural masterpiece and garden located in Bentota, Sri Lanka. Lunuganga is a significant representation of Bawa's design philosophy and showcases his innovative approach to architecture and landscape design. The estate had been used as a cinnamon estate during the Dutch era and then a rubber plantation under the British. Bawa bought the property in 1948 and over several decades gradually turned it into a finely planned environment. 
The estate, which is about 25 acres in size, features a variety of landscapes including lush gardens, picturesque vistas and a scenic lake. Actually it's the lake (a lagoon to be precise) and its salty water which inspired Bawa to name this as "Lunu-ganga" which in Sinhalese language means "salt-river". Bawa continued to shape and change Lunuganga until the very end of his practice; when he was taken ill and immobile. In fact, he continued to spend time in the gardens even in the final stages of his life; and the soothing qualities of the place prevail even today. At times it feels like a time capsule transporting you back to Bawa's days.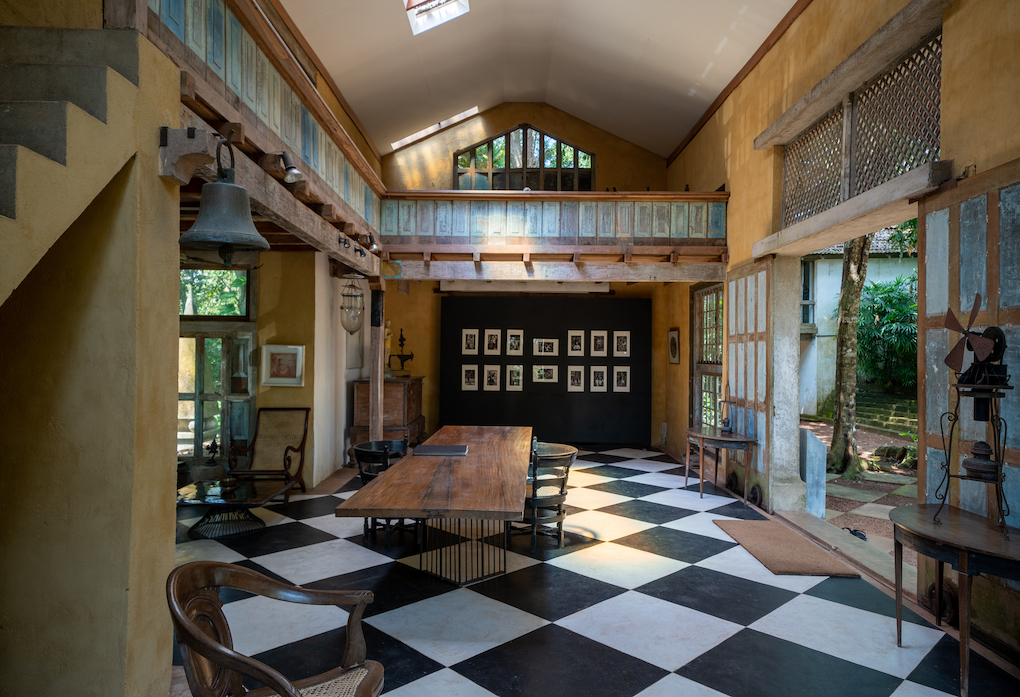 Lunuganga Estate is now being managed by Teardrop Hotels who are renowned for their unique and luxurious properties that offer immersive cultural experiences. As a hotel group, Teardrop Hotels celebrate the architectural brilliance of Geoffrey Bawa and showcase his influence on Sri Lankan hospitality and design.
The rooms are a perfect blend of the old-world charm and the modern-day amenities. We are huge fans of places like this which don't make you compromise too much comfort to enjoy the best of the old world.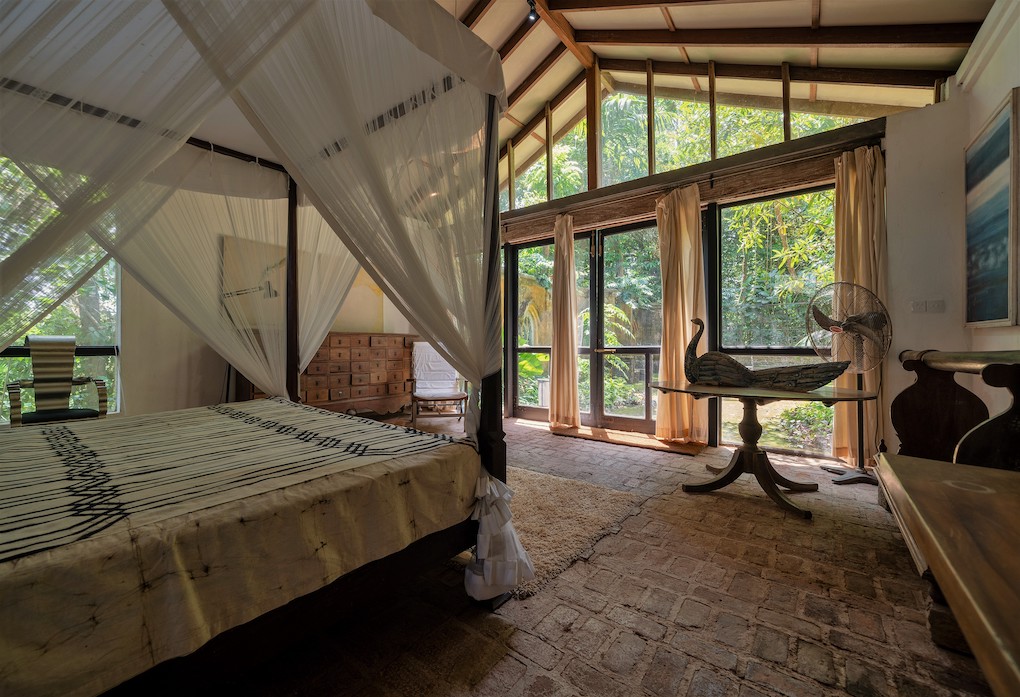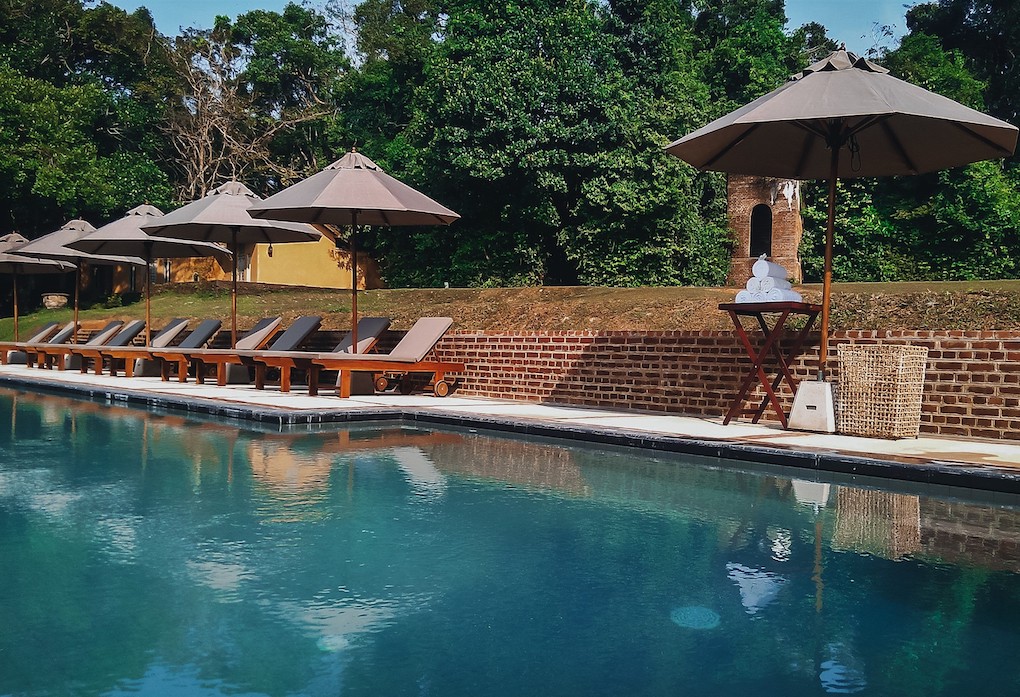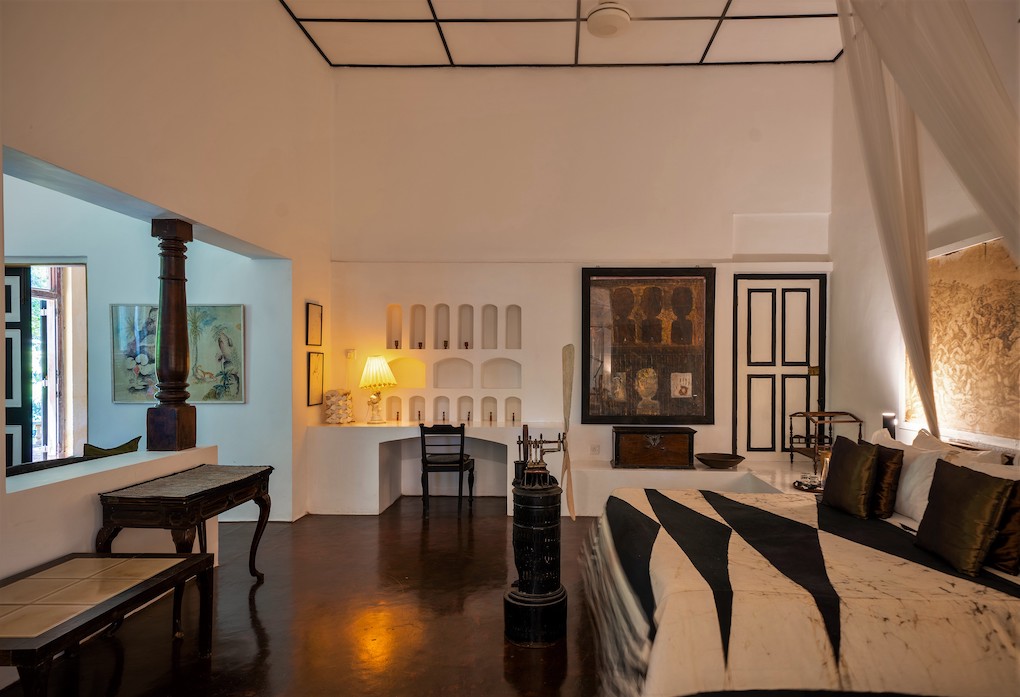 Food & Beverage is certainly a forte of teardrop hotels and it certainly resonates at Lunuganga as well. They have an open plan lake-view restaurant which gazes into the garden. Lunuganga is the venue to try some of the island's standout dishes such as hoppers, some fiery chili- and lime-infused coconut symbol as well as international and contemporary Asian fusion meals. 
Traditional rice and curry can be enjoyed at lunchtime and also at dinner, and curries are also on the menu for breakfast, alongside more traditional western options such as scrambled eggs and homemade granola. Many of the fruits, vegetables and herbs used in their freshly cooked meals are sourced from local vendors and from their very own kitchen garden. While Sri Lanka is famous as a tea producing country, the local coffee served at all teardrop hotels is one of the best you could find in Sri Lanka – you can thank us later for that tip!
On your next trip to Sri Lanka, whether you're an architecture buff or not, you can definitely enjoy a nice stay at this aesthetically pleasing property with immaculate service.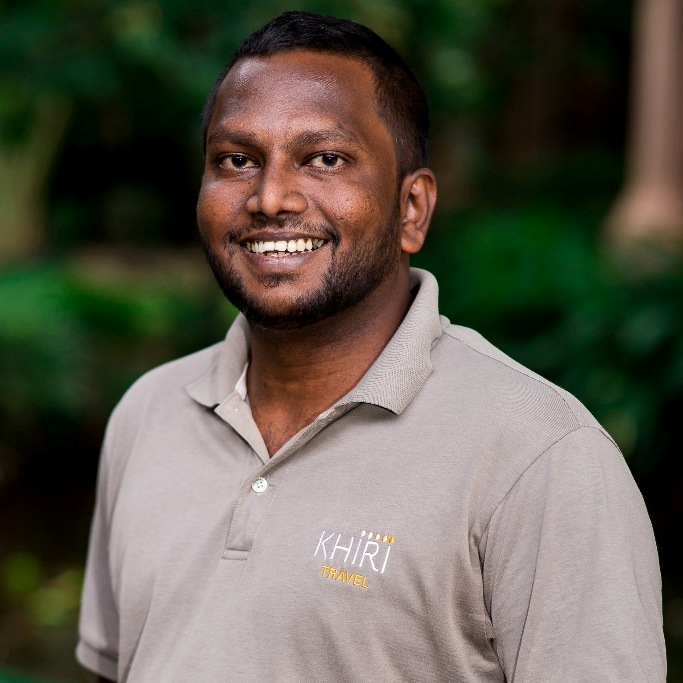 Mahiru Fernando was born and raised in Colombo, Sri Lanka, and as far back as he can remember, he has always loved being surprised by the things his hometown has to offer. His favourite places on the island are the national parks (though he prefers them without the crowds), and the cooler hiking trails in the countryside that offer fresh air, lush greenery, and views of the waterfalls. When he is not at work, Mahiru can be found with a guitar in his arms, or in a kitchen, where he loves to prepare his favourite dish: Black Pork Curry.