An amazing experience taking in Sri Lankan weaving, as well as food and history
Recently Mahiru from our Sri Lanka Team was on the road on an inspection trip visiting many of our preferred hotels and trying out our signature experiences before the high season starts in July. One such signature experience was "Weavers of the Kandyan Kings" and we thought of putting the spotlight on this experience for this month's Khiri Insider!
After an early breakfast in Kandy, we commenced our drive towards Gal Oya National Park. This experience provided the perfect stop in between to break the drive at Ududumbara. Here we met Yapage, our host for the day and after a quick chat we headed inland towards his village. 
One might wonder, handloom textile weaving is practiced around the world in many countries and especially in Asia, so what's so special about it? In this particular village they practice a form or art called "Dumbara Weaving" where the word Dumbara stems from the Sinhalese term for the Knuckles Mountain Range which is in the backdrop of this village. Dumbara patterns are unique to this region and are easily recognizable by those who've heard about it. Usually, Dumbara patterns are symmetrical and colorful, often in the shape of Triangles and squares. Even more, the legacy of this village and its art dates back to the start of the Sinhalese civilization back in 6th Century BC. When Prince Vijaya from India landed here in Sri Lanka, he first caught sight of Kuveni, a queen of an indigenous race of Yakshas (demon tribe) who was spinning yarn at a wheel. It's interesting to see that the islanders here had the art and skills to clothe themselves even back then. 
Yapage shared with us some stories on how they believe that they are descendants of Queen Kuveni. He also shared a local myth that a few centuries back, their ancestors managed to capture a spirit of a Yakkini tribe woman and managed to keep her imprisoned to weave patterns day in day out. Somehow the spirit managed to escape by setting the whole village on fire but a miracle happened where the dumbara designs were left even in the ashes and that's how the patterns survived.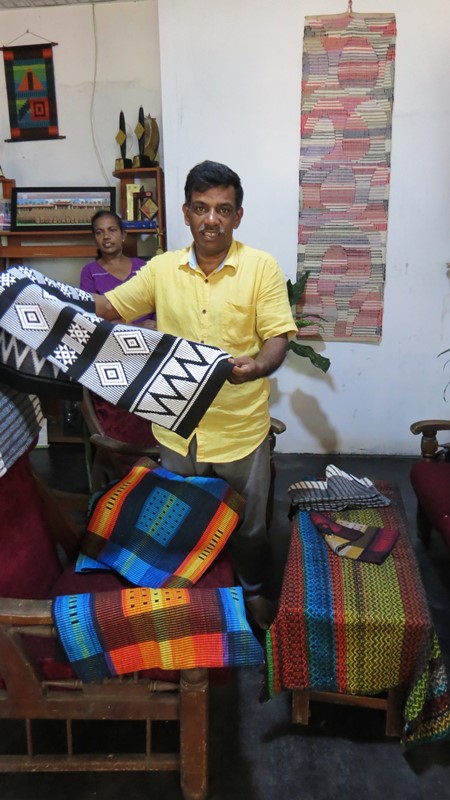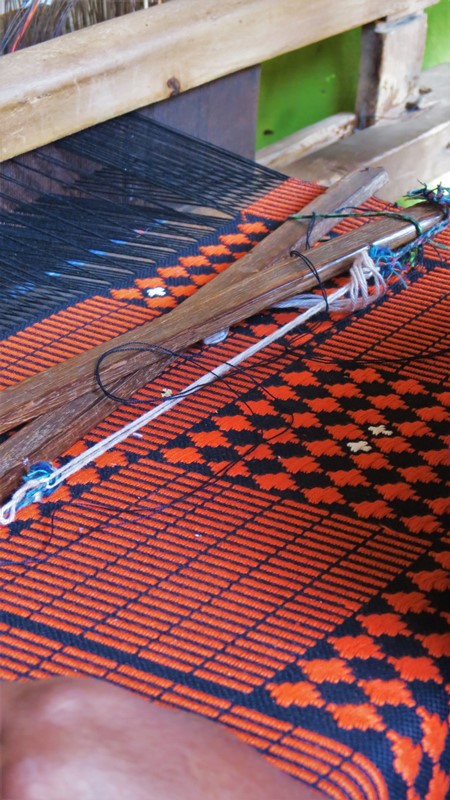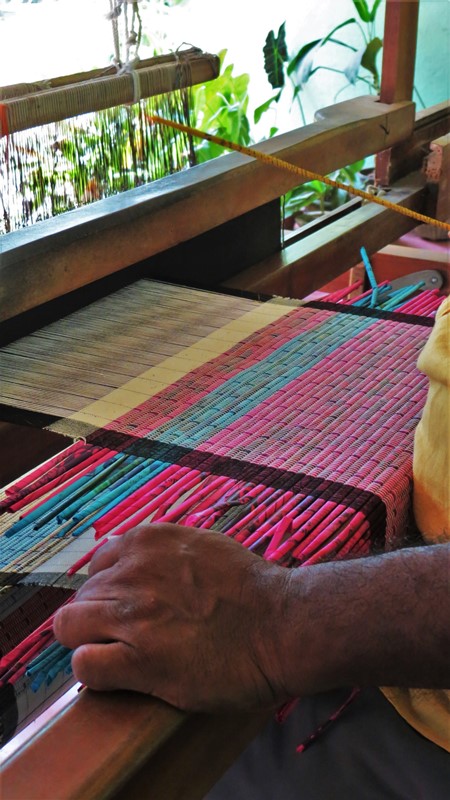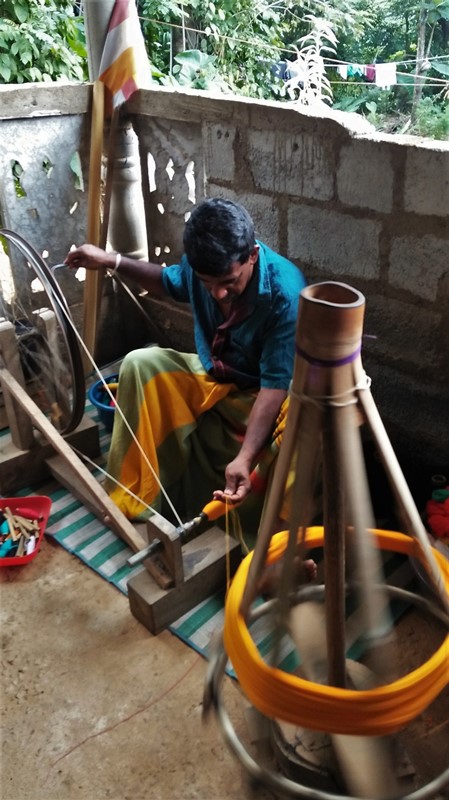 As we headed towards the village, we came across the rare site of a waterfall bordering rice fields. This brought memories from 2020 when we first designed this experience and hiked to the top of this waterfall (not recommended for our guests since it is too adventurous). In Sri Lanka although waterfalls and rice fields are two common things, seeing both of them together is quite rare. As we walked through the paddy fields, Yapage explained to us about their village traditions when it comes to agriculture and farming. It was very interesting to hear about how they share labour by assisting each other to work on each of their rice fields, where no one had to exchange money. This is done as a matter of trust which is a rare commodity in the cities.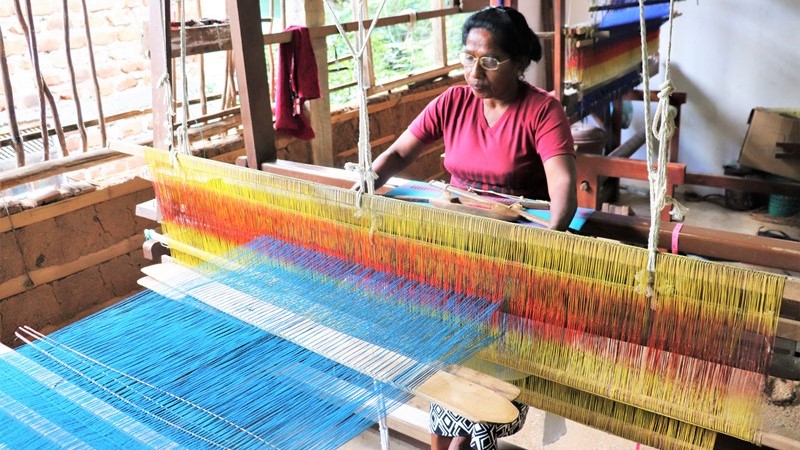 We headed towards Yapage's house where they have a small weaving workshop with a few of his family members as well as ladies from the village work. We were also given the opportunity to try out the weaving techniques ourselves which we failed miserably since it was really complicated. We didn't want to mess up their patterns and hours of hard work and hence we gave up easily. Lesson learnt: things are always not as easy as it seems.
Fast forward thousands of years to the 21st century, seeing this traditional art still alive was fascinating. It has survived through the days of the Kings, reigns of the colonial masters, industrialization, a brutal civil war and now into the post war period. BUT the biggest challenge is to convince the next generation to take it up and carry it forward. Fortunately, Yapage's daughter has studied fashion designing and is now ready to take up the art. She is eager to blend the traditional dumbara designs with more modern designs and give it a modern twist. We also believe that this is the way forward for the art to survive and thrive.
Before bidding adieu to the village, Yapage's wife served us some local snacks and sweetcakes with a cup of tea. Being hardcore foodies, we whacked some of those Kokis, an interesting local snack which has some influence from the Dutch colonial era. We had Plain Tea, just like the locals do. Our tastebuds were satisfied and so were our hearts with the simple pleasure of doing our bit to try and keep this art going on into the future.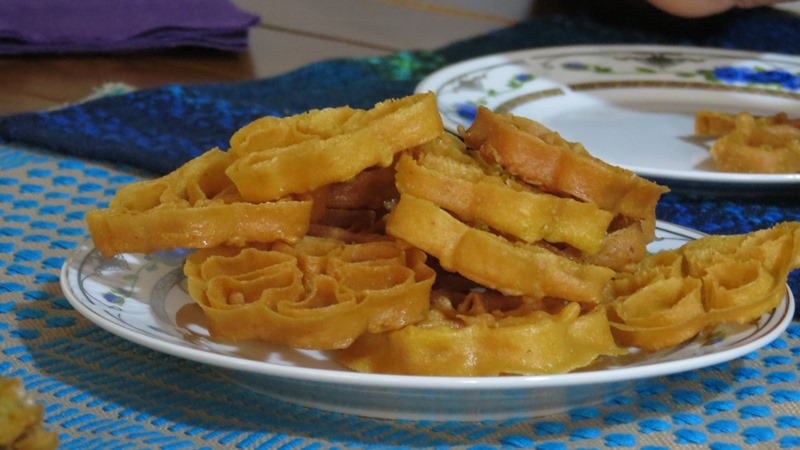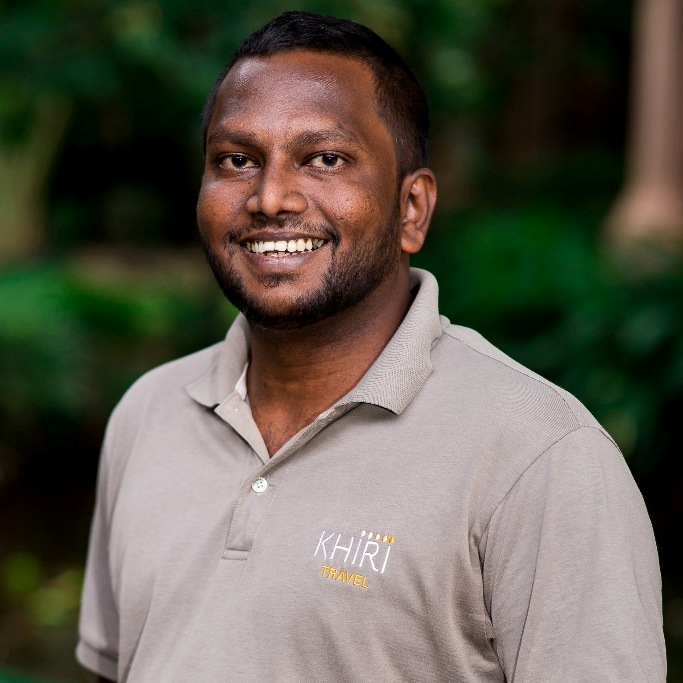 Mahiru Fernando was born and raised in Colombo, Sri Lanka, and as far back as he can remember, he has always loved being surprised by the things his hometown has to offer. His favourite places on the island are the national parks (though he prefers them without the crowds), and the cooler hiking trails in the countryside that offer fresh air, lush greenery, and views of the waterfalls. When he is not at work, Mahiru can be found with a guitar in his arms, or in a kitchen, where he loves to prepare his favourite dish: Black Pork Curry.