This once notorious opium hotspot is now a regional capital of the arts
History, Art & Tea Combine in this Beautiful Northern City
This month we put the spotlight on a very underestimated (or lesser known) city in Thailand.
Chiang Rai is the capital of the eponymous province and is first and foremost famous for being the place where the Emerald Buddha was discovered (and then moved Chiang Mai and now at the temple Wat Phra Kaew in Bangkok) and because it was the first capital of the Lanna Kingdom (King Mengrai is a local hero; "Chiang" means "city", "Rai" refers to Mengrai) before it was moved to Chiang Mai.
It's the northernmost province of the country, neighbouring Chiang Mai and bordering Burma and Laos, and holds a strategic position in the infamous Golden Triangle, the world's largest supplier of heroin in the 1960s and 90s.
Opium was originally cultivated in Yunnan in China as a medicinal plant. It was in the 19th century that its consumption as a drug exploded. The Communist victory over the Kuomintang nationalists in China pushed some producing ethnic groups into Southeast Asia. You can visit the Hall of Opium in the Golden Triangle that houses an excellent permanent exhibition to understand the evolution of the poppy from its use for therapeutic purposes 5000 years ago to mass production under the pressure of the British Empire and the ravages of addiction in China
That was the history part! But what about Chiang Rai today?
Art: Three Colours of Chiang Rai
It might sound like a strange comparison or an overstatement to some, but to me contemporary artist Chalermchai Kositpipat (and his disciples) is to Chiang Rai what Gaudi is to Barcelona! He was involved in the creation of the King Mengrai Monument and the Clock Tower (considered to be one of the most beautiful in the country).
He decided in the 1990s to completely renovate the original structure of Wat Rong Khun, aka the White Temple (see main image), and to finance the project with his personal funds. He wanted to make it a centre for meditation and learning about Buddhism. This controversial work (that is not completed yet) has become one of the essential symbols of Chiang Rai. Don't miss representations of Marvel superheroes and the…Golden Toilet!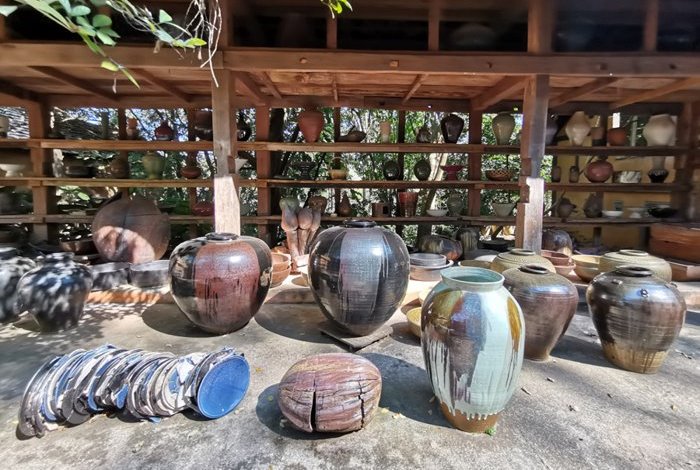 The Black House is a set of 40 buildings in teak (and other materials) combining traditional Lanna architecture and contemporary Gothic art, which exhibit a vast collection of works of art mixing taxidermy, furniture and works based on animal bones and skulls, skins of crocodiles and snakes, and modern sculptures representing darkness. The Black House was designed by Thawan Duchanee (whose mentor is… Chalermchai Kositpipat) can therefore be perceived as a response, a negative or a complement to the flagship White Temple, which is a symbol of purity.
The Blue Temple blends contemporary psychedelic style and traditional and mythological references. It is covered with a deep sapphire blue (which symbolises purity and distancing oneself from materialism) and gold colour. It is the work of Putha Kabkaew, a pupil of… Chalermchai Kositpipat!
And to stay on the art topic, The Art Bridge is an elegant art gallery which exhibits on two floors paintings, writings, sculptures by local artists. The gallery also has a cafe with a good selection of art books and a very good gift shop. It is twinned with the excellent fusion cuisine restaurant Ma Long Der that offers good views over the rice fields.
Doy Din Dang Pottery is a small paradise for lovers of ceramics (and art in general). The gallery also serves as the residence of the famous Thai potter Somluk Pantiboon (who lived in Japan and learned the techniques of master Nakasato). A large collection of functional and decorative pottery is scattered in the open air and in a Japanese-style house, high in the hills in a peaceful garden.
A New Crop: Post-Opium Agriculture
Chiang Rai is one of the most ethnically and geographically diverse provinces in the kingdom (you can visit the Hilltribe Museum and Mae Fah Luang Art & Cultural Park, or try immersive stays at the Akha Mudhouse at Mae Salong).
In the 1970s, the Royal Projects at the initiative of King Bhumibol Adulyadej (Rama IX) aimed to offer an alternative to local farmers and mountain minorities (Hmong, Karen, Aka, Lisu and Palong) who were producing up to 200 tons of opium per year, to increase their income by learning organic tea/coffee farming.
Mae Salong district (1hr drive from Chiang Rai city centre) symbolises the rebirth of Chiang Rai province. Movie lovers might remember the landscapes of the movie 3 Needles, shot in Mae Salong and released in 2007.
Travellers can visit Santikhiri, a village of Kuomintang descendants, where drug traffickingwas long the main source of income (which was partially supporting Kuomintang army). Mae Salong is now converted to tourism and agriculture.
There are more than 2 million tea trees in the region. Tea Plantation 101, opened in 1995, was Mae Salong's first terraced tea plantation. The fields extend over more than 50 hectares at an altitude of 850m. Two of their Oolong teas (whose plants were imported from Taiwan) finished first at the World Tea Festival in 2004.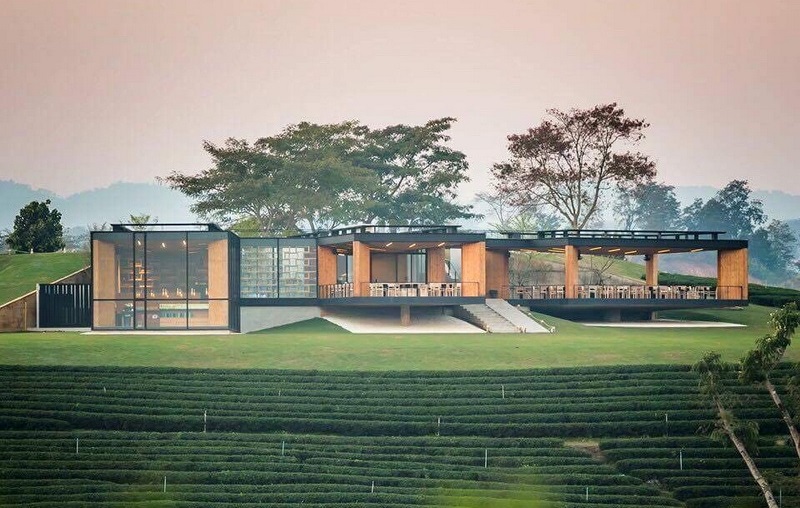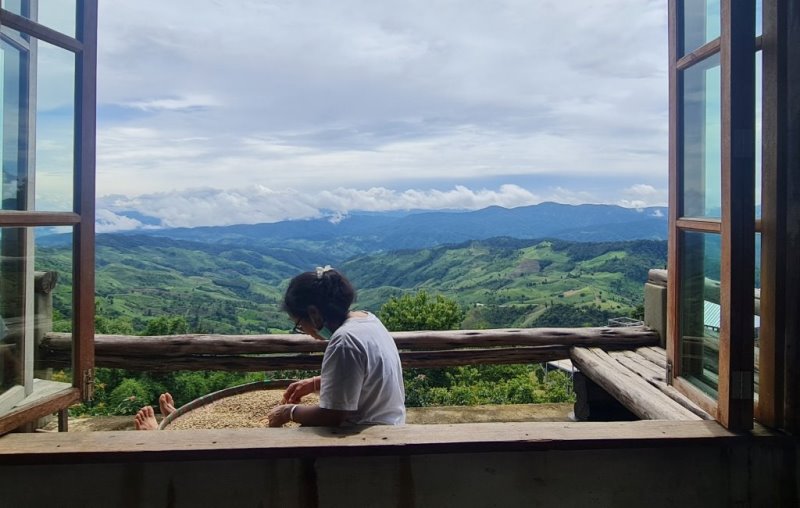 Choui Fong Tea Plantation in Mae Chang district is another great example. It is the largest tea producer in the province, and offers a good variety of green, black, Oolong and Assam teas on a land of nearly 200 hectares at 1200m altitude. Travellers can relax in one of the two tea houses with superb modern architecture overlooking the plantations. The plantation can be combined with Doi Tung whose development was originally led by the Mae Fah Luang Foundation (created by the Princess Mother and recognized by UNODC), and which is home to multiple major sites such as the superb Mae Fah Luang Botanical Garden (1.5 ha) that also poetically symbolises the rebirth of a region scarred by the opium trade.
Not a tea lover? Of all the plantations that cover Doi Chang (1500m above sea level), Doi Chang Coffee Farm is probably the best. It's run by an Akha family and produces organic and fair trade Arabica coffee. The road that leads to the plantation is beautiful and we strongly recommend a stop there on the way from Chiang Mai. It was in 1969, again at the instigation of King Bhumibol, that poppy-growing villagers turned to coffee production. This is also where it all started for the famous Thai coffee chain Doi Chang (you can take a look at the neighboring Doi Chang Coffee Estate).
Now let's take a look at some unique experiences to make your clients' honeymoon a trip they'll never forget…
Khiri's Recommendations
How to Get There
You can get to Chiang Rai by plane (less than 90 minutes from Bangkok) or by road from Chiang Mai (3h) or Lampang / Nan (3h30-4h).
You can also go to Laos via Huai Xay or to Burma via Tachileik (currently closed, but check beforehand as information changes regularly)
Where to Stay
Anantara Golden Triangle overlooks the famous Golden Triangle, in a magnificent natural setting. It is home to an elephant camp in partnership with the Golden Triangle Asian Elephant Foundation (GTAEF). Try the Jungle Bubbles – transparent bubbles of 22m2 perched above the forest which allows guests to observe the elephants in their natural environment.
The Four Seasons Tented Camp offers 15 luxury tents in the explorer spirit of the 19th century, reminiscent of the glamping style that can be found in Africa.
You can interact with the group of elephants rescued and protected by the GTAEF foundation.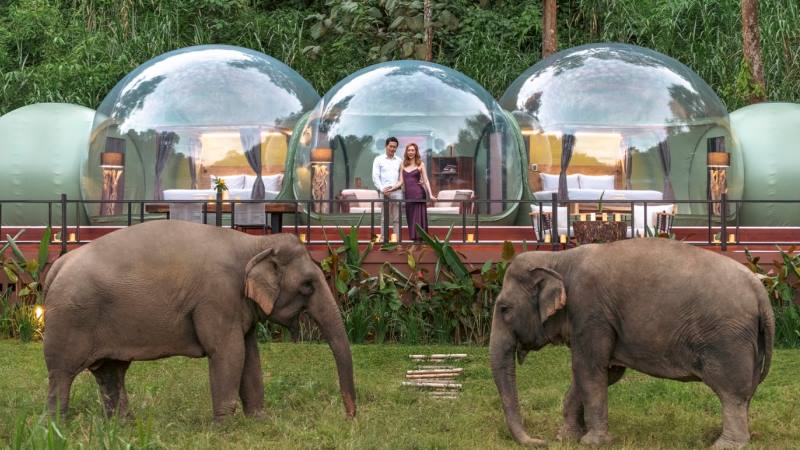 Where to Eat
Chivit Thamma Da Coffee House close to the Blue Temple is composed of two superb colonial-style houses full of antiques and a garden, installed on the edge of the Kok River. It offers excellent fusion and local cuisine. They cultivate much of their rice. Coffee, fruits, vegetables, herbs, pork, chicken and eggs are purchased from responsible local farmers, in accordance with fair trade rules. The menu varies seasonally and incorporates organic ingredients as much as possible. You can easily spend the afternoon there (library, pool table, croquet court, bar, jazz music).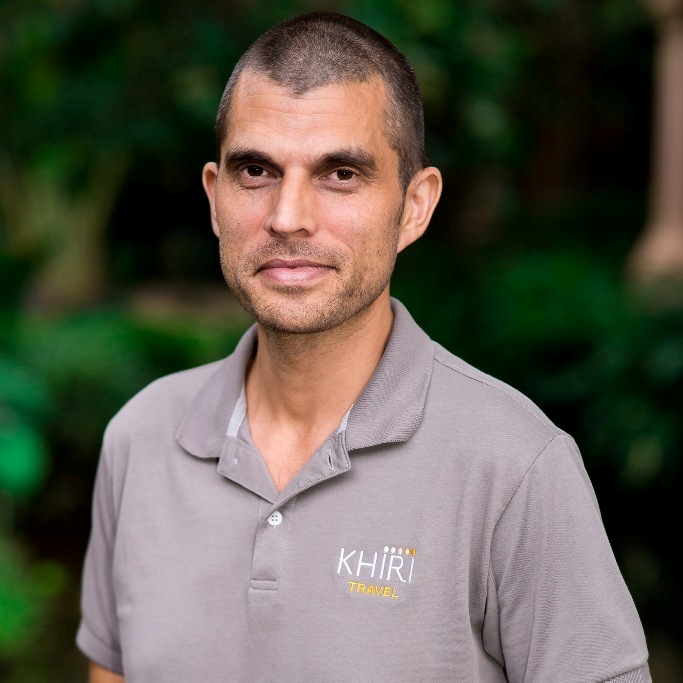 Julien traveled for the first time in Asia in 1996 and knew immediately that the continent would play an important role in his life! After his graduation in Chinese language and culture and a year in Taiwan, he started to work for a tour operator in Paris specializing in tailor made trips to Asia as a travel consultant, product manager and tour leader. He moved to Asia in 2012 and has lived in three different countries (China, Thailand and Vietnam) since then. He moved back to Thailand with his family in 2022 and joined Khiri. Travel and music are Julien's two main passions.