A day of trekking, meeting the locals, & drinking rice wine in central Laos
A Fun Way to Explore Rural Vang Vieng
Our roving Marketing Manager, Tim Russell, visits some hilltribe villages near Vang Vieng in Laos, where he treks through the rice fields and learns all about Lao rice wine…
Mr Xim the blacksmith flashes me a wicked grin and produces a bottle of clear liquid, which he proceeds to pour into a shot glass. Once again, I am facing the rice wine challenge.
"How strong is it?" I ask. My guide translates for him, and he looks at me nonplussed as if it's the stupidest question he's ever heard. Clearly, quality control and measuring equipment aren't top of his list of priorities. Undaunted, I down it in one (to sip it would be to invite ridicule and be the talk of the village for years to come), and the immediate burn tells me that it's very strong indeed. Mr Xim cackles and pours me another shot. It's 9:30am, and we haven't even started the trek yet.
I'm in a Khmu hilltribe village just outside the Laotian town of Vang Vieng, once a notorious backpacker party hotspot, now reinventing itself as an adventure travel destination. So it's rather fitting that today's activity combines trekking through rice fields and lashings of rice wine. This is a brand new experience created by Khiri Laos during the pandemic, and today I am happy to be the guinea pig.
Hmong Village
Our day begins at a local Hmong hilltribe village. There are almost 600,000 Hmong people in Laos, as well as a significant diaspora in the US, and for the most part, their lifestyle has remained largely unchanged for decades – the most significant change being that these days they construct their houses from concrete rather than the traditional wood.
My guide Khaming leads me around the village, literally walking through people's homes and yards without anyone seeming to object. Homes are basic with earth floors, kitchens are chaotic, and farming is the main activity. We also stop to visit the schoolhouse which was built in the 1990s by an Australian volunteer and which now receives regular foreign teachers, helping the local kids get a headstart with their education. Whilst life is clearly hard for the Hmong, they are all extremely welcoming and not at all camera-shy, and their village, surrounded by Vang Vieng's spectacular limestone karsts, is very beautiful indeed.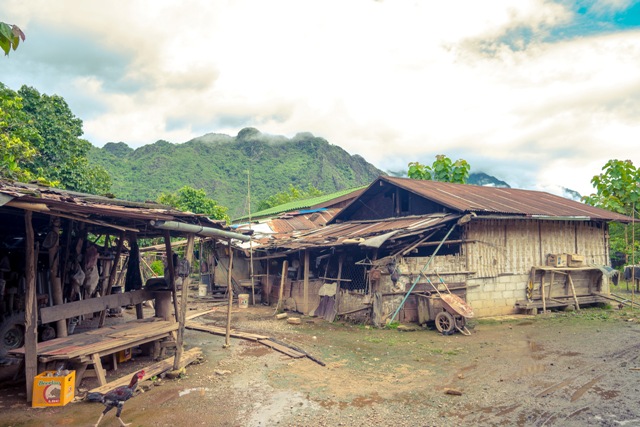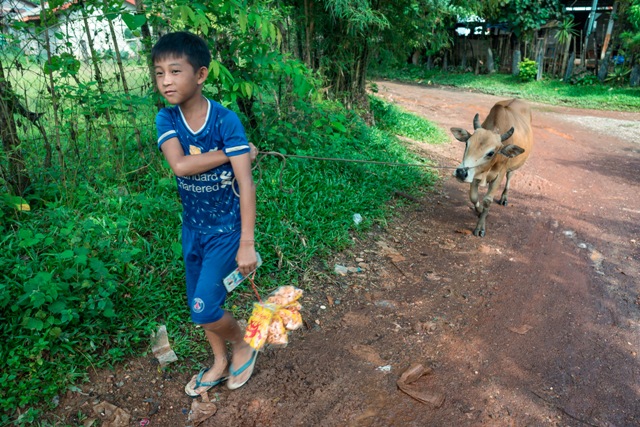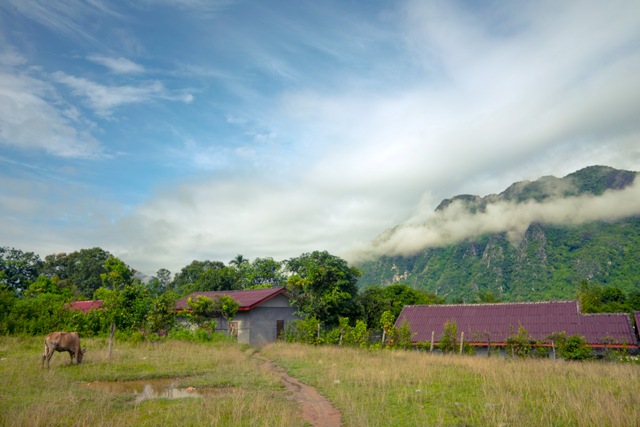 Khmu Village
Our next stop is a Khmu village – my guide grew up here so he's well known to all the villagers, which gives us a level of access we might not otherwise enjoy. The Khmu are Laos' largest ethnic minority group, making up around 11% of the population. We stop and chat to an elderly couple who make a living from making wooden baskets for steaming rice. They begin with a log which is eventually shaped, hollowed out and fitted with mesh, at which point it's ready to sell. It's a hard living, with each basket taking 1.5 days to make and selling for just $3, but they are happy to chat to us and tell us all about their work.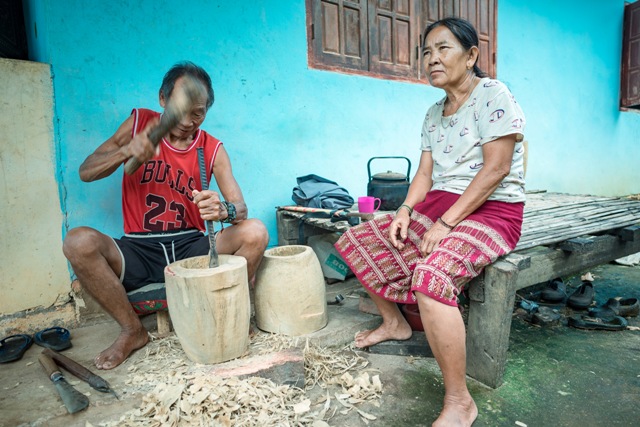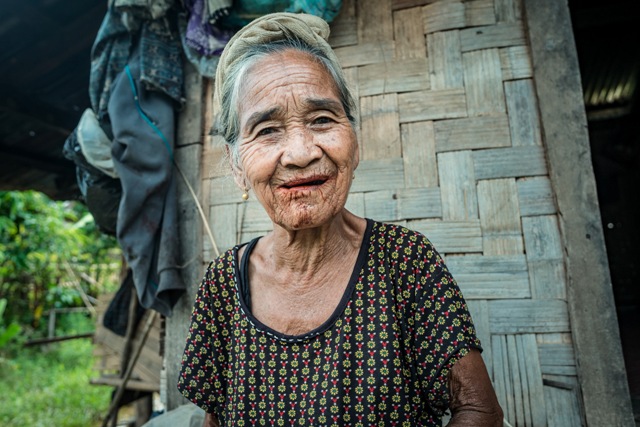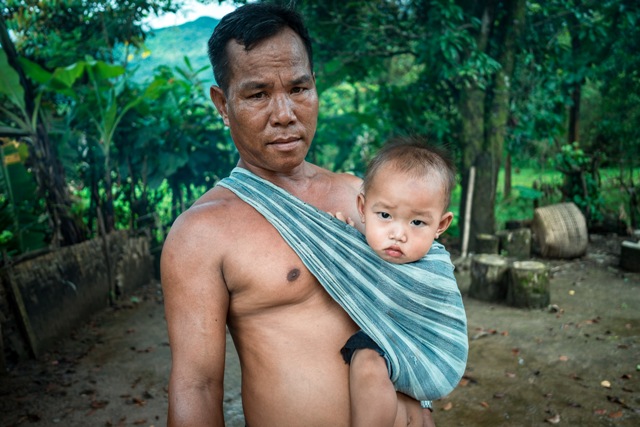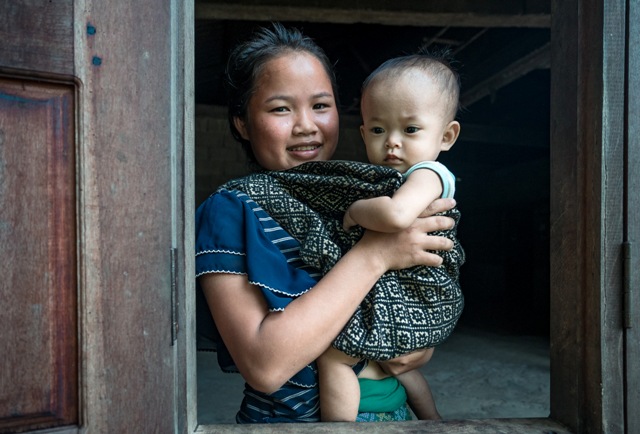 It's then that we meet Mr Xim the 73-year old blacksmith who, as well as plying us with his homemade moonshine, also shows us how he makes knives and machetes by hand. They're magnificent pieces and sell for a mere $5, so I delight him by buying one (sadly it will be confiscated a couple of days later by amused security guards at the Lao-China Railway), before we move on to have lunch with Mrs Bountar's family who also make rice wine, in this case the less potent lao hai variety which is very popular amongst the Khmu.
Rice wine has a long history in Laos (and, in various forms, across Asia), and until the French introduced beer and wine to Laos in the late 19th century, it was the only alcohol consumed. Even now it remains the drink of choice for most hilltribe villagers as it is easy to produce, and a lot cheaper (and stronger) than beer. The Khmu only consume it outdoors – they believe that if they open rice wine inside the house the smell will summon the thirsty spirits of their ancestors.
Mrs Bountar takes us through the wine production process. First, rice grains are slowly mixed with rice husks, before yeast and sweetener are added. The rice is then put into a jar which is sealed with clay, and left to ferment for 7-14 days – the longer it's left, the stronger it is. When it's ready to drink, the clay lid is removed, water poured over the fermented rice, and a bamboo straw plunged into the jar, and the fun begins!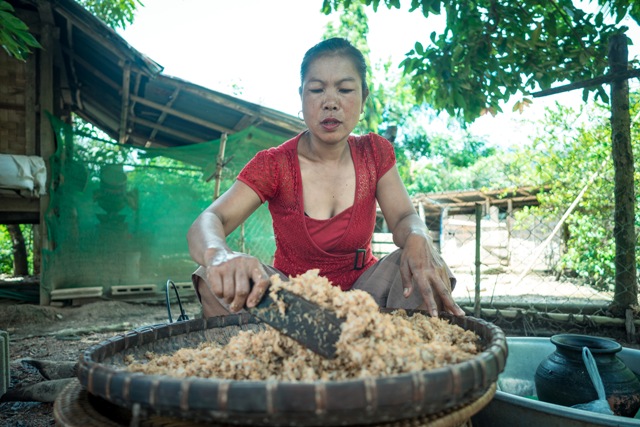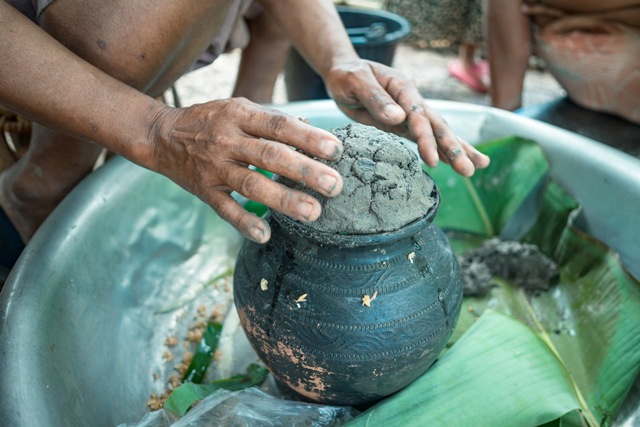 Trekking Through the Rice Fields
After lunch is over, Kha Ming straps a fresh jug of wine to his back and we begin our trek through impossibly green rice fields, against a backdrop of those awesome limestone karsts. Every turn brings an amazing new vista and I am reminded once again how incredibly beautiful – and underrated – this country is.
It's not always easy going – it rained the previous evening making the narrow paths muddy and slippery, and after an hour or so of walking it starts to rain again, so we head for one of the bamboo huts that are dotted across the Laotian countryside to take shelter. It's already occupied by an old man, his daughter-in-law and grandson, but a fresh jug of rice wine always breaks the ice and as we pass the jug around, the conversation soon flows. Not really understanding much of it, I take a short nap. When I wake up, the rain has stopped and the sun has reemerged, and we conclude our trek with another hour of hiking along narrow dirt paths that weave amongst the rice terraces, eventually rejoining our car and heading back to my hotel where I take a well-earned shower and another nap. Well, it's been a long day and there was a lot of rice wine.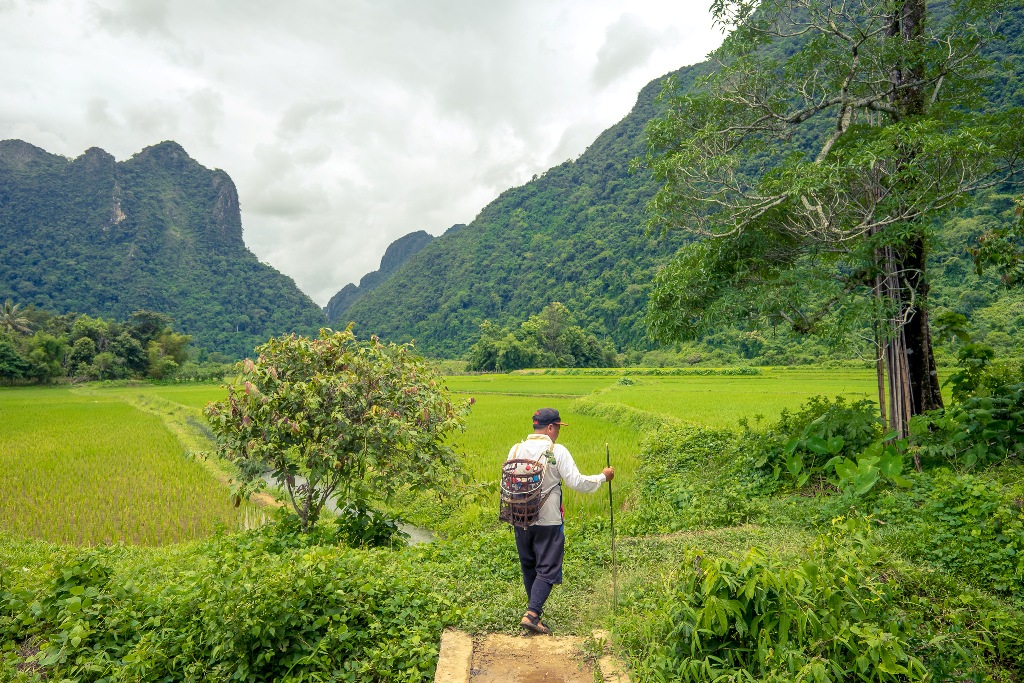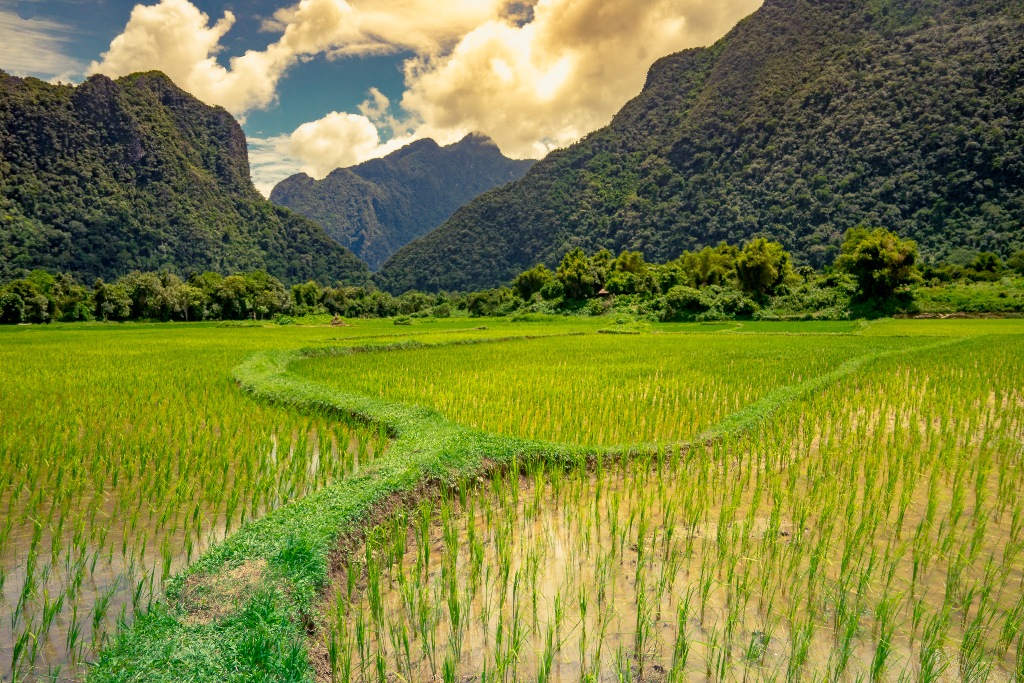 Even without the rice wine (and the tour is of course available to non-drinkers too) this was a fantastic day out. The opportunity to have close encounters with Lao hilltribes and learn more about the lifestyles, as well as some of the most scenic trekking I've ever had the pleasure of doing. The perfect way to experience the rural life of Vang Vieng and learn about some of the keystones of Lao culture.
This tour is suitable for pretty much all fitness levels – I did the 'easy' trek, largely flat and around three hours, but there is a more strenuous route available which involves climbing up to a cave, for those who are more experienced hikers. Contact the Khiri Laos team to find out how to offer this amazing trip to your clients!