An epic journey cycling the Mekong from Mukdahan to Nakhon Phanom
An Epic Bike Ride from the Lao Border to Mukdahan
Khiri's Quality Control Manager Koen Olie is a keen cyclist and can be seen pedalling around Bangkok most days of the week. In this blog post, he embarks on one of his longest rides yet (with the occasional train and bus thrown in): cycling the Mekong from Mukdahan to Nakhon Phanom…
For many years I have had a vague dream to go cycling along the Mekong River, nothing serious, but it was always there in the back of my mind…In the past, I went on some cycling trips with my old friends Tim and Ray, twice in Cambodia, and several times on non-cycling adventures. So when Tim suggested doing something again, I came up with my old Mekong plan!
Sometimes we're asked 'How do you plan such trips? It must be a lot of preparation!' Actually, it isn't. We talk about possible areas we haven't been to or would like to revisit, e.g. Nakhon Phanom or Bantaey Chmmar, Google a bit, especially on maps, see if there is some form of accommodation available, and that's about it. Hotels/guesthouses are not booked in advance because we like to be as flexible as possible. Also, we consider hotels as reasonably clean places only to be used for dumping luggage, taking showers, and getting some sleep. We don't give a rat's ass about Instagrammable decorations, swimming pools, etc. The most important factor is the flexibility of travel to be adapted en route.
Of course, sometimes we end up in weird places, e.g. Surat Thani's The Shining Hotel (**), but that only makes it more fun. For someone who has worked for a tour company, it's a very different approach but gives us all the freedom we need!
At first, we thought of cycling along both sides of the river but skipped the Lao part due to the hassles of getting along the Friendship Bridge on bicycles…
Finally, we decided on leaving on our own (Ray from Prasat, Tim from Huay Daeng, & me from Bangkok), meeting in Mukdahan, and start cycling to That Phanom!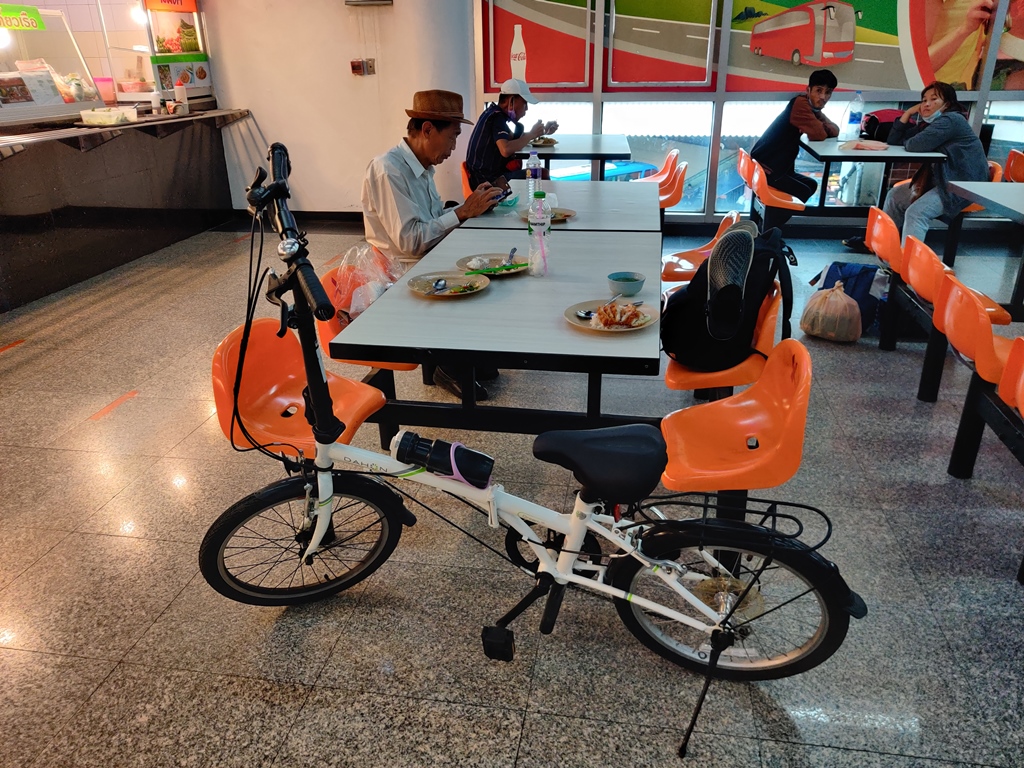 I left home in the late afternoon for Morchit Mai bus terminal, already booked my ticket on line. My folding bike had a complete check-up + clean-up at the shop, therefore the taxi driver didn't mind having it on the backseat. Also nowadays lots of taxis have a gas tank in the back and my bike won't fit anymore in the luggage compartment!
After arrival at Mor Chit Bus Terminal I had some food, almost nobody batted an eye when I parked my bike next to the table! A little later I found my way to the Mukdahan bus and presented my ticket and bicycle, no problem whatsoever. It fitted nicely in the bus compartment, not far from my seat, much better than stowed away among the other luggage.
On the road again, my seat was reasonably comfortable, but not much sleep unfortunately. Why other passengers don't set their mobiles to notice vibrating instead of ringing, hopeless. Also, getting out of Bangkok wasn't easy as it was pouring with rain and some roads were flooded.
Consequently, the bus arrived much later the next day in Mukdahan.  Tim had already arrived and was waiting for me at Mukdahan's Bus Terminal and told me that Ray got delayed as well.
Mukdahan to That Phanom - 53km
As Ray was still on the way, Tim and I went cruisin' around Mukdahan a bit, first objective: a coffee shop! As mentioned before, I hardly slept on the night bus and felt not great, but coffee helps…
Cycling through the Indochina Market wasn't very interesting as most shops were still closed, apparently they start late in Mukdahan. Also, the riverfront was closed off for a large part due to construction, rather disappointing to be honest.
Wat Si Mongkol Tai offered some rather unusual statues to say the least. Plenty of old houses in Mukdahan, but some are not in great condition, even so, I always like to have a look. On the bright side earlier this year there had been a street art festival with some great murals, some even with Chinese and Vietnamese texts. This only reinforced the charm of being in a riverside border town!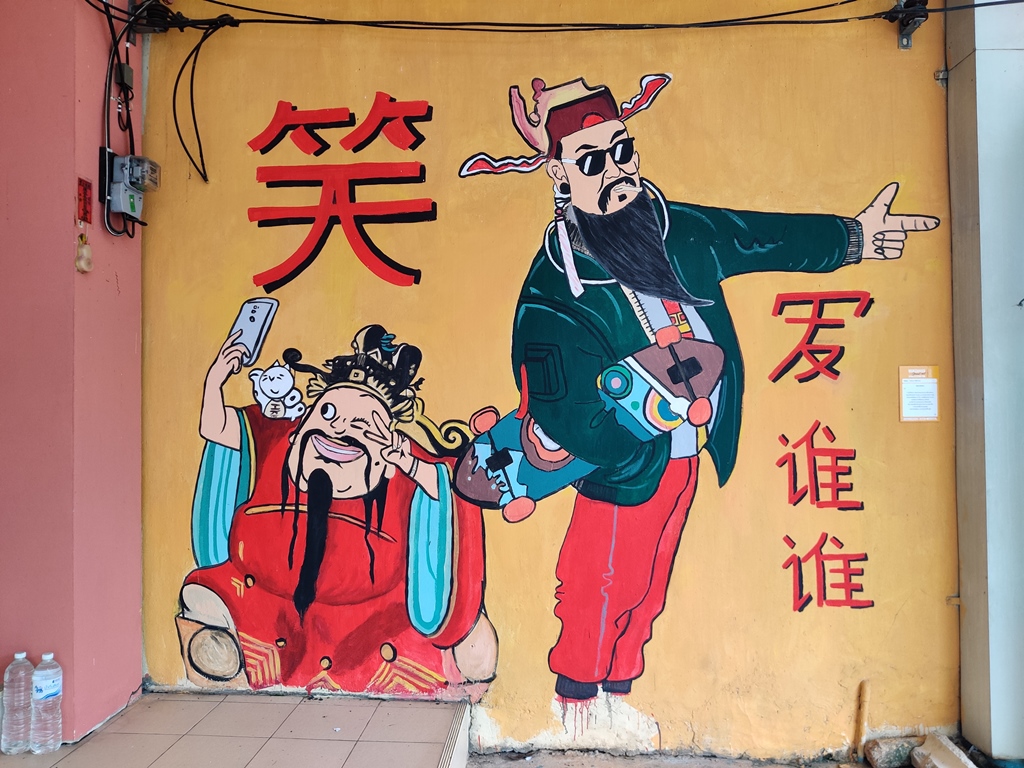 We cycled back to the bus terminal to meet Ray, who was about to arrive and then we could really start [after another coffee!] our trip. A small B road took us out of Mukdahan and provided occasional glimpses of the Mekong River.
Next stop was at the Friendship Bridge to Savannakhet where some ceremonies were performed. All Friendship Bridges are highly unfriendly towards pedestrians, cyclists, and motor riders, only 4 [& more!] wheeled vehicles are allowed to drive over it!
A good 5 hours later we'd arrived in That Phanom, found a bit run-down hotel, checked in, and celebrated our first ride of the tour with a 'cleansing ale'. Over the years we have come up with many 'reasons' for such celebrations! A few 'cleansing ales later we walked through the town, it looked like a pretty decent place.
Eventually we blundered into a restaurant, checked out the dinner menu on the wall, and had an excellent meal there.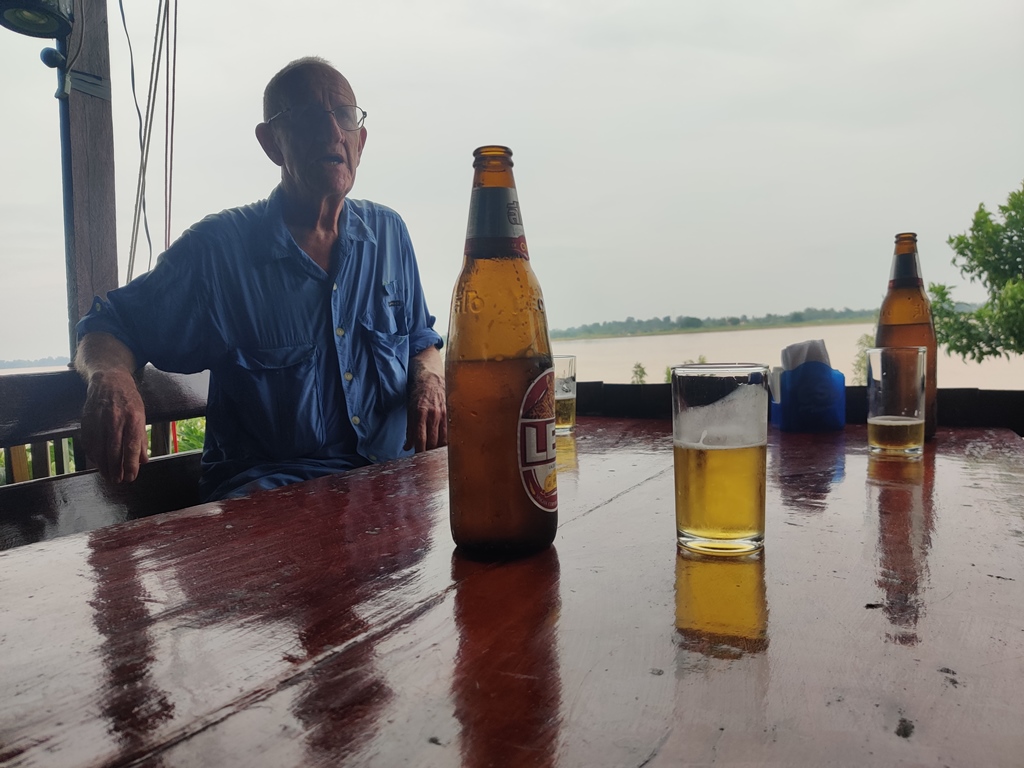 That Phanom to Nakhon Phanom - 61km
The first task of the day, check out and hunt for breakfast, at the same time a good opportunity to walk around town which looked quite different but still. We wandered towards the fresh market, usually worth a visit, and were not disappointed. Lots of friendly people at the market, guess they don't often see foreigners here. More than a few locals wore Vietnamese-style hats.
The Yellow Building turned out to be an excellent breakfast place. The owner turned out to be a former Nonthaburian who moved here a few years ago, his restaurant wasn't doing that well, but at least the air here was cleaner and the overall quality of life much better too. Fully powered up by Joke [Thai-style, rice soup], a few patankos [Chinese donuts], and very strong black coffee we departed this pleasant town and cycled along the Mekong right away.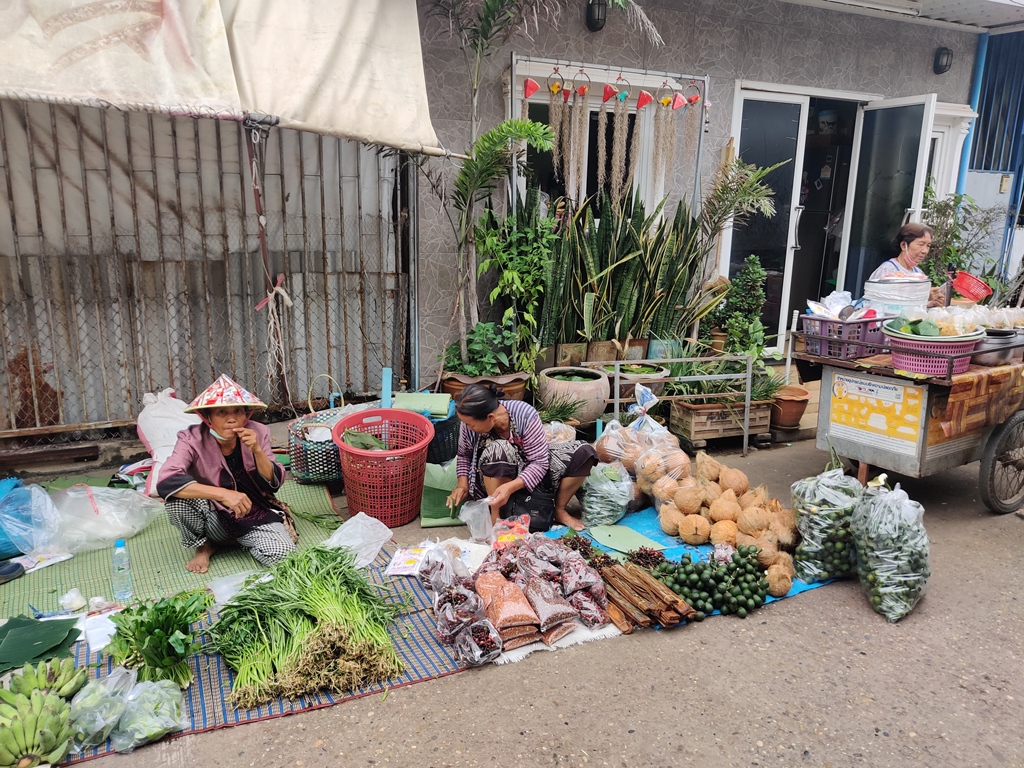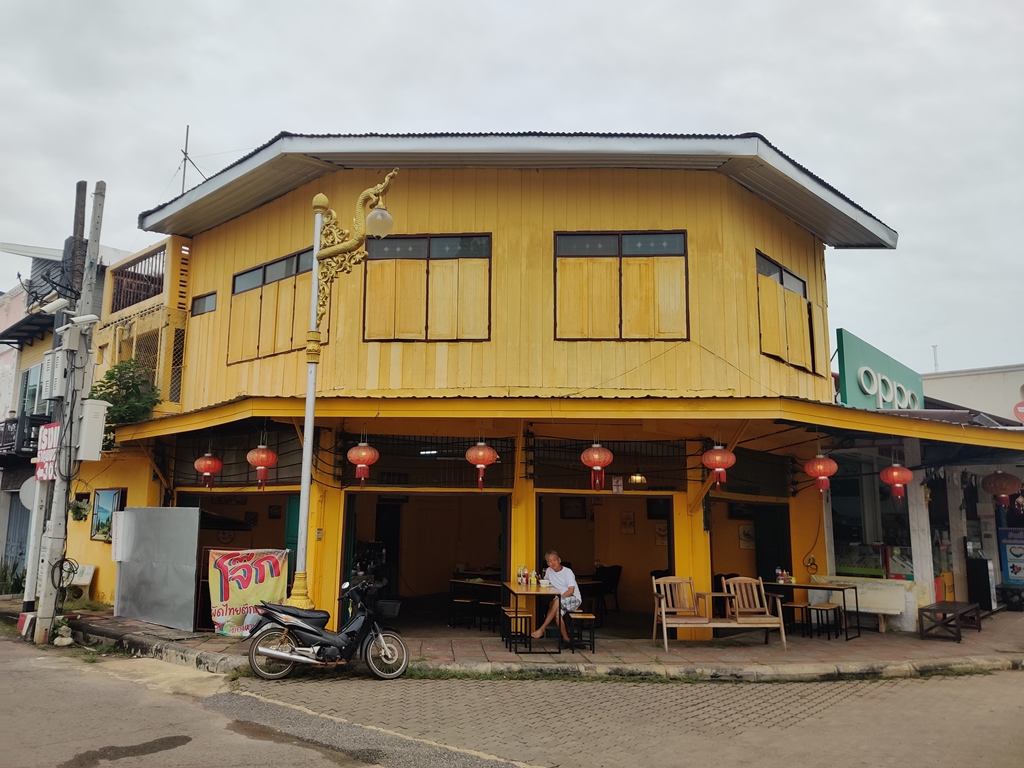 There were lots of fish tanks along the riverside here and the locals use a kind of mini cable cars to transport stuff to and from. We noticed a couple of these motorcycle winches, very creative!
The bicycle trail alongside the mighty Mekong which had started so promising often petered out. Occasionally we had to take detours on dirt tracks but most were acceptable due to no rain despite the threatening clouds. But usually, we didn't have much choice and ended up returning to Highway 212.
Later we encountered a serious downpour and had to take shelter under someone's roof, where the friendly owner offered us chairs to sit out the heavy rains and happily ignored us afterwards.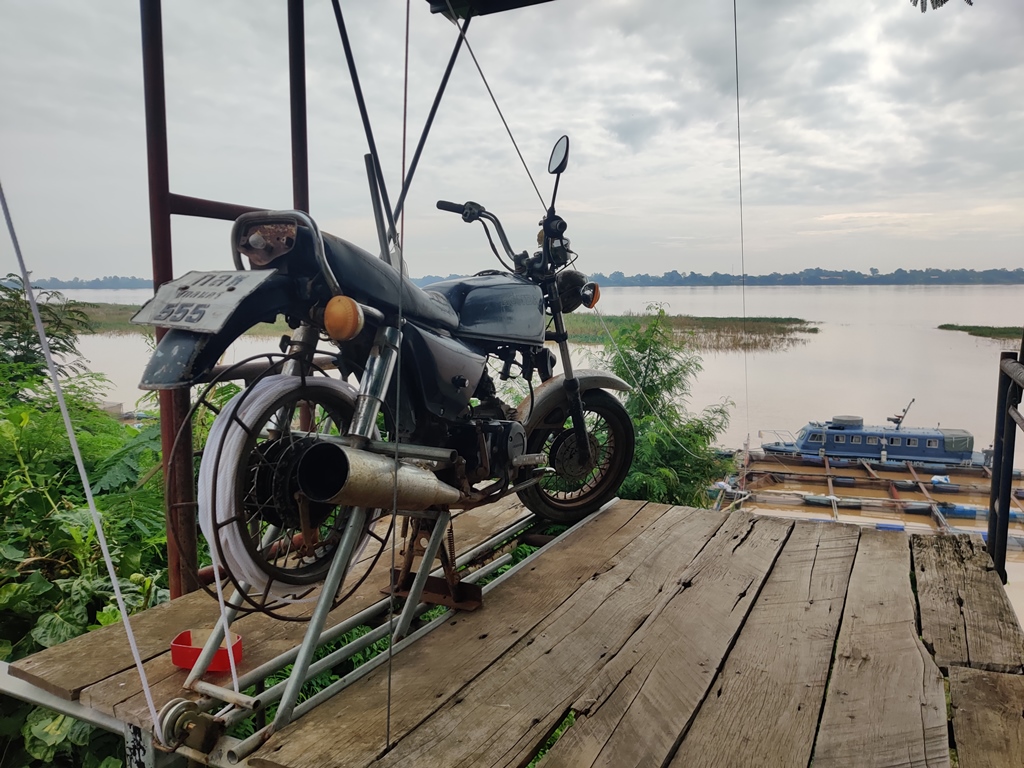 A little later cruising through town we found a classic old-school hotel, checked in, dumped our stuff, and went for a walk to check out the neighborhood. The boulevard has lots of statues for Instagram photos, it seemed quite popular with the locals. On one of the old riverside houses, some local artist had made a nice mural of the old King. Walking along the boulevard provided fantastic views of Laos on the other side, also of quite a few boats cruisin' by.
We walked around a bit before hitting a Vietnamese restaurant for dinner and beers. Fully satisfied afterwards we returned to our 'Grand' hotel. Tomorrow we'd take a day off from cycling in order to explore this town a bit more!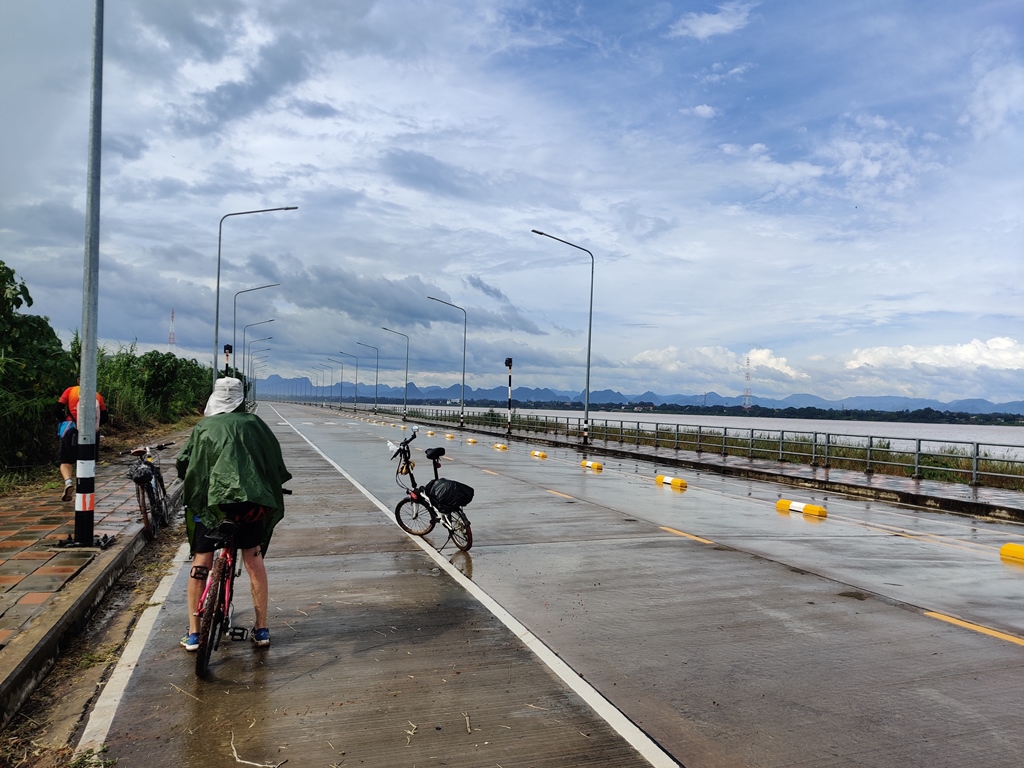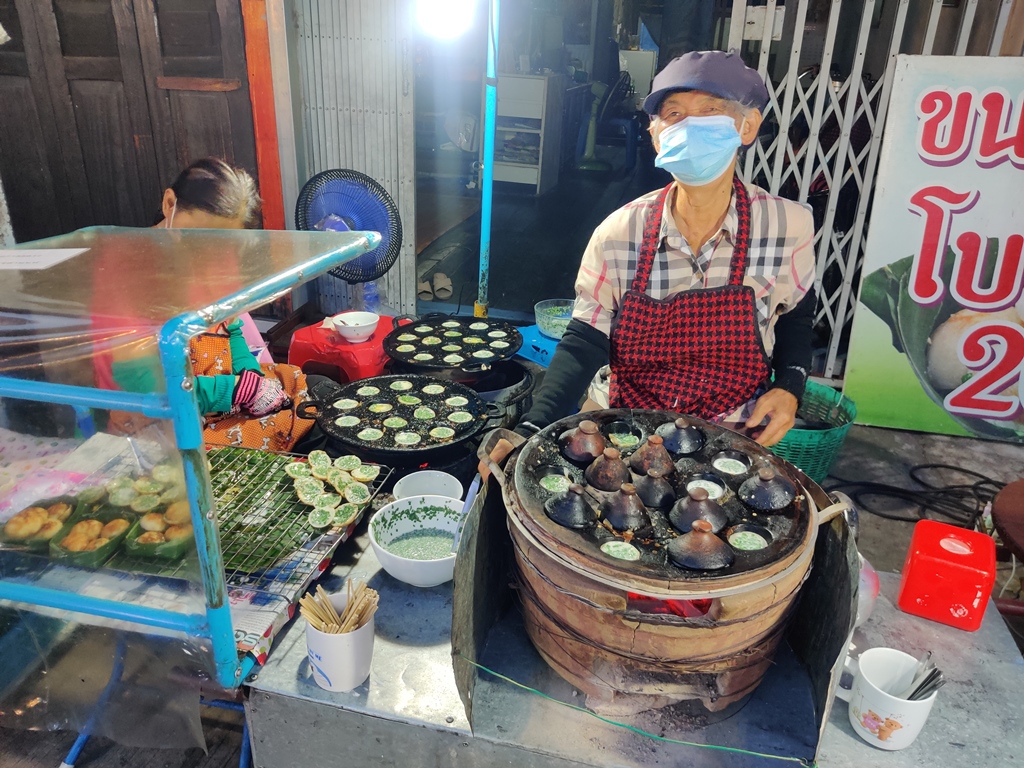 Exploring Nakhon Phanom
A full free day to wander around this riverside town as well as run some errands…
Tim's bicycle needed repairs and one of his shoes was literally falling apart. First things first, none of us were that impressed with our hotel, despite its promising name so after breakfast we moved to another place that looked more promising despite having 2 names: Sri Thep / Shit Hip.
Walking through town we noticed an unusual post office, it definitely had the biggest letterbox we'd ever seen! Eventually we found a respectable bicycle shop where Tim's chain & gear issues could be fixed. Therefore it seemed like the right time for a drink at Jai Coffee Speciality Roaster – no lack of coffee shops in this part of Thailand, a big change from the past!
Over coffees Ray suggested hiring a 'sky-lab' (local style tuktuk) for a couple of hours and seeing a bit of the town and its environment. Although I had my doubts about having a tuk driver showing us his idea of highlights I was willing to give it a try. Anyway, we first came up with our own suggestions and had a look at the Third Thai–Lao Friendship 3 Bridge, another narrow one!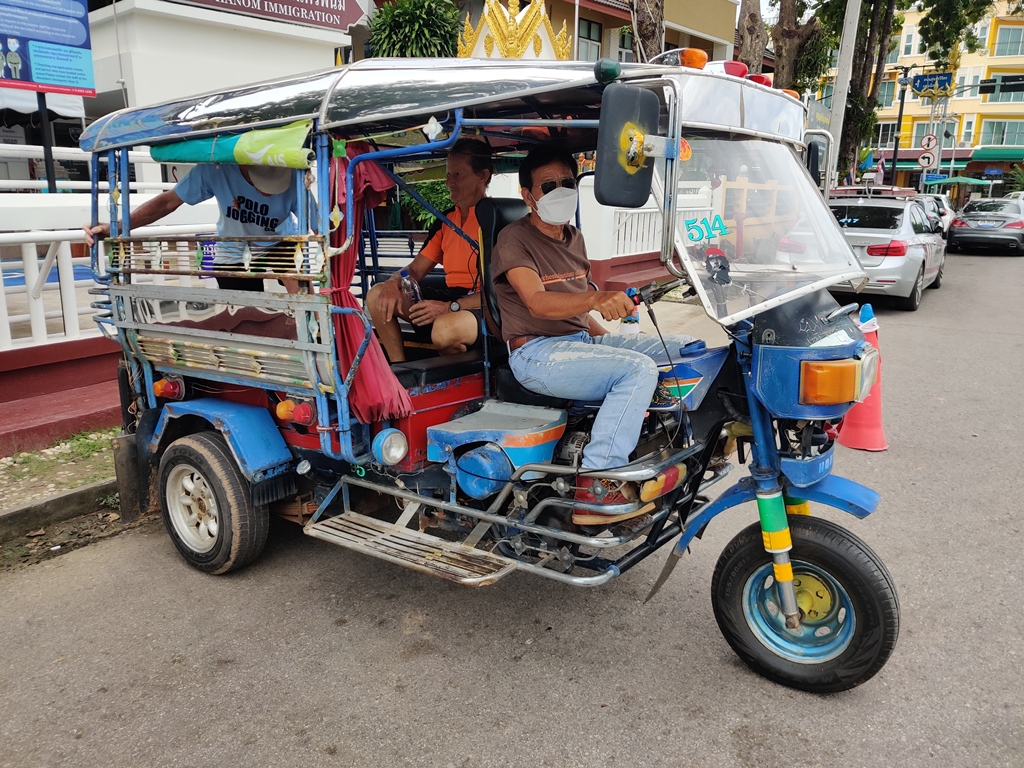 Our sky-lab driver did a decent job despite a few corrections along the way. After a few mishaps, he finally found a proper shoestore, and Tim was rescued. He dropped us off at a riverside restaurant for lunch.
Back to our hotel for a break and later that afternoon some more walking. Later that evening lots of people showed up with hardly any foreigner in sight! All in all, we had a great day, ready to continue cycling the next day.
Return to That Phanom - 62km
We checked out, had a small patanko and coffee breakfast, and hit the road.
The option of cycling the same way back didn't appeal much to us, but the alternative 2033 road wasn't that great either according to Tim. We went for the riverside boulevard cycling path instead, but that didn't last very long…however the Uturn sign seemed a bit superfluous! But we had to u-turn, whether we liked it or not…We took a few detours, which were pleasant enough but always ended up returning to Highway 212 unfortunately. A few times we had to find shelter quickly, roadside shops as well as restaurants were perfect for escaping the rain and having a drink.
A few hours later arrival in That Phanom, this time we checked in a hotel on the outskirts of town: Zone Station, not bad at all, new, clean, great bathroom, but a bit odd looking design-wise.
Lots of Mekong riverside towns participate in traditional boat racing and That Phanom was no exception! Part of the festivities included (very!) loud (distorted!) music, dancing, and lots of booze, some locals were already suitably wasted and dancing in the street, the local observers were a very cheerful crowd indeed. We decided to celebrate the races with another few beers a bit further on, away from the earsplitting sound system!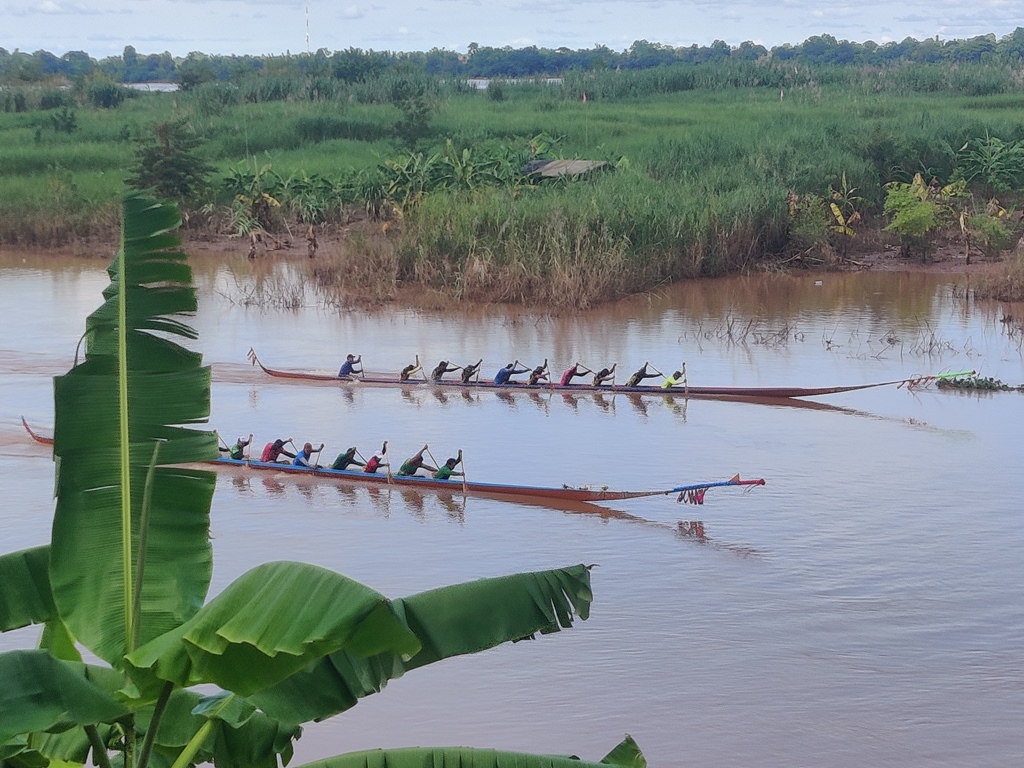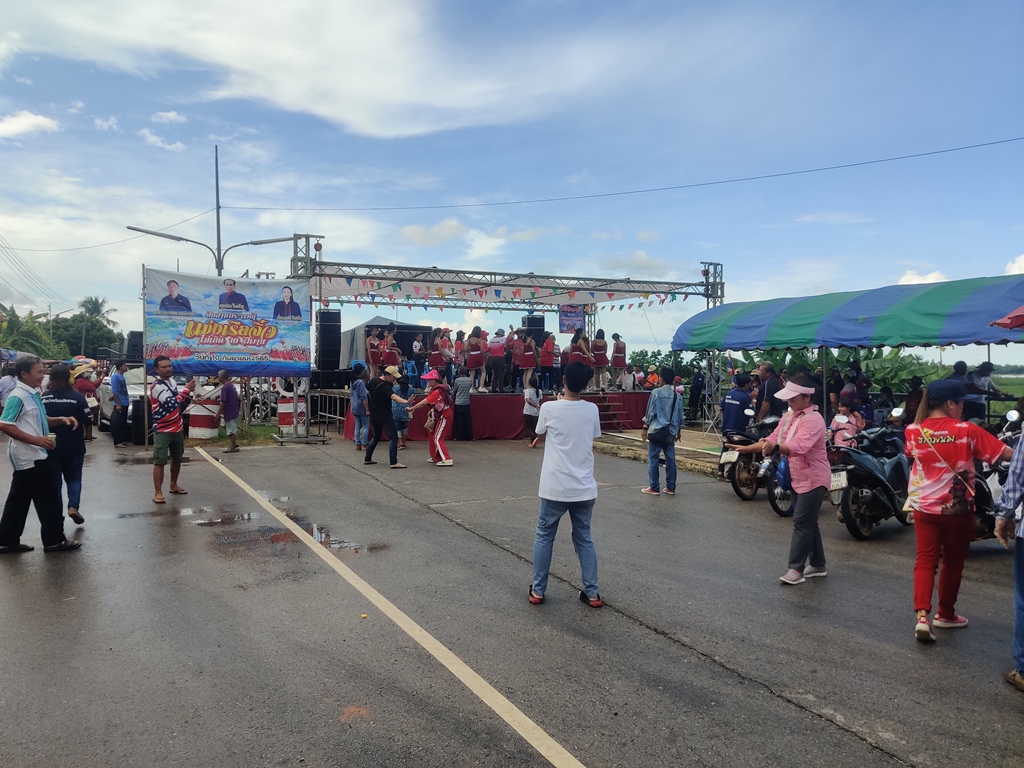 Return to Mukdahan - 54km
The last cycling day of our trip had arrived, we checked out and cycled into town.
Luckily our favorite breakfast place was open where the owner insisted that one of his staff took a photo of us with him. The cycling part was rather uneventful, we couldn't be bothered with the beach. However once we arrived at the Friendship Bridge.., boat racing again! Interestingly enough the sale of alcohol, unlike in That Phanom, was not allowed here! The boats used here were much longer and had crews up to 50 men! The races were very impressive, despite the commentator's blah blah blah.
Back in Mukdahan, we found a hotel, had lunch, and made plans for the afternoon. Tim wanted to take it easy, so Ray & I hired a skylab to take us to Wat Roi Phra Putthabat Phu Manorom on the outskirts of town. The temple is well known for its massive Buddha and great views.
In the evening we found Muk Da Han Gallery Cafe where we had a few beers.
It's a neat vintage place with lots of old furniture and decorations, including an old jukebox (but without records!), unusual wiring, and a classic bar! Afterwards we had dinner and returned to our hotel, the final part of an excellent 5-day trip!