Anurak Lodge in Thailand's Khao Sok offers many insights into tropical wildlife and forest diversity
Older than the Amazon rainforest, Khao Sok offers many insights into tropical wildlife and forest diversity. Jungle rafting, hiking, refreshing waterfalls, bird spotting, planting trees at an ecolodge with a view, and tasting local southern curries are all part of the Khao Sok experience.
Why Khao Sok?
If you love nature, one of the best destinations in southern Thailand is Khao Sok National Park. Khao Sok is mother nature at its best – wild, beautiful, mysterious, beckoning. You can hike deep into the forest with expert guides. Or just do simple half-day or day excursions, which may include some bamboo rafting. One of the big highlights is taking a longtail boat out to floating bungalows on Chiew Larn lake, created by the Ratchaprapha Dam. It's an Avatar movie landscape. However, islands don't float on the sky. They emerge sheer from submerged valleys that were flooded in 1982 to create the awe-inspiring dam. The setting is other worldly.
Towering limestone karst mountains covered with vegetation make a dramatic backdrop to everything you do in Khao Sok.
Weather & How to Get There
Getting there is part of the experience. Khao Sok is about 2.5 hours drive north of Phuket, an hour east of Khao Lak and about 1.5 hours from Surat Thani airport, which is the best gateway if flying south from Bangkok.
Weather is mostly dry November to April, with occasional bouts of heavy rain May to October. It's always humid. It's never cool like Chiang Mai.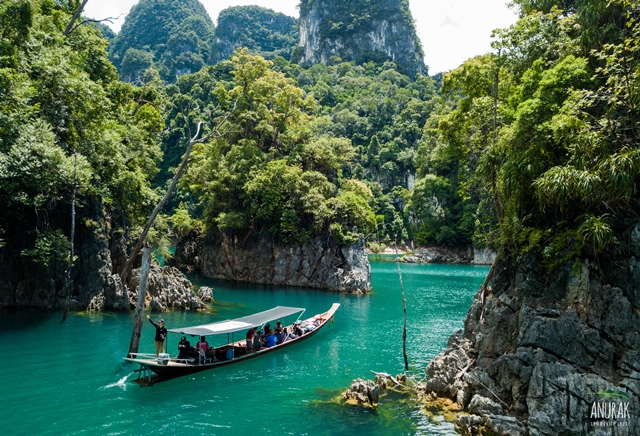 Diverse Wildlife
A generous supply of seasonal rain – 3500mm annually – nourishes a great diversity of flora and fauna. There are elephants, tigers, leopards, deer, civets, rhinos, sun bears, gibbons, otters and majestic hornbill birds, to name a few. Spotting big wildlife is, to be honest, difficult or impossible, as they forage and hunt at night.
That said, about 100 elephants are thought to live in Khao Sok and adjoining nature sanctuaries. Elephants consume up to 240 kg of vegetation a day. Hikers may see gaps through bamboo thickets where groups of elephants have passed through.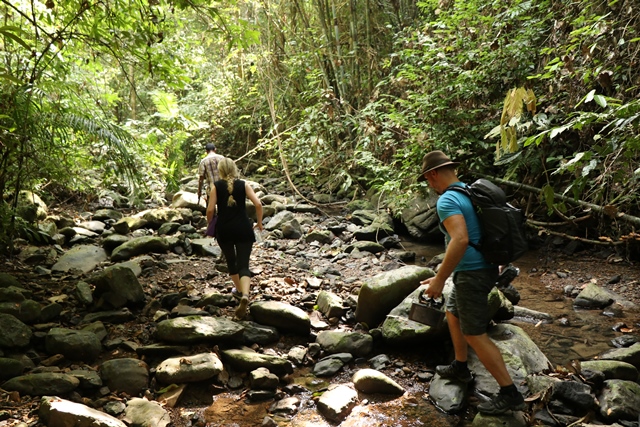 Unique Plants
Throughout Khao Sok there are around 200 different plant species per hectare, compared to 10 or so in Europe or North America. If you take a walk in the forest at Khao Sok, you'll be surrounded by rattan, palm, banana, epiphytes, figs, lianas and big dipterocarp trees with buttress roots.
Khao Sok is famous for two species in particular. Thailand's largest flower, and one of the world's truly rare plants, the unusual – and occasionally foul smelling – Rafflesia. Its flowers only bloom for a week or so in the dry season, typically January or February. After it blooms with big petals up to 80cm in diameter, the plant then shrivels and dies in a stinking fungal mess.
Also keep an eye out for the Langkow palm which grows to over four metres tall and has distinct silver-white undersides on its palm leaves. The langkow palm can only be found in Khao Sok and the greater Phuket area.
Conservation Lodge
A good base camp to stay at while exploring the Khao Sok area is Anurak Community Lodge. It's a small but beautifully designed and simple sanctuary in harmony with nature. It offers a handful of well appointed comfortable air-conditioned bungalows on stilts, each with a balcony.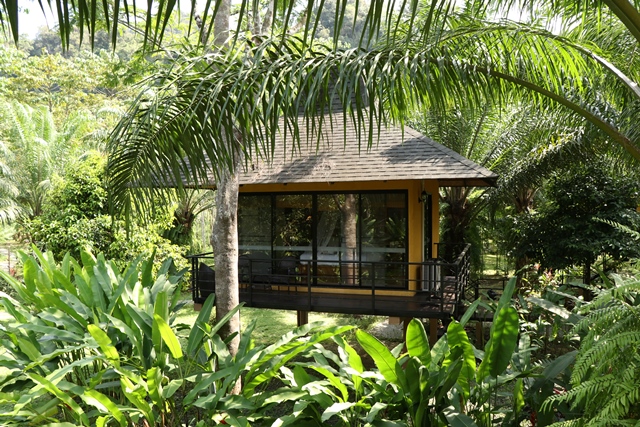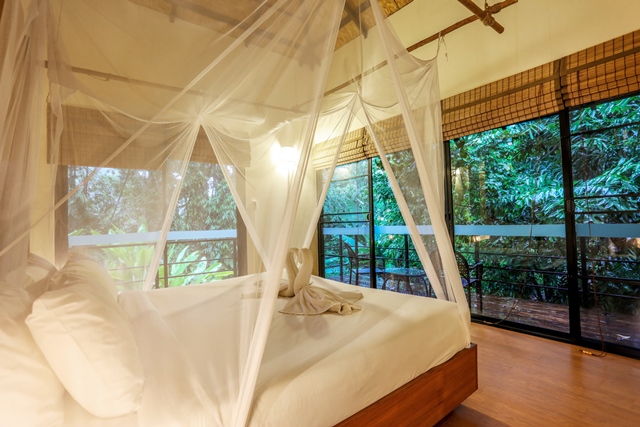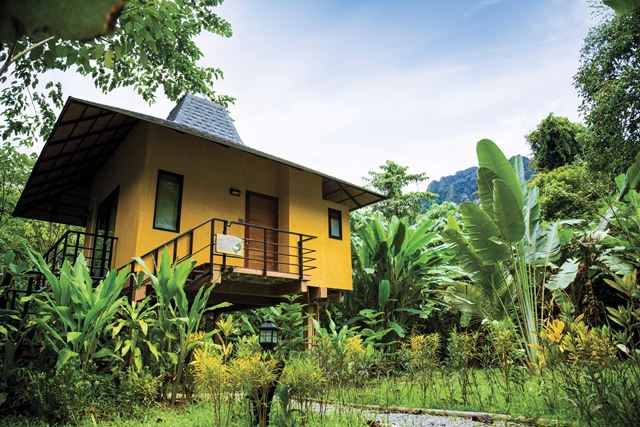 The views are even better from the resort's open-sided Hornbill restaurant, which gives a wonderful vista down the valley which is hemmed in by tall and brooding limestone mountains. The view from the restaurant is so beguiling that no one is in a rush to finish their jungle curry or beer. The restaurant is a nice location to while away the hours if you don't want to go hiking or rafting.
On food, Anurak Lodge is known for its fresh ingredients: growing them and buying them locally. Sure you can get international meals there. But the best are the local curries, prepared with local herbs and made with love.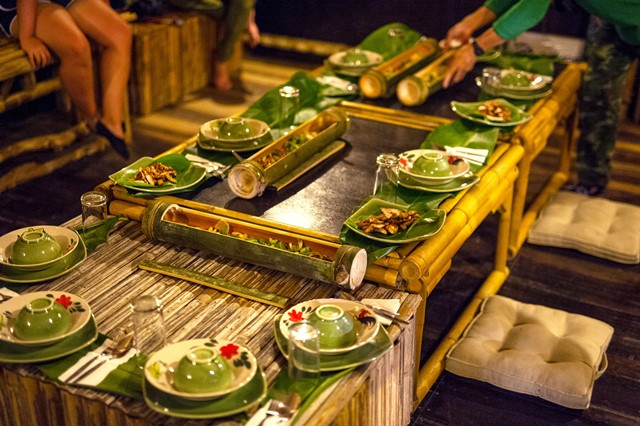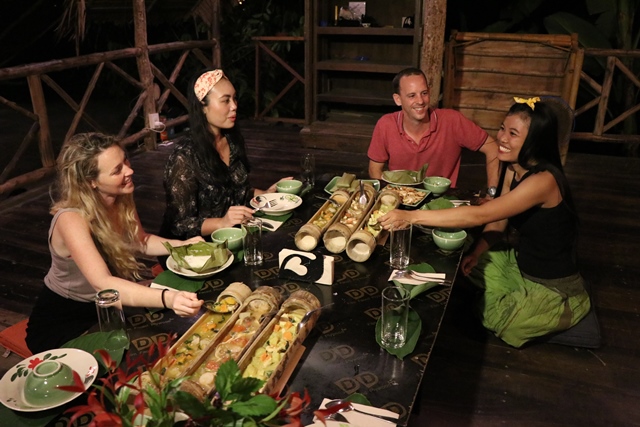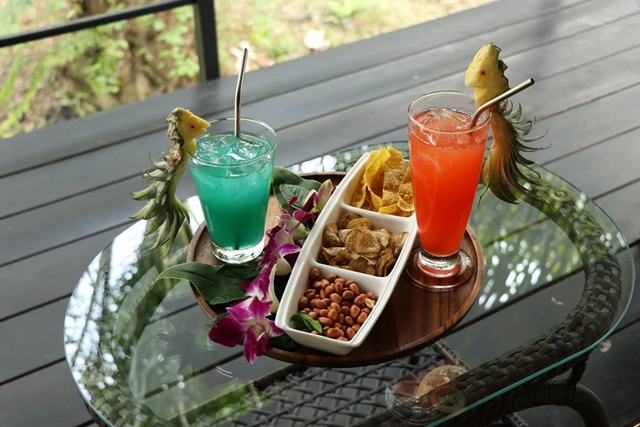 Giving Back & Keeping it Local
Anurak – which means 'conservation' in Thai – is committed to responsible tourism. It prides itself on recycling, reducing and reusing. Food waste from the kitchen is turned into compost and used to nourish Anurak Lodge's's herb and vegetable plots.
The resort was initially surrounded by a palm oil plantation. However, the management has started a 'Rainforest Rising' project where the oil palms are being replaced by indigenous flowers and trees, which attract pollinating birds, insects and a greater variety of wildlife, such as civets and badgers.
The type of trees being replanted were chosen after consultation with the Forest Restoration and Research Unit of Chiang Mai University. Guests can pay a few dollars and plant a tree near the lodge and receive a tee shirt to show that they have been part of the rainforest rising project.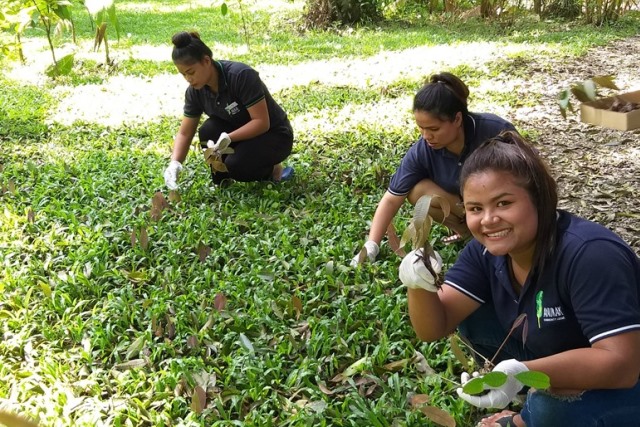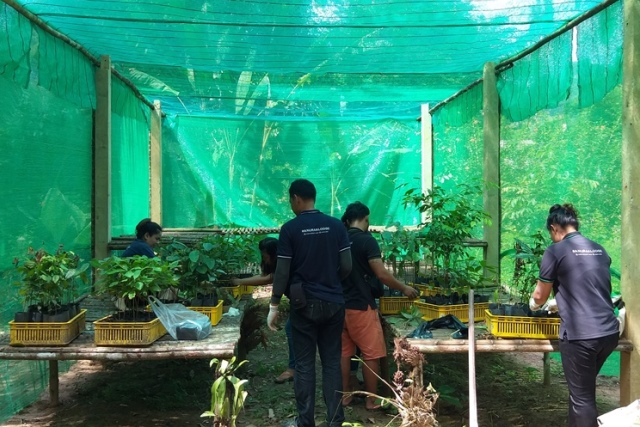 Anurak Lodge's conservation work was recognised by the Pacific Asia Travel Association in 2020, when it won the PATA Grand Award for Sustainability.
The lodge was also included in Nat Geo Traveller UK's list of 36 eco-friendly hotels around the world that are leading by example in responsible tourism.
Anurak Lodge was Travelife Gold certified in 2019. That means its green credentials are measurable and pass demanding green criteria for inclusion.
If you love nature, learning about it, experiencing it and being part of it, a trip to Anurak Lodge and the greater Khao Sok area should be on your southern Thailand wish list.
And to really dive deep into the flora and fauna of Khao Sok, look for two books by conservationist and author Thom Henley: Waterfalls & Gibbon Calls, and Reefs to Rainforests, a guide to southern Thailand's natural wonders.