An interview with one of Sri Lankan tourism's most colourful characters
Introducing Shanjei Perumal
Shanjei Perumal is not your typical Sri Lankan tour guide. In fact, he'll tell you he isn't a tour guide at all. Before meeting him, the Khiri Sri Lanka team had told me about how different and eccentric he was, but nothing quite prepared me for the reality of the full-on Shanjei experience. Four hours later, I'd not only had a fascinating primer on the history of Galle, but I'd also learned all about the pluses and minuses of Sri Lanka's tourism industry, visited a fishing village, bought a mask to ward off the evil eye, tried a garlic smoothie (for the first and last time), wandered into a police station, and consumed several beers in a classic Sri Lankan dive bar.
Walking around Galle with Shanjei is truly an experience like no other, and it's no wonder he's one of Asia's most garlanded guides. I couldn't let the opportunity pass without finding out more about this amazing character who will be entertaining many Khiri travellers in the months and years to come…
You gave up a career in advertising to become a walking tour guide. What was the reason for that decision?
The question I was asking myself was – Do I want to be a rat that keeps running someone else's race or am I going to take control of how I grow professionally and personally? Advertising started off as a love for creativity, but eventually while growing in the industry and also as a man, it made me question my work against my life beliefs. This kept me up at night. So the decision to start my own business stemmed from here. Yet I never thought that I would end up as an experience provider in the tourism fraternity.
Having quit my job and taken myself out of the corporate rigmarole, I started travelling the island – this was more a process of soul seeking. That's how I ended up in the city of Galle. Since Galle was a melting pot of all things colonial, I found myself reconnecting with the history buff that I am. I found a playground to be able to convert the information that interests me into knowledge for the inquisitive traveller. This is how I went on to become the ambassador & storyteller of Galle & Sri Lanka today.
You can read more about how all this happened here at https://gallefortwalks.com/about/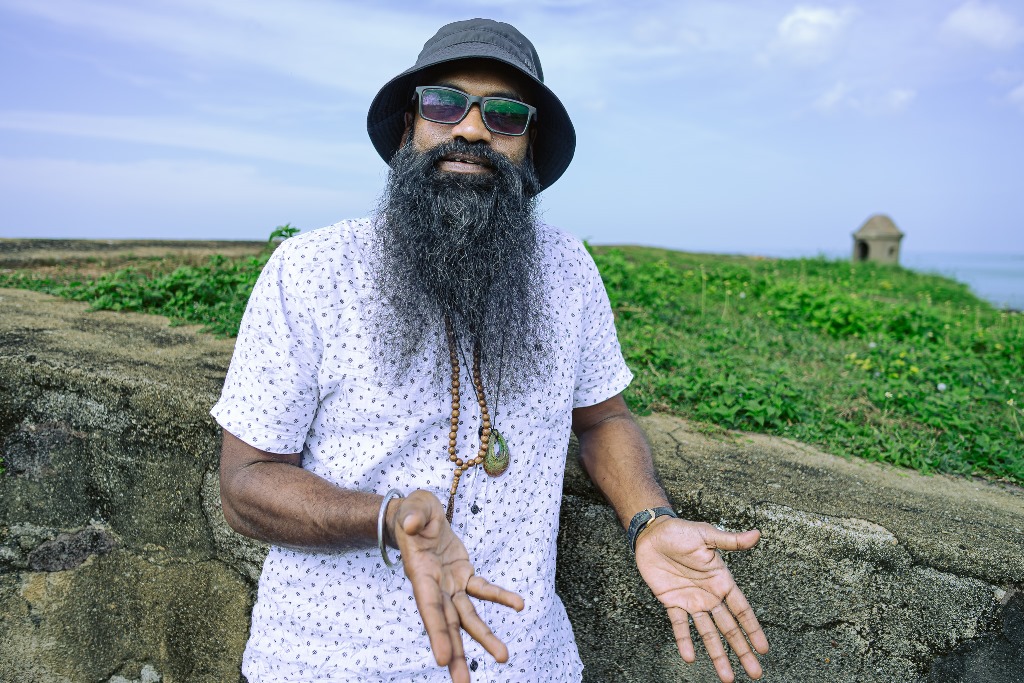 What makes your walking tour different to others? What is your philosophy?
The philosophy that governs my experiences comes from the fact that I am a traveller. I have travelled the world and have the hunger to eat & sleep like a local. I like to learn the realities of all grounds I step on.
I don't do tours and I am not a tour guide. I am an entertainer and what I do is experiences. The walking experiences that I do take shape based on the people that I meet. Be it history, culture, art, people, food or beer – what happens in my experiences is totally dependent on the participants. On paper they know me to be the person that introduces the Galle Fort – which happens of course, yet the real reason people come to see me is to interact with the globalised Sri Lankan that I am, who is able to relate all things Lankan to the world. This is why most people meet me at the tail end of their two week holiday in Sri Lanka. I become the perfect send off.
This is one of my favourite articles where the term anti-tour guide was coined – https://www.traveller.com.au/how-a-tour-guide-can-ruin-your-holiday-gx4t8v
And this one lists me as one of the travel ambassadors in my region –  https://www.traveller.com.au/inspirational-people-in-travel-h0y1gu
Your Galle tour has won lots of awards and acclaim since you started. What do you think makes you so popular and well-regarded?
Yeah! The world has shown an enormous amount of appreciation for the work I do. From Conde Nast International, the New York Post to tabloids and web zines around the world, I have been able to squeeze in my country's name, my name and my business with the work that I do.
I personally think what makes me popular and well regarded is that I stay 'real' to how I conduct my experiences. I'm proud of my Sri Lankan heritage & culture, and will use any opportunity to show that off.
Here is an example: people come to me to cook an authentic Sri Lankan meal. While the experience is about cooking, I will also make sure that the participants eat like a Lankan. Which means with their fingers. I will teach them to use their fingers to eat and also tell them why doing this is very good for anyone's immune system.
I like this video that I did with vloggers from the US who got a taste of Galle:
How are you seen by the Sri Lankan tourism industry?
The private sector agents have understood the experiences that I offer and their be-spoke itineraries for the luxury market have a definite space for me. The tourism ministry though is yet to discover me. They have not been able to connect with my globalised views and of course my appearance. They find me too non-traditional for their taste. I have understood that there is much for us as Lankan Tourism to evolve to be amongst the finest in luxury travel and I believe that I have taken the right step to leave a trail for innovators within the industry to follow. I have been doing my experiences for more than 10 years or so, and it gave me immense confidence to keep doing what I do when I was selected as an innovative business to be included in the tourism MBA program for the Breda university of applied studies. To this date, their annual MBA program brings their graduates to me in Lanka to get to know me, my business and the Island.
I am not one to complain about my environment. My upbringing and hard roots to my culture asks of me to keep pulling me socks up no matter what. It's when I have these realisations that I come up with innovative ways to leave a mark for Sri Lanka. In 2018, while I was travelling the city of Berlin (the same city the ITB fair happens in) – I asked myself – what can you as one man do in a city like this to create PR for Sri Lanka – that's when I did this in the centre of Kreuzberg, Berlin:
You've done a lot of work with foreign TV shows - tell us what you've got coming up.
I have appeared in Dutch reality TV shows, and also done segments on ARTE TV for their French and German fans.
I just wrapped up a program with BBC's popular comedian and host Alexander Armstrong on his new travel series. Soon I will be appearing on Channel 5 in the European region.
Sri Lanka is starting to recover from the double hit of covid and economic crisis. What should the country be doing to attract more tourists?
I think Covid and the Economic crisis have happened and there is no point dwelling on the past other than to learn from our mistakes. It's important that what has happened is well understood by every citizen. These two events points at how our most priced possession is our bio diversity. This is our true abundance. From an economic and as an image perspective, our biodiversity could be the ultimate for us to sell ourselves not just in tourism, but also in many other global industries from pharmacology to ecosystem development.
Sri Lanka is many things in an island. Yet all this is possible because of our god given biodiversity. You can wake up in the cold mountains of Haputale sipping on hot tea to keep you warm, and then cool off the evening sun with a dip in Galle beach and crack a cold one for the soul. This is the core of it all – and that we must embrace & protect.
Finally, tell our clients in one paragraph why they should be selling Sri Lanka as a destination.
Sri Lanka is the perfect holiday. While most destinations are labelled, Sri Lanka has become the jack of many experiences. You could be could be anyone from any walk of life – you will find yourself in the Island. While the world moves rapidly with its evolution, Sri Lanka is an Island that is still connected to our biodiversity and our cultural roots. For the traveller this becomes the perfect playground to connect with their inner most calling.
Tim Russell joined the Khiri Core team in 2022, bringing decades of experience in the tourism industry into his role as Group Marketing Manager. Before moving to Bangkok in 2012 – where he now lives with his wife and their three rescue dogs – Tim spent almost ten years in Vietnam. When he is not overseeing Khiri's marketing efforts, Tim can be found indulging in his passions for photography, live music, and street food.