Laos is one of Southeast Asia's best slow travel destinations. Here's our guide on when & where to go
Slow Travel Through Southeast Asia's Most Underrated Country
Like most destinations in Southeast Asia, Laos has a wet and dry season rather than four seasons. Having said that the dry season in Laos is associated with cooler temperatures and it is this time of year we recommend as the best time to slow travel through Laos and immerse yourself in the natural beauty and rich culture of this lesser visited yet fascinating destination. In fact the months between November and February can actually get a little chilly in the Central Northern area and around Luang Prabang the private pools in the pool suites at the uber luxurious Amantanka are heated, making that holiday dip perfect all year round.
The Slow Boat to Luang Prabang
As the cooler months follow on from those months of the year that typically see some significant rainfalls, this is the perfect time of year to start a stunning long boat ride down the Mekong. The Mekong is at its most impressive during December and March. Start your journey by crossing the border in Northern Laos at Houayxay where you will join a traditional long tail boat for a leisurely cruise downstream on the Mekong to the picturesque town of Pakbeng. This cruise is spectacular and you will see fishermen throwing their nets and communities nestled along the banks of the river engaged in their daily activities. After a relaxing evening in Pakbeng, head back to the long tail boat and head down towards Luang Prabang. There are some incredibly interesting stops on this day of river cruising – you can make a stop at a small local rice wine making village (this rather strong alcoholic beverage does pack a punch!)
You can also stop at the awe inspiring Pak Ou caves. These caves are home to literally hundreds upon hundreds of Buddha statues that adorn the ledges of the cave for as far as the eye can see. Many of these statues are small and tiny and are made of wood and sit amongst the range of larger bronze statues. It is truly a very spiritual and special experience.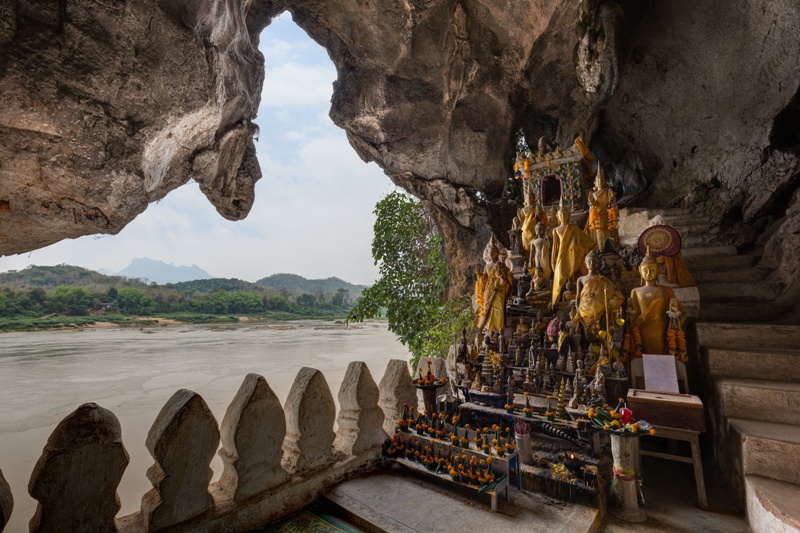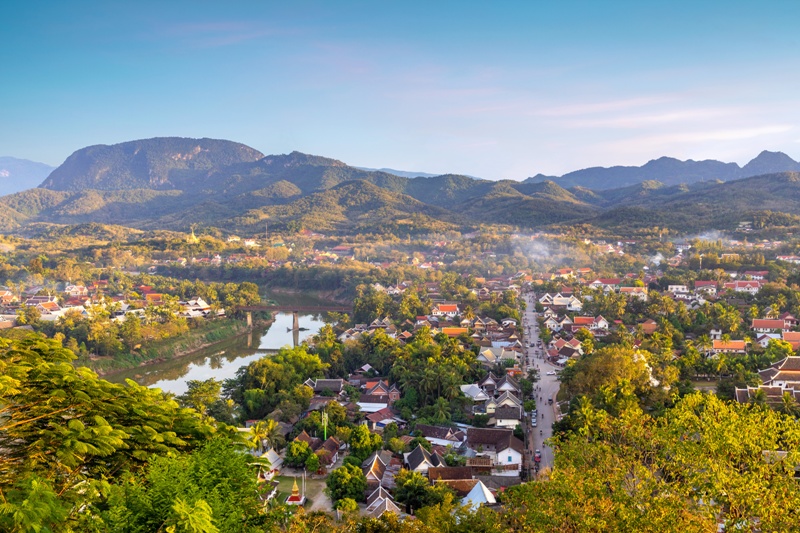 Following these two magical days of river cruising you will arrive in the UNESCO Heritage listed town of Luang Prabang, a place many call Heaven on Earth. Home to some very impressive temples, this is one town where you can simply take the time to just be; time slows down and you can spend hours upon hours just sitting in a café along the banks of the river reading a book. The restaurant and bar scene is very cool here also – nothing too loud or busy but you will find a fine selection of great local restaurants in old French colonial style buildings that serve a great fusion of traditional Laotian food.
One of the highlights of this intriguing town is the night market. As the sun sets this impressive market comes to life in the main street of the town. Here you will find an array of local arts and handicrafts from the surrounding hill tribes and ethnic minorities, including stunning pieces of fabric and wares you will not find elsewhere in Asia. This is one of the last authentic local markets left in the region.
There are some wonderful day trips to take from Luang Prabang that include the Kuang Si falls. The uniquely lime covered pools at the foot of each level of falls are a visual feast, and there is a super cool buffalo dairy stop along the way also. Not far from Luang Prabang is a small paper making village which produces some beautiful handmade notebooks – some of the papers have leaves and flowers set within the pages and can make for a piece of art in itself.
South to Vientiane & Beyond
Continue your journey south and head towards Phonsavan, another remarkably striking example of natural beauty at its finest. Phonosvan is surrounded by green plains, tall trees and jiggered limestone mountains and is the gateway to the intriguing and mysterious Plain of Jars, where you will find fields of large giant sandstone jars. From Phnosavan head further south to Vang Vieng where we recommend you take a light trek out into the mountains or grab a bike and cycle through the rice fields.
Laos is a long country and as you continue even further south you will reach the nation's capital, Vientiane. Unlike most Asian capital cities, Vientiane is a small sleepy city, with very few small high-rises. This city is still home to some impressive hidden gems, and you could spend a day visiting the various wats and temples that sit in the very heart of the city's walls. The most iconic and breathtaking temple is the stupa of Pha That Luang, the striking gold temple that has become a national symbol.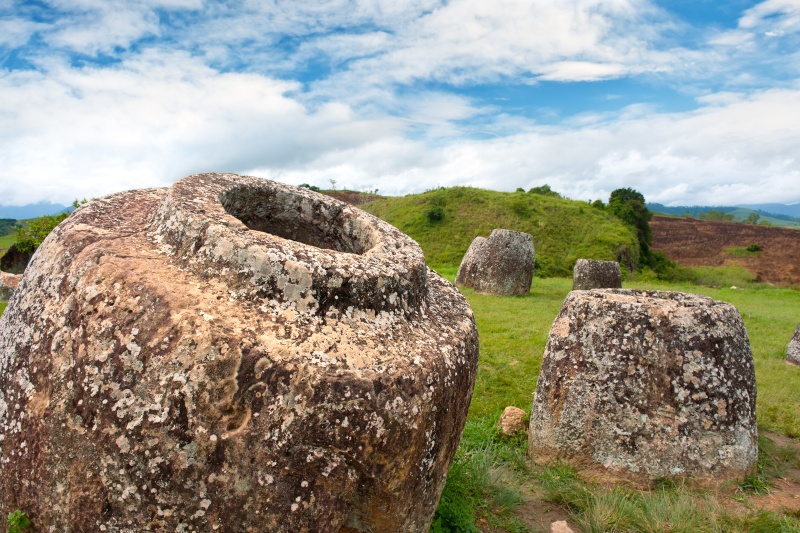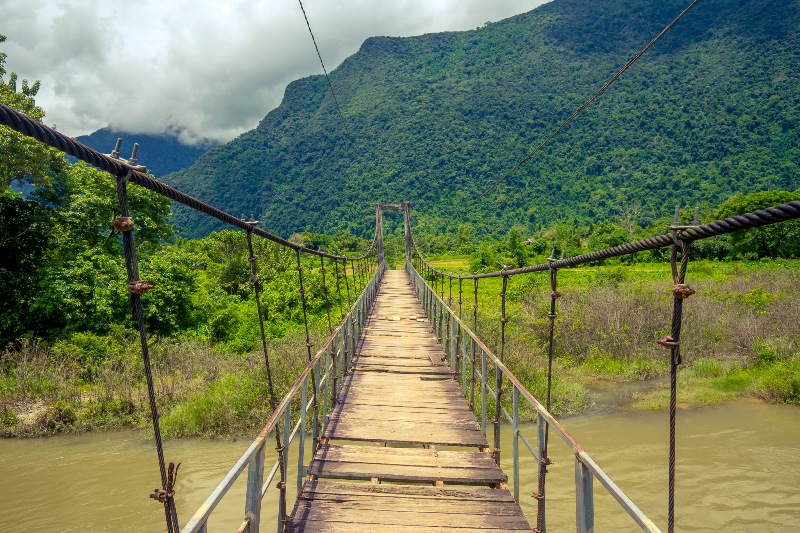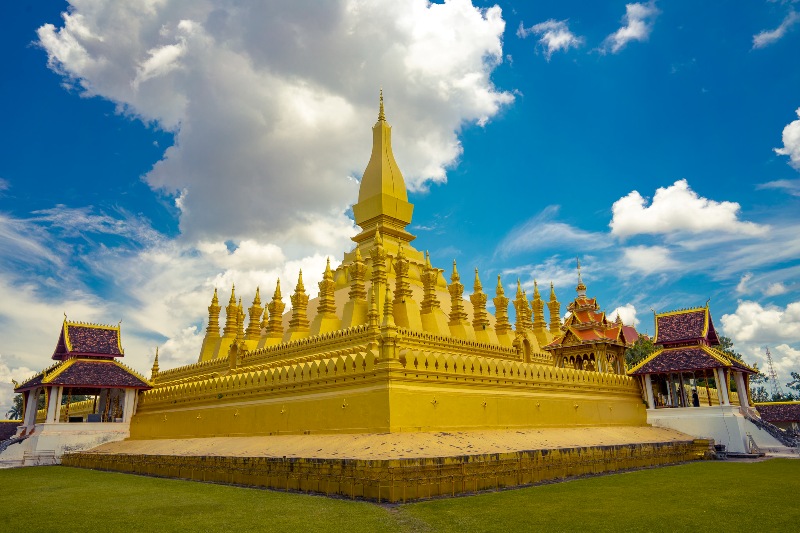 For those with a bit more time to soak up the true essence of Laos, heading even further south is a traveller's dream. From Vientiane you can head to Savannaket and the Bolaven Plateau. Southern Laos is famous for coffee plantations and waterfalls. This is also home to an area known as the 4000 Islands where you will find the Khone Pa Pheng waterfalls, the biggest waterfalls of Asia.
To find out more about our slow travels through Laos check out our Laos Slow Travel Brochure.