Chaotic streets & cool nightlife make Saigon one of Asia's most exciting cities
Day & Night in One of Asia's Most Thrilling Cities
The intoxicating sights and sounds of Asian cities bring tourists from every corner of the Earth to this magnificent continent. The bright lights of Singapore, Bangkok, and Kuala Lumpur have amazing appeal, with each street bursting with trendy restaurants, cool bars, and infectious music, but for me, one city stands out as having the perfect blend of the old and the new – Saigon.
Its very name conjures images of romance, culture, and rich history. Eloquently described by Graham Greene in The Quiet American, 1950s Saigon was a place of wonder and elegance, where the French influence could be seen in the architecture, cuisine, and style. While much of this is still evident throughout the city, Vietnamese tradition and charm has remained ever-present throughout Saigon. As the decades have passed, modern life has thrived, bringing in nightclubs, high-end brands, and luxury hotels.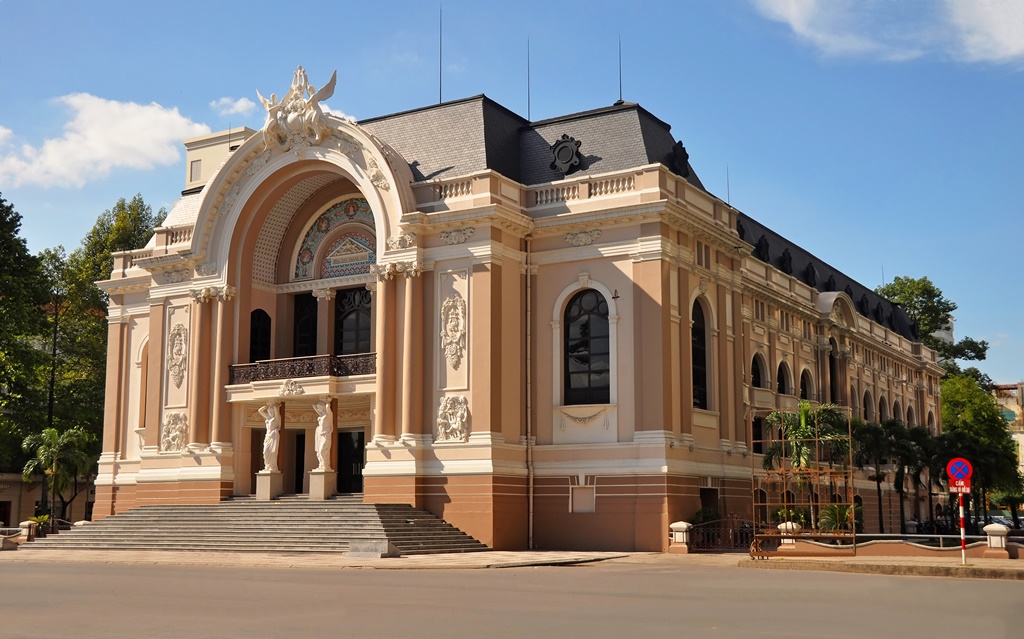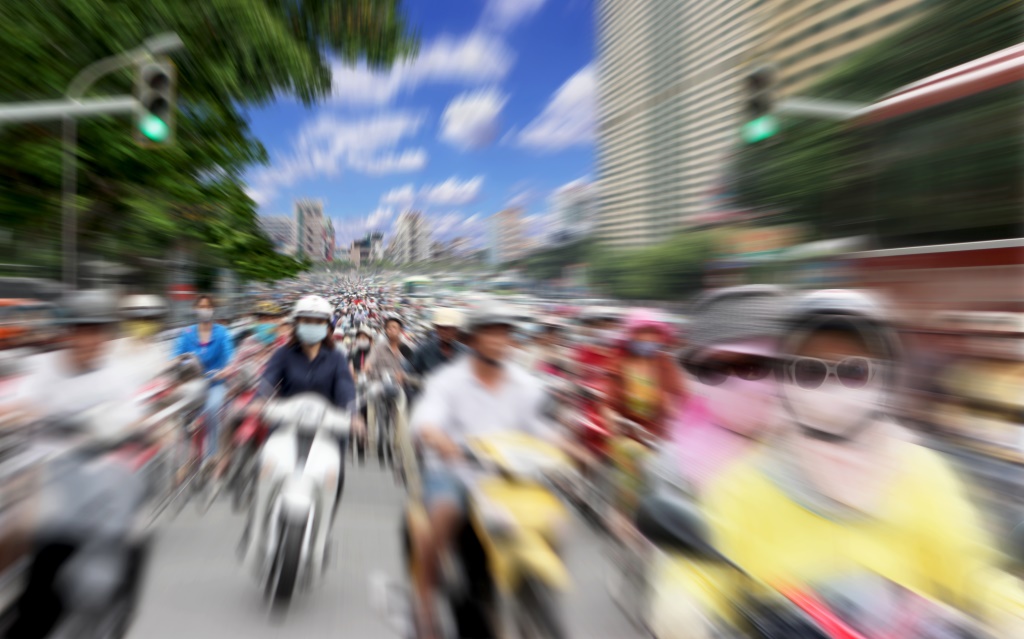 When I first arrived in Saigon, the traffic seemed daunting, with scooters moving in a seemingly haphazard stream of craziness. The sound of beeping horns was constant and the number of people and things being transported throughout the city never ceased to amaze me. I could not comprehend how a family of four or five people could fit onto a two-wheeled vehicle. Nor could I get over the sight of people carrying huge mirrors, flatscreen TVs, refrigerators, and office furniture on the back of their bikes. But soon enough, I learned to see the patterns and the unspoken system that exists here. The polite tooting of the horn resembles a simple conversation between the riders – "I'm approaching the intersection", "I'm about to turn right"– a far cry from what my Western mind assumed was annoyance and impatience. And once I could read the traffic, crossing a six-lane road was no longer an impossible feat. In fact, I positively loved it! I wanted to explore as many of the small streets, alleyways, restaurants, coffee shops, and bars as I possibly could and my daily walks always led to fascinating discoveries.
Saigon is comprised of 24 districts, with District 1 known as downtown. District 1 is the beating heart of the city, home to most of the tourist hotels and entertainment. The avenue running from the city hall down to the Saigon River is called Nguyen Hue and was recently turned into a largely pedestrianized area. Every night, many local families leave their tall, thin houses and apartments to roam along Nguyen Hue, enjoying the vast expanse of pavement and water features in the cool night air. Children dart in between the jets of water, rollerblade, kick footballs, and ride bikes. Sellers walk up and down with brightly-coloured balloons, flashing toys, and bags of candy floss. It's a hive of activity and the restaurants and bars along this boulevard are always bustling. The helipad and fairy lights of the Bitexco Tower are easy to spot from ground level, with many choosing to take the lift to the 51st floor to enjoy a drink at the Eon 51 Heli Bar and take in the spectacular view of the city centre and the Saigon River from 200 metres up. Speedboats cruise along the calm waters below, taking tourists out for sunset drinks or day trips to the Củ Chi Tunnels and the Mekong Delta.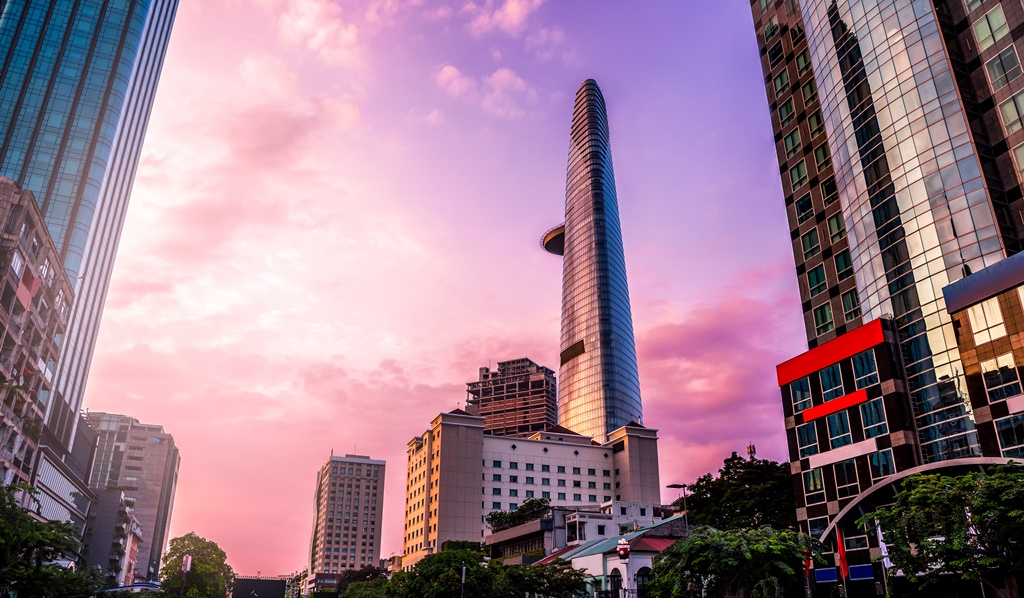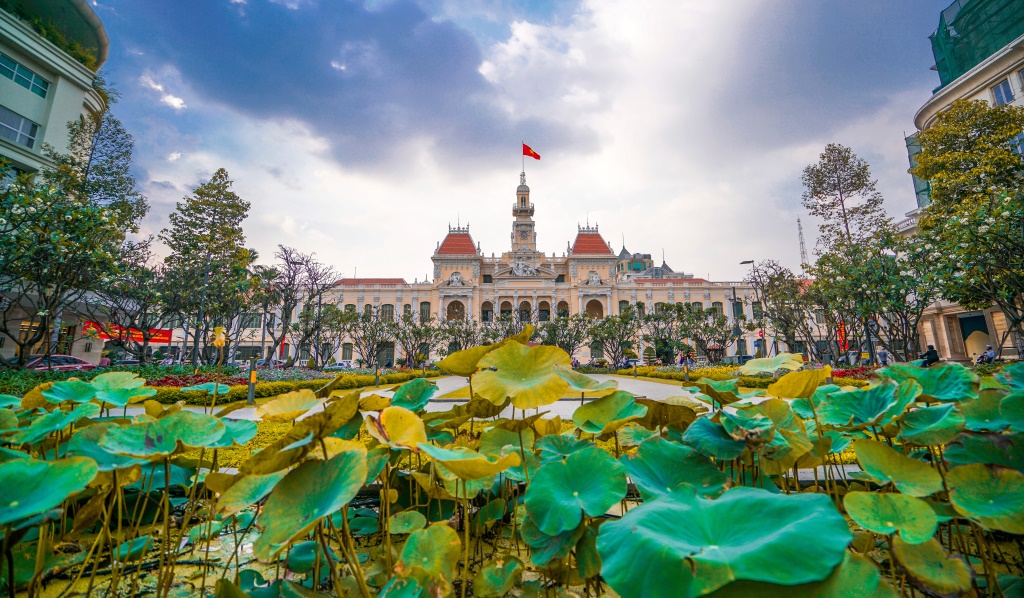 The main shopping streets are Đồng Khởi and Lê Lợi where many fashion designers can be found. Vietnam is known for its skilled tailors and it only takes a matter of days for suits and dresses to be made and delivered to your hotel. For ladies wishing to try the elegant traditional áo dài dress, the choice of fine silk and rich colours are sure to make this a fun shopping experience. The local Ben Thanh market is a wonderful opportunity to buy clothes, souvenirs, and even a "genuine fake" Rolex. Shopping malls are becoming more popular in Saigon, but I have always found the market to be an exciting treasure trove. 
High-end restaurants are everywhere in Districts 1 and 2, and one not to be missed is Hoa Túc. It's located just off the vibrant street of Hai Ba Trung at the site of an old opium refinery. The Vietnamese crepe, known locally as Bánh Xèo, is extremely popular here. This crispy rice pancake contains prawns, beansprouts, pork, and vegetables. Squid, shrimp, duck, and green vegetables fill the menu, and staff here are always happy to explain the dishes. It has such a fantastic reputation and its cooking classes are well worth trying. 
Fans of the nightlife should visit some of the bars on Pasteur Street. Since the recent introduction of craft beer, this street has become the go-to for those wishing to drink, dance, and socialise. Sky bars are also trendy, with Saigon 118, The View, Chill, Glow, and Saigon Saigon attracting many locals and Westerners each night.
In District 2, I would recommend lunch, cocktails, or both at The Deck. Situated on the river, it's the perfect place to relax and unwind after a busy day.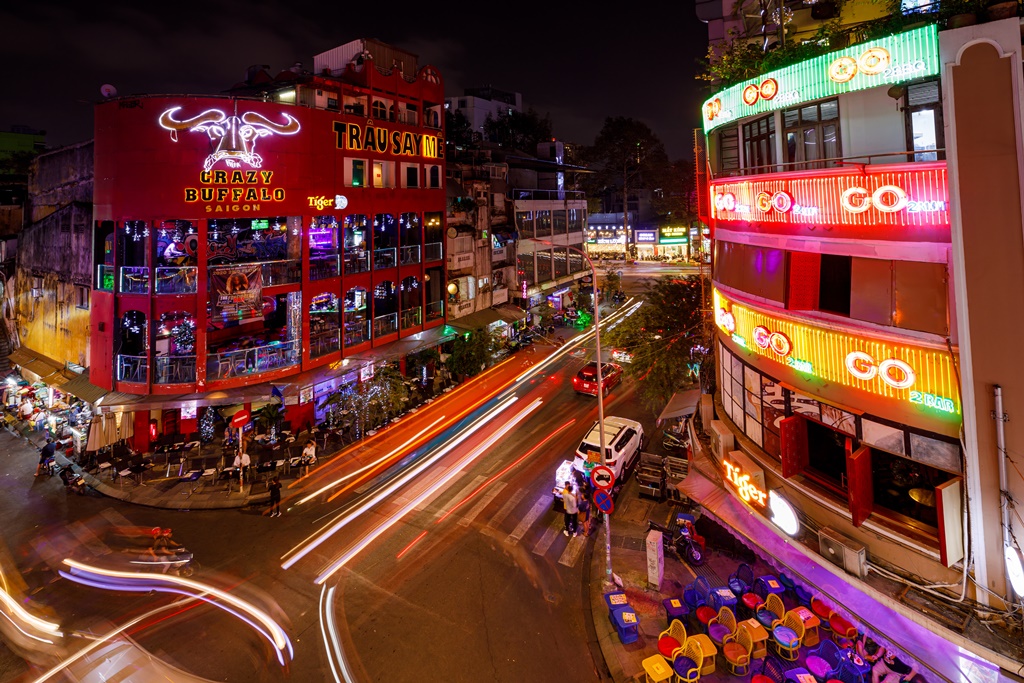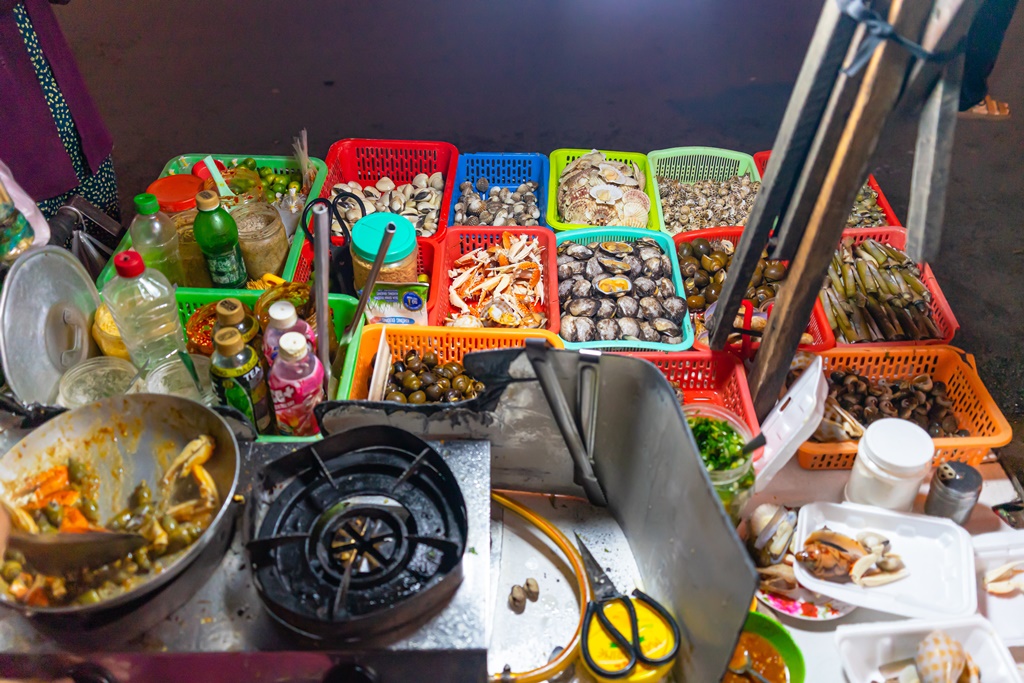 Certain districts are known for a specific cuisine. I live in District 4, which is famed for its snail (Ốc) restaurants. Locals head to Vĩnh Khánh Street to enjoy seafood and local beers such as 333 and Saigon Red or Saigon Green. Known as "Seafood Street", Vĩnh Khánh is an exhilarating sprawl of local restaurants serving chilli crab claws, cuttlefish, salt and pepper prawns, scallops, octopus and of course, snails galore. It's a never-ending feast and the local prices make it well worth a visit. 
The wonderful appeal of Saigon is that it really does have something for everyone. There are many quiet, relaxed areas as well as numerous party-atmosphere streets. There are bars filled with smartly dressed clientele next door to low-key places that attract those in shorts and t-shirts. There are clubs that pump out bass-heavy tunes until the early morning and refined piano bars where you can sip on a refreshing martini. This hip Asian city has it all.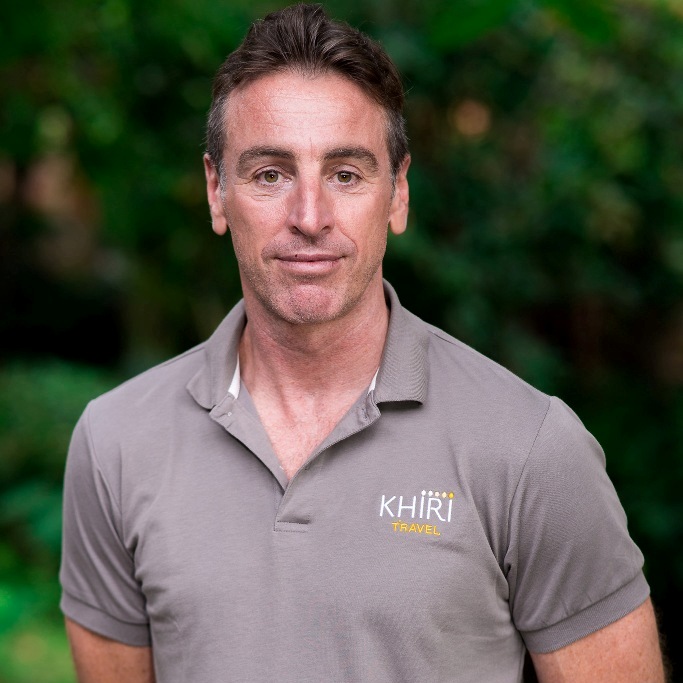 Aaron first arrived in Vietnam in 2004 as a tour leader landing in bustling Hanoi and has since explored most corners of the country. Although tour leading took him to many parts of SE Asia, Vietnam, and in particular, Saigon, always felt like home. Aaron joined Khiri Travel in early 2023 and is a fan of exploring the country by motorbike and recently completed a month-long ride into the central highlands and along the spectacular eastern coast of the country. In the past he has ridden from the Mekong Delta to Ha Giang in the far north.