There are few crazier festive experiences than Christmas & New Year in Saigon, Vietnam
Khiri's Guide to a Saigon-Style Festive Season
My first Christmas, or Christmas eve to be more specific, experience in a major city in Vietnam was in Hanoi in 2004. What should normally have been a short 10 minute minivan journey to the train station, with a group of 18 clients, for an overnight train to Hue turned into a 90-minute ordeal of excitement and drama. With most of the streets in the old quarter closed to traffic, we had expected a 15 minute walk out to a nearby street where we could be picked up by a vehicle for the short trip to the station. This was before we had factored in the thousands, but felt more like millions, of Hanoians who had completely crammed the streets to celebrate this festive occasion, the walk eventually took us just short of an hour as we squeezed between revellers, bicycles, and motorbikes with a couple scary moments, briefly losing some of the group, and one 'Hanoi kiss' or exhaust burn to the lower leg of one of the guests. Eventually we connected with the vehicle and through rush hour style traffic got to the Hanoi train station and into our cabins with moments to spare for the trip south.
This was my first introduction, and completely unexpected at that, to the way Christmas is celebrated in the major cities in Vietnam. Although predominantly Buddhist, Christmas is celebrated joyously with amazing Christmas lights, Santa Claus decorations at prominent locations, Christmas trees and colourful decorations. Vietnamese, and visitors, gather in masses on inner city roads and pedestrian streets from Christmas Eve, through to Christmas Day to celebrate this festive occasion!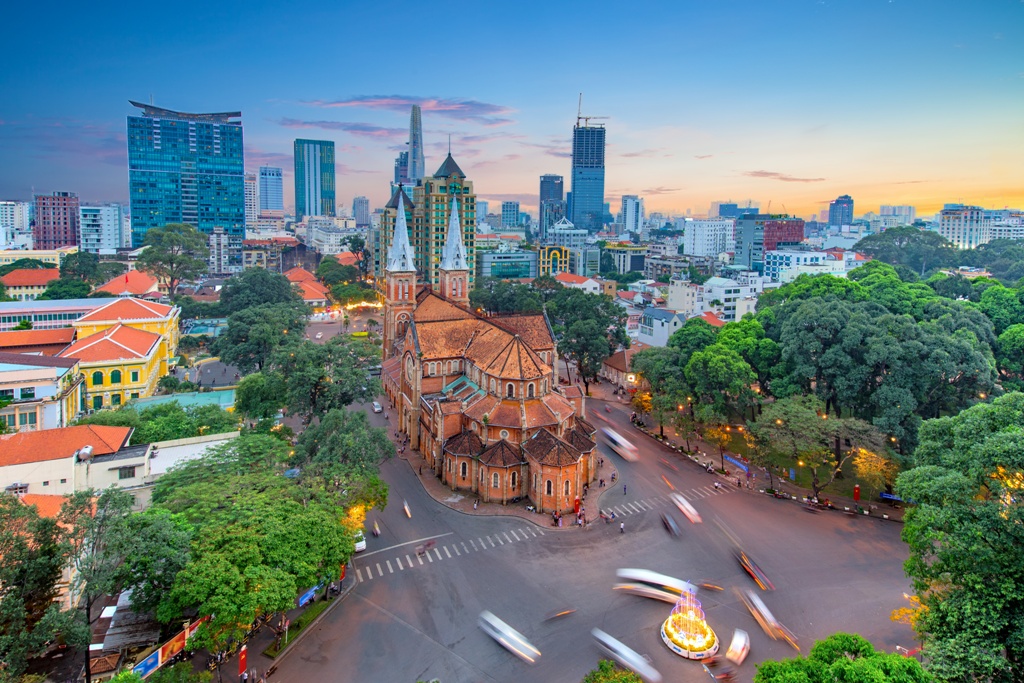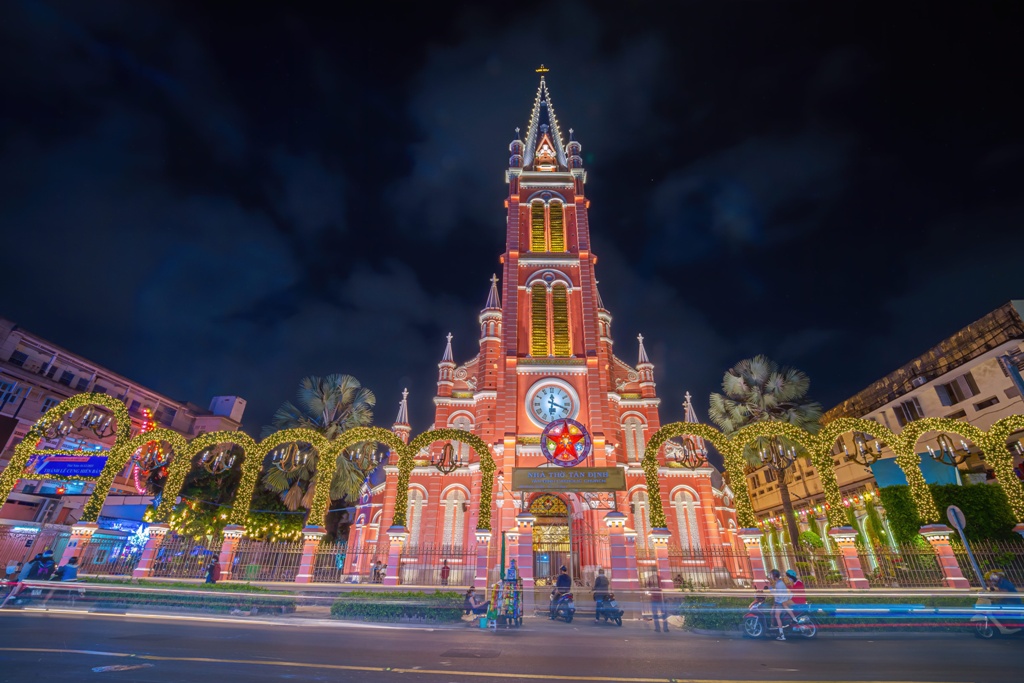 As a mainly Buddhist country, and with large portions of the population following more traditional Vietnamese religions, it is surprising that Christmas today is an important festival in the Vietnamese year, alongside Tet (lunar New Year), the Mid-autumn Festival, Vietnam National Day, and the solar (Western) new year. Christianity was first introduced in the 16th century by missionaries from Europe's main Catholic countries, France, Spain and Portugal. However, it wasn't until the French rule that many people became Christians, predominantly Catholic, and today estimates say that up to 10 percent of the population consider themselves Christians, and Christmas is celebrated a little more seriously.
It says a lot about the Vietnamese that Christmas, and the festive season including the Gregorian new year are celebrated in such a way. The Vietnamese are a fun-loving, sociable people and the various Vietnam festivals and events are actually occasions for people to gather together and celebrate and this includes Christmas in the major cities.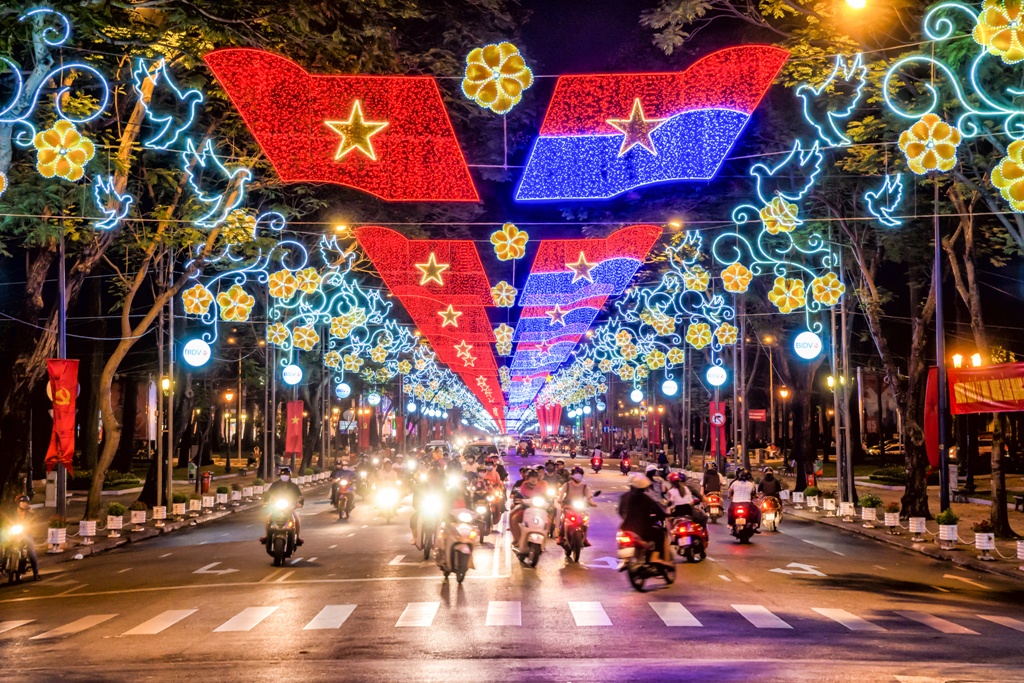 Celebrating in Saigon
December in Saigon 2022 will be a great time to visit as Le Loi street, one of the city's main thoroughfares, has just reopened after being "under construction" for the last few years. The city's new subway system was being built below and the entire street was boarded off. Le Loi street connects with the famous pedestrian Nguyen Hue street and will almost certainly be awash with Christmas lights and decorations and will hum with activity at this time. A visit to Saigon at this time of year is an excellent time to visit as temperatures are milder than at other times and there is very little, if any, rain. Christmas will also lead into New Year where often a huge fireworks display takes place lighting up the city skies. Sitting at one of the city's many rooftop bars, or joining the locals at one of the city's streets or parks is a great way to interact and enjoy the season.
At Khiri along with a visit at this time of year to explore the city's sights, as well as those of nearby Cu Chi and the Mekong Delta we recommend you join locals and residents at some of the events around Christmas and New Year. Here is our step by step guide…
Embrace Your Inner Tourist
Although Christmas isn't as big a deal here as it is in the Western world, it doesn't mean the holiday isn't celebrated at all. As mentioned the city will be a hive of activity and with the locals gathering and festive lights and Christmas trees up everywhere Ho Chi Minh City is gorgeous at this time of year, bathed in light and filled with the sound of Christmas carols. Pull your camera out and be ready for a tropical Christmas and enjoy the fireworks on New Year's Eve.
Enjoy a feast
Although cooking your own turkey is probably out of the question, if you'd like a traditional Christmas or New Year meal, book in at any number of hotels that offer these. Nothing feels more warm and festive than an exquisite meal with an optional accompaniment of fine wines. Be sure to book early though as places fill up quickly.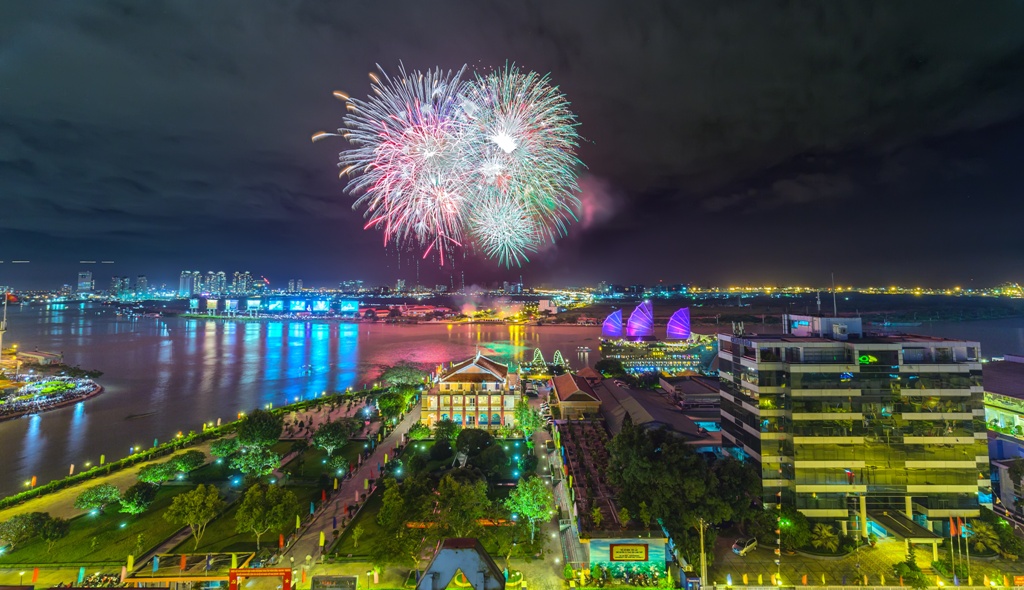 3. Join a Service
There are some beautiful churches you can check out in Saigon during Christmas. For example, Saigon Notre Dame Cathedral (which is currently under reconstruction), in the heart of the city is a must-go. Churches on Pham The Hien street in District 8 and the ones in Go Vap and Tan Binh districts are also worth checking out.
4. Enjoy from Above
It will be crazily crowded on Christmas and New Year. Everybody in Saigon will pour down the streets and party hard. So another way to experience the festival in Saigon without getting lost in the sea of people is to secure a seat at a rooftop bar. Saigon has an amazing collection of rooftop bars serving great local craft beers, wines and cocktails. Sitting above the city will also be a great way to see any of the fireworks displays that take place.