The Vietnamese are incurably romantic, making the country a great honeymoon destination
Where to Honeymoon in Southeast Asia's Most Romantic Country
Getting married is a magical adventure, with couples promising their love to one another in front of loved ones. But after the confetti has been thrown and the champagne corks popped, it is time for the newlyweds to spend some time alone on their honeymoon. With a vast array of romantic hotspots, it's no wonder that Vietnam is a popular choice.
Halong Bay
Known as Hạ Long by the locals, Halong Bay is a UNESCO World Heritage site that welcomes many international visitors each year. Located in the northeast of Vietnam, just a two to three-hour drive from the capital city of Hanoi, this stunning bay consists of nearly 2000 karst rock formations dating back over three million years.
Four floating fishing villages can be found here, with some of the inhabitants never stepping foot onto dry land for months on end. Their pets deftly maneuver around the wood and tin houses, eagerly awaiting the return of the fishing boats each day. Visitors are drawn to this bay for its peace and tranquility, staying on traditional-style junk boats. The longer one stays, the more remote the boats will take you. Daily activities onboard these impressive boats include morning Tai Chi on the upper deck, kayaking, cooking classes, cave expeditions, and late-night squid fishing. Whenever I have the pleasure of taking groups to Halong Bay, I encourage everyone to grab a fishing pole after dinner and head to the front of the boat to join the enthusiastic and extremely helpful staff. It's so relaxing and a lot of fun to stand under the beauty of the stars while hoping to catch a bite. I've never been very successful, but I've always had a superb time trying. Far away from the noise of traffic and everyday life, Halong Bay is the perfect place to while away the hours, sipping cocktails on the top deck as the sun dips below the horizon.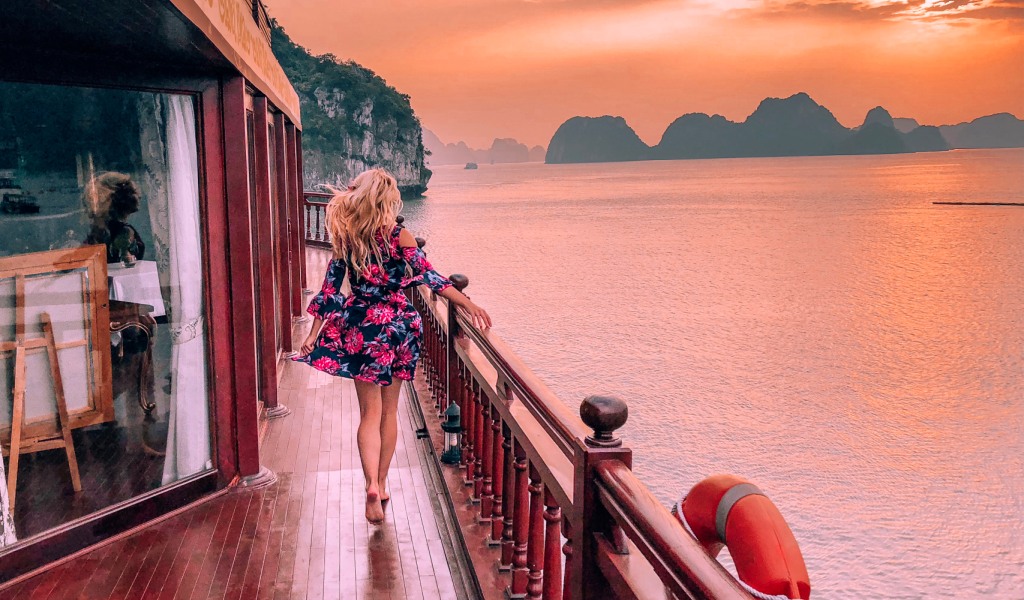 Central Vietnam
In Central Vietnam, many newlyweds can be found celebrating in Hoi An and Danang. Just 18 miles from each other, these picturesque cities have some of the best beaches in Vietnam. Luxury high-end hotels lure honeymooners from far and wide, offering the perfect combination of romance, delicious food, and quiet, sandy settings. Known as the culinary capital of the country, Central Vietnamese specialties include Cao Lau and White Rose Dumplings. Cao Lau is a flavoursome dish of rice noodles, crispy pork, local herbs, and beansprouts, and the delicately steamed White Rose Dumplings are filled with shrimp and topped with crispy shallots, then served in a light fish sauce. Having seen many locals tuck into a plate of White Rose for breakfast during my first visit, I gave them a try and now start my day this way whenever I am in the area.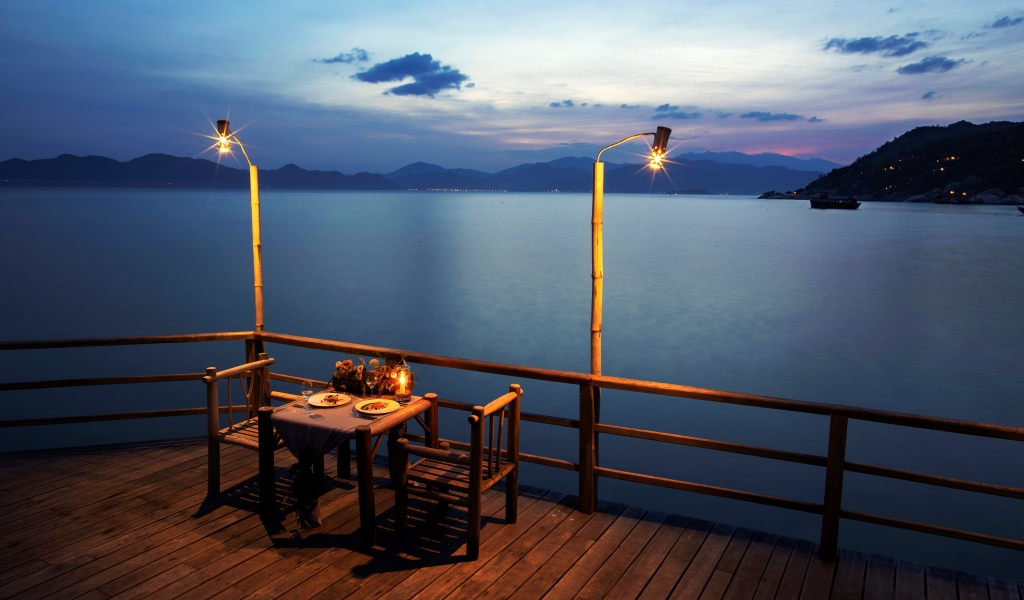 Further south is the stunning Ninh Van Bay, with a small number of luxury beachfront hotels. This hidden paradise is home to the rare Langur monkeys that live in the mountainous region behind the bay. Snorkelling in the tranquil water is sure to be a magical moment that will stay in your memory for years to come.
Phu Quoc
Having lived in Ho Chi Minh City for many years, one of my favourite places to visit is Phu Quoc. Vietnam's largest island is a one-hour flight from HCMC and though developing quickly, the serenity and charm of this island draws me there over and over again. Nearly half of the island is a National Park, with wildlife such as langurs, hornbills, slow lories, and macaques.
The locals have been fishing here for hundreds of years, and Phu Quoc is famous for the production of fish sauce. The recipe remains unchanged – fermented anchovies, salt, and water. It takes between 10 and 12 months to create the perfect fish sauce in this area, which is why it is highly sought after by locals and food connoisseurs from around the world.
Dalat
But for a truly local flavour, why not consider the honeymoon capital of Vietnam? Often overlooked, Dalat is where local newlyweds visit for a number of enticing reasons. Sitting 1,500 metres above sea level, this unique city in southern Vietnam heralds a crisp, cool climate that attracts those wishing to get away from the usual humidity of the country. Each time I have walked out the door at Dalat airport, I have always loved the instantly refreshing air. It's no wonder that fruit and vegetables thrive here, the most popular being avocados and strawberries.
The short drive from the airport to the hotel is strewn with agricultural plots, each one bursting with abundant crops. The sweet aroma of berries is most apparent when I take my groups to the local market. Stall owners take great pride in displaying their goods, from the vibrant green piles of artichokes to the impressive sight of the spike-covered rambutans cascading out of straw baskets. One of my favourite things to do here is to purchase a large bag of mangosteens, a white, fleshy fruit encased in a deep purple outer layer. Breaking into one usually results in stained nails, but it's totally worth it. I share the mangosteen segments throughout the group before heading to other stalls to show everyone the sleep-inducing artichoke tea, sugary sweets, herbs and spices, and the local wine from the Vang Dalat Winery.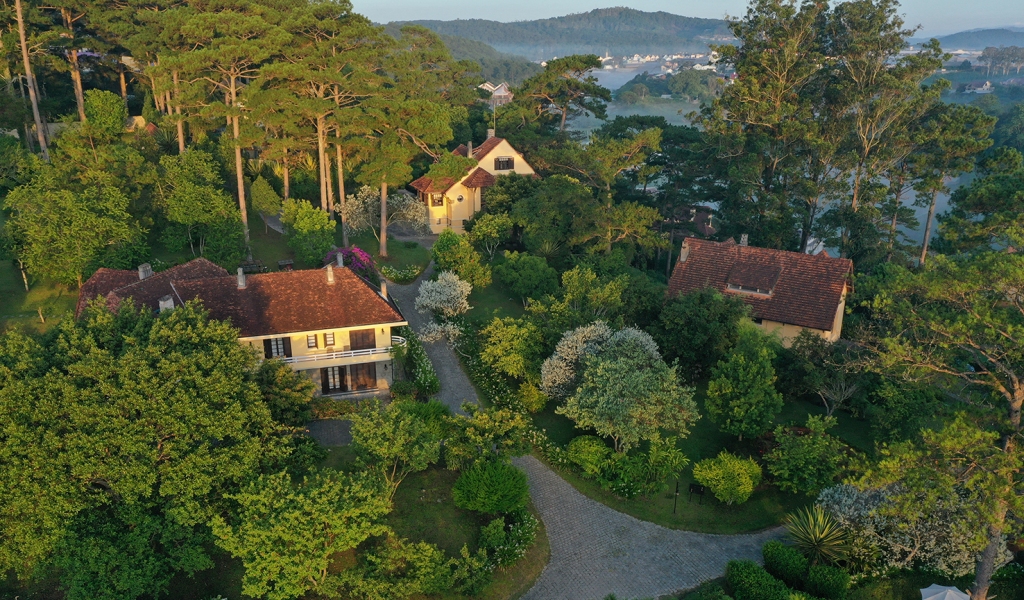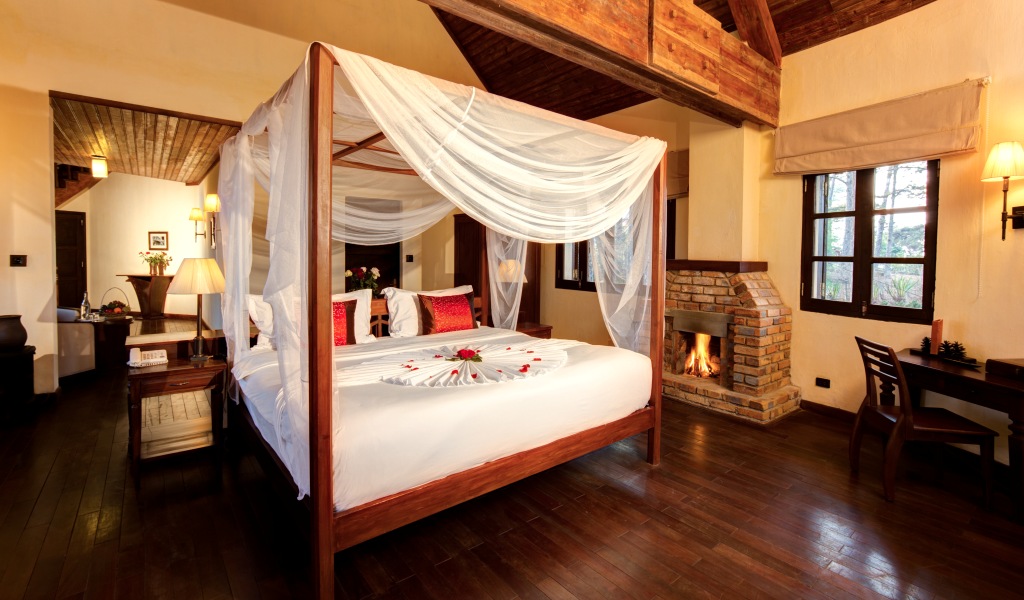 There is so much to do in the incredible city. The last king of Vietnam, King Bao Dai, vacationed here in the summer, and his art deco-style palace has been kept in pristine condition. The landscaped gardens are filled with rich colours, and opulent furniture from the 1940s fills every room. The seven-tiered Linh Sơn pagoda is also well worth visiting. Set in the grounds of a Buddhist temple, this ornately decorated pagoda was built in 1938. Many lovebirds choose to rent a giant swan pedalo for an hour on the serene Xuan Huong Lake. Golf enthusiasts have a choice of three impressive courses. Other sporting activities include ziplining, canyoning, and even going on a thrilling roller coaster ride at Datanla Falls. But mainly, I just love walking around this vibrant city, eating some of the sensational local food and savouring the beauty and splendour of the honeymoon capital of Vietnam.