Khiri Travel offers interesting itineraries for families to explore the Cultural Triangle and Kandy in Sri Lanka.
When you travel with kids, the key to success of a trip is to remember that they are always the bosses and it's super important to keep them happy, occupied and interested. Over here in Sri Lanka, especially when exploring the Cultural Triangle and Kandy, we always need to make sure not to pack the itinerary with too many temples which can be boring for the kids as much as it is interesting for the parents.
Treasure Hunt while exploring Ritigala
While Sigiriya, Anuradhapura, Polonnaruwa and Dambulla are all highlights which are also under the UNESCO World Heritage sites list, one of our favourite recommendation for families is to visit the Ritigala Archeological Forest Monastery. This is not only a cultural site but also has a nature element to it and feels like a forest walk. Think of Indiana Jones – well that is a bit exaggerated but Ritigala in a way has that feel of undiscovered, a world away from the most famous sights in Sri Lanka. Make sure you take time to explore in depth and walk all the way to the higher part of the complex. The archeological site bears a certain mysterious nature owing to the long meditational pathways that open into the thick jungle and large stone-lined reservoirs. 
For the kids it's going to be an interesting treasure hunt where they will be given a map of Ritigala together with clues for which they have to find answers at different locations within the site. Our guide will of course assist in finding the answers and at the end the enthusiastic little ones will be given a small gift.
Capering in Kandy; Dances, Drums & Sweets
Yet again, while the Temple of the Tooth Relic is the most famous highlight in Kandy, how about treating your kids with something more interesting in the form of a private session on Kandyan dancing and drumming? Kandy being the center stage of upcountry dancing which is unique to the central hill country of the island, daily in the evenings you can see hundreds of tourists packing into theatres to see the cultural shows which can be quite a touristy experience. Instead, let's look at how to get a personal experience which is more fun and informative at the same time.
This experience involves a visit to a local house in Kandy where you will meet your guru for the day who will be waiting eagerly to teach you some of the basic moves of upcountry dancing known among the locals as "Udarata Netum". 
We start off by trying to master some of the preliminary moves and then we gradually improvise into dancing to the tunes of Kandyan drums which has their own rhythms much different to those in western music. The drum beats will get you moving even without any effort. The master might also showcase some fire dancing which is awe-inspiring but please don't try it at home!
Afterwards it's time to taste some of the traditional sweets of Kandy like Peni Walalu (treacle bangles), Kokis (crackers) with a cup of plain tea as the locals call it.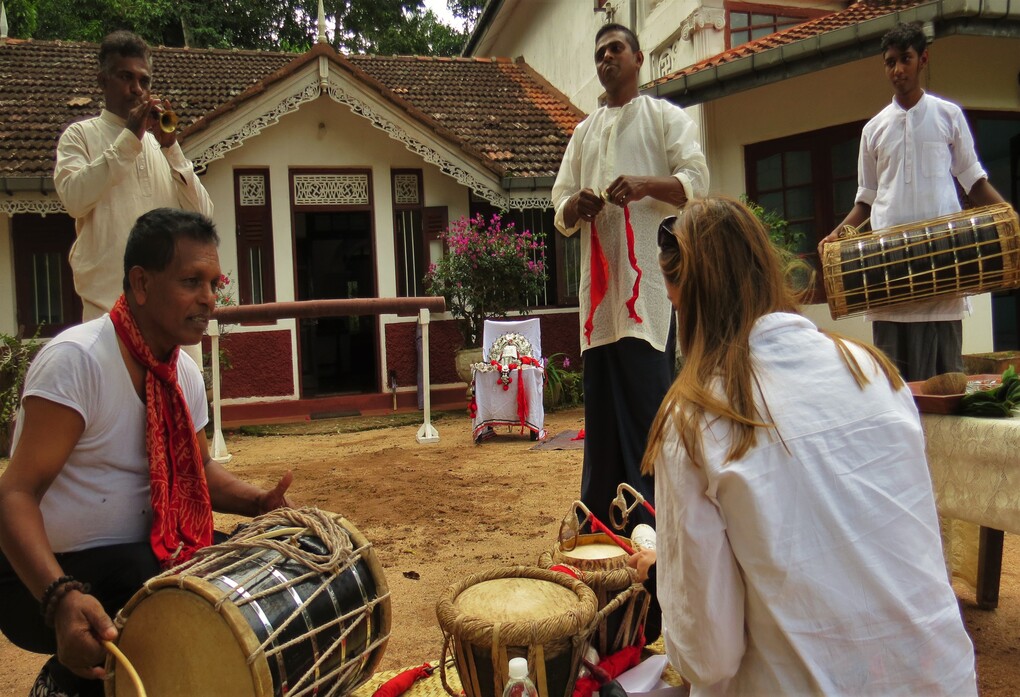 Where to Stay? Water Garden Sigiriya
While travelling with kids, we believe it's important to pick your hotels carefully. We sometimes look for a lot of details but tend to forget that for kids it can be little things that matter. It can be sleeping closer to the parents in the same unit, it can be a little pool for them to splash and have fun. In a nut shell, it's not just about luxury.
Water Garden Sigiriya is a great place to be based at while exploring the cultural triangle with your kids. With water streams and small lakes flowing through the property, it takes you back in time to the days of the legendary water gardens of the Sigiriya Rock. 
Most importantly, it's got some nice duplex villas which is ideal for families since it has two rooms with a Double bed for the parents and Twin beds for the kids. All the butlers are well experienced in interacting with kids and always upto take them on a walk around the property or even hop in to a bike and pedal along with the kids. Hence it's important to make sure not to pack your itinerary with sightseeing and to keep some free time at the hotel for the kids to enjoy.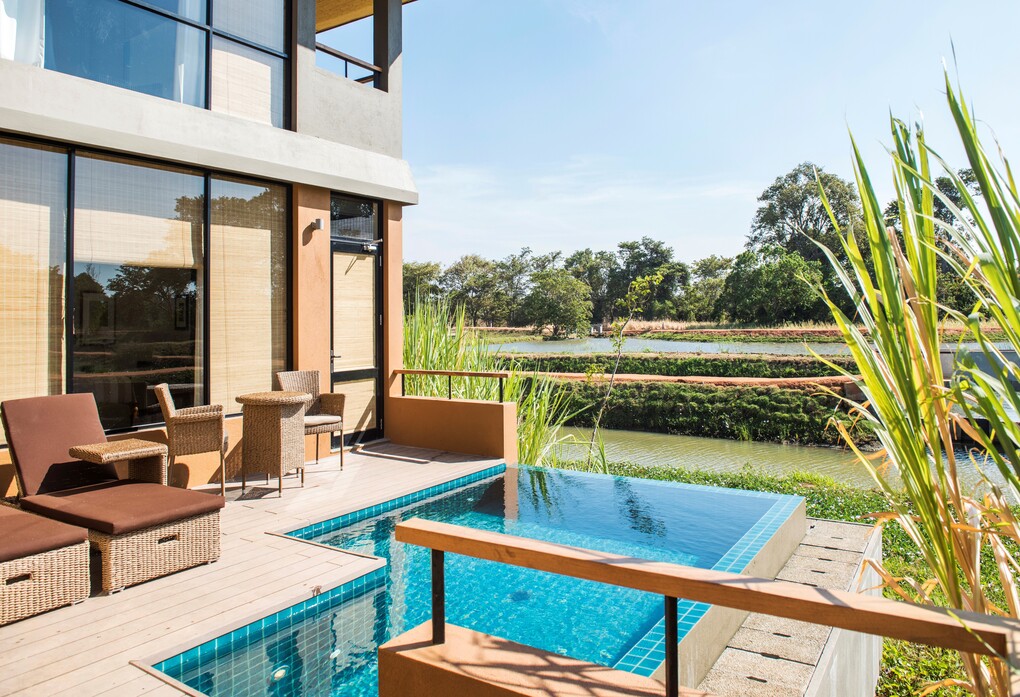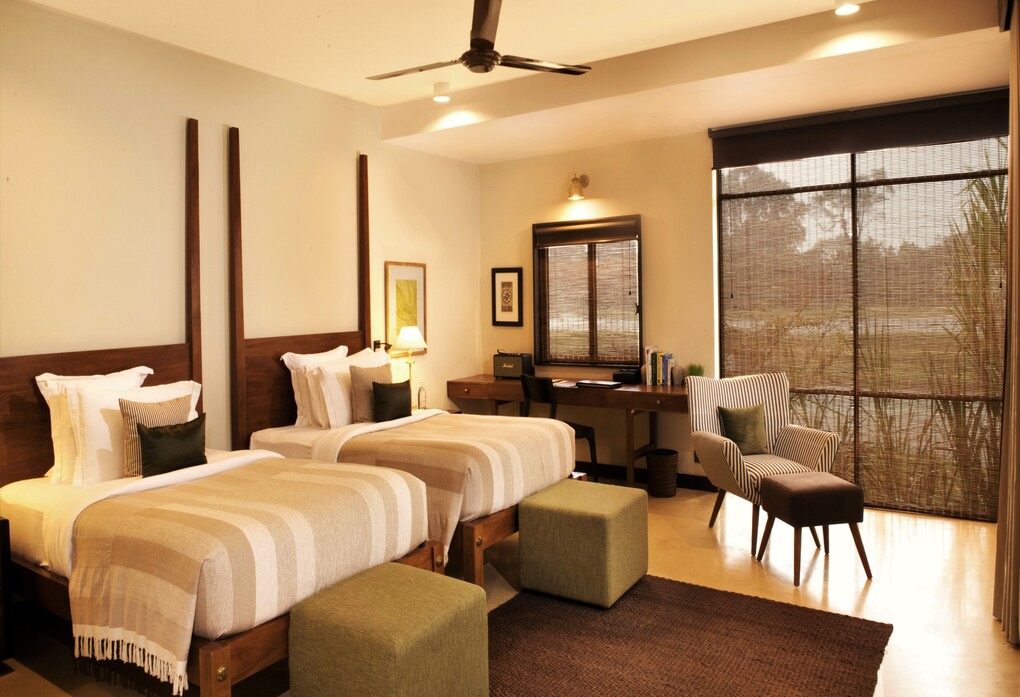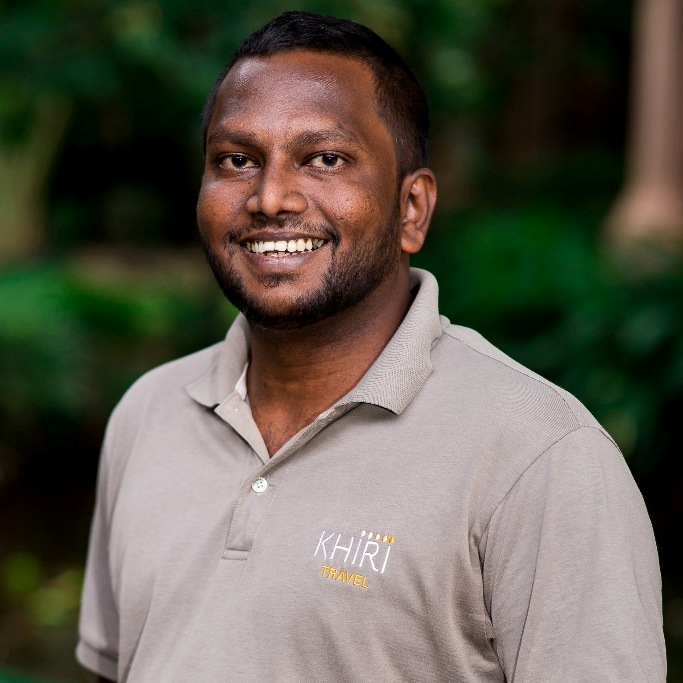 Mahiru Fernando was born and raised in Colombo, Sri Lanka, and as far back as he can remember, he has always loved being surprised by the things his hometown has to offer. His favourite places on the island are the national parks (though he prefers them without the crowds), and the cooler hiking trails in the countryside that offer fresh air, lush greenery, and views of the waterfalls. When he is not at work, Mahiru can be found with a guitar in his arms, or in a kitchen, where he loves to prepare his favourite dish: Black Pork Curry.