Travel writer Matthew Woodward tells us why he loves Southeast Asia rail travel
Travel Writer Matthew Woodward Takes the Train in Vietnam & Thailand
Travel writer & rail specialist Matthew Woodward tells us why he loves train travel in Southeast Asia so much, and how rail can provide an unforgettable part of a well-designed travel itinerary
Everybody loves to take a ride on a train, especially when they are travelling away from home. The journey often provides the most memorable part of discovering a new destination, and you just can't match it on a plane or in a bus. It's something about the chance to enjoy a shared adventure with other passengers and to experience the country at touching distance. The sights, the sounds and even the smells leave a lasting impression of local people, places and culture.
Although many connect, the railways in South East Asia are still wonderfully individual – but what they have in common is the way they can be used as an interesting, comfortable and sustainable way to travel between some great destinations.
All Change
Before the COVID pandemic gripped us, I took a train journey from my home in the UK all the way to Singapore, an 18000 km adventure across 12 countries. The Trans-Siberian was wonderful, and China was speedy and efficient, but by far the most memorable part of the journey were my experiences from the Vietnamese border at Dong Dang, through Vietnam, Cambodia, and into Thailand. Each country delivered its own wonderful concoction of life on the rails and proved why the slow train can be so enjoyable.
If you haven't already heard, things are changing fast and such a journey will become technically easier to take in the next few years. In 2023 the largest railway station in SE Asia will open in Bangkok, and over the next few years high speed trains will eventually connect China all the way to Singapore by rail. Whilst that's an amazing feat of engineering and will certainly make rail travel a direct competitor with aviation on some routes, it is not actually what makes the train so special for travellers.
Midnight Express
Some train rides make real sense – not just for the experience, but also to provide an efficient use of time and budget. Probably the best example of this is the sleeper train. Night trains are making a rapid resurgence around the world – they are mostly convenient, comfortable and carbon friendly.
In Thailand, perhaps the best example of the practicality of the sleeper is the journey between Bangkok and Chiang Mai. Two great travel destinations connected by a modern express train. You can leave the capital in the early evening on Train 13 and arrive in Chiang Mai in time for breakfast after a reasonable night's sleep.
Passengers have a choice of either a two berth first class compartment or an open plan second class carriage. The Chinese built 'Ultraman' locomotives are brand new and the carriages are very comfortable – a world apart from those that they have replaced. Don't be afraid to use second class. The berths are spacious – the lower ones are a bit bigger and slightly more expensive – and curtains provide privacy once the bed has been made up by the attendant. In the first-class carriage you get your bed in your private compartment made too, but also have the chance to take a hot shower in the morning. The other good news is that after being out of service during the COVID pandemic, dining cars have just made a welcome return on most routes.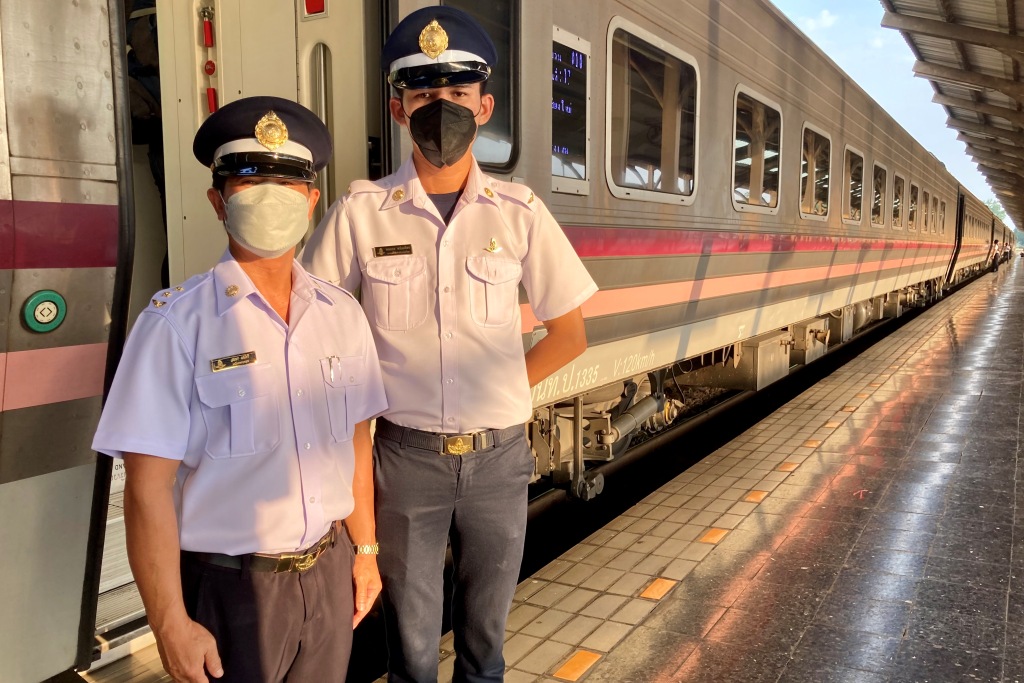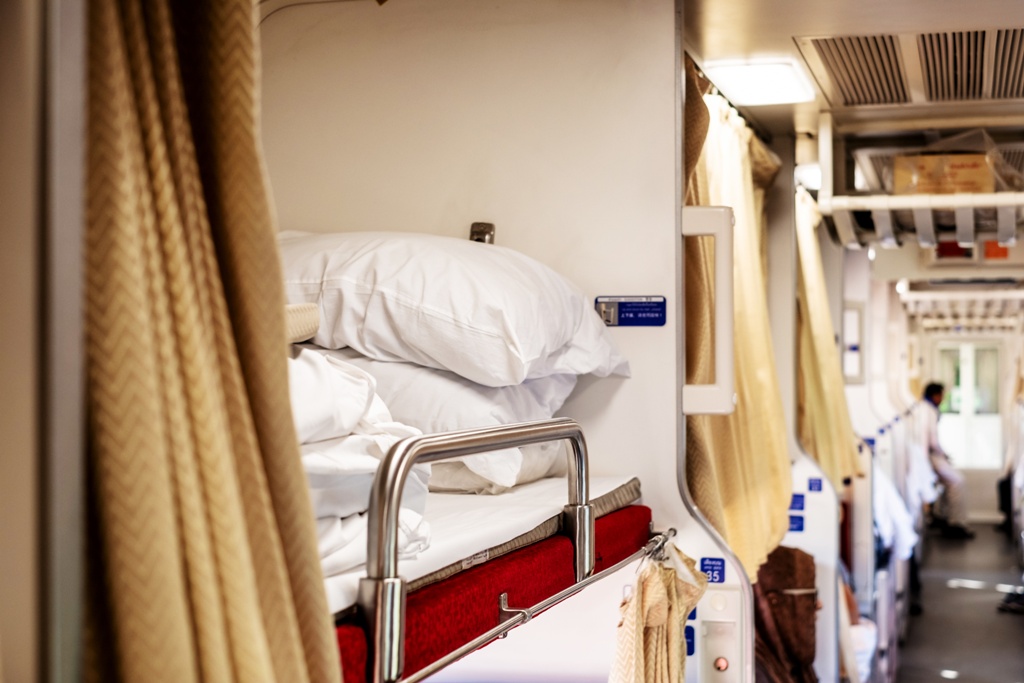 Travellers rising early are rewarded with some spectacular jungle scenery north of the Khun Tan Tunnel – the longest in Thailand – before reaching the end of the line at Chiang Mai, a city offering so many possibilities – cooking schools, mountain biking trips, and elephant conservation are very popular, but it's a much longer list.
It's worth getting to the station well before the departure time. I find this to be a golden moment – a chance to purchase last minute snacks, and chat to the locals without being in a hurry. Thai railway stations often have preserved steam trains on display. Also, be sure not to miss the bell. They still use shiny brass bells on the platform to signal arrivals and departures, and there is something almost spiritual about the sound and timing of the rings.
Long Range Rail Adventure
Vietnam offers its own version of an amazing rail journey with a practical benefit. The so-called 'Reunification Express' isn't one individual train, but the name used for the long-distance trains that connect Hanoi with Ho Chi Minh City, 1726 km down the line. Travellers who want to experience a big rail trip can travel the whole route in around 34 hours, but the route is also ideal to get on and off at some great places along the way. There are currently four trains each day, so you can time the day and night portions of the journey to stop in places like Hue, Danang (for Hoi An), Nha Trang, and Thap Cham (for Dalat). For example, train SE3 leaves Hanoi in the early evening each day and stops at Hue in time for breakfast, and Danang for lunch.
Air-conditioned 'soft' sleepers on Vietnamese trains are popular, with four berths to each compartment, but there are also six berth 'hard' sleepers which are similar, if a bit more cramped. Private operators often run their own private carriage attached to some of the regular trains. They offer a higher standard of accommodation and service, but it does mean being isolated from life in the rest of the train, including the dining car.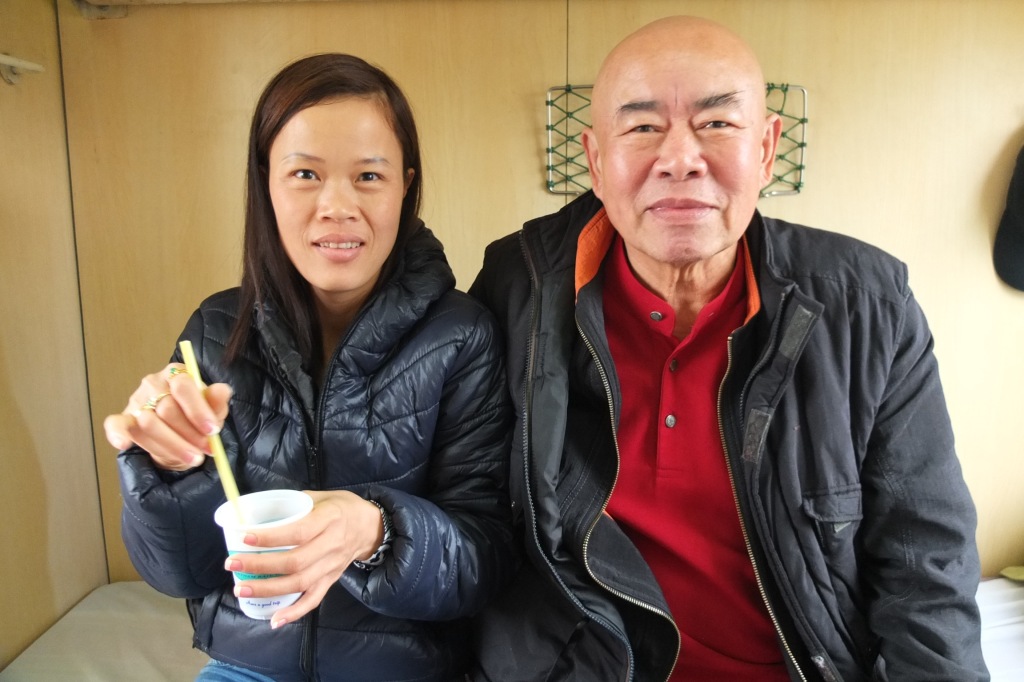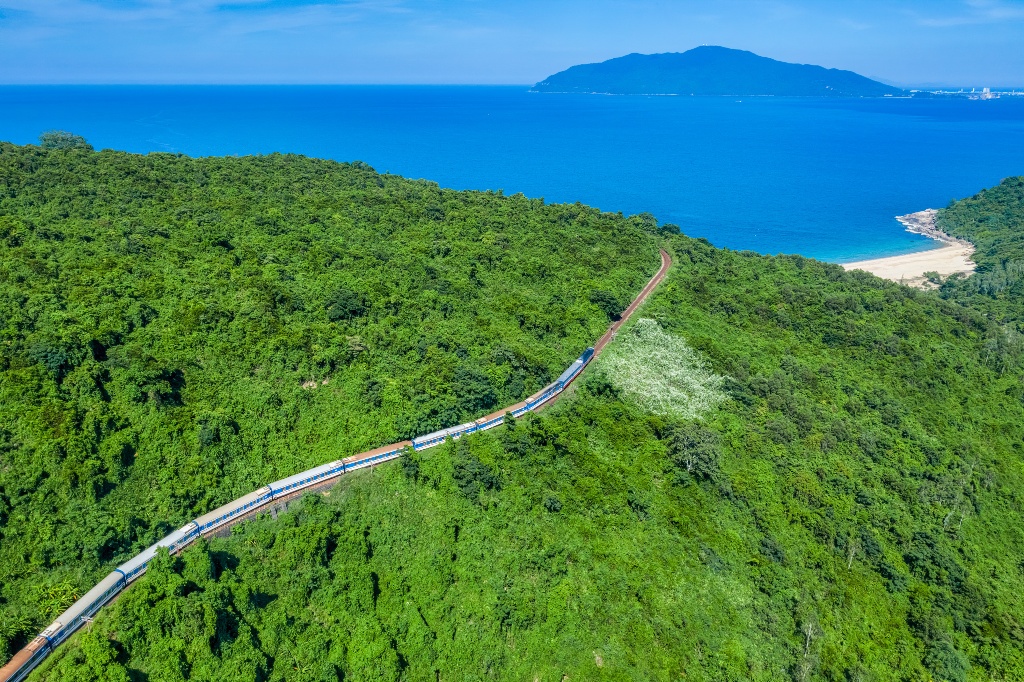 This is mainly a coastal route and it has some amazing scenery along the way. The Hai Van Pass between Hue and Danang is well known as a stunning viewpoint and a legendary road trip for bikers. But you get the same view out of the window on a train, perhaps with lunch and a cold beer from the dining car. The beer on the train is usually a can of 333 Export, a French rice beer recipe dating as far back as 1875. Three in Vietnamese is pronounced 'Ba', so it's pretty easy to order one. Just be careful not to overdo the 'Ba's' though, as you might end up with more beers than you had planned.
On my last trip I got off the train at Danang and spent some time in Hoi An. Along with eating a lot, I spent some time riding around sleepy villages and orange groves on an unusual bike – a vintage Russian made Ural complete with sidecar, formally a police vehicle. Before heading back to Danang to pick up the lunchtime train southbound, I discovered Madam Khanh's little street stall on Tran Cao Van Street – she is known locally as the Banh Mi Queen. An amazing combination of fresh French bread with a combination of Vietnamese fillings. It's the perfect snack on the rails.
The other hugely practical benefit of using the train is that if you tried life in a minivan around the bumps and bends of the coastal highway in the south of the country, you would certainly wish you were on board a Reunification Express!
Daytripper
Some trains really lend themselves to use as a one-day trip. My favourite of these anywhere in the world is in Thailand. Every day two simple third class trains depart the sleepy platforms of Thonburi station in Bangkok, arriving at the end of the line at Nam Tok four and half hours later. This is the line known to many as the Death Railway. Today this dark and fascinating history has been carefully preserved, but alongside it is also one of the most scenic and beautiful parts of Thailand. Train 257 leaves Bangkok at 07.50, stops mid-morning at Kanchanaburi, home of the death railway museum and the Commonwealth War Cemetery, and then crosses the bridge over River Kwai before heading on to Nam Tok. Most tourists get off at the bridge, but if you stay onboard you are rewarded with some amazing views as the train slowly crosses the Tham Krasae bridge which literally clings onto the side of a rock face with the river far beneath.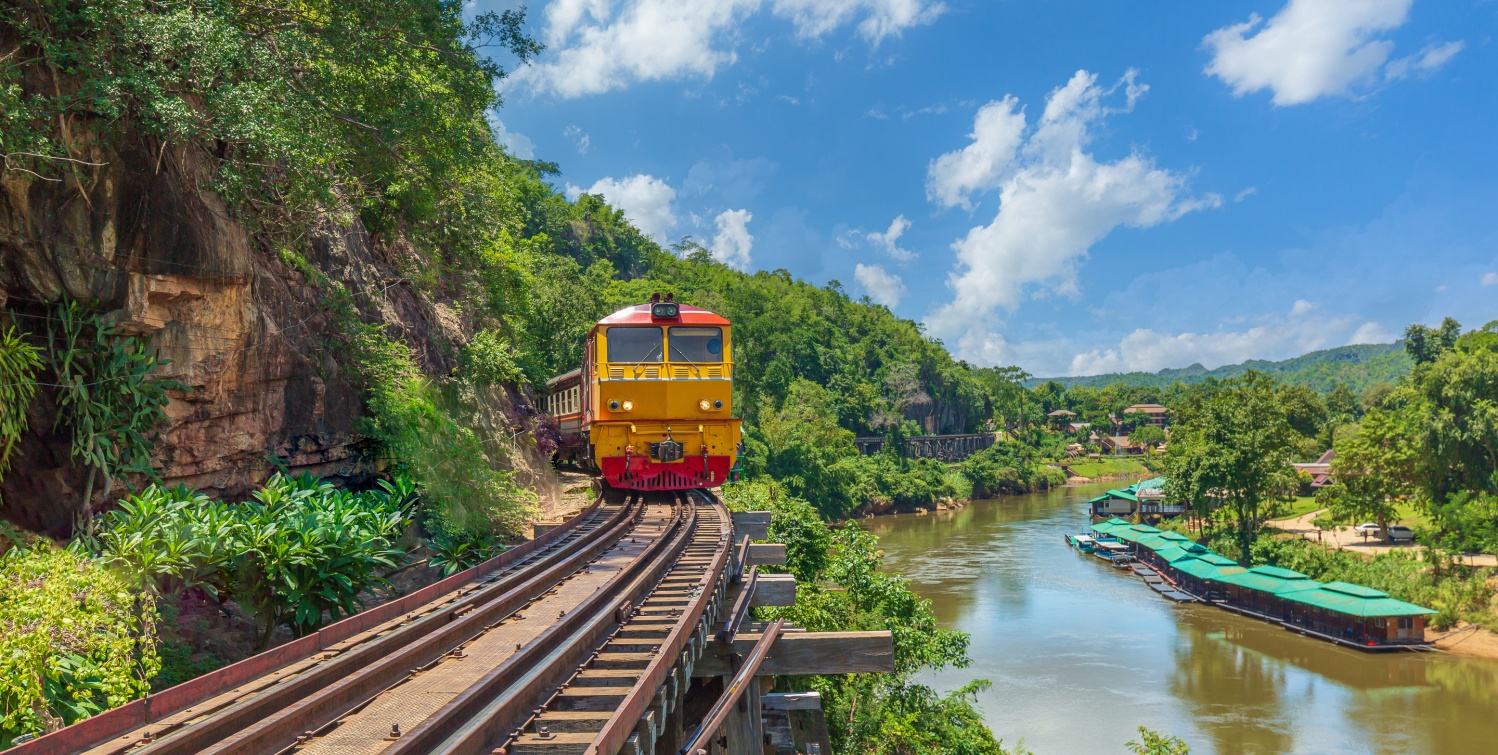 Whilst there and back is a long day, it's very doable. If there is time in the itinerary there are many eco places to stay, hike and swim in the river both at the bridge and up at Nam Tok.
Tourists who have arrived at the bridge by bus have no idea what they have missed – a warm if dusty breeze through an open window, friendly passengers and vendors selling all kinds of snacks to keep passengers happy. An open window on a train is a glorious thing. In stations you can barter for food from your seat, and on the move it's easy to take great photos unencumbered by dirty glass. Be careful though. On my last journey up to the bridge I almost lost my camera out the window in an enormous jolt as we crossed tracks. But this is all the heart and soul of slow travel, Thai style.
The State Railway of Thailand also runs special excursion trains at the weekend to visit popular tourist destinations, including Nam Tok. The advantage of these is they stop at several places with time to explore along the way. Get lucky with the dates and passengers get to travel on one of the working WW2 era steam trains that they use just a few times each year.
Over the Border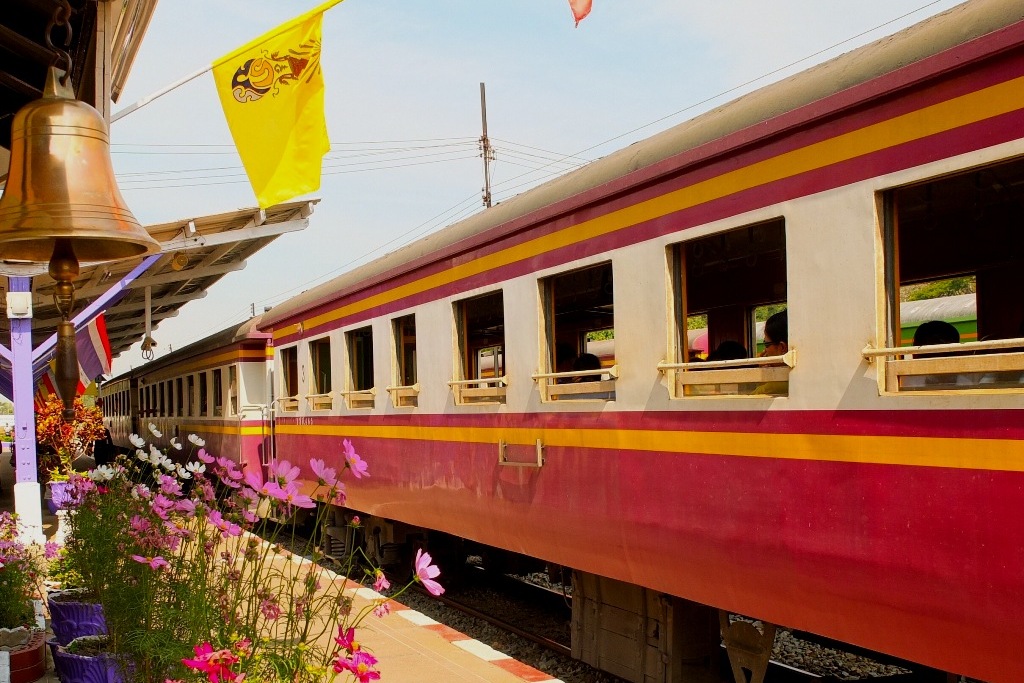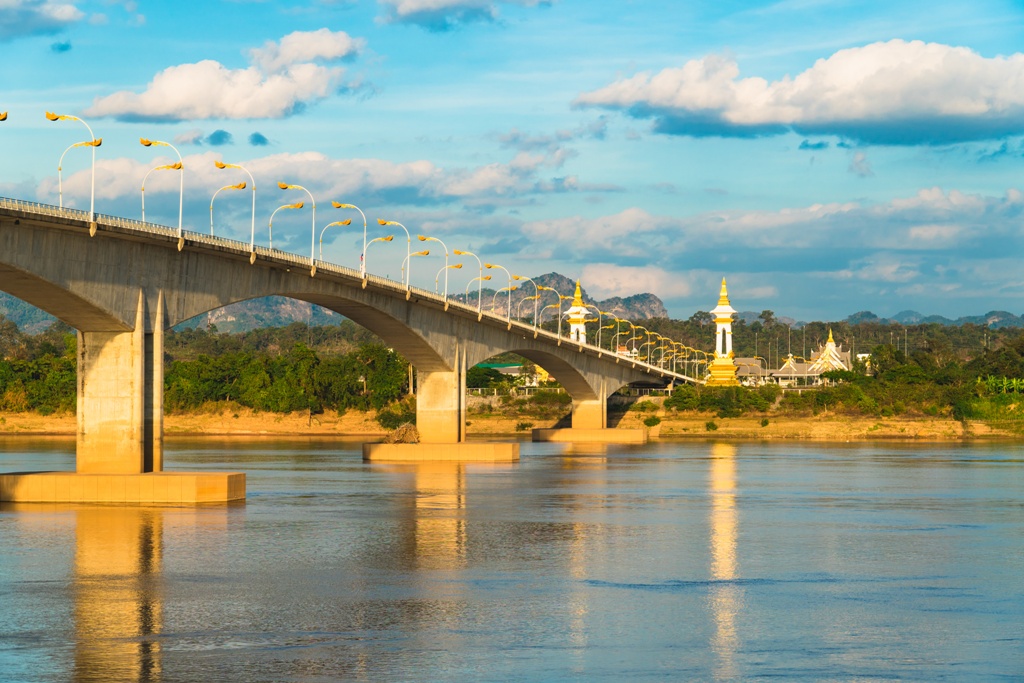 Rail is also now smoother at the border between Thailand and Cambodia, with a recent extension on the Thai side right up to Ban Klong Luk and the border post at Poipet. Rail-wise things haven't quite recovered from the pandemic in Cambodia yet, but hopefully one day soon the service from the border right through to Phnom Penh will resume.
In the south of Thailand, the 'International Express' – the train through to Malaysia – isn't back running yet, but this will also allow travel right through to Singapore when it resumes. Once you pass the islands accessed from Surat Thani, Hat Yai is the gateway city in the south, and well worth stopping off for a couple of days.
What to Expect
It goes without saying that different classes of travel offer different experiences. But that's not just about budget. A third-class fan train can be fine for a few hours, with the benefits of open windows for photography and local people to chat with. A first-class compartment offers more comfort and privacy, but perhaps at the expense of sampling the atmosphere of the train.
Train food can be a bit of discovery too. Services with a dining car will cook simple dishes to order which can be eaten in the restaurant or delivered to your seat. On daytime services, especially in second and third class, vendors hop on and off the train selling meals cooked on the platform. It's even possible to pre order platform meals on some trains.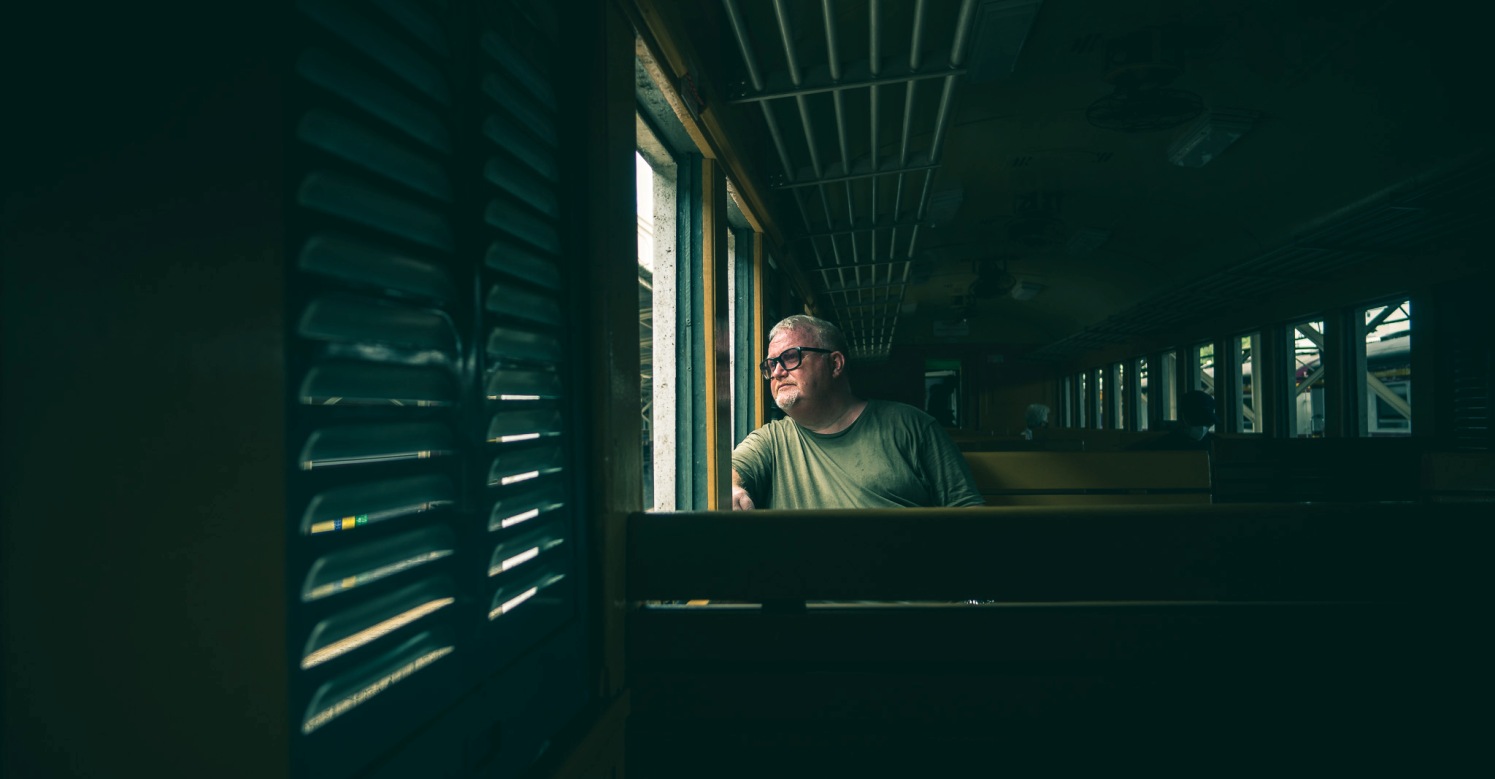 However you choose to use the train in planning itineraries, don't forget to remind your clients to bring along a few train essentials. Ear plugs & eye shades are vital on sleeper trains, and plastic slippers can be a useful bathroom accessory. Air-conditioned trains sometimes get quite cold, so a jumper can be essential even when it's 35 C outside. USB ports are standard in newer carriages, but a longer charging cable is sometimes a useful thing to have to hand. I carry an espresso maker too, as the local 'three in one' instant coffee doesn't fulfil my caffeine cravings.
Making It Happen
In January 2023 long distance trains in Bangkok will start departing from the brand new Krung Thep Aphiwat Central Terminal. The station will eventually replace the wonderfully old school Hualamphong, but for the next few years it will remain open for local trains so now is a great time to sample both the old and the new. It might be confusing for a year or two as the name of both the new station and the old one have already been changed more than once!
Local knowledge is essential to get the best out of train travel. Each country has a series of nuances around ticketing, timetables, classes, fares and availability. On the ground expertise will ensure you get the right trains and the best itineraries. Now is a great time to put a rail adventure into the mix – including Hualamphong – whilst you still can.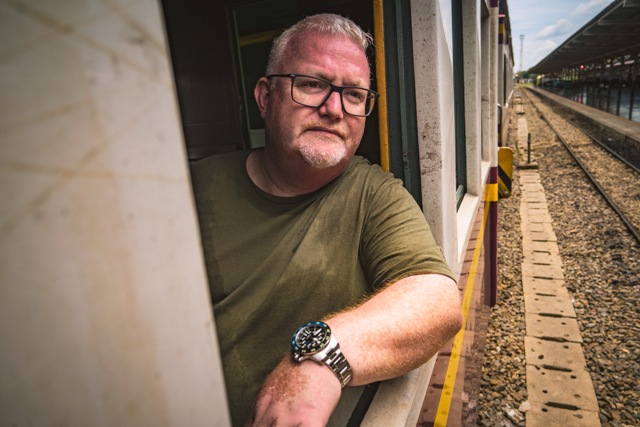 About the Author
Matthew Woodward is a well-known rail-based adventurer and author. His book 'A Bridge Even Further', is about his journey overland by train from the UK to Singapore. Find out more at matthew-woodward.com
Tim Russell joined the Khiri Core team in 2022, bringing decades of experience in the tourism industry into his role as Group Marketing Manager. Before moving to Bangkok in 2012 – where he now lives with his wife and their three rescue dogs – Tim spent almost ten years in Vietnam. When he is not overseeing Khiri's marketing efforts, Tim can be found indulging in his passions for photography, live music, and street food.