Bali boasts some of Asia's most romantic beach resorts – perfect for honeymooners!
Our Guide to the Most Romantic Spots for a Beautiful Bali Honeymoon
The magic, the stunning nature, the friendliness of the local people and the mystical environment; all make Bali one of most sublime places in the world for honeymoons or romance.
In Indonesia the word for honeymoon is "Bulan Madu". Bali, particularly, offers guests multiple exotic retreats to celebrate an intimate Bulan Madu. A few of them are villa sanctuaries in astoundingly beautiful, almost surreal settings in the Balinese hills.
The Hanging Gardens of Bali
One of our absolute favourites is a sublime retreat: The Hanging Gardens of Bali. Located to the north of the artistic and spiritual enclave of Ubud, honeymooners in the Hanging Gardens can wake up in a stunning valley setting surrounded by lush rain forests and hanging mists that vie with verdant rice terraces to catch your eye. Each villa is perched on a hill. From there, guests can enjoy stunning views of the Dalem Segara temple and the Ayung River.
It may be hyperbole, but some people hail The Hanging Gardens of Bali as 'the world's first seven star boutique resort.' Either way, one highlight is dinner under, not seven, but a million stars — a memory that may stay with you for life. It's a little slice of heaven on earth. Serenity made real.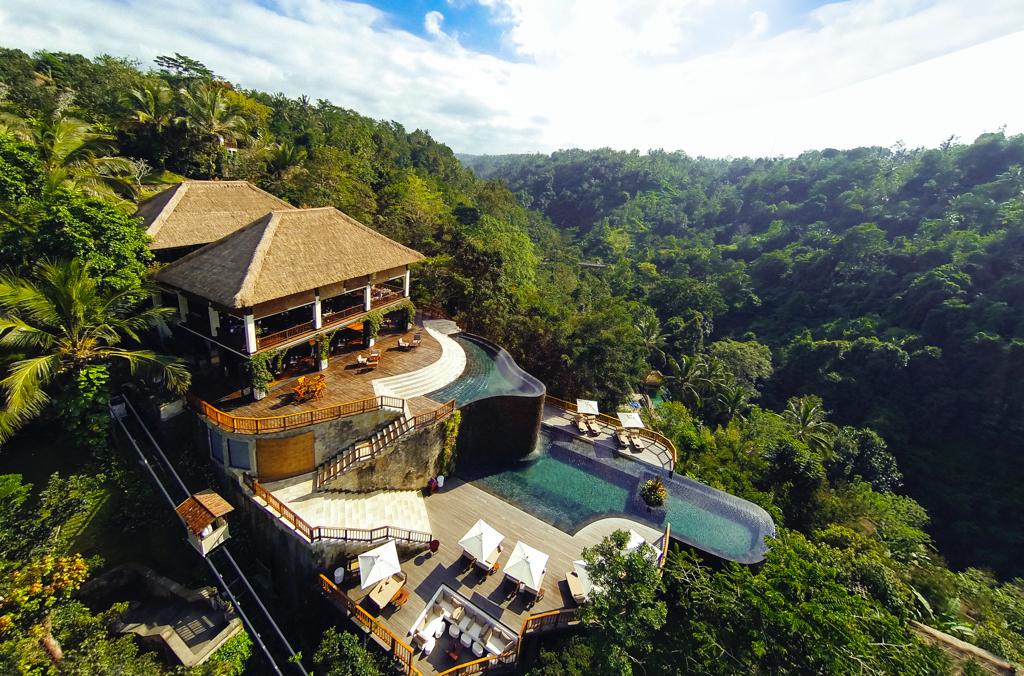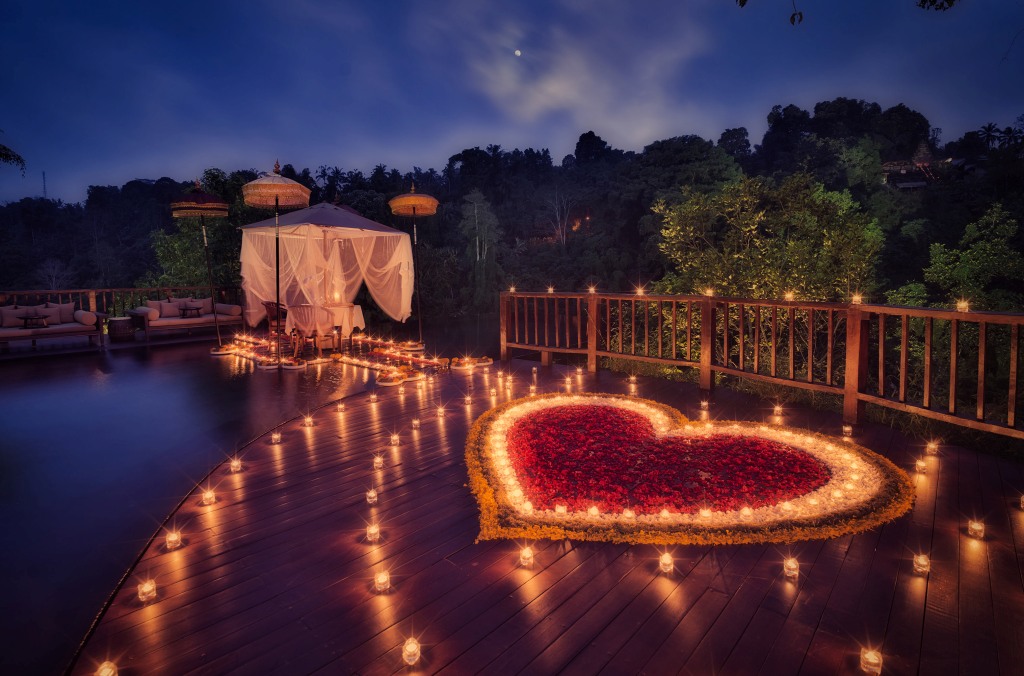 Banyan Tree Buahan
In a similar spirit we also recommend the Banyan Tree Buahan, an adults-only villa sanctuary deep in the Balinese jungle, also north of Ubud, with stunning mountain and treescape vistas. There are only 16 pool villas. Each one with a sublime view.
Three yoga activities — moon, aerial silk, and melody flow — plus heritage cooking classes, jungle hikes, bicycle rides and treks to mountain peaks allow guests to convene with nature and senses in equal measure.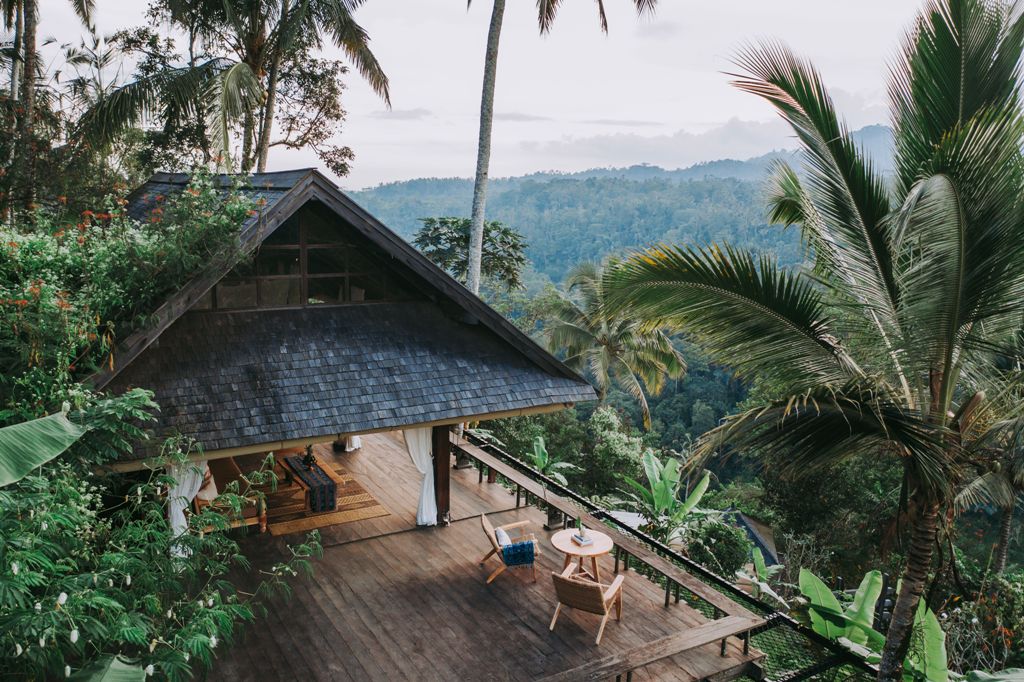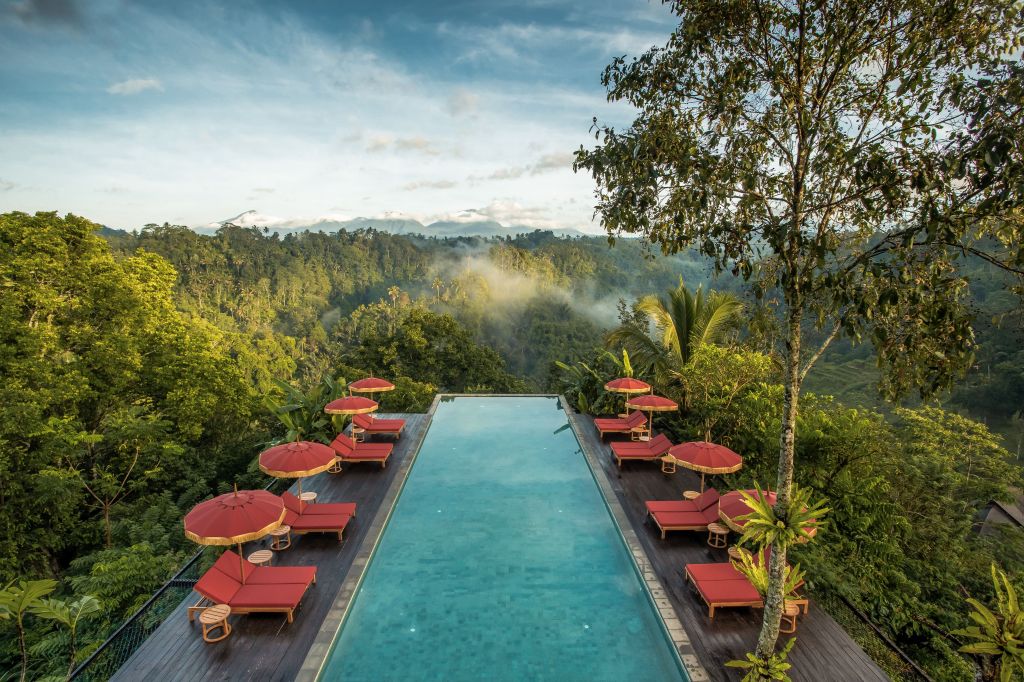 St Regis Bali
In the south of Bali we also recommend another retreat with amazing natural surroundings, this time on the coast at Nusa Dua. The St. Regis Resort of Bali is nestled on a spectacular beach with a long stretch of golden sand. On arrival honeymoon guests are beguiled by musicians playing the traditional rindik, a Balinese song reserved for celebrations such as weddings and honeymoons.
All 41 villas have quite recently been refurbished. The Strand Villa is most sought after as it is the only villa in Bali that offers direct beach access through a gate from the guest's own private garden.
From verdant tropical gardens to glittering beaches and sublimely appointed venues, The St. Regis Bali Resort offers an amazing beach setting for a transcendent and private occasion. Beautiful wedding venues include Cloud Nine Chapel, the white sand beach and the private amphitheatre.
One highlight is the Kayuputi restaurant, which makes unforgettable pan-Asian haute cuisine. The venue is acclaimed, not just for its food, but for a range of wines that have won the Spectator wine list award no less than 12 times — all of this against the romantic backdrop view of the Indian Ocean.
At Khiri Travel we have highlighted Bali in particular for weddings and honeymooners. We believe that the island has the most to offer with regards to romance, nature, ease of access and quality of experience, not least the stunning Balinese accommodations.
Although Indonesia has so much more to offer honeymooners, when it comes to successful romantic trips, Bali earns the best reviews based on guest satisfaction surveys.
If you're seeking a sublime Indonesian and particularly Balinese, honeymoon retreat for your clients, let Khiri Travel advise you on the best options, based on our extensive experience. Bali's reputation for service, exotica, culture, spirituality and sensual touches make it one of the most reliable and rewarding honeymoon experiences in the world.