Khiri's guide to Thailand's best beach & island destinations, with full details of when to go
Your Complete Guide to Selling Beach/Island Trips to Thailand
People usually think that the best time to visit Thailand is from November to February when the weather is dry and a little cooler (especially in the north).
But even if the weather gets warmer from March to June and "rainy" (mostly late afternoons) from the end of June to early November, the beach areas have different weather systems making it possible to enjoy Thailand almost any time of the year.
Last June, Khiri posted an article about the hidden gems of the North; this time we would like to focus on the South of the country that is far more diverse than people usually think, and it's not just about beaches…
Around Bangkok: Pattaya, Hua Hin & Koh Samet
Pattaya
Let's be honest, as a sustainable Thailand DMC, if there's one beach destination we do not recommend, it's Pattaya, and especially the infamous Walking Street. That being said, it's extremely convenient (2 hours by car from Bangkok) and there are ways to avoid the city centre and enjoy decent beaches & sites.
Koh Lan for instance is a small island (5.6km2) with crystal clear waters, located 45 minutes by ferry from Pattaya. Tawaen Beach is 700m long and the heart of the entertainment for local families (jet skiing, paragliding, snorkeling, banana boat, street food) until 4pm every day (but you can stay overnight on the island).
On your way from Bangkok to Pattaya, stop at the weird Wat Saen Suk, a "garden" of frightening statues which exposes scenes of torture and suffering representing Buddhist hell (which has 136 pits) where the damned are punished variably according to the sins they have committed in life
Take some time to also visit the Sanctuary of Truth which is a mix of a work of art and a religious site. It's 105m high and is made up of 4 wings dedicated to Thai, Khmer, Chinese and Indian religious myths. The structure is made entirely of teak and rosewood (and others), finely carved, without any metal nails.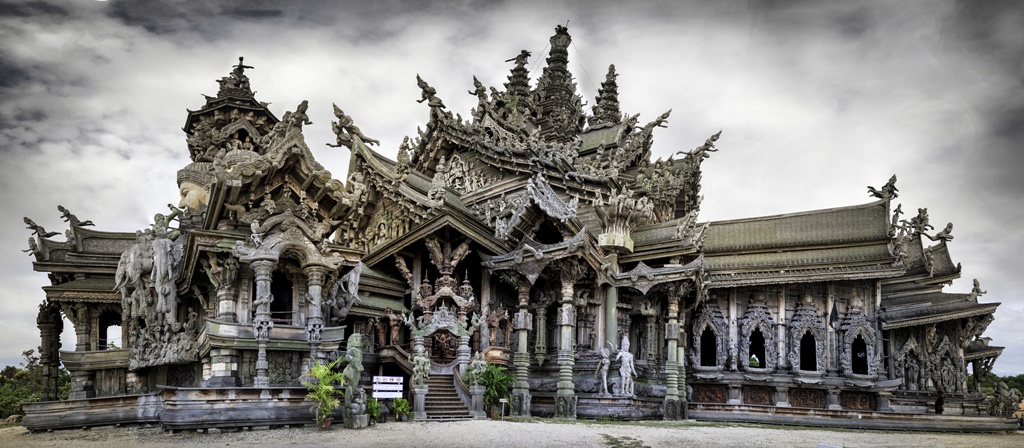 Koh Samet
Koh Samet – part of Khao Laemya National Park – is arguably the most beautiful of the islands near Bangkok (3 hours by road / ferry). It's also famous for its laidback nightlife – fire shows, bars, barbecues on Sai Kaew – and beautiful beaches on the southern part of the island.

Hua Hin
Despite being on the coast, it's probably not primarily a beach destination…and yet, Hua Hin is completely underestimated by international travelers and one of my favorites.
The province surrounding Hua Hin is a bit like a classy and high-end version of Pattaya. It's home to a royal palace (Mrigadayavan Palace), unique temples (the mystical Phraya Nahon Cave, Wat Khao Takiab built on a hill and overlooking the quiet, laid back Takiab Beach), lively markets (the highly recommended Cicada weekend market), national parks (Sam Roi Yot -literally "The Mountain with three hundred peaks"- for bird lovers, Kui Buri National Park which is one of best places in the kingdom to spot elephants in the wild, and Pranburi Forest Park for its mangroves), vineyards, golf courses, water parks and a lot more.
All destinations are accessible by car from Bangkok (or take the slow train to Hua Hin and its beautiful old train station).
Gulf of Thailand: Koh Samui, Koh Phangan & Koh Tao
From January to September (so including the rainy season in other parts of the country), the weather is dry and sunny in this part of the Gulf of Thailand.
From Bangkok you can either hop on a train or a plane to Surat Thani, and visit the amazing Khao Sok National Park (evergreen rainforest, towering limestone mountains, a fabulous lake and caves, wide variety of wildlife…and everything can be visited by foot, canoe and boat!) or fly directly to Koh Samui.

Many think Koh Samui – the second largest island in the kingdom – is only about beaches and mass tourism, but have a look to the Wat Phra Chedi Leam So pagoda which overlooks Laem Sor Beach and glows with sunlight, learn about the incredible life of the mummified monk Dang Piyasilo at Wat Khunaram, and play (at a distance) with the semi-wild pigs on Koh Madsum.
And if you really want to avoid Samui, then take a boat and dive or rock climb in Koh Tao, hike in Koh Phangan or cruise among the islands of Angthong National Marine Park!
Andaman Sea: Phuket, Krabi & Phang Nga
From November to the end of March, it's on the Andaman Sea side that you have the best chance to enjoy sunny weather.
Phuket – Thailand's largest island – is of course extremely famous, but as with Koh Samui you need to be guided to discover the other face of the island: the Gibbon Rehabilitation Centre, responsible elephant camps, street art, classy architecture, fine cuisine… you name it!
Not to mention the multitude of islands around Phuket – and I'm not necessarily talking about the world famous Koh Phi Phi – but also the relatively untouched Koh Yao, Naka Island, Koh Ngai, Koh Jum, all spread between Phuket and Krabi.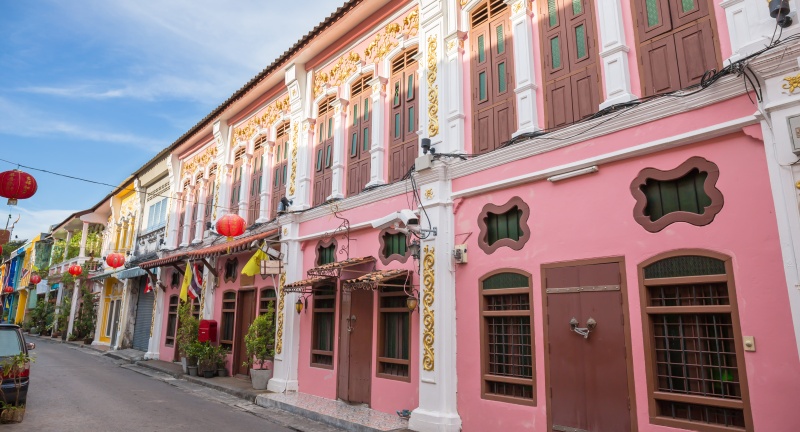 For the more adventurous travelers, choose Krabi and its outstanding rock-climbing / rafting / kayaking, and trekking spots, along with lesser-known sites like the Tiger Cave Temple and its stunning view of the surrounding karst peaks; the war stories in Khao Khanab Nam; or Laem Sak community where Buddhists, Muslims and Baba Yaya (Thai-Chinese) live in peace and great harmony.
Last but not least, Phang Nga province is connected to Koh Phuket by the Sarasin Bridge and neighbouring Krabi and is famous for its fabulous national parks, caves, endless beaches, translucent waters and rich marine fauna, and the famous Panyi FC, a football club born in a fishing village where young players learn to play on a floating pitch!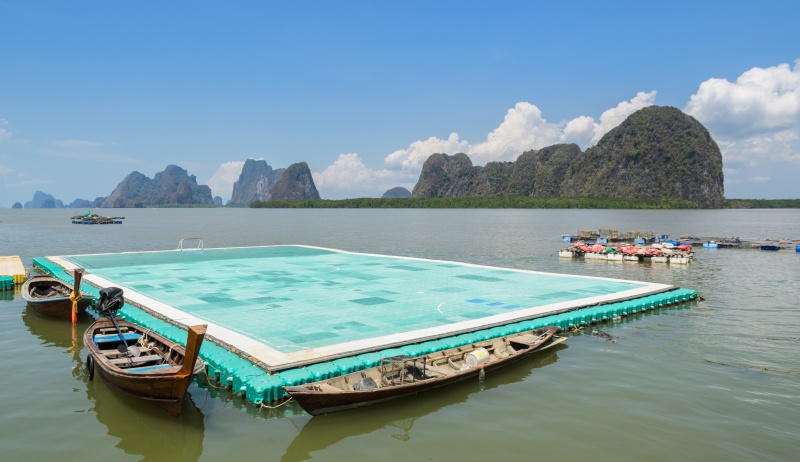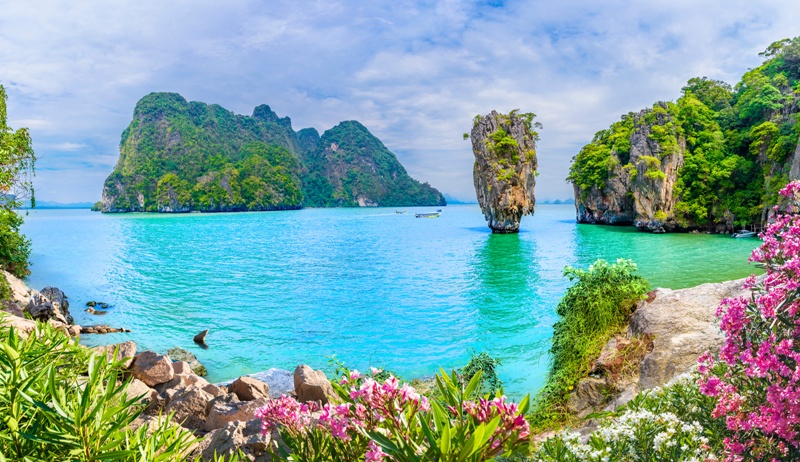 Apart from "James Bond Island" (where some scenes of The Man with the Golden Gun were shot in 1974), the province is also famous for the fabulous Similan and Surin archipelagoes renowned for their diving spots (ranked top 10 in the world according to National Geographic).
And you can combine the archipelago with the off the beaten track Koh Phra Tong and its expanses of inland savannah. Phuket is the most famous and convenient airport but you can also land in Krabi or Ranong if you want to go to Koh Pra Tong.
The Eastern Islands: Koh Chang, Koh Kood & Koh Mak
This area is best for travellers who have already travelled to Thailand and want something a bit different!
Koh Chang ("Elephant Island" – some are still visible but are quite rare) is the largest island in the eponymous national park. It's 70% covered by intact tropical forest and attracts visitors as much for its beautiful beaches as its waterfalls, its mangroves, its hikes and its rugged landscape (the peak of Khao Salak Phet culminates at 740m).
Ko Kood is known for its beaches, its waterfalls, and its fishing villages, but also for hosting the most expensive hotel in the country (Soneva Kiri), and yet it is surprisingly undeveloped. The east of the island is almost inaccessible. In 2014, The Guardian named Koh Kood as "Thailand's Last Unspoilt Island"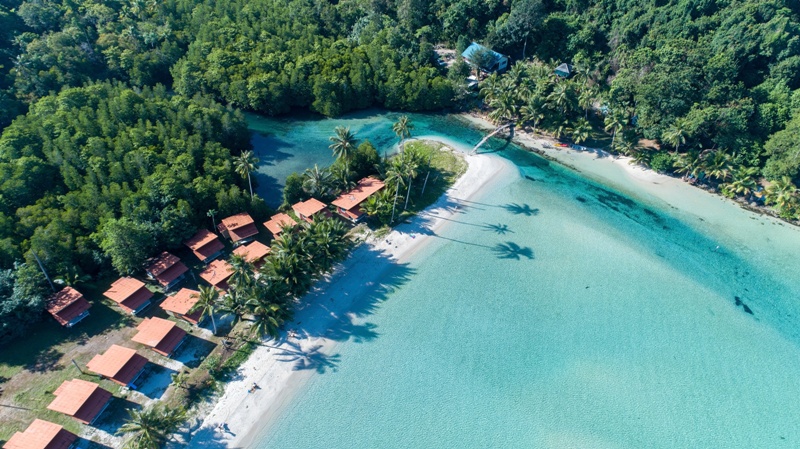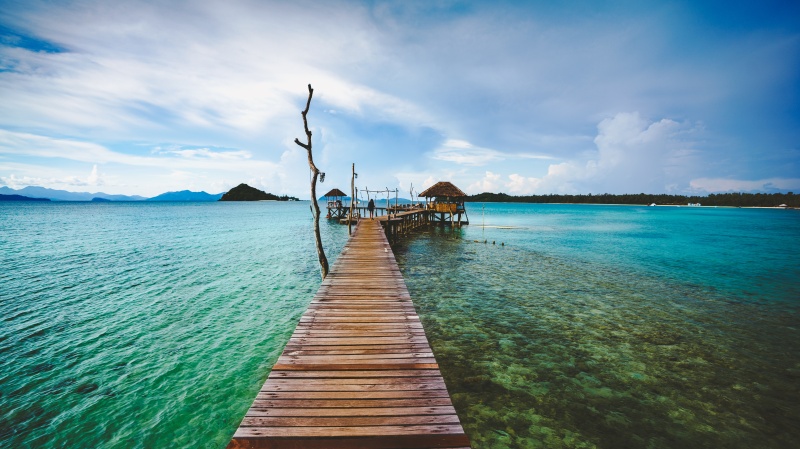 The small Koh Mak has beautiful deserted beaches and terrain suitable for bicycles & scooters. The arid island is 90% covered with coconut trees and rubber trees, there are no mountains or rivers and little jungle. In 2006, the Sunday Times cited Koh Mak as one of the best "secret beaches" in the world, followed by the New York Times in 2015 which explained that the lack of development was a deliberate choice of the five families who own most of the island.
The weather works pretty much like Andaman Sea and Bangkok: November to March is usually dry and sunny.
You can either fly to Trat and then take a ferry to one of the islands, or drive from Bangkok and take a ferry from Trat as well. If you take the transfer by land option, I strongly recommend to stop in Chanthaburi and visit its 300 years old Chanthaboon community (mix of Thai, Chinese, French & Vietnamese architecture styles), the Cathedral of the Immaculate Conception and the weekend gem market.
The 'Trang' Islands: Koh Muk, Koh Kradan & Koh Ngai
The Trang Islands" are between Koh Lanta (Krabi province to which Koh Ngai officially belongs, but it's easier to visit it from Trang) and Koh Lipe/Tarutao Marine Park, which offers great island-hopping opportunities.
Koh Kradan is generally considered the most beautiful island in the Hat Chao Mai Park with its small chain of five hills, its silky white sand beaches, its translucent waters, its greenery, its reefs, its absence of roads (and therefore of any motorized land transport) and its marvelous panoramas of Koh Mook and Koh Libong.
Koh Mook is characterized by its high cliffs on its western side and the plain and the cape on the eastern side, where most of the hotels and dwellings are located. Unlike its cousin Koh Kradan, Koh Mook is inhabited (Muslim fishermen) and you can get around by motorbike or bicycle. Tham Morakot is the jewel of the island. It is also called the Emerald Grotto because of the color of the water. Visitors must pass through a hidden entrance and swim along an 80m dark passageway that leads to a lush beach amidst a chasm penetrated by a few rays of sunlight.
The islands visitable from Koh Ngai are rather rocky masses emerging from the sea which shelter a vast coral reef and abundant marine life (including a spectacular number of fish) and offer great diving spots. Koh Waen is one of them and is famous for a dive site around a train wreck (deliberately sunk to create an artificial reef). The island hosted the first "Trang Underwater Wedding Ceremony" in 1997, which has since been held annually in the area, attracting divers from all over the world. In 2000 the event entered the Guinness Book of Records as the "largest underwater wedding ceremony" in the world.
Best way is to fly to Trang and then head to one of the islands by boat.
Koh Lipe & Tarutao National Park
Tarutao National Park is a natural masterpiece, famous for its wildlife (wild boar, langur, python, cobra, 100 species of birds, 25% of tropical fish species in the world) and for having been a prison island. It covers an area of ​​1490 km2, and includes 51 islands and 3 archipelagos.
The best known are Koh Tarutao, Koh Adang – where it is possible to sleep – and Koh Kai, famous for its arched rock which has become the symbol of the park.
You can stay in one of the basic bungalows in the national park or on Koh Lipe, the hub island of the park (hotels, restaurants, bars), on the border of the park. The island was originally settled by a group of sea gypsies from neighboring Malaysia. Today it is a paradise for divers and a base for visitors to Tarutao. Enjoy the sand as white and fine as flour!
Tarutao is closed from June to September so Koh Lipe is accessible in high season (November to May) from Koh Lanta, Koh Phi Phi, Trang and Langkawi (Malaysia). But the easiest way is to get there from Pak Bara pier near Hat Yai.