Khiri's guide to Southeast Asia's most diverse destination
Our Guide to Southeast Asia's Most Diverse Destination
Indonesia is a country with tropical weather and has just two seasons – The dry season (May – Sept) and the wet season (Oct – Apr). There are some areas which have slight variations in weather but nevertheless the weather is mostly what you might expect for those periods.
Sumatra
Wild rainforests are common in this beautiful country which are truly recommended to visit when you like some true adventure. On Sumatra, in Bukit Lawang, you have a chance to explore this area and encounter nature. Once trekking the jungle, you will come across many different types of monkeys, orangutans, butterflies and countless other animals. Unfortunately when you would like to see the Sumatran tiger in the wild it takes a trip of weeks and then it would still be uncertain you will succeed.
The humidity in these forests is high and as the name already says, rain is to be expected even in the dry season. You have options for how long you want to experience the wild life and whether you would like to sleep in the forest on campsites.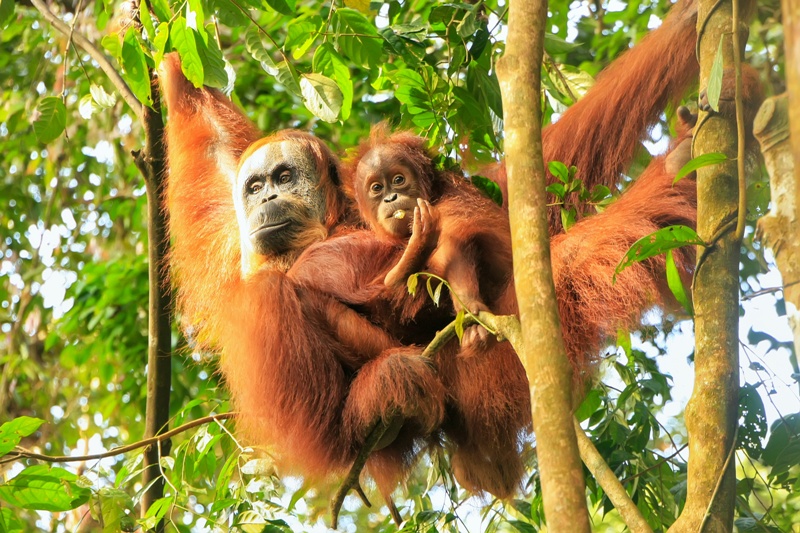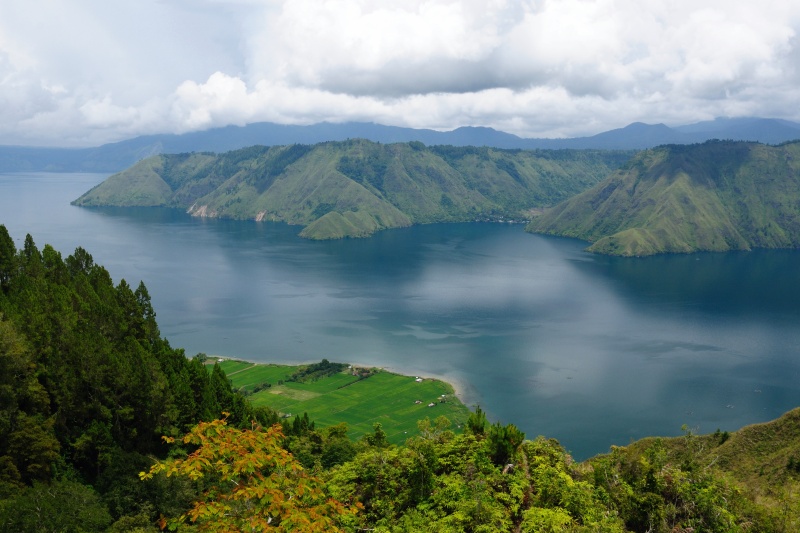 In the North of Sumatra you can find Lake Toba, which is the largest volcanic lake in the world. The lake stretches 100 kilometres long and 30 kilometres wide and with an altitude of 900 metre above sea level you will notice the temperature is nice and inviting. In this region, where the Batak tribes originated from, you will be seeing their own impressive architecture.
The best time to travel to Sumatra is between May and October.
Java
On this island you can find it all. Ancient temples, fascinating cultures, green rice paddies as far as the eye reaches, white beaches and rumbling volcanoes. The temperature is constantly hot though the variation of humidity changes especially during the rainy season.
As many local people from different islands come to Java (especially in Jakarta and Yogyakarta) for work & study, you can experience multiple cultures together on one island which makes this island special. Walking over tea plantations near Bandung or over endless rice paddies fields and visiting local villages far away from the busy streets of the major cities makes it definitely a trip worth your while.
The temples of Borobudur, which are a UNESCO World Heritage site, are a must to visit!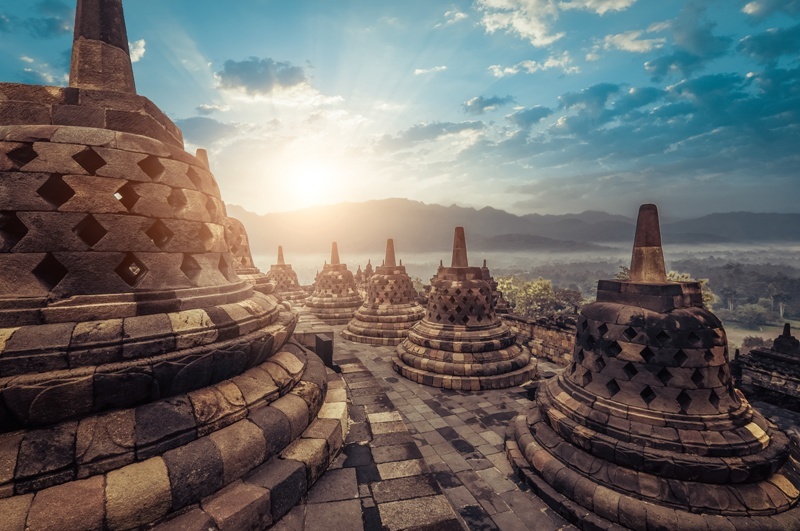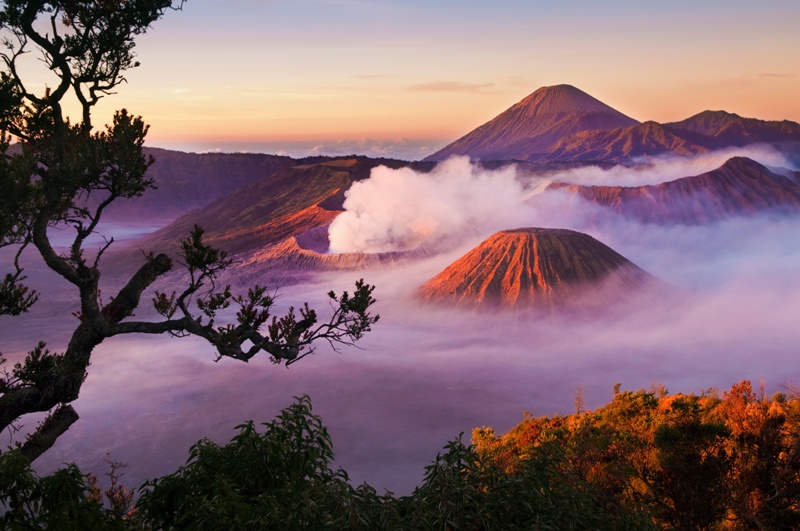 Further toward Yogyakarta you can visit the most photogenic volcano of them all, Mount Bromo.
On the way to Bromo you'll amble around Hindu temples, get a taste of local life in small villages and hike through fertile plantations. The curling road which leads to the volcano's top is beautiful as well as adventurous. To experience Bromo in the best way is to be there in the afternoon where there are not many tourists. The sunrise over Bromo is spectacular, you cannot miss it. Bromo is in high altitude, so it is advisable to bring some warm clothes as you will experience cold temperatures throughout the whole year.
The best time to visit Java is between April and October.
Bali
The wondrous temples, the wild beaches, the spectacular rice paddies, rafting, surfing or even the night life, everything here is available and easy to experience.
Spending time in Ubud which is the heart of Bali is a must for nature lovers. The rivers flow wildly through the jungle and past many of the beautiful hotels, which make rafting the perfect location for this experience. Having stunning walks or cycling tours in this area is also a very common thing to do. The centre of Ubud is filled with nice restaurants and shops and a huge tourist market where you can find nice souvenirs to bring back home.
At Munduk you can find a huge lake on top of a mountain with a beautiful temple on the side, here the temperature drops compared to the beaches down south of Bali.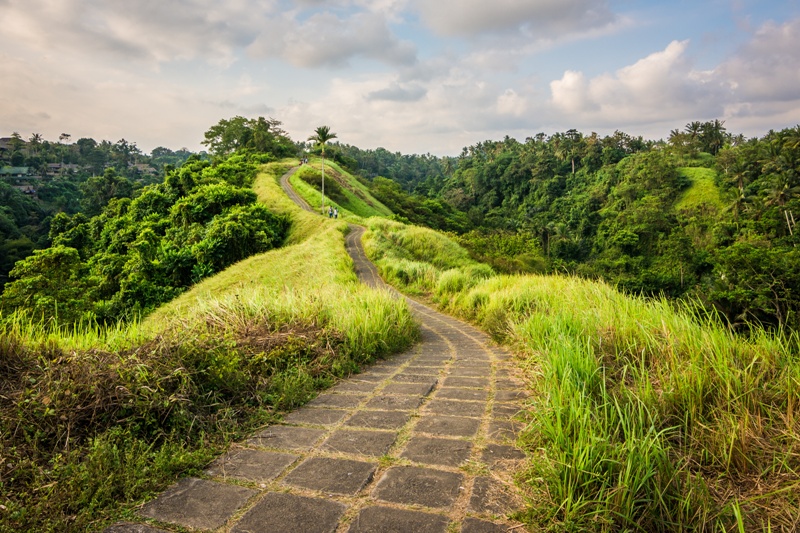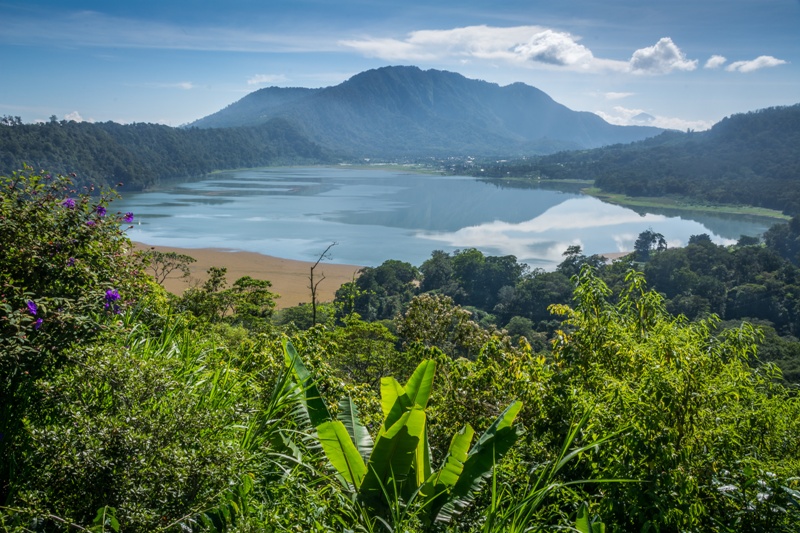 Going up north to Menjangan national park, you wake up with wildlife walking around your bungalows which is a very nice experience. Dears, squirrels, beautiful birds are what you can expect during your breakfast time. Here the temperature is much hotter as you are next to the ocean.
Bali is a very good location to have your children joining. Perfect for family trips as well as traveling with friends or loved ones.
Best time to travel to Bali is between April and October.
Lombok & The Gili Islands
On these islands you can find hidden villages, wondrous waterfalls, dazzling white beaches, luminous turquoise seas and another area of different cultures. Traveling to this area it is good to understand that the difference between wet and dry seasons are slightly bigger than other parts of the country. As a thumb rule it is good to understand that the nearer you are to Australia the longer the dry season is.
Spending time around Tetebatu is for sure a very good idea. Staying on the foot of the holy Mount Rinjani volcanoes, the temperature is a lot cooler and that is nice walking over the beautiful rice paddies or up to one of the waterfalls. In Pringgasela, you find the traditional weaver (mostly done by women), making the local sarongs, table cloth and others. Going through this village with a local guide you will be amazed by the hard work these women put into finishing their product. This is a kind of tradition where every weaver will handover the skill to their daughters to keep their culture alive.
Spending time on the Gilis, on the west side of Lombok, is also a very good idea. For every type of person you find an island which suits you the best. Snorkelling or diving with giant turtles and seeing the beautiful coral reefs, is an experience on its own.
Best time to visit Lombok is between April till October.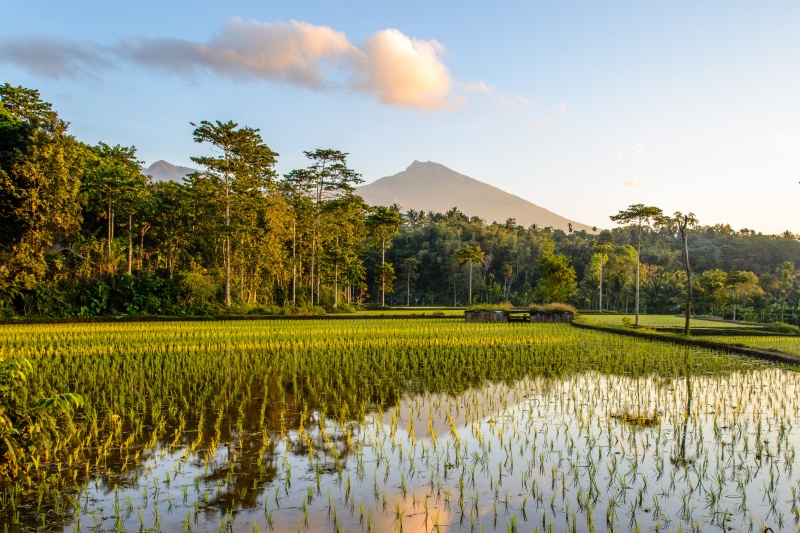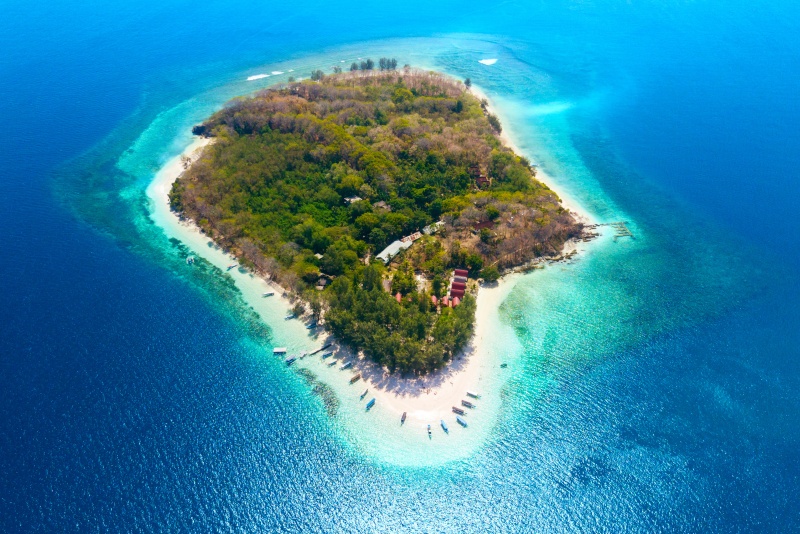 Flores
Flores is a spectacular island with beautiful wildlife and spectacular nature. The Komodo National Park has stunning coral reefs explored by diving or snorkelling, but of course you can't do that without going to either the island of Rinca or Komodo to encounter the Komodo dragons from up close.
Flores has so much to offer and has got such an incredible history, it is a great island to experience for the more adventurous type of persons. The people are very friendly and welcoming you for a conversation and the children are always thrilled to see new faces passing by.
Near Bajawa you can find a huge spider web formation of paddies fields which is always an attractive picture moment. Of course you should definitely take the opportunity to climb the Kelimutu volcanoes as well. Here you will find three craters filled by three different colours of lake.
Best time to visit Flores is between May till September.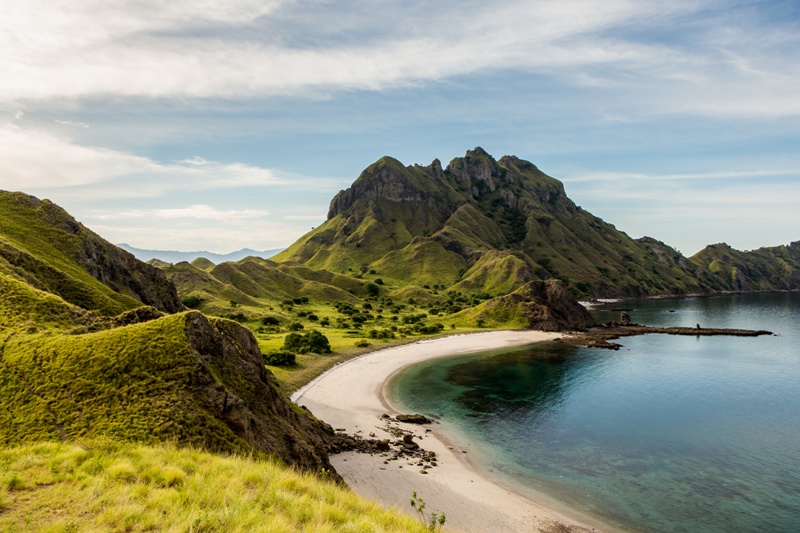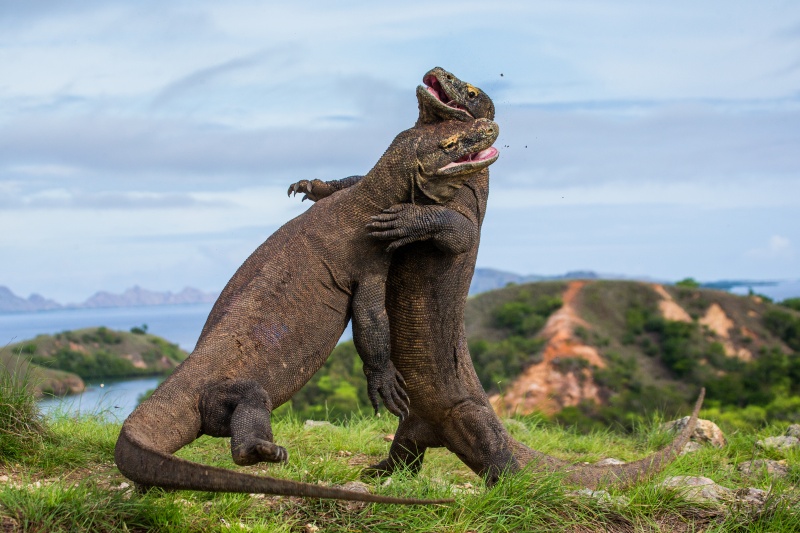 Raja Ampat
This area is part of Papua, and its name translates into English as Four Kings. This area contains over 1500 small islands and contains the richest marine biodiversity on earth.
Visit this location and you will not get disappointed, though it is good practice to realize whether you are going to this remote group of islands for diving/snorkelling or you enjoy one of the many cruises. This is a year round destination, but for divers, the best time to visit Raja Ampat is September to April, when large numbers of manta rays are present at cleaning stations. For the very calmest waters and best visibility, visit in November, December, January, February and March.
Best time to visit Raja Ampat is between December till March.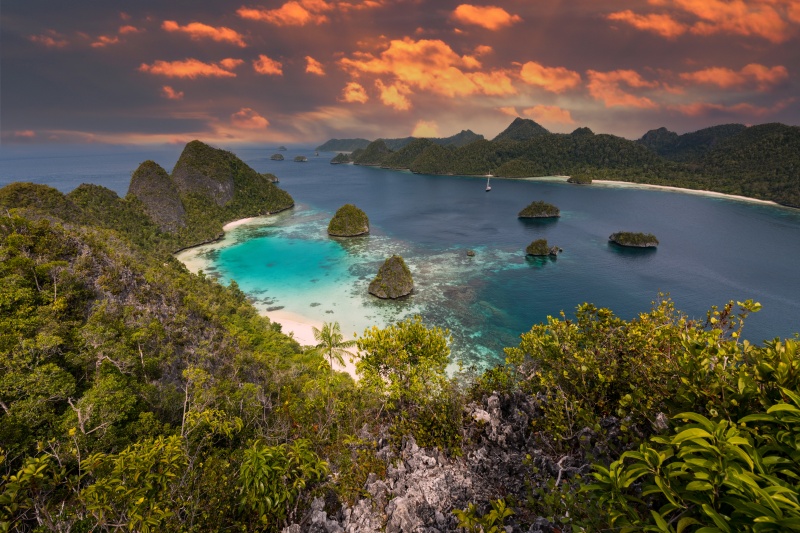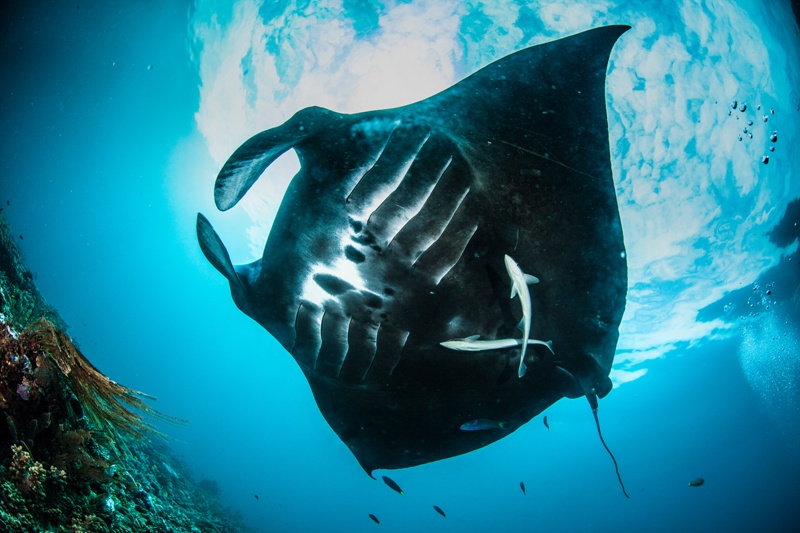 Summary
July and August is the best weather to visit Indonesia (except in Raja Ampat) it's the dry season and in the evenings the temperature is getting cool. Those months are the favourite holiday season for Indonesia and you will expect that all the tourist destinations will get crowded.
How about travelling during the wet season? The wet season gives a whole new charm to Indonesia. Due to the country's tropical location it usually rains in the afternoon or evenings. The rain showers are quite predictable as well and mostly heavy and short blasts. Therefore you can easily plan your sightseeing trips in the morning and early afternoons. The nature of Indonesia is stunning throughout the whole year but during the rainy season there is an explosion of green and flowers which leaves an unforgettable memory! After the rain you will experience a freshness and cooler weather.
In general, the best time to visit Indonesia is in May, June and September (all islands except Raja Ampat which is in December to March). It's a dry Season and during these months there are less tourists and you can enjoy travelling more. Next to it, the high season surcharge that the hotels normally charge on top of their room rate is over so this can make the price so much lower.