Khiri Travel has compiled a comprehensive guide for families looking to enjoy Vietnam.
Fun Things to do in Central Vietnam
There is so much to see and do in Vietnam, and the country is perfectly suited to family travel. From the hustle and bustle of Hanoi in the north to the sights and sounds of Saigon in the south, a trip through Vietnam has something for everyone. For families considering a holiday with their children, this country is sure to be the perfect destination, and we would highly recommend Central Vietnam. Its rich bounty of activities, cuisine, culture, and historical wonders will create sensational memories for those of all ages.
While many opt to fly internally throughout Vietnam, taking the train is a wonderful way to see more of the country. There are overnight sleepers and shorter daytime journeys that allow guests to relax and gaze out the window to see crops growing in the fields and scooters on small country roads, usually laden with produce or being used by a family of four or sometimes even five. Keep an eye out for dogs on motorbikes looking so at ease as their owners meander through the traffic. One time, I saw a man with a full-size fridge on his bike. It amazed me how he managed to keep the bike upright with such a heavy load – so be sure to have your camera ready to capture some of these moments.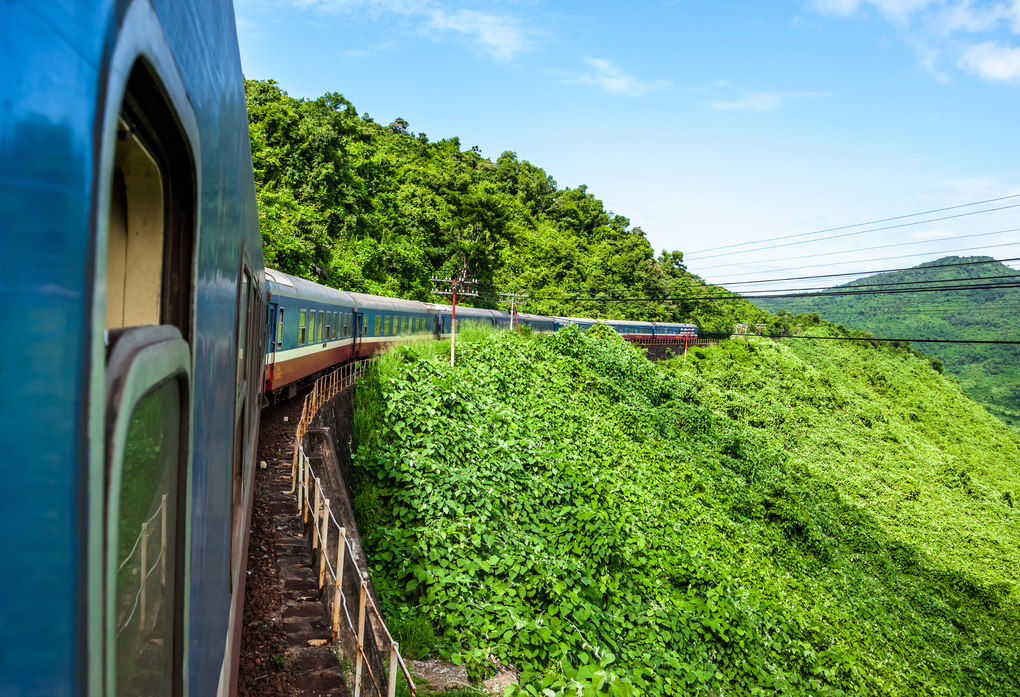 Hue by Train
Reaching Hue in Central Vietnam by train is extremely convenient. This city is a UNESCO World Heritage site, and it's easy to see why. The former capital of Vietnam from 1802 until 1945 and home to the Nguyen Dynasty emperors contains a wealth of culture, history, and adventure.
One of the most impressive sites to visit is the Citadel – there is so much to see and do here, and the fun starts before entering the vast complex. Kite-flying takes place in the afternoon in Ngo Mon Square in front of the main gate, and locals bring their stunning creations to zip and wind in the breeze. So why not try making a kite and joining in with the fun?
Entry into the Citadel is through staggeringly high doors. These doors were built to allow elephants to walk through to appear in the royal ceremonies. Once inside, there are tranquil ponds filled with koi carp and vibrantly coloured lotus flowers. Much of the Citadel has been repaired and restored, having sustained heavy damage during the Tet offensive in 1968. As guests venture further inside, they will see the exquisite Forbidden Purple City, which was built in the early 19th century. This area was built exclusively for the emperor, his family, and his myriad of concubines. Rich red and gold paint was used to decorate these parts, and walls were embellished with broken pieces of china to create stunning mosaics. There is an opportunity to dress as an emperor and have photos taken for prosperity.
As Hue was home to so many emperors, there are several tombs in this former capital that are well worth visiting. One of the most impressive houses the remains of Tu Duc, who lived between 1829 and 1883. It is said that Tu Duc had 104 concubines but never fathered a child. This site is one of the most serene areas in Hue, with water features and ornate buildings throughout the complex.
One of my favourite places to visit in Hue is the 7-tiered Thien Mu Pagoda, which overlooks the Perfume River. This site is also home to a magnificent collection of bonsai trees and the car that drove the famous monk Thích Quảng Đức to Saigon, where he self-immolated in protest of the persecution of Buddhists.
A wonderful way to end an action-packed day is aboard a vibrantly painted dragon boat as it winds its way along the Perfume River and back into town.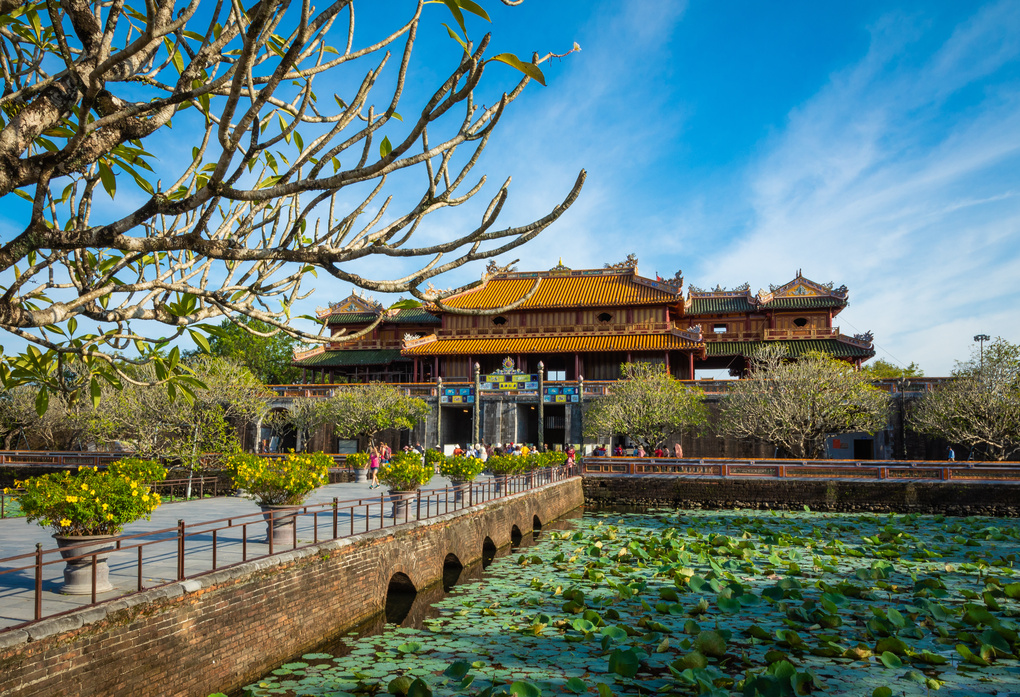 Ancient Hoi An
After Hue, a must-see town is Hoi An. The best way to travel between these two places is by road, as guests will get the fantastic opportunity to twist and turn up through the clouds on the Hai Van Pass. Stop at the very top to enjoy a strong cup of Vietnamese coffee. This is where, during Vietnam's Top Gear special, Jeremy Clarkson got a bit misty-eyed as he fell in love with the journey on his motorbike at this very spot.
Hoi An is a fishing town that served as a prominent trading port between the 15th and 19th centuries. Today it is best known for the Ancient Town, which is painted yellow and blue and for its array of mouth-watering food. Many people come here to shop – there are numerous tailors, jewelers, shoemakers, and opticians, all of whom can tailor-make the latest designs in a matter of days. The restaurants here are superb offering many local specialty dishes such as the exquisite Cao Lau and White Rose.
The beaches in Hoi An are beautiful, making this city a perfect place to spend a few relaxing days. If guests are in the mood for a boat trip, Cham Island has tropical coral reefs to explore while swimming or snorkeling in the warm waters. Another fun and creative thing to do is learn how to make an ornate lantern. These lanterns are ubiquitous in Hoi An, adorning many market stalls and making great souvenirs as a beautiful reminder of a time in Vietnam.
Cycling is a great way to experience the rice paddies and local village streets of Hoi An. Cycle to Tra Que vegetable village for a hugely entertaining and informative cooking class. Learn about the local organic herbs cultivated by local farmers using the same methods for over 300 years. The skilled chefs will show how to make flower and animal decorations using some vegetables from the abundant gardens.
Just a short distance from Hoi An is the Ba Na Hills which opened in 2018. This breathtaking site is home to the famous Golden Bridge, where two giant hands hold the walkway. There is also a cable car, an amusement park, a French village, a waxwork museum, and so much more. It's impossible to be bored here.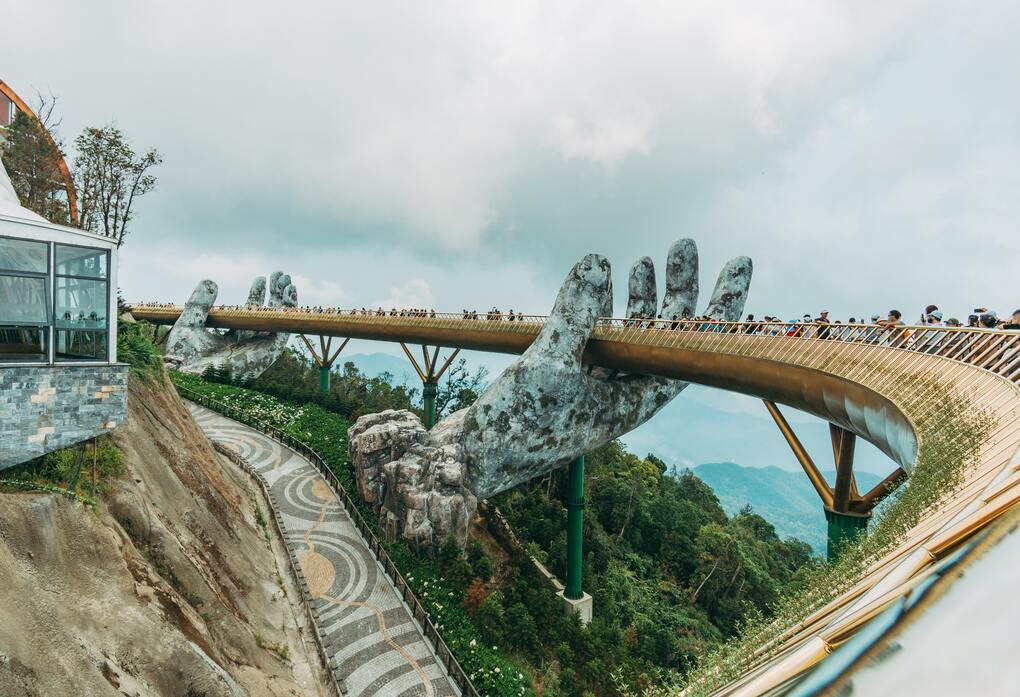 With its stunning landscape, beautiful beaches, sumptuous food, rivers, shops, culture, history, and attractions, Central Vietnam is a treasure trove of fun and entertainment for the entire family.