Travels around Laos by train with our intrepid reporter Koen Olie!
Bangkok to Laos & Back by Train
In February, arrangements began to take shape for an upcoming journey that was centered around the Lao high-speed train, with a tentative plan to spend six to seven days traveling during early April. The primary goal of the trip was to experience the train, with additional plans to explore Oudomxay and continue traveling by bus thereafter. Unfortunately, due to limited time constraints, one of our group members, David, would need to depart halfway through the trip. However, the other two members, Tim and Ray, were excited to join and happy to travel to wherever the journey took us.
Booking tickets for the Lao train proved to be a challenge, with tickets only becoming available three days before departure. To ensure a smooth start to the trip, I booked the tickets through Khiri Travel Laos and secured a potential hotel in Vientiane. This strategy made sense as we would arrive in the early evening, leaving little time to locate suitable accommodation after a long day of travel.
Booking tickets online for a Bangkok – Nong Khai day train proved fruitless. As a result, I decided to explore the nearby Taling Chan Junction Station to purchase 2nd class tickets for David and myself during a cycling trip the following day.
As Tim lived in Kalasin and Ray in Surin, they were responsible for arranging their own transportation to Khon Kaen, where they would join us on the train. For the rest of the trip, we had a vague itinerary and were eager to see where the journey would take us.
Day 1: Bangkok to Vientiane
On April 1st, I traveled to the new Krung Thep Aphiwat Station via taxi and arrived at the massive new building. David had already arrived, and we enjoyed a satisfying meal at the food court before embarking on our journey. Despite the station's modern amenities, the train to Nong Khai was somewhat underwhelming, as we found ourselves aboard an older model train. Nonetheless, we settled into our seats and spent the journey engaged in lengthy and at times hilarious discussions about our work, families, and more.
Upon arrival at Khon Kaen, Tim and Ray opted to travel in a third-class carriage due to Tim's aversion to air conditioning. Our train eventually arrived at Nong Khai, with a slight delay of only half an hour. David struck up a conversation with one of the Skylab drivers and within a few minutes, we were en route to Thai Immigration. After having our passports stamped and exiting Thailand, we boarded a shuttle bus to Lao Immigration, where we completed the usual arrival formalities and then took a minivan to Mixay Paradise in Vientiane.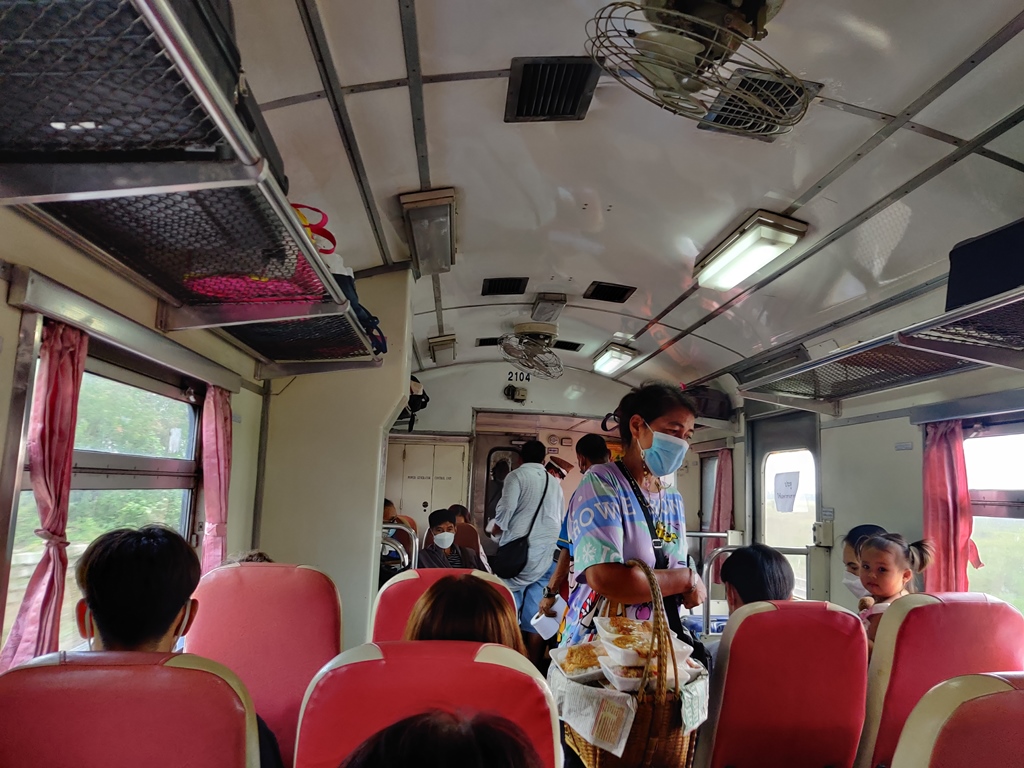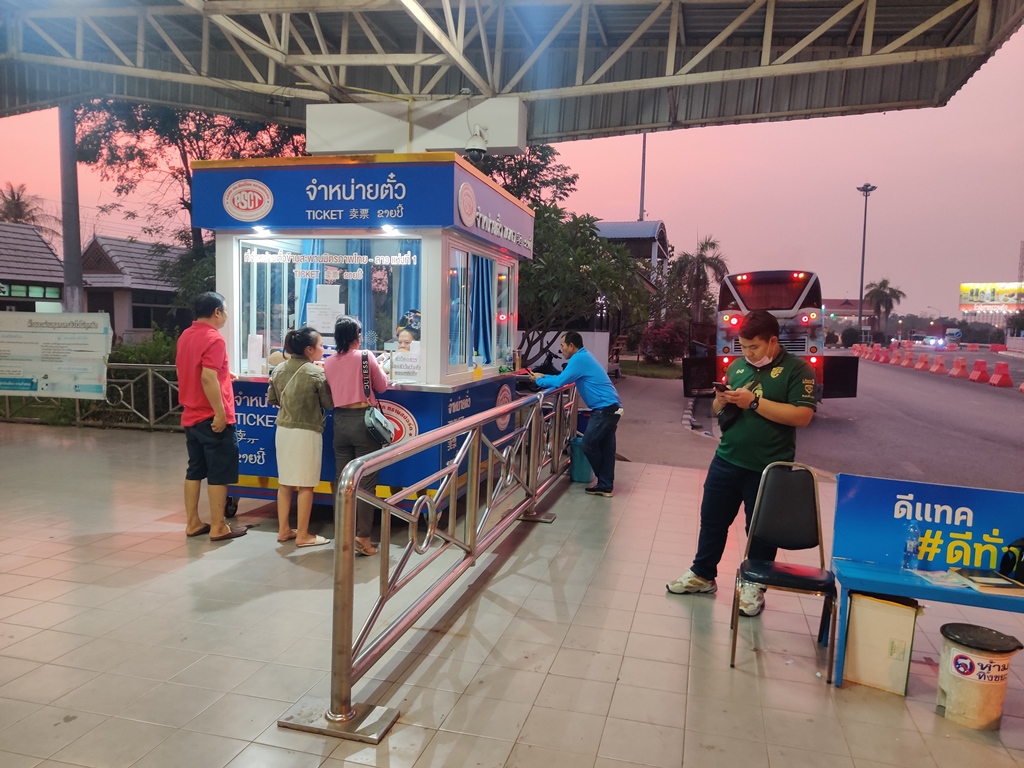 Upon arriving at our hotel one hour later, we left our luggage in our basic rooms and enjoyed our first Beer Lao in the lobby. Shortly thereafter, a representative from Khiri arrived to deliver our train tickets and advised us to be ready in the lobby by 5:45 a.m. the following day for transportation to the station.
After attending to these formalities, we explored the town for a meal, a leisurely stroll, and a few drinks. Although the tourist population was minimal, there were still plenty of locals out and about. However, we opted for an early night's sleep, retiring before midnight in preparation for our early start. 
Day 2: Vientiane to Oudomxay
Following a restful night, we arose early and were pleased to find that the lobby offered (instant) coffee. Upon check-out, our driver arrived and transported us to the railway station. It was remarkable to observe a sizable edifice in the rural terrain that, according to David's previous experience traveling on a high-speed train in China, was built in a modern Chinese style. More intriguing, however, were a few food stalls vending baguettes in the vicinity! We disembarked from the van and returned to obtain our breakfast. Laden with half a baguette each, we made our way to Mr. Dao's coffee stand outside the station, where we savored the exceptional coffee we had grown to appreciate from previous visits. Two friendly dogs sat nearby, patiently awaiting their share of the crumbs.
After a satisfying meal, we queued up for ticket verification at the entrance of the station, which we would later learn was a recurring procedure throughout the journey. The interior of the station was well-organized, with another Mr. Dao shop, a VIP lounge, and an ample supply of chairs. The only peculiarity we noted were the impeccably clean restrooms, which lacked toilet paper and spray.
In order to access the platform, we followed a line of primarily Laotian and Chinese passengers, with a smaller number of westerners. Once again, we presented our tickets before proceeding to board the sleek and modern train, which looked rather uncharacteristic of Laos. The interior was spotless, with 3+2 rows of seats offering ample legroom, even for taller individuals. Luggage racks flanked the sides, while monitors above the doors provided information in Lao, Chinese, and English, in addition to a snack bar. Furthermore, power sockets located beneath our seats enabled us to charge our mobile devices. We were all taken aback (in a positive manner) by this unique experience in Laos.
At precisely 8:00 AM, the train set off, though we noted the absence of a "Fasten your seatbelt" sign. The train accelerated slowly, and we eagerly anticipated our arrival in Muang Xai.
The old diesel-train journey to Nong Khai can be quite a rattling and shaking experience for travelers seeking adventure. However, this new Chinese/Lao version is a quiet electric train, reminiscent of Thai Airways' old slogan 'smooth as silk'. The train is manned by uniformed and masked ladies who check tickets and assist passengers as needed. The monitor reminds passengers to wear masks and refrain from smoking, though not all passengers comply with the masks.
The windows on the train are spotlessly clean, but the views can be hazy due to the annual field burning. The train occasionally passes long freight trains from China parked at railway stations. The monitor also displays the train's speed, which can reach up to 157 km/hr. To ensure a safe and efficient disembarkation process, instructions are given in three languages for passengers to walk in the traveling direction towards the doors during the short 6-10 minute station stops.
After a two-hour journey, the train arrives in Luang Prabang, which is very impressive considering how much time it took in the past by road. 
At 10.17 precisely we arrived at Muang Xai – the train ride was a unique and unforgettable experience that is worth taking.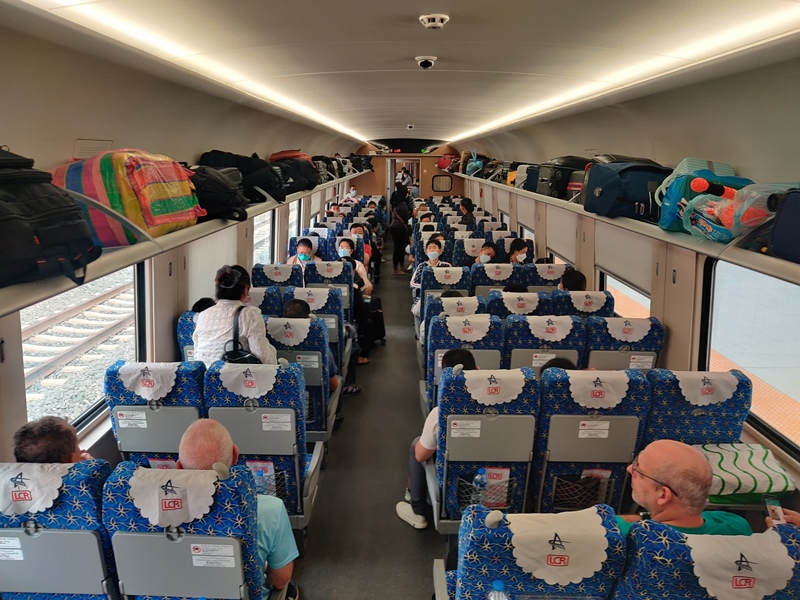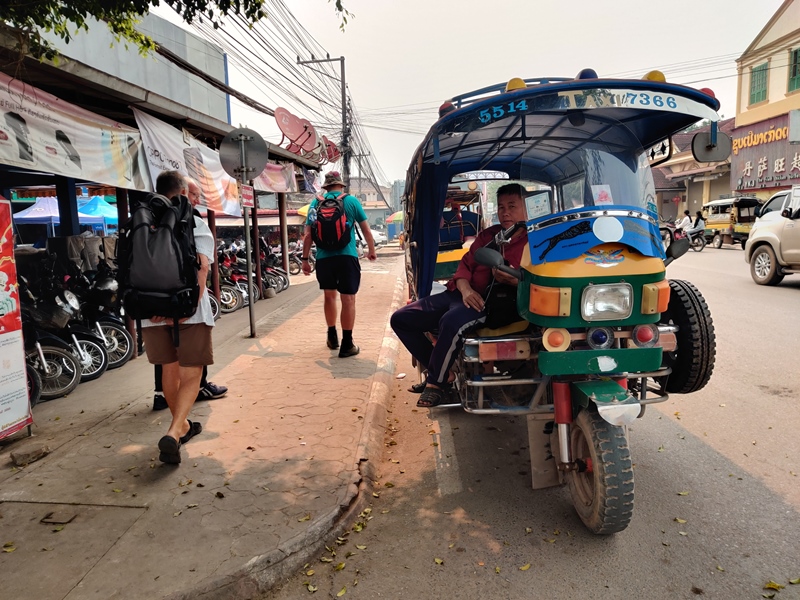 Upon leaving the station, while en route to the tuk-tuk stand, one of our group members inquired about the hotel's location. Although I had provided a suggested hotel link via email, no one remembered its name, and we did not have access to the internet. Additionally, we encountered a problem with currency exchange, as we were in need of Lao kip, which none of us had in a sufficient amount. However, together we were able to obtain enough kip to pay for a shared ride into town and arrived at the center, where we discovered that all banks were closed on Sundays. The town was not particularly touristy, and only accepted kip at most places, rendering our dollars and baht useless. Eventually, we located our hotel, Villa Keoseumsack, with the assistance of David's roaming mobile phone. Upon arrival, we were able to use our baht to pay for the rooms and were directed to the Du Du Minimart to change our currency.
After a satisfying lunch at a nearby restaurant, we discussed potential plans for the remainder of our trip. Our itinerary included spending a day exploring the town and possibly cycling around the surrounding areas. However, one of our group members expressed a desire to visit the Plain of Jars, which would require hours of travel by bus, as there were no railway lines to Phonsavan. Although a new train system had recently been implemented, it was a single-track system with only two trains running from Vientiane to the Chinese border in the morning and the reverse in the afternoon. Unfortunately, David was unaware of this schedule when he booked his early afternoon flight from Luang Prabang to Bangkok, which meant that he would have to leave Muang Xai one day early to catch his flight, leading to some complications in our plans.
To resolve David's situation, we retreated to our hotel for a break. While Tim and Ray returned to their room, David and I discussed his options for getting to Luang Prabang. Booking tickets for the train was straightforward in Vientiane, with hotels and guesthouses advertising the train system everywhere. However, we encountered difficulty booking a ticket online through the official LCR Ap, as a Lao mobile number was required. We then approached a receptionist at a nearby hotel, who suggested that we try the station ourselves, which was only a ten-minute tuk-tuk ride away. Upon arriving at the station, the staff was incredibly helpful, and David was able to obtain his ticket with ease.
After returning to our hotel and refreshing ourselves, we met up with Tim and Ray and went for a walk. We climbed a hill to visit Phu That Pagoda and take in the town's view. Unfortunately, the haze made it difficult to appreciate the scenery, and ash was falling from the sky. After descending the hill, we explored the market area but found nothing particularly appealing. In such situations, a few beers usually help, so we stopped for a drink, which led to a lively conversation and lifted our spirits.
As dinner approached, we took another walk around town and discovered the night market by chance. The market was filled with inebriated locals, and we were invited to share a drink with a group of friendly Lao ladies. However, after a few sips, we decided to leave and returned to our hotel, satisfied with a productive day.
Day 3: Oudomxay to Vang Vieng
The following day, our group indulged in our customary Lao breakfast of baguettes and coffee before discussing our plans once again. It was imperative for David to reach the railroad station by noon, leaving us with limited time to explore the area. Tim proposed a visit to the 2,000-year-old Vat Phachao Singkham Temple in Muang La, but the air quality was deemed unfavorable, and the temple was located 28 kilometers away. We approached a tuk-tuk driver for directions, but his exorbitant fare and lack of knowledge left us searching for alternatives.
Eventually, David suggested a visit to the local museum and the peculiar Tree of Life attraction in town. I proposed a shortened visit to the area, followed by boarding the same train as David, but disembarking one stop later at Vang Vieng. Although Ray expressed some reluctance to miss the interstellar wormholes in the Plain of Jars, we appeased him with the promise of a future visit.
To commence our journey, we attempted to purchase train tickets but discovered that sales did not begin until 9:00 am. Unfazed, we proceeded to Phouxay Hill, where we ascended the stairs to the Oudomxay Provincial Museum. Despite our low expectations, the museum proved to be quite interesting, albeit with most of the displays in Lao language only. However, the hill tribe exhibits were exceptional, with text in both Lao and English, although the modern mannequins used for displaying the costumes were somewhat unrealistic.
Our next destination was the Tree of Life, a man-made concrete structure featuring metal leaves designed to act as a wind charm. The tree, surrounded by animal sculptures, had lost its appeal over the years, with the metal leaves fusing to the concrete and the animals no longer easily recognizable.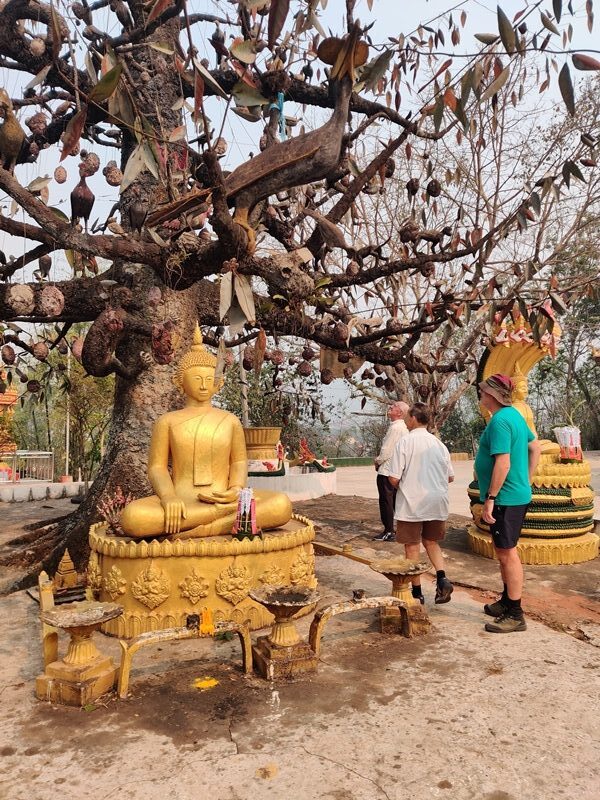 We briefly visited Vat Ban Cheng and its adjoining school before indulging in coffee and snacks at a nearby restaurant. It was time to check out and head once again to the railway station, leaving locals curious about our frequent visits to the area.
This time, we were able to purchase tickets, and I joined the queue while the others enjoyed beer. However, delays ensued due to the passengers' indecision over ticket types, and my own tardiness in realizing that my kips had dwindled. Tim was kind enough to check my finances, but he, too, became confused with the different currencies in his wallet. Eventually, we sorted out the correct amount, received our tickets and entered the Muang Xai Railway Station.
Upon arrival, we discovered that the train station was better organized than Vientiane Station, with carriage numbers indicated beforehand. We waited at No. 7 and said goodbye to David before boarding the train and heading towards Vang Vieng.
Reduced to a trio, we arrived at Vang Vieng Station at a quarter to three, with David disembarking at Luang Prabang an hour earlier. Fortunately, I had prepared for our stay in Vang Vieng and selected a guesthouse beforehand. However, upon our arrival, we were dropped off in front of a luxurious hotel with prices quoted in US dollars, instead of the guesthouse that I had originally intended for us to stay at. Undeterred, we quickly found a more budget-friendly option, the Khamphone Guesthouse, which we celebrated with a small beer-tasting session.
We then set off on a walk through town, meandering towards the river and crossing a rickety bridge before returning via a sturdier one, while exploring the surroundings. After a while, we decided to take a break and discuss our impressions so far over some drinks. Unfortunately, we found ourselves underwhelmed with the town's high concentration of tourist-oriented establishments, such as activity centers, massage parlors, hotels, guesthouses, and restaurants. The overall appearance of the place did not help matters, and we were left doubting whether we should extend our stay for another night.
However, luck seemed to be on our side, as we stumbled upon the Green Restaurant, a tourist eatery by the riverside, devoid of music. While I love music, at times it's refreshing to have none. The restaurant had a vast terrace with breathtaking views of the Karst mountains, and the ambient sounds of insects, chickens, and other fowl creatures created a perfect background soundtrack. Though the food was a bit different from what we had expected, it was still very acceptable, especially when washed down with some Beer Lao. This way, we ended the day on a positive note, unanimously agreeing that it was a worthwhile stop.
Day 4: Vang Vieng to Nong Khai
Rising early as usual, I embarked on a solitary stroll through Vang Vieng, heading south in search of a less frequented area of the town. Along the way, I stopped at Vat Si Sou Mang, a temple adorned with imposing naga sculptures and a welcoming monk. I also came across a unique barbershop, though I questioned whether it had ever catered to Mick Jagger and company.
For breakfast, I joined forces with Tim and Ray and together we found a superb eatery nearby. We opted to deviate from our original plan of taking the train and instead chose to catch a bus to Vientiane for some variety. After securing tickets for a shared minivan, we rented bicycles and set off to explore the environs.
As we traversed the landscape, we crossed a bridge and found ourselves in a more rural setting. We pedaled back and forth over the wobbly Orange Bridge, taking in the awe-inspiring Karst Mountains before returning the bikes to the rental shop.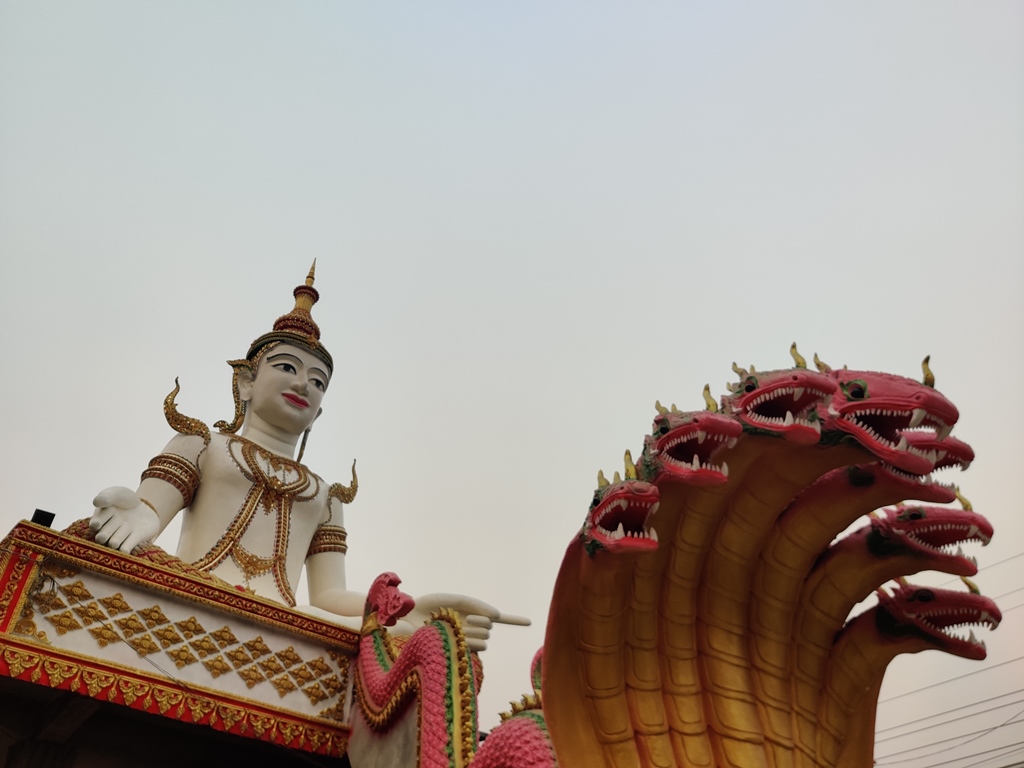 Upon arriving back at the guesthouse, we retrieved our belongings and caught a tuk-tuk to the bus station, where we enjoyed a few beers while waiting for our departure. The modern motorway we traveled on was unlike anything we had seen in Laos, complete with a single Chinese-looking stopping area and numerous warnings against driving under the influence, drowsiness, and mobile phone use. Strangely, we did not encounter a single streetlight.
Upon arrival in Vientiane, we were dropped off in the city center, close to Mixay Paradise. After securing a friendly tuk-tuk driver, we made our way to the border, where we breezed through without any issues. We then took a Thai tuk-tuk to a potential guesthouse in Nong Khai, only to find it closed, possibly due to Covid. After locating another accommodation option, we deposited our bags at Sai Chan Guesthouse before heading out to secure train tickets. Although second-class tickets to Bangkok were sold out, third-class seats were available, which was not a major issue. However shorter distance tickets – such as to Khon Kaen – could only be bought on the day of departure.
We returned to our guesthouse and afterwards spent the evening enjoying a delicious Vietnamese meal along the Mekong riverside. The atmosphere was lively, with locals having a good time, and we capped off the day with some coconut ice cream before retiring for the night.
Day 5: Nong Khai to Bangkok
We departed from the guesthouse early in the morning and proceeded to the railway station via tuk-tuk. Tim successfully secured two tickets for Khon Kaen, enabling us to embark on our next adventure. 
We had hoped to find a wider range of dining options at the station, but were limited to coffee. Our train journey in the third-class compartment of the Thai railway system was reminiscent of the classic, old-school style of traveling that we had experienced before, in contrast to the high-speed train we had taken in Laos. The train departed on time and, as is customary for many Thai people, some of our fellow passengers quickly dozed off.
I, on the other hand, could not help but appreciate the open window view and natural air conditioning, which was more effective than the ceiling fans in the carriage. However, I was aware that as the day progressed, the temperature would rise, especially on a 9-hour journey.
Upon reaching Khon Kaen, Tim and Ray disembarked, wishing me a safe journey home. Railway staff passed by, offering a selection of classic Thai dishes, and I opted for the pad krapow kai dao, which was as delicious as always. The remainder of the journey was uneventful, but as the afternoon wore on, the temperature inside the cabin seemed to climb rapidly. Fortunately, drinks vendors made frequent appearances.
The train arrived on schedule in Bangkok, and I realized that the Red Line was also stopping at Krung Thep Aphiwat Station. I swiftly purchased a token and boarded the SRT electric train to Taling Chan Junction. A 20-minute taxi ride later, I was back home, concluding this five-day adventure in a most convenient manner.
Read the full 'warts & all' version of this story, and enjoy Koen's other adventures, on his blog!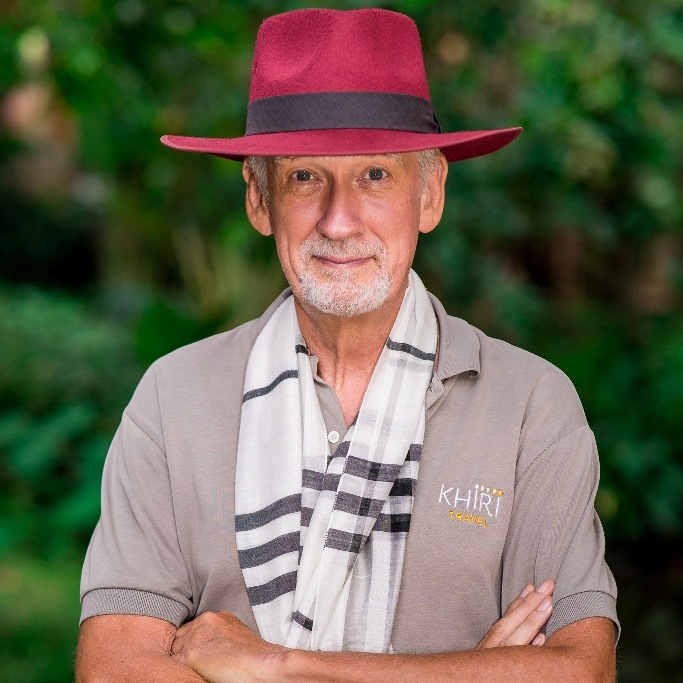 Koen has been living in Thailand since the late 1980s, working mainly in education and art. In 2003 he joined Khiri Travel where he held various positions over the years.
Since 2017 Koen has been 'out of office' and more actively travelling in Thailand (and beyond) while working on his photographic skills. He is an active walker and cyclist who enjoys taking photos.