Our pick of the best dishes on the streets of Vietnam's historic capital city
People travel all over the world for a number of reasons – nature, climate, activities, culture, and many more. At the top of most lists is the local food, which is why Vietnam ranks right up there with the best – especially the capital city of Hanoi, which is one of the finest culinary destinations in Asia. And where in many countries the standard greeting is "How are you?" or "What's up?", in Vietnam it's "Ăn cơm chưa?" – "Have you eaten yet?" Such is the importance of food to the Vietnamese!
Wandering through the 36 streets of the Old Quarter, the Hanoi street food options are endless. With pots boiling wherever you look, you are never too far from some of the tastiest meals in town. The enticing aromas draw local Vietnamese people to their favourite places throughout the day and many travellers take their seats alongside them to enjoy the traditional meals that have kept Hanoians filled and fuelled for years.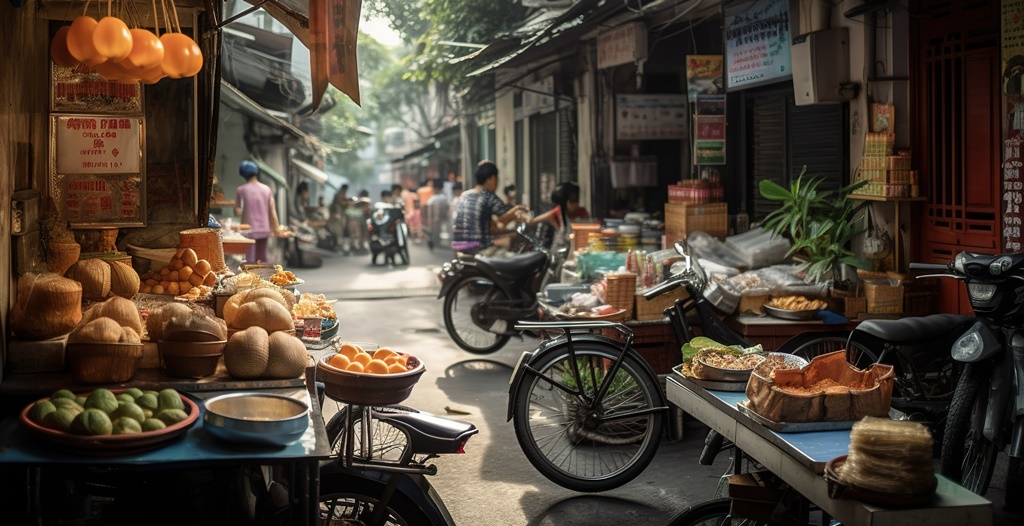 Street Treats
Phở is a soup that was invented at the start of the 20th Century. The broth is simmered for hours using pork or beef bones. When ready, it is then served with rice noodles, onion, and herbs, with some chefs adding cardamon or star anise for some extra zing. There are many varieties of this traditional soup, with phở ga (chicken) and phở bo (beef) being the favourites. Over the years, seafood and vegetarian phở have also risen in popularity. I had only been living in Vietnam for a few months when I was persuaded by a local friend to have a bowl for breakfast. For a Westerner, this seemed rather strange. But once I started eating the rich soup, laden with pieces of tender chicken pieces, I was hooked. Most mornings, I now head out onto the street and sit on a low stool to enjoy my breakfast soup. A wonderful and healthy way to start the day!
Banh Cuon literally translates to "rolled cake" and is another local breakfast favourite. Chefs take sheets of rice flour crepes and fill them with ground pork and mushrooms. Once rolled up, they are covered with fried shallots, spring onions, and beansprouts. Absolutely delicious!
Bún chả was created in Hanoi and can be seen on menus throughout the city. This dish consists of grilled pork and rice noodles and is served with a variety of ingredients ranging from herbs, cucumber, carrot, beansprouts, mint, chillies, lettuce, and fish sauce. It is guaranteed to fill you up before or after a long day of sightseeing.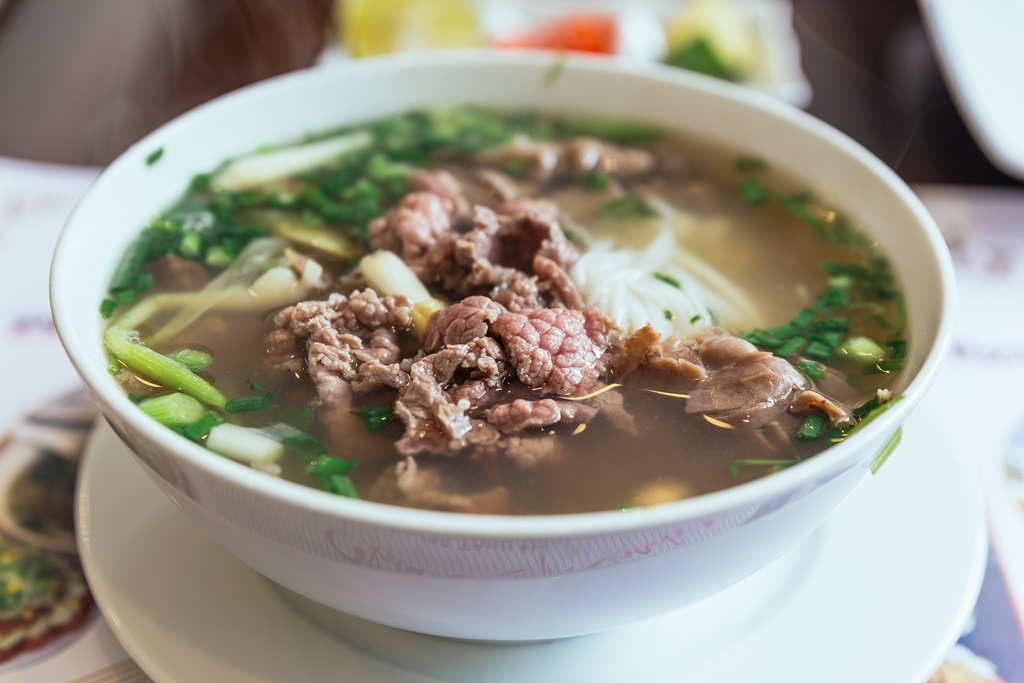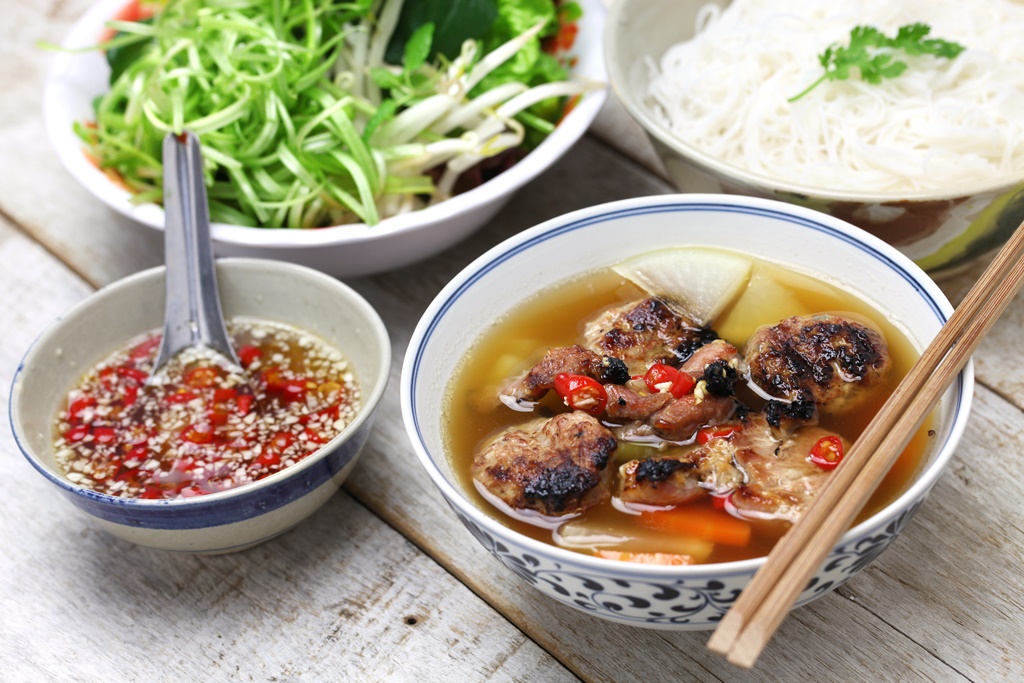 One of my favourite quick meals is a crusty baguette called a bánh mì. While meandering through the streets of Hanoi, you may see silver metal food carts piled high with these French-inspired baguettes. A creamy sauce is smothered onto the base of each roll, followed by a rich pate then filled with slices of various types of meat. Pieces of fried egg, coriander, salad, and fish sauce form the rest of this incredibly tasty creation. It's easy to spot the most popular bánh mì sellers, as you will notice locals on their motorbikes mounting the kerb to drive right up to the cart to get one.
Other amazing street food to try is bun bo nam bo, translated as "noodles with beef from the South," which is a warm noodle salad with stir-fried beef. Or why not try cha ca, which is grilled snakehead fish that's marinated in turmeric and sugar for a sweet, sticky flavour? Once it's sizzling, enjoy bite-sized slices of fish with peanuts, herbs and vermicelli. Cha Ca street is synonymous with this dish and Cha Ca La Vong is an institution in Hanoi.
And what better way to wash down these incredible dishes than with a sweet tea or egg coffee. I'd never tried an egg coffee before I moved to Vietnam. In fact, I'd never tried any drink with egg as an ingredient before. But the rich taste of egg yolk, robusta coffee, sugar, and condensed milk was an instant hit for me. And the strong caffeine gave me so much energy for the rest of the day.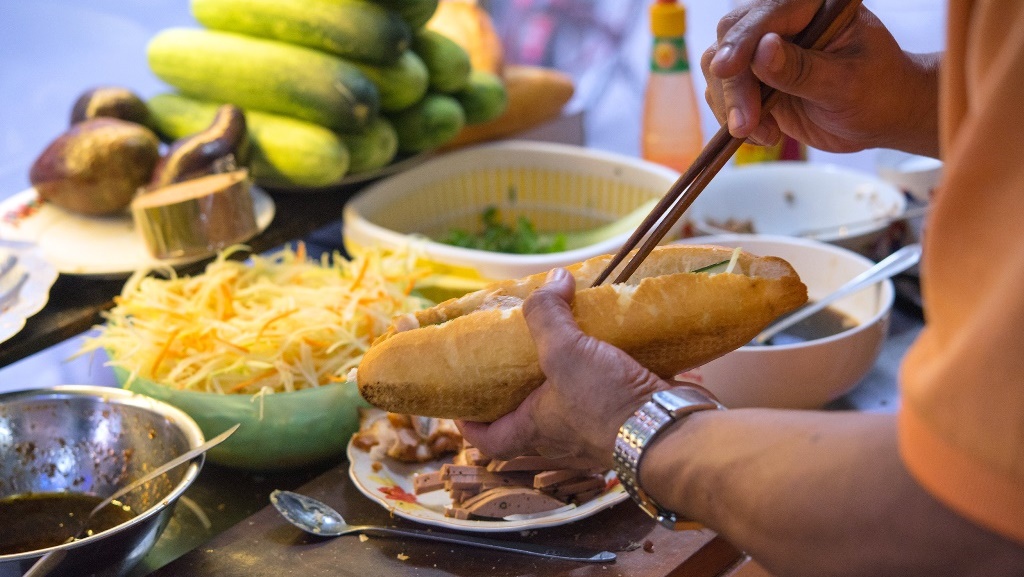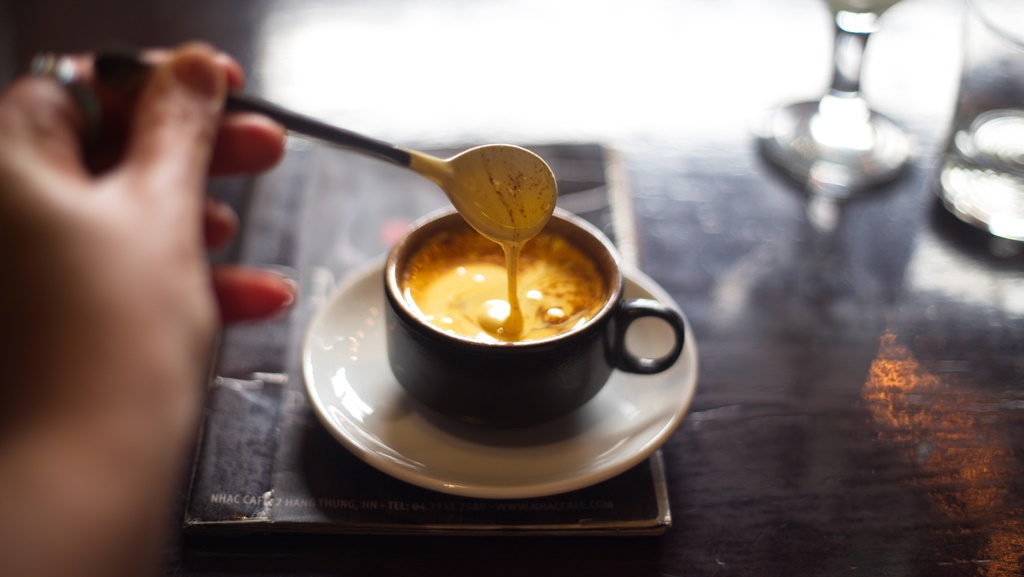 Restaurants & Markets
While street food is to be experienced and savoured, Hanoi offers an immense choice of high-quality restaurants for one to enjoy a more formal lunch or dinner. One of the most popular choices is Cau Go, which is situated next to the impressive Hoan Kiem Lake. Its location on the top floor allows you to dine in style while looking out across the tranquil water. The friendly, informative staff are well-skilled at handling large orders with ease. The menu here is truly mouth-watering, with meat, fish, and vegetarian options expertly prepared by local chefs, and I'd recommend ordering several dishes for the entire table to share.
If you are looking for both local and Western food, then Ly Club is a perfect choice. Just a short walk from the magnificent Opera House in the French Quarter, this renowned restaurant offers a wide range of choices, from spring rolls to soups, noodles dishes to grilled fish, and if you are looking for something a little bit special, there are six tasting menus to choose from.
A trip to one of the local food markets in Hanoi is truly a highlight for many visitors. Chau Long, Dong Xuan and Hang Da markets bustle from early morning with vendors setting up their stalls long before the sun comes up, ready for the busy day ahead. Many shoppers arrive on their motorbikes, which are soon laden with fruit, vegetables, meat, herbs, fish, and noodles. The fish is so fresh here, with many still swimming in shallow buckets. There is hardly room to manoeuvre, yet the market never feels overwhelming. It's a lot like the street traffic, and here the pedestrians weave in and out of the aisles with ease. There is so much to take in at the market and the hustle and bustle atmosphere is mesmerising. I always seek out the fresh fruit stalls and return home laden with mangosteen, rambutan, and passion fruit. Bring a camera as there are sure to be many photo opportunities at the food market.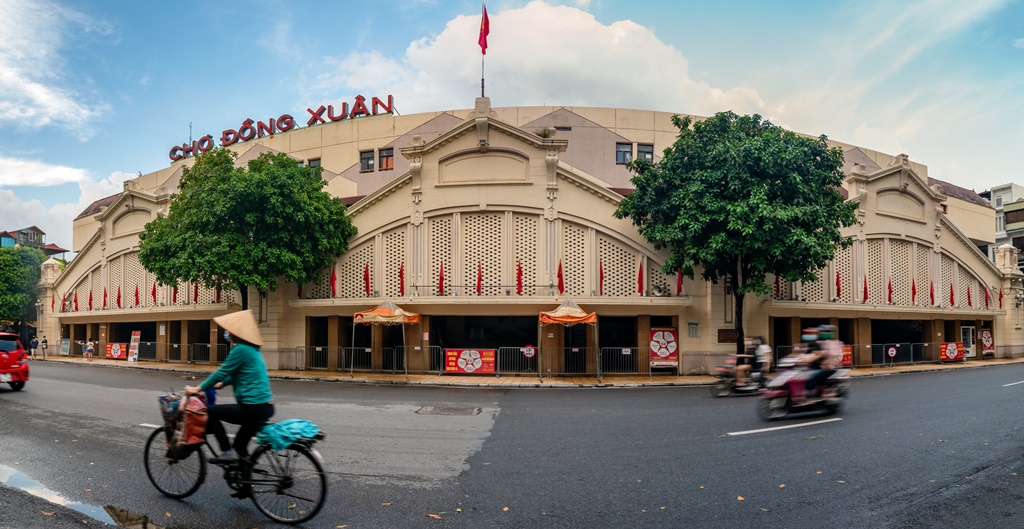 Before anyone leaves this incredible culinary capital, I'd highly recommend trying a cooking class, so you can take some of these recipes and try them at home. A cooking class in Hanoi always includes a walk around a local market, where the chef expertly guides you around the many ingredients, some of which can only be found in Vietnam.
While many classes are held in restaurants, those that take place in a local house are my favourite, as it gives you the chance to interact with a local Vietnamese family. They are truly wonderful hosts, welcoming you with tea and snacks before the chef helps you create your meal. You will learn how to prepare and cook several dishes which you will enjoy with the family. It's a magical experience and it provides a wonderful moment of connection with the family. As you sit down to enjoy delicious local Vietnamese food with them, there will be much to speak about and a lot to learn from one another about each other's lives, history, culture, and traditions. This really is a heart-warming, unforgettable experience.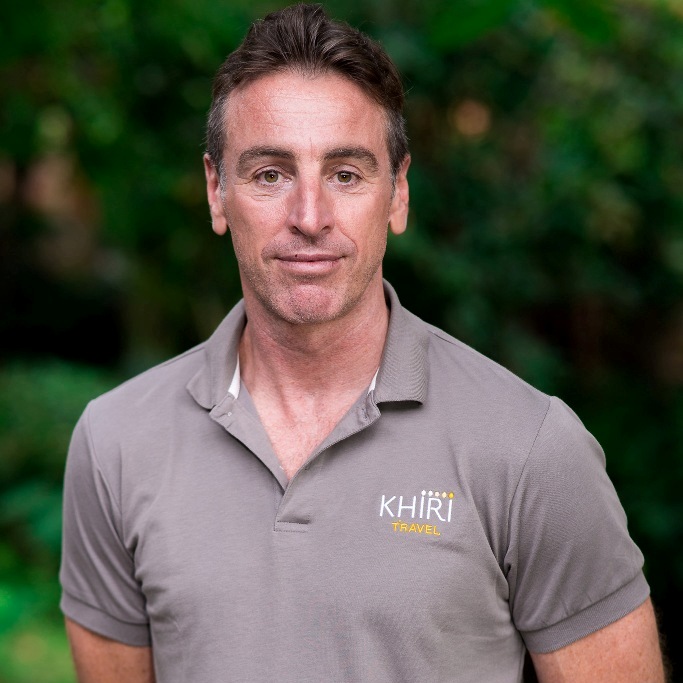 Aaron first arrived in Vietnam in 2004 as a tour leader landing in bustling Hanoi and has since explored most corners of the country. Although tour leading took him to many parts of SE Asia, Vietnam, and in particular, Saigon, always felt like home. Aaron joined Khiri Travel in early 2023 and is a fan of exploring the country by motorbike and recently completed a month-long ride into the central highlands and along the spectacular eastern coast of the country. In the past he has ridden from the Mekong Delta to Ha Giang in the far north.