Khiri's guide to Indonesian food, from street markets to fine dining
We're thrilled to share some exciting updates and recommendations with you about the Indonesian food and restaurant scene. Whether you're a food enthusiast, a curious traveller, or both, we hope you'll find some inspiration and insights in this post.

Indonesia is famous for its vibrant food culture, diverse ingredients, and fusion  of flavours. From the street-side food stalls to the high-end fine-dining establishments, there's something for every palate and budget. In this issue, we'll take you on a culinary journey through some of the best food spots and restaurants in Indonesia.
First up, let's talk about Indonesian street food. This is the ultimate way to experience the authentic flavours of the country, and we have some fantastic recommendations for you. From sizzling satay to crispy krupuk, these are the foods that will transport you to the heart of Indonesia.
To most travellers, Yogyakarta is known as the cultural centre of Java, and yet the city also has a lot to offer the foodie enthusiast. You will discover popular treats and places where locals like to hangout. Passing traditional and modern angkringan (foodstalls) along the way, head to the area famous for kopi joss, coffee with a brick of burning hot charcoal, famous mie kadin (stir fried noodles), Wijilan area to sample Yogya's famous gudeg (jackfruit curry). To wrap up this culinary experience, you can visit a well-known angkringan restaurant – popular with students and families alike. Here you can choose from dozens of freshly-made dishes, cooked up in front of you. Wash it all down with some flavorful and colorful drinks like wedanguwuh (herbal drink) or wedangjahe (ginger tea), a refreshing way to round off your Yogya culinary experience!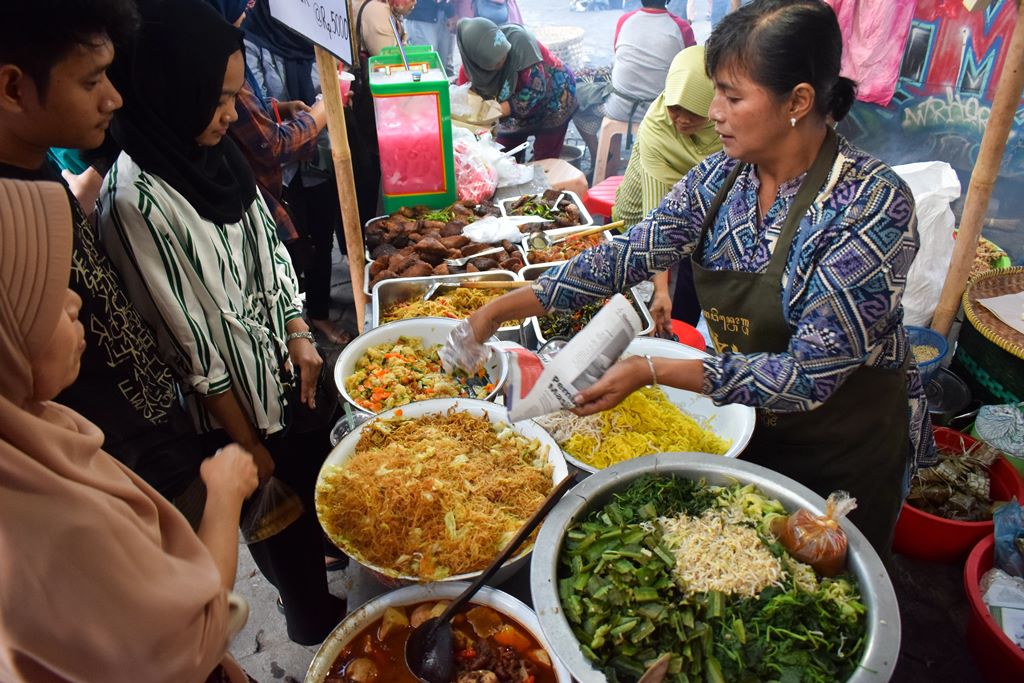 Another great street food destination is Bali's Sindhu Market, a bustling local market located in the heart of Sanur, a charming coastal town. In the morning, this market offers a wide range of fresh produce, spices, snacks, souvenirs, and more, at affordable prices. At 6 PM, the local market turns into a street food market. It's a great place to immerse yourself in the local culture, interact with friendly vendors, and sample some of the traditional Indonesian snacks and drinks.
You'll find various stalls selling nasi goreng (fried rice), mie goreng (fried noodles), sate (skewered meat), bakso (meatballs), gado-gado (vegetable salad with peanut sauce), and more. Make sure to try some es buah (fruit salad with shaved ice and syrup) or es campur (mixed fruit and jelly dessert with coconut milk) to refresh your palate.
Indonesia is famous for its diverse cuisine, which is a blend of different influences from various regions, including China, India, and the Middle East. Indonesian cuisine is characterized by its rich and complex flavours, which are derived from a wide variety of spices, herbs, and other ingredients. Apart from the street food, there are many other food and restaurant gems to discover in Indonesia. Here are some more recommendations for you:
Potato Head Beach Club in Seminyak, Bali: a hip and trendy beachfront club that offers a mix of Asian and Western cuisine, cocktails, music, and art. Don't miss their famous burgers and signature cocktails.
Sate Khas Senayan in Jakarta: a popular chain of restaurants that specialize in sate (grilled skewers) of various meats, served with peanut sauce and rice cakes. Try their sate kambing (goat meat skewers) or sate padang (West Sumatran-style beef skewers).
Warung Mak Beng in Sanur, Bali: a humble eatery that serves a single dish, ikan laut (deep-fried fish with sambal and rice). The fish is freshly caught and cooked to perfection, and the sambal is spicy and flavorful.
Amuz Gourmet in Jakarta: a fine-dining restaurant that offers a French-inspired menu, paired with an extensive wine list. Try their degustation menu for a full gastronomic experience.
Sri Sasanti Restaurant in Yogyakarta, which is known for its traditional Javanese cuisine. The restaurant is located in a traditional Javanese house, and the menu includes dishes such as gudeg, a traditional Javanese dish made with young jackfruit, coconut milk, and spices which you should not miss when you are in Yogyakarta.
Milky Wave in Lombok. This restaurant offers a unique dining experience with its signature dish, the Milky Wave Curry. The dish is made with a blend of spices, coconut milk, and fresh seafood, creating a creamy and flavourful curry that is truly unforgettable.
We hope that our recommendations have inspired you to explore more of the Indonesian food and restaurant scene.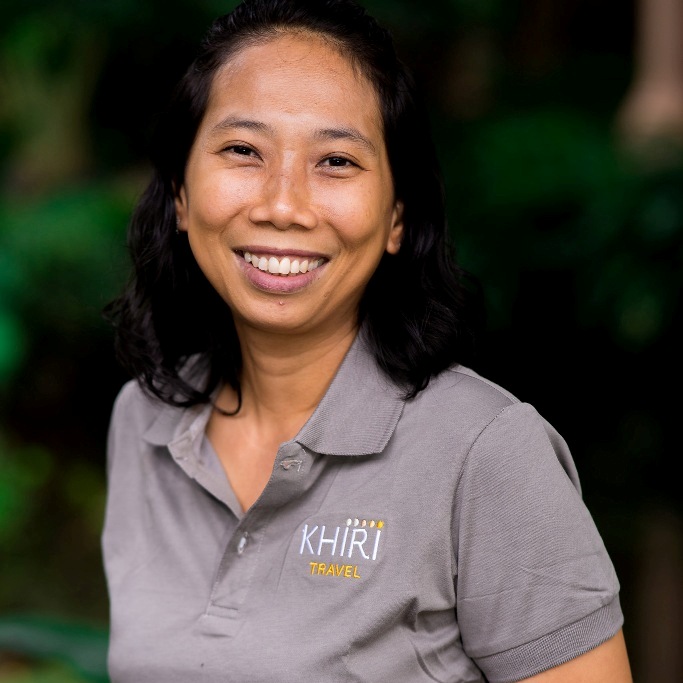 Aini originally comes from a small island in the eastern part of Indonesia called Sumbawa. A proud mum with 2 sons, Dylan and Keano, she has been working for Sunda Trails since 2006 before Khiri Travel took over the company in 2014. Aini has worked in every department of the company, establishing the team over the years, creating a family working environment. She loves to connect her clients with the local people, allowing them to experience the true warmth of the locals.