Khiri Travel Indonesia offers the magic of a tranquil trek up Mount Batur at sunset, away from the crowds. Join us in an unforgettable journey blending spirituality and adventure.
When you seek a tranquil trek up Mount Batur, away from the hustle and bustle, the secret lies in being there during the sundown. This is the story of our unforgettable adventure on Mount Batur, an active volcano with its caldera, accompanied by  Khiri Indonesia team including Aini, Okta, Maya, Nico and joined by Aini's eldest son, Dylan.
As we began our trek, we passed by Balinese holy temples, navigating exposed rock faces with gravelly paths. Our journey was a blend of spirituality and adventure. A loyal companion, a Kintamani street dog, joined us who became our unexpected guide and guardian. His presence added charm and reassurance to our adventure, especially comforting Dylan.
We embarked on our hike at 4 PM, choosing the cooler hours of late afternoon. Proceeding at a leisurely pace, we took our time to absorb the beauty of our surroundings fully. The initial part of our hike led us to the first viewpoint, reached after about an hour. The panoramic view from this vantage point was breathtaking, offering glimpses of Bali's natural beauty. This place is normally very busy with tourists who come to watch the sunrise, but we could enjoy it more privately and enjoyably. We spent 30 minutes at the viewpoint, enjoyed the scenery, and had snacks and chocolate as a treat. We laughed, talked, and felt happy about all our achievements.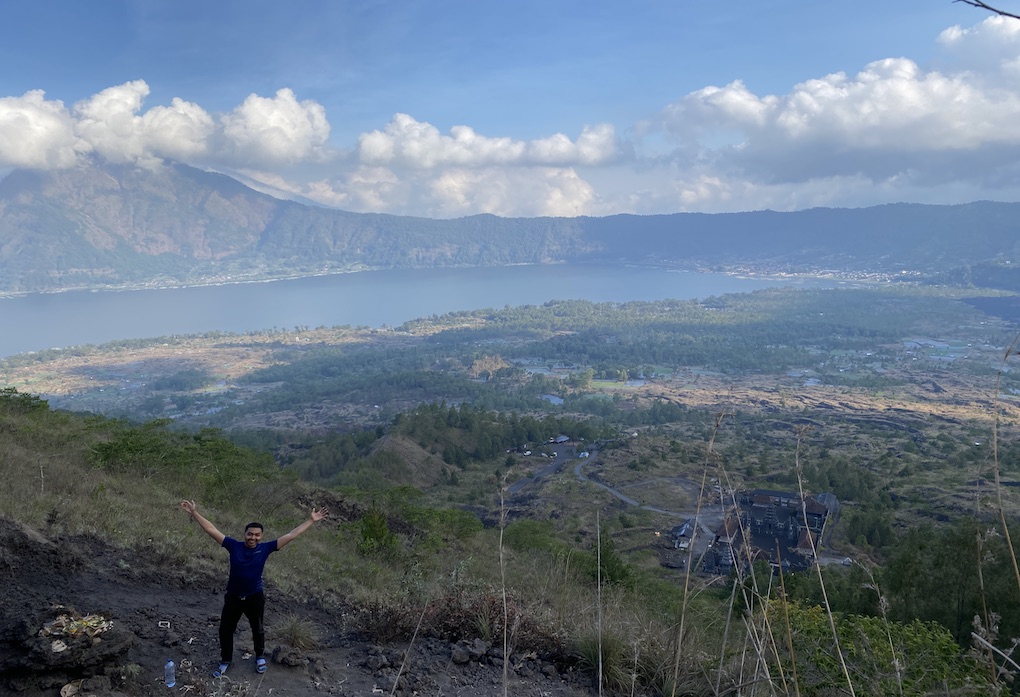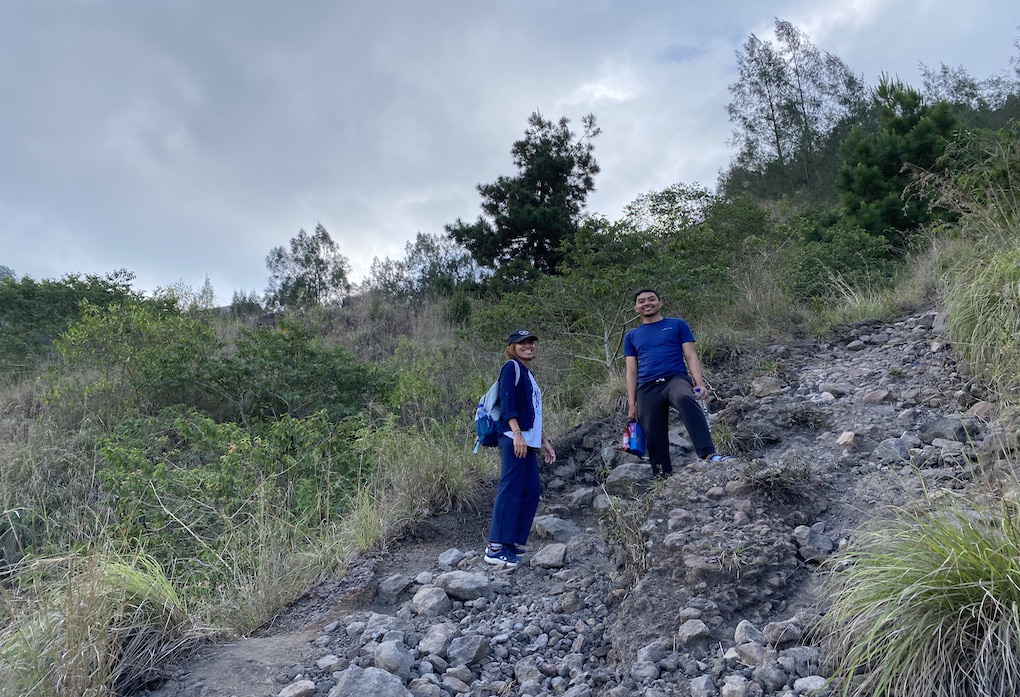 Not lingering too long at the first viewpoint, we continued our ascent, we continued our ascent, determined to reach the peak and witness the sunset. This final stretch of our hike required roughly 30 minutes of hiking. Despite the evening sky being veiled in clouds, luck wasn't entirely against us. The view from the top remained awe-inspiring. From our elevated position, we gazed upon the magnificent Mount Agung and the serene Kintamani Lake.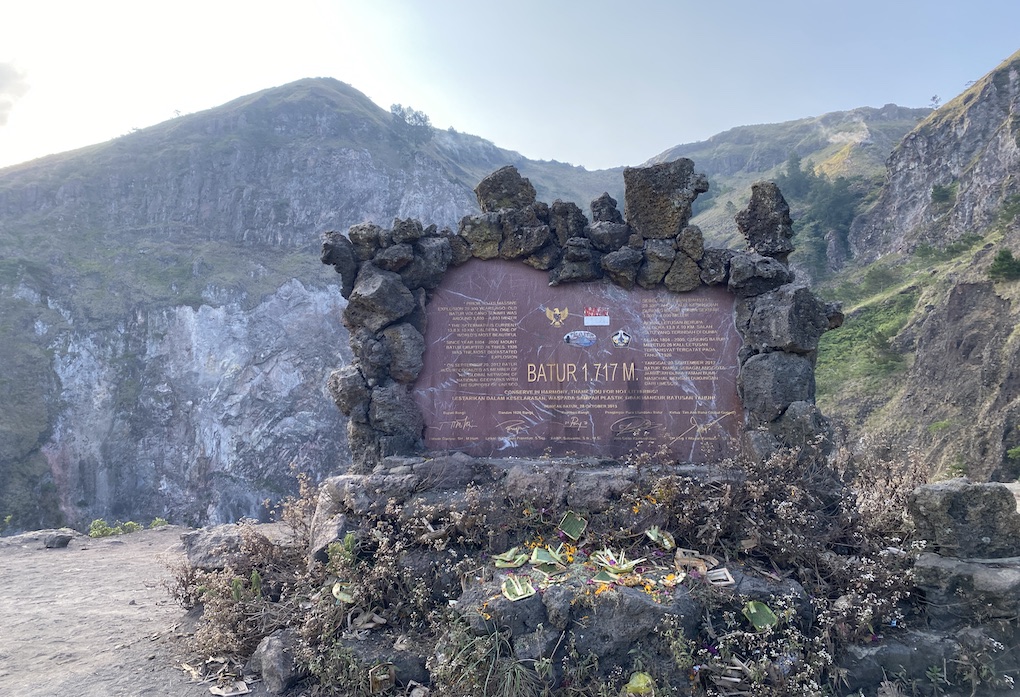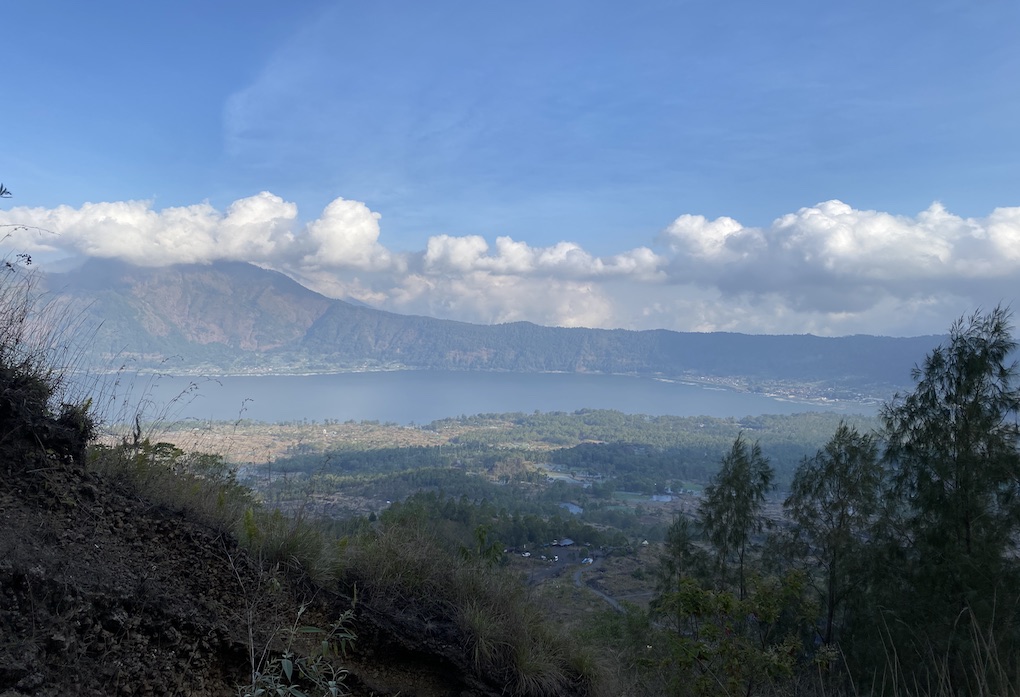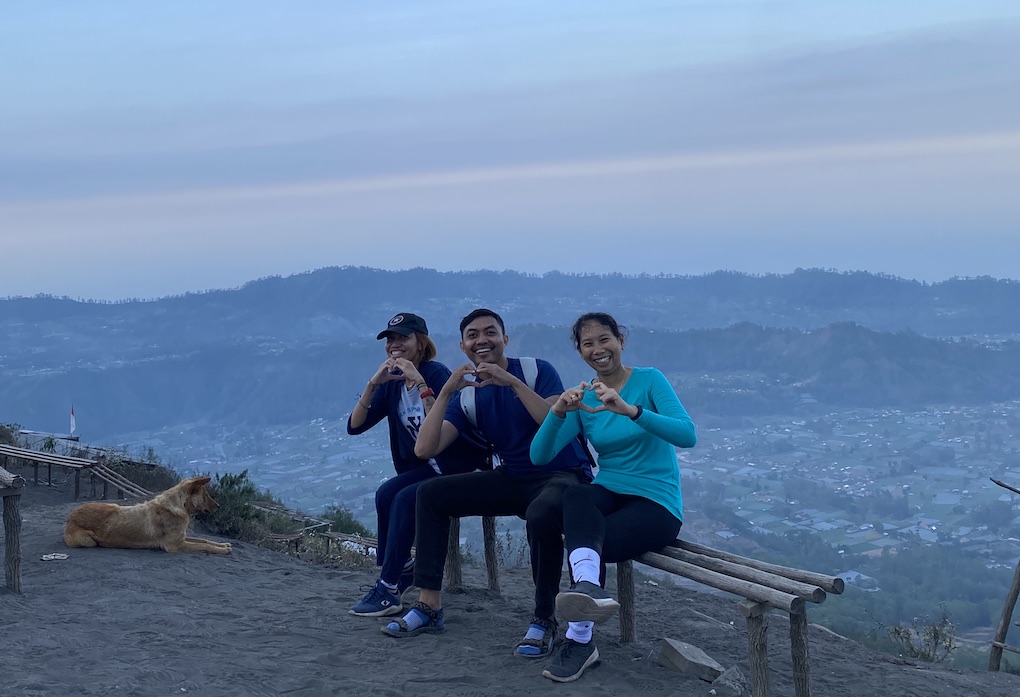 Around 6 p.m., we commenced our descent. It took us a leisurely hour to navigate the winding trail and reach the endpoint where our driver awaited us. Equipped with headlamps and sturdy walking sticks, we felt a sense of security as we ventured through the darkening landscape. Our remarkable trek, with the faithful dog as our constant guardian, had drawn to a close. With a bittersweet farewell, we expressed our gratitude to our loyal canine companion, who had shared this unforgettable adventure with us.
We spent the night at one of our preferred hotels in Kintamani, where we could relax our muscles in their heated pool. To cap off our memorable day, we indulged in a delicious BBQ, combining a satisfying meal and the crisp mountain air making for a perfect conclusion to our day.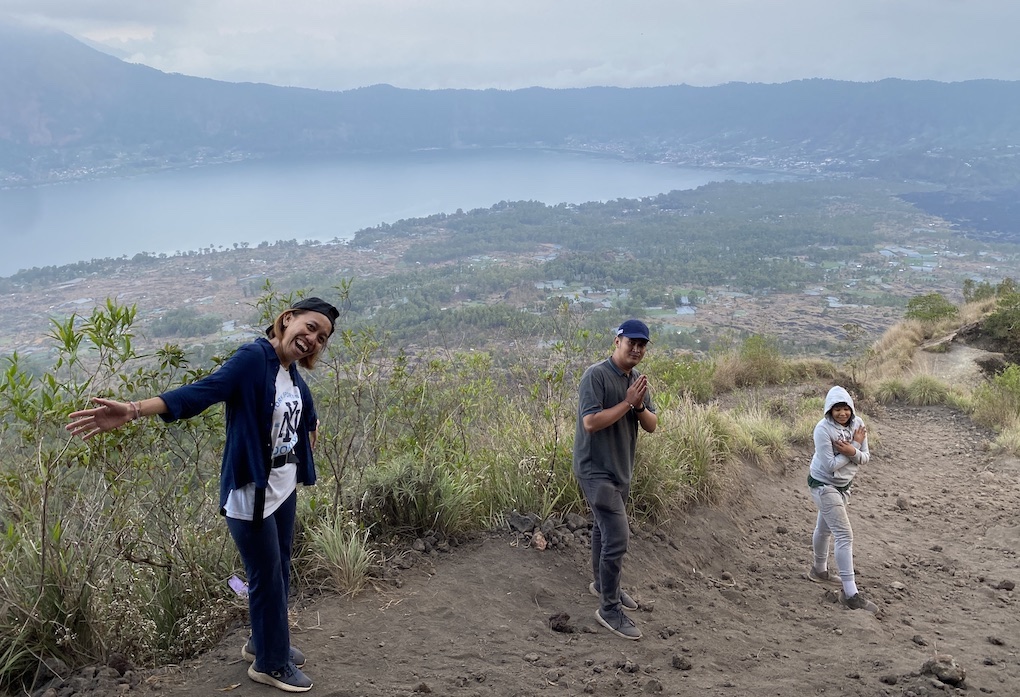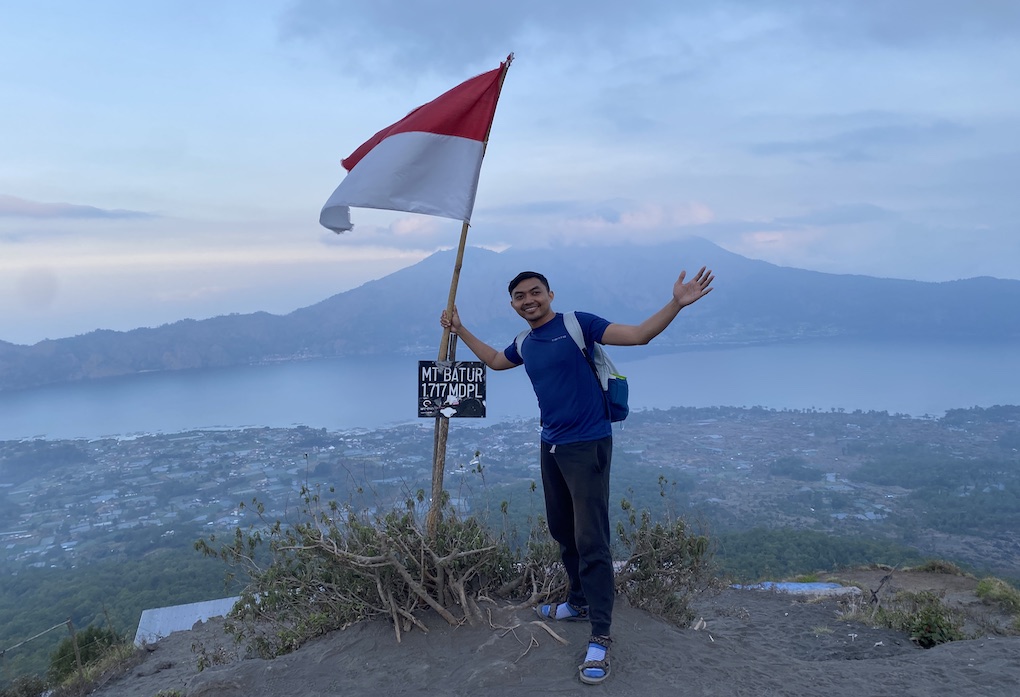 Although the clouds had concealed the sunset we had hoped for, our journey up Mount Batur had been an incredible experience filled with unexpected twists and memorable encounters. We departed with a promise to return someday, to witness the exclusive sundown we had missed on this occasion.
Book Your Adventure with Khiri Travel Indonesia Today!
For inquiries and reservations, please get in touch with us at sales.indonesia@khiri.com to discover more exceptional travel experiences in Indonesia.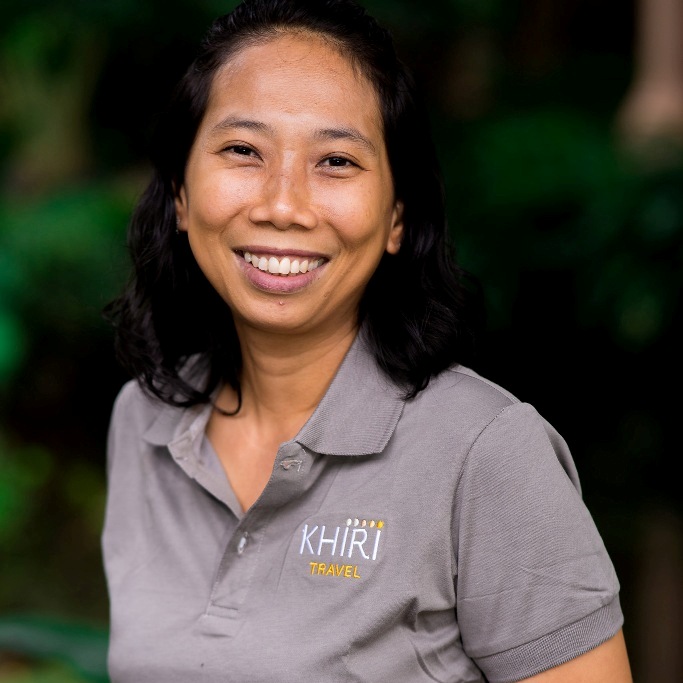 Aini originally comes from a small island in the eastern part of Indonesia called Sumbawa. A proud mum with 2 sons, Dylan and Keano, she has been working for Sunda Trails since 2006 before Khiri Travel took over the company in 2014. Aini has worked in every department of the company, establishing the team over the years, creating a family working environment. She loves to connect her clients with the local people, allowing them to experience the true warmth of the locals.