Our list of organisations that will help travellers give something back whilst in Cambodia
Our Guide to Giving Back in Cambodia
Cambodia offers some of the most varied and memorable holiday experiences in Southeast Asia. The majestic Khmer ruins of Angkor, Preah Vihear, Sambor Prei Kuk are all Cambodian holiday highlights. So is eco- and community-tourism in the forests of the south of the country, and coastal relaxation on the islands and mainland beaches (but stay away from Sihanoukville, a victim of over-tourism and much more), and using a sustainable Cambodia DMC such as Khiri is the best way to ensure your clients' trip is as sustainable as possible!
Phnom Penh is one of the most dynamic, free-wheeling, and rewarding cities in the Mekong region. Despite its turbulent and occasionally tragic history, Cambodians have regrouped in the last 35 years and look with pride at their thousand-year old Khmer heritage. Describing people as resilient is a cliche. But in Cambodia that honorific has been earned by the Khmer people.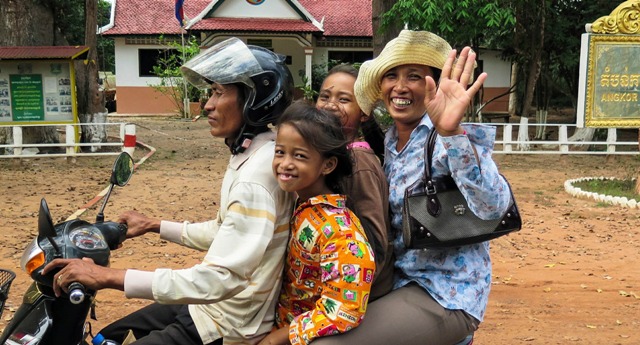 Where to Give Back
There are many tourist places that you can visit such as museums, community theatres, cafes, workshops, hotels and guest houses that are dedicated to 'giving back'. Their role is to give disadvantaged Cambodians – old and young – training, skills, a decent salary – and hope. It's not just about profit, but reinvesting in people. So, if your clients visit Cambodia, consider spending some time, money and appreciation in the following places, which are just a small sample of the many responsible tourism options around the country:
Phnom Penh
NCDP Handicrafts – visit this boutique which provides some of the best handicrafts in Cambodia, all produced by the disabled community
Le Lotus Blanc – enjoy lunch (European and Asian) at an eatery that offers vocational training for the hotel and hospitality industry to poor kids, many of them former scavengers on the municipal dump at Stung Meanchey nearby
Phnom Tamao Wildlife Rescue Centre – located about 40 kms south of Phnom Penh, the centre provides a sanctuary of wildlife such as elephants, sun bears, leopards and tigers. Try to visit mid week. It is usually very busy on the weekends
Siem Reap
Artisans D'Angkor – encourage the revival of traditional Khmer arts and crafts with a visit to the Artisans workshop in Siem Reap
Cambodia Landmine Museum – learn about the menace of landmines and the shadow they cast over rural communities in Cambodia
Kampot
Epic Arts Cafe – a lively little cafe that provides a focal point for the deaf and disabled community in Kampot. The cafe helps fund art initiatives. Enjoy tasty light snacks, such as Kampot pepper bread
Stung Treng
Mekong Blue – a charming silk weaving showroom of the Stung Treng Women's Development Centre. It has become famous for the high quality of its handwoven silk
Cardamom Tented Camp: Your Stay Keeps the Forest Standing
Cardamom Tented Camp is an ecolodge located in lowland forest just off the Cardamom Mountains in Koh Kong province, southwest Cambodia. It's about a 90-minute drive from the Thai-Cambodian border. Offering nine well-appointed safari-style tents, the lodge aims to minimise the human footprint on the natural world and serve as a role model in promoting sustainable ecotourism practices within the national park and Cambodia as a whole.
Located on an 18,000-hectare (180 km2) forest concession, the lodge and its surroundings are home to pristine lowland and coastal habitats linking wildlife corridors to the Cardamom Mountains. Apart from staying in comfortable well-furnished tents with their own shower, bathroom and balcony, eco-friendly trekking and kayaking packages are available for nature enthusiasts who are keen to be a part of real conservation tourism.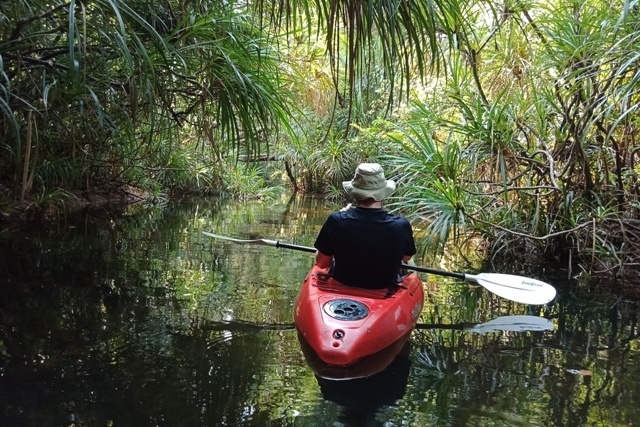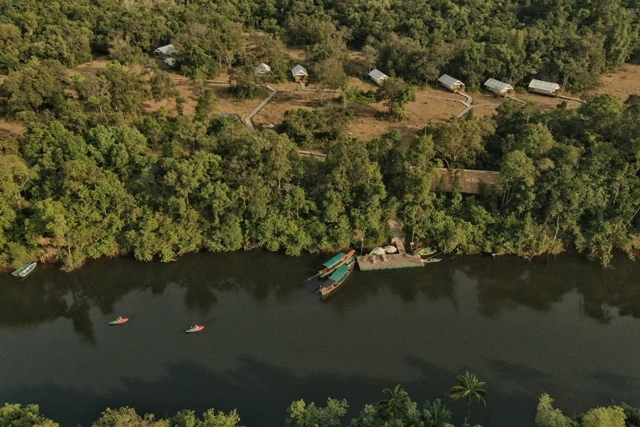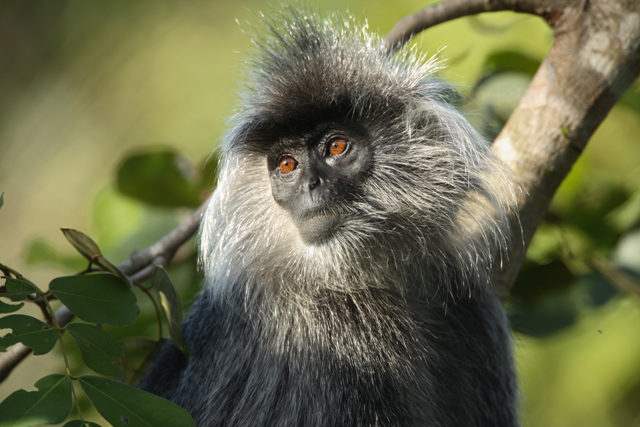 Reducing the Number of Hunters, Loggers & Sand Dredgers
Profits from the tented camp, which opened in 2017, help pay the income of 12 forest rangers. Over the last five years, these Wildlife Alliance rangers have done a fantastic job of reducing illegal hunting, logging and sand dredging along the Preak Tachan river which runs through the Botum Sakur national park. Guests can hike with the rangers and visit their ranger station to witness the confiscated netting, traps and crude homemade guns that poachers once used to hunt wildlife.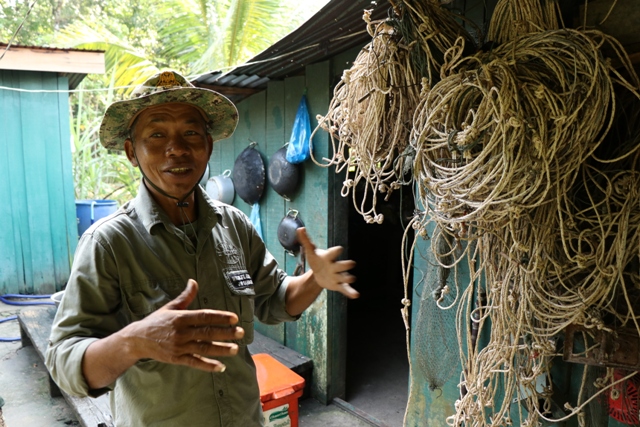 Cardamom Tented Camp's business model is simple. Guests stay at the camp. The camp makes a small profit. The camp gives money to the forest rangers. The rangers patrol the forest to stop illegal hunting and logging. Accordingly, Cardamom Tented Camp uses the slogan "Your Stay Keeps the Forest Standing." Guests can feel good that when they stay at the camp they are directly contributing to conservation of a vital lowland forest.
Due to the persistent work of the Wildlife Alliance rangers and the camp, the numbers of Asian elephants, dhole (small hunting dogs), clouded leopards, hog badgers, sun bears, mouse deer, pangolin and others are all stable – or increasing.
Paradise for Birdwatchers
The area around Cardamom Tented Camp is also a perfect retreat for birdwatchers.
In coordination with the Sam Veasna Centre for Wildlife Conservation, the camp offers birders specialist birdwatching activities. Led by a birding expert, the guide will accompany the group and help identify various birds.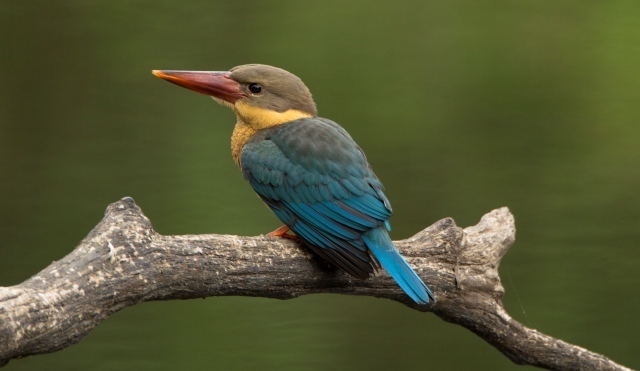 A biodiversity study conducted in 2000 recorded over 160 bird species. Visitors have spotted no less than eight species of Kingfishers, and both the Oriental Pied and Great Hornbills can be seen here. Birders can commence their day bird watching while enjoying breakfast at the camp's restaurant, overlooking the Preak Tachan River.
A stay at Cardamom Tented Camp can be both relaxing or very active. Either way, it is a rewarding opportunity to experience wonderful nature and protect vital forest habitat.
Remember, "Your Stay Keeps the Forest Standing."
Cambodia is open again, and the Khiri Travel Cambodia team are ready to welcome your clients for an unforgettable holiday!
Find out more by contacting sales.cambodia@khiri.com