Check out our cruise experiences in Halong Bay, Vietnam
Ahoy, Travel Dreamers! Embarking on a serene voyage through the breathtaking Halong Bay aboard the stylish Orchid Trendy Cruise is an exceptional way to immerse oneself in this iconic Vietnamese destination. Whether you choose the 2-day and 1-night escape or the more extensive 3-day and 2-night journey, Orchid Trendy Cruise serves as your gateway to the enchanting world of Halong.
Setting Sail
Your journey commences with a picturesque 2-hour drive from Hanoi to Tuan Chau Marina. Upon arrival, the hospitable Orchid Cruises team welcomes you with a cup of local tea, ushering you into the realm of Halong. Around midday, a tender boat awaits to ferry you to Orchid Trendy Cruise. The onboard crew extends a warm welcome with welcome drinks and safety instructions. After settling into your cabins, a delightful buffet lunch is served against the backdrop of Halong's iconic limestone karst mountains. This serves as an unforgettable introduction to the splendor of this region.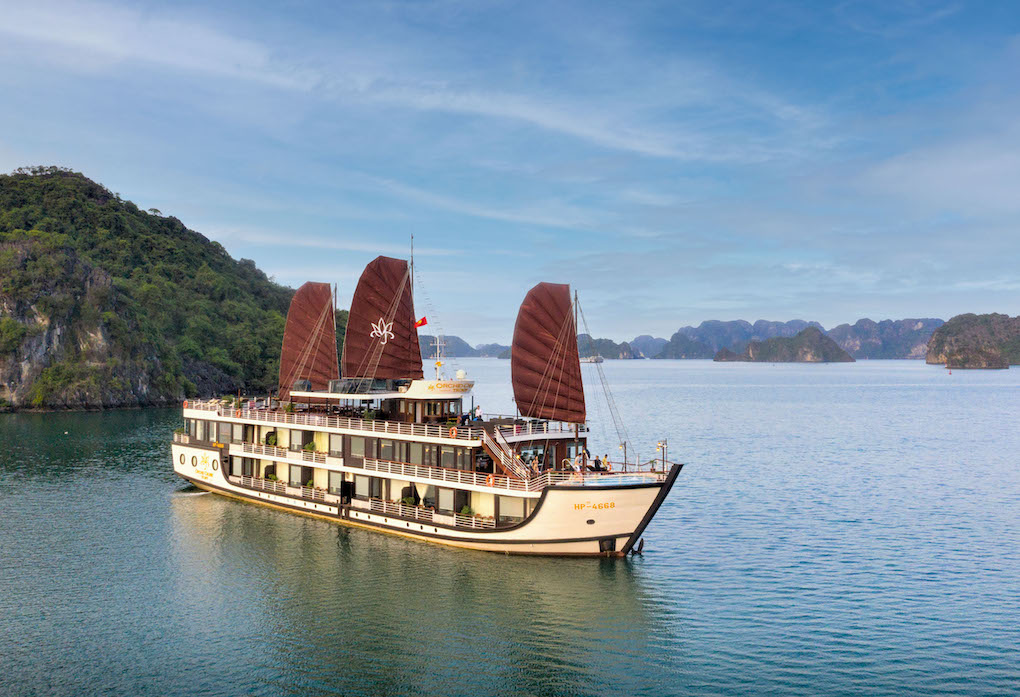 Exploring Cat Ba Island
The afternoon brings a pause at Cat Ba Island. A bus journey into the heart of the largest and only inhabited island in the bay, followed by a stroll through Cat Ba National Park, leads you to the captivating Trung Trang cave. This 300-meter-long chamber, adorned with stalactites and stalagmites, narrates the geological forces that shaped this region and offers insights into the social history associated with this area.
Returning to the boat, you'll discover an emerald oasis in Lan Ha Bay, a perfect spot for a tranquil swim in a less crowded part of the bay. The day winds down with the option to enjoy happy hour on the sundeck, participate in a cooking demonstration, or simply relax in the open-air Jacuzzi, followed by a set menu dinner that harmoniously blends regional freshness with Vietnamese traditions and French finesse.
Under Halong's Morning Spell
As the first light of day breaks, early risers can savor the sunrise or engage in a serene tai chi session on the sundeck. Breakfast is served, setting the stage for kayaking adventures around the islands and into secluded bays, unveiling Halong's hidden charm. Upon returning to the boat, your private balcony offers the perfect vantage point to soak in the tranquility of the bay. A delightful brunch at 10:00 am signals the start of your journey back to Ha Long City.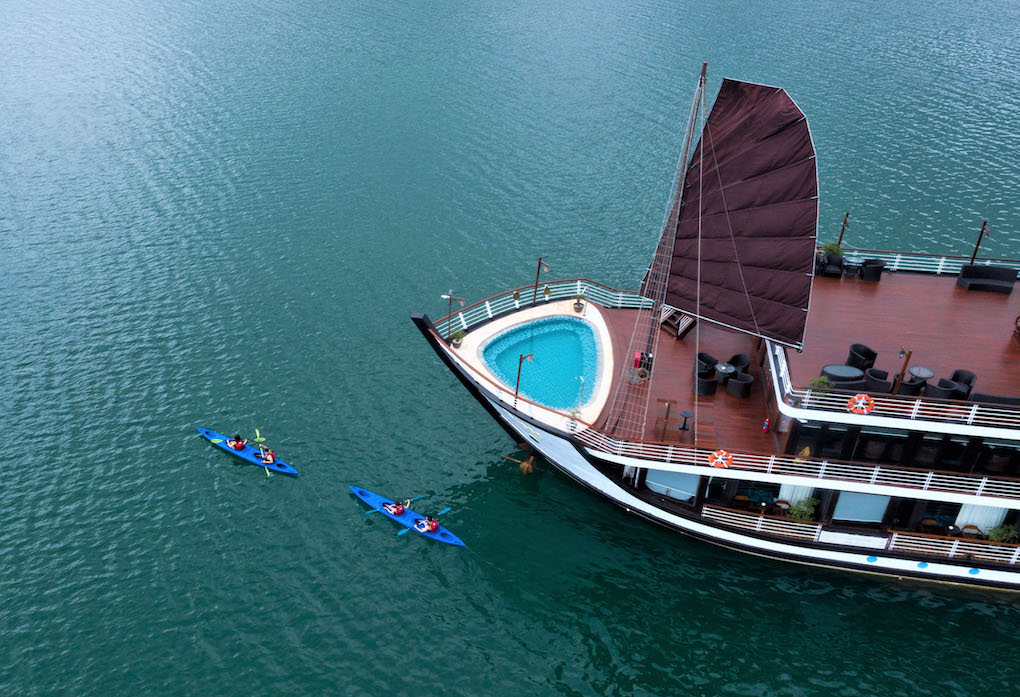 Upon disembarking from the Orchid Trendy Cruise, a tender boat transports you back to Tuan Chau Marina, bidding adieu to the breathtaking beauty of Halong. Embark on a narrative of serenity in Halong with Orchid Trendy Cruise, where every moment becomes a page in the story of your Halong adventure.
3 Day 2 Night Itinerary
The 3-day, 2-night itinerary builds upon the 2-day, 1-night experience by taking guests to Viet Hai village on Cat Ba Island after breakfast on the second day. Here, you can embark on a bicycle ride or take an electric car (at extra cost) through a rainforest tunnel that leads to a scenic rice field vista. Visit a traditional house nestled deep in a national park to observe the local way of life. Afterward, return to the day boat for lunch. In the late afternoon, explore Three Peaches Islands for swimming and kayaking, and then return to Orchid Cruises later in the day.
Halong Bay and its neighboring Lan Ha and Bai Tu Long bays offer a range of cruise options to suit various budgets. If you're interested in other cruise alternatives in the bay, please contact Khiri Travel Vietnam at sales.vietnam@khiri.com. Halong Bay perfectly complements a stay in Hanoi, or you can consider combining both with the stunning landscapes and mountains of nearby Mai Chau, Pu Luong, and Ninh Binh, often referred to as the "Halong Bay on land," for an exceptional Northern Vietnam adventure.
Please note that the itinerary may be subject to change without prior notice depending on weather and local conditions.