Amantaka in Luang Prabang, Laos takes French colonial luxury to a new level
French Colonial Luxury in Luang Prabang, Laos
Some of the finest and most unique properties in the world have a fascinating history; one would never have thought from their original purposes that they would one day serve as uber-luxury hotels. Amantaka in Luang Prabang is one such property.
Built in 1923, this uniquely French Colonial building once served as the old provincial hospital of Luang Prabang. Nine of the original fifteen buildings on the grounds are in fact UNESCO World Heritage listed which makes a stay at this incredible hotel even more remarkable. The property functioned as a hospital until as recently as 2005 and it was then that the Aman group of high end luxury hotels took over the premises to create this elegant and exquisite hotel experience. The transition from hospital to hotel is incredible – for example the lobby is where the x-ray room formerly was. The wide corridors, high ceilings and open spaces are typical of the French colonial style.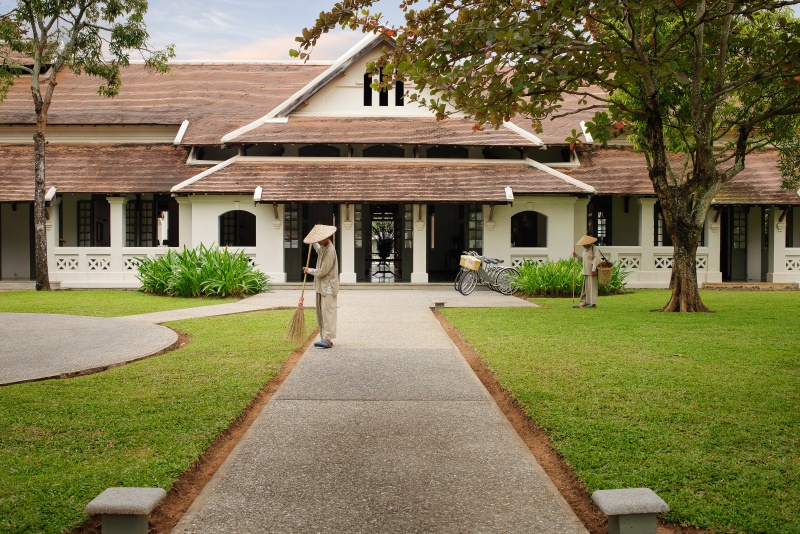 Today the property is set amongst stunning gardens filled with Frangipani and Magnolia trees, and the grounds are simply breathtaking. The name has significance also – Aman the signature name for this group of hotels means peace and Taka means the teaching of Buddha. A very fitting name given that Luang Prabang is one the most important cultural destinations within Laos, home to some of the country's most important Buddhist temples as well as the former Royal Palace.
Step inside Amantaka and you step back in time. The rooms feature classic wooden four-pillared poster beds, wooden louvres and antique furniture that are as romantic as the grandeur of a time gone by, adorned with an eclectic mix of classic traditional fabrics and textiles that make the finish on this spectacular hotel outstanding.
Although Luang Prabang enjoys a warm to mild temperature throughout the year, the short winter months can be rather chilly due to being located in the highlands. A unique feature of Amantaka is that although the winter is short the pools in the pool suites are heated during this time, making a stay at this phenomenal hotel perfect all year round.