November sees two of the most colourful Thailand festivals take place
The Lopburi Monkey Buffet
In the Buddhist tradition, Thais revere monkeys as heroes. According to the legend, the monkey Hanuman and his army saved King Phra Ram's wife Sida from a demon.
Lopburi (known for its Khmer-style ruins, located around 1h drive (also reachable by train) from the former capital Ayutthaya, is known for its large population of respected monkeys, which are believed to bring good luck and are free to roam.
Every last Sunday of November, a festival is organized just for the resident macaques. A huge display of food (fruits, candies, cakes, sticky rice) can be seen in the city and in particular at Pra Prang Sam Yod. In addition to the monkeys, the festival also has live performances and dances. It is truly one of THE most amazing Thailand festivals.
Keep your distance as macaques can be aggressive, and avoid getting caught in the middle of a monkey food fight!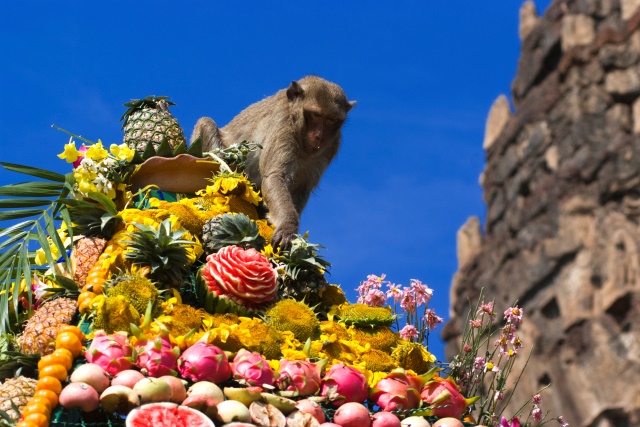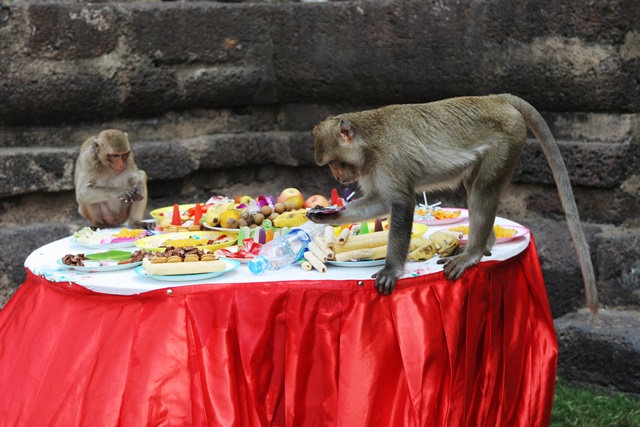 Loy Krathong & Yi Peng - Lantern Festivals
The nationwide Loy Krathong festival (or "Festival of Light") is one of the biggest celebrations in the kingdom and certainly the most colourful of them all. It marks the end of the rainy season, and you will be able to witness Thais releasing decorated baskets (krathong) made of banana leaves and flowers into rivers and lakes to thank the Goddess of the Water, Mae Khongkha, for helping to grow crops and support all life, or ask for forgiveness for using it too much or contaminating it.
An incredible number of candles (each of them has a prayer or wish attached to it) and incense sticks are lit and put on beautifully decorated boats floating along rivers or lakes throughout the country.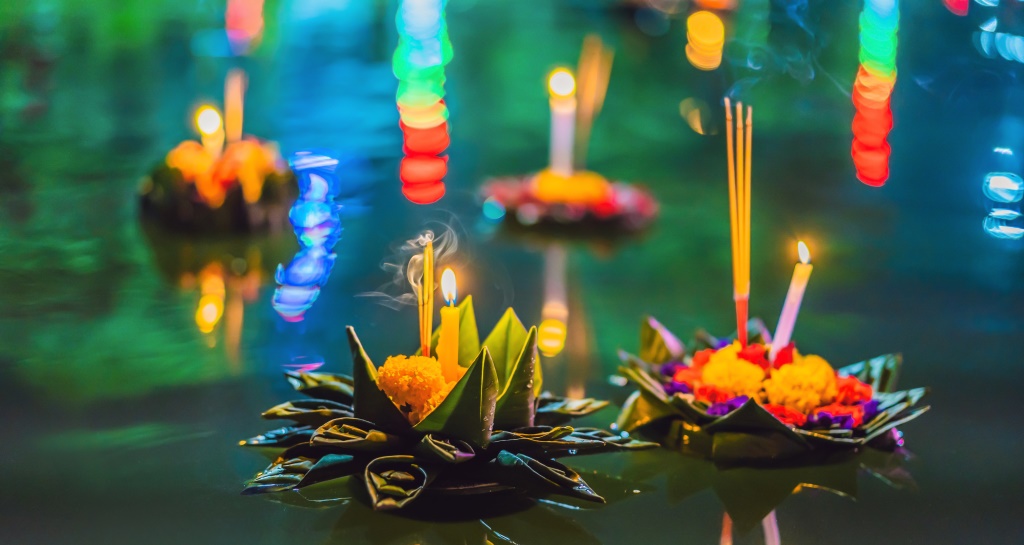 The festival is held on the full moon of the 12th month of the Thai lunar calendar, which usually falls in November, at the same time as Yi Peng festival (also called "Lantern festival"), another iconic festival during which travellers can see thousands of "khom loy" (fire lanterns) launched and floating in the sky, candles lined along the streets, parades, food vendors, and temples & houses decorated with flowers and lanterns.
The act of donating "khom loy" in Buddhist culture represents moving away from darkness to light, and by extension letting go of bad luck and wishing for good fortune in the coming year. Please note that the launch of lanterns outside designated sites is temporarily banned, both for safety and ecological reasons.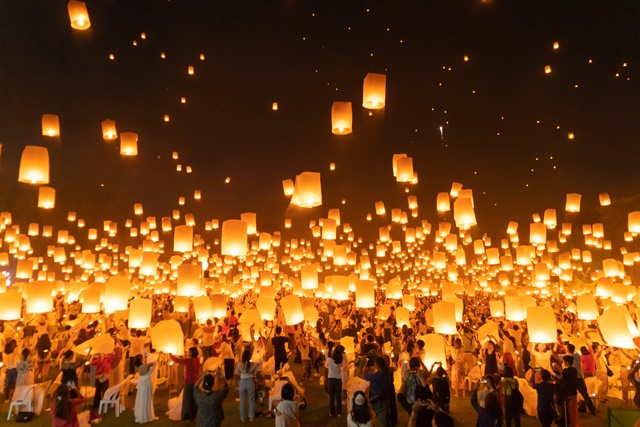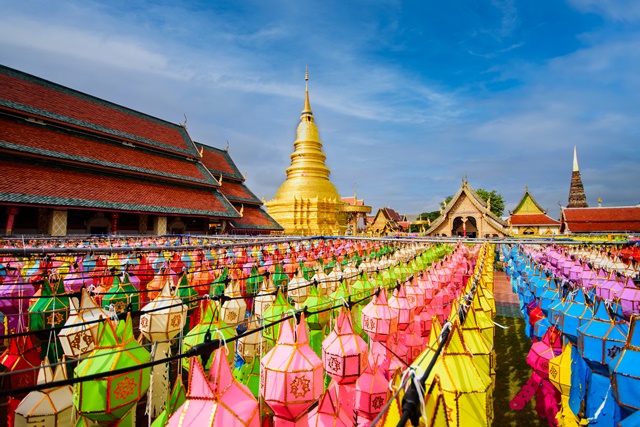 In 2022, both Yi Peng and Loy Khratong will be organised on November 8th & 9th.
Both festivals are free, and you can buy the "khratong" or "khom loy" at various locations.
Whilst Loy Khratong can be seen everywhere in the country (and especially in Bangkok, Chiang Mai, Phuket, and Sukhothai), Yipeng is held in Chiang Mai only.