Join us as we explore one of the world's most spectacular cave complexes
Vietnam is a traveller's dream. From its rich culture, history, traditions, and food to its stunning beaches and unique nature and wildlife, there really is something for everyone.
Vietnam offers a vast choice of outdoor activities throughout the country, with many opting to spend time trekking in the north. The northern highland regions around Sapa and Ha Giang offer great hiking opportunities with the chance to see spectacular terraced rice paddies and meet many of the local hilltribe people. Cycling throughout Vietnam is also a popular option and a wonderful way to feel a cool breeze if the temperature gets too much. An even more relaxing way to spend time in the great outdoors is to visit one of the numerous beaches that the country has to offer. With 2000 miles of coastline and over 2500 islands, there are many stunning places to snorkel, swim, and scuba dive.
But for something a little bit special, there exists a truly stunning and rarely visited area called the Phong Nha-Kẻ Bàng National Park. This protected area, sprawled out across 476 square miles, contains towering limestone mountains, sweeping tropical forests, and abundant wildlife. Powerful waterfalls, meandering rivers, and picturesque surroundings all add to the beauty and wonder of this magnificent park.
Phong Nha Caves
Visiting Phong Nha-Kẻ Bàng now, before it becomes more well-known, is an absolute treat for travellers. The best time to visit is between April and June before the stifling heat that lasts until October and monsoon rains that are frequent until December. There is so much to see and do here for outdoor adventurers that many people stay for several days to truly get a feel of this remarkable national park.
There are so many ways to enjoy the great outdoors here in the National Park, and one of the most popular attractions is the caves. There are many wondrous caves in the area to visit, from those accessible close to town that can be explored in half a day, to exciting full-day and multi-day tours to reach those further afield and less accessible.
The impressive Phong Nha Cave can be accessed via a beautiful boat ride from town. Measuring nearly five miles long, this breathtaking cave contains many grottoes and an underground river that flows for over eight miles. Formed over millions of years, each one of the passageways, stalactites, and stalagmites tells a story. The occasional gentle sound of dripping water reminds us of the slow and beautiful creation of this impressive cave. There is also a large lake contained within Phong Nha Cave and the photo opportunities are endless. As the boat quietly ventures further and further inside, the peaceful tranquility is almost hypnotic.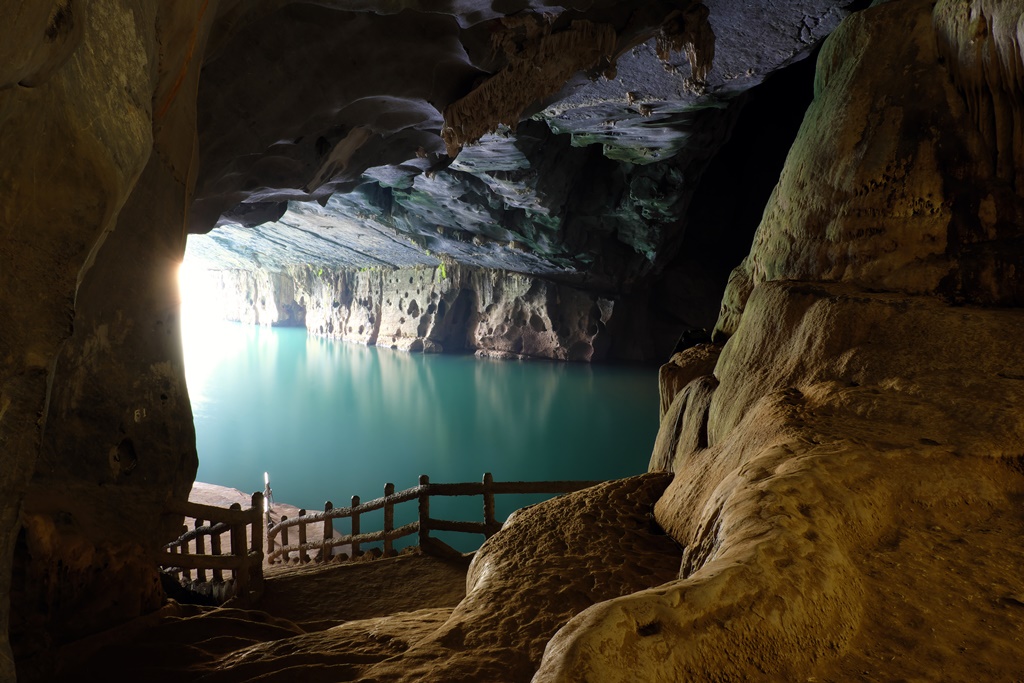 The aptly-named Paradise Cave is a stunning cave accessible by road a short drive from town. It's the longest dry cave in Asia and contains unique and intricate rock formations. The cave is over 20 miles long, with a small section open to the public. A vast wooden staircase makes it easy to explore and visitors can take a guided tour through the cave to view the astonishing limestone formations that have been carved out by the flow of water over millions of years. The cave is illuminated with coloured lights, which only adds to the magic and beauty of the experience. The sheer size of Paradise Cave is truly awe-inspiring.
Son Doong - The Biggest Cave in the World!
The largest cave in the world was only recently discovered inside this national park, and the story behind it is fascinating. Hang Sơn Đoòng was found in 1991 by a local man named Hồ Khanh, who was looking for a valuable timber called agarwood. As he stood at the entrance of the cave, he was astounded by the deafening sound of rushing water. The strong winds stopped him from taking another step, and he went off in another direction to continue his search. He later mentioned his find to some explorers from England, who urged him to take them there. But he wasn't able to find it again until 2008, and in 2009, he was finally able to lead an expedition back to the entrance. And now it is open for the rest of the world to see.
Inside Hang Sơn Đoòng is an underground river network with stalactites and stalagmites that grow to 70 metres tall. It takes approximately 1,000 years for them to grow just ten centimetres! This staggering cave can only be accessed on a multi-day tour with limited places available.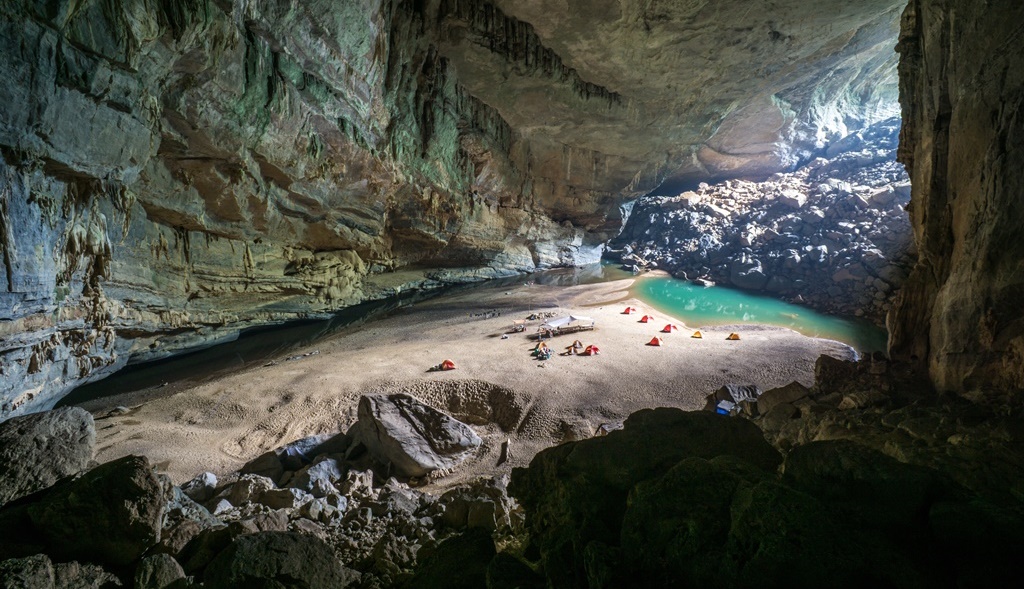 The National Park
The National Park offers boat trips inside many of the 300 caves and grottos, and kayaking is another wonderful way to observe many of these natural wonders. Kayaking offers a chance for visitors to get up close to the beauty of the cave walls on a guided tour. Water is ever-present throughout the park, with many people spending time at the cascading waterfalls. The two main rivers within the park are called Son and Chay, but there are also many smaller tributaries to visit. For those wishing to stay on land, many areas of the extensive park can be accessed by bicycle, and exploring the quiet roads, dramatic scenery, and local villages is the perfect antidote for the hustle and bustle of Vietnam's busier cities. Taking the time to listen to the sounds of nature and interact with villagers in and around the park is a truly magical experience.
Phong Nha-Kẻ Bàng National Park is a wonder to be seen, and the fact that most people don't even know it exists makes it the perfect place to add to your bucket list. But don't wait too long – for the time being, it's an almost hidden treasure!
Khiri Travel offers a variety of tailor made tours to Phong Nha National Park. Your guests can join our two-day, one night Phong Nha and Paradise Cave Tour. The tour begins with a visit to Phong Nha Cave, where visitors will take a boat ride through the cave to explore its stunning rock formations. Stay longer adding a day cave excursion to explore one of the more remote caves such as Hang Tien.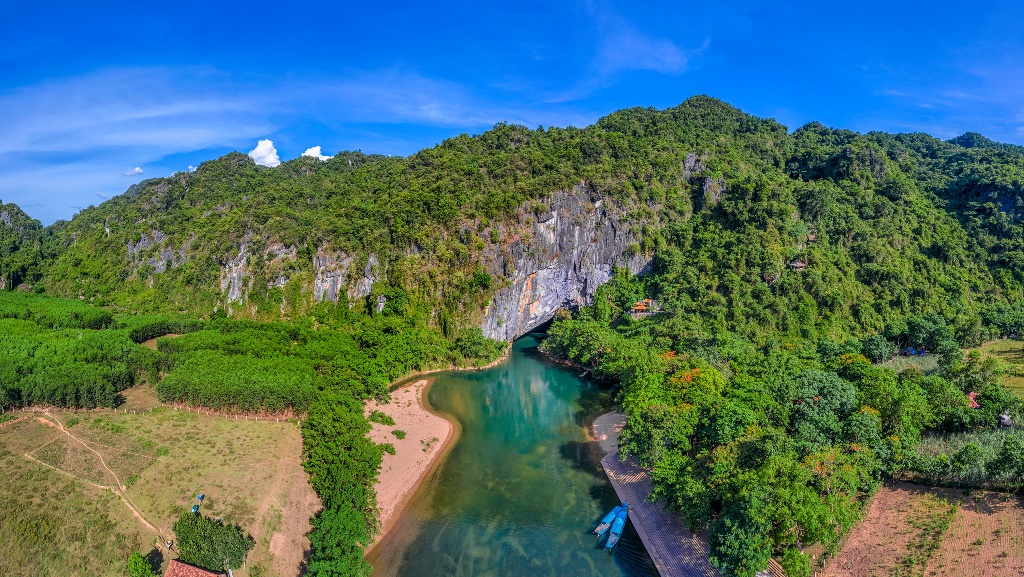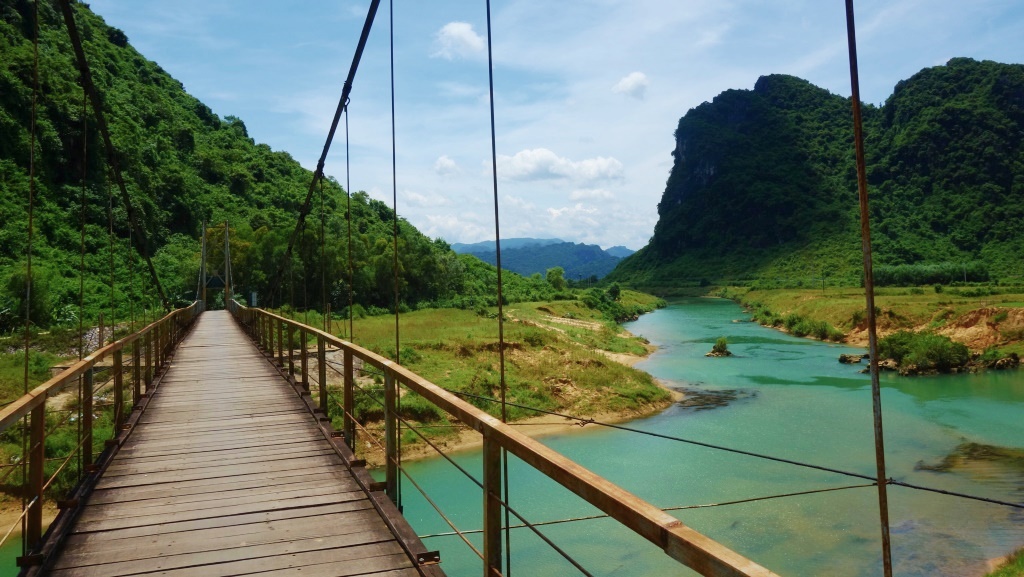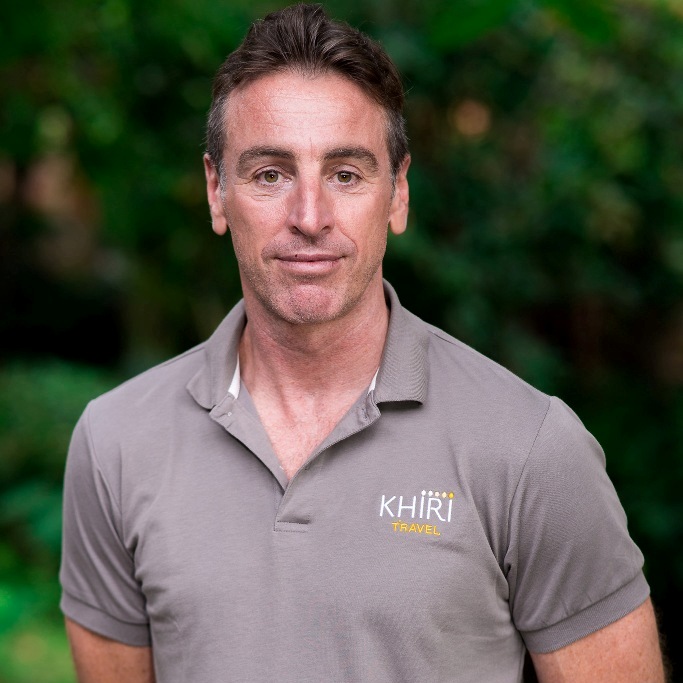 Aaron first arrived in Vietnam in 2004 as a tour leader landing in bustling Hanoi and has since explored most corners of the country. Although tour leading took him to many parts of SE Asia, Vietnam, and in particular, Saigon, always felt like home. Aaron joined Khiri Travel in early 2023 and is a fan of exploring the country by motorbike and recently completed a month-long ride into the central highlands and along the spectacular eastern coast of the country. In the past he has ridden from the Mekong Delta to Ha Giang in the far north.